8 Best Mascaras For Thin Lashes Reviews of 2023
Enhance the look and thickness of your thin lashes with this selected range of mascaras.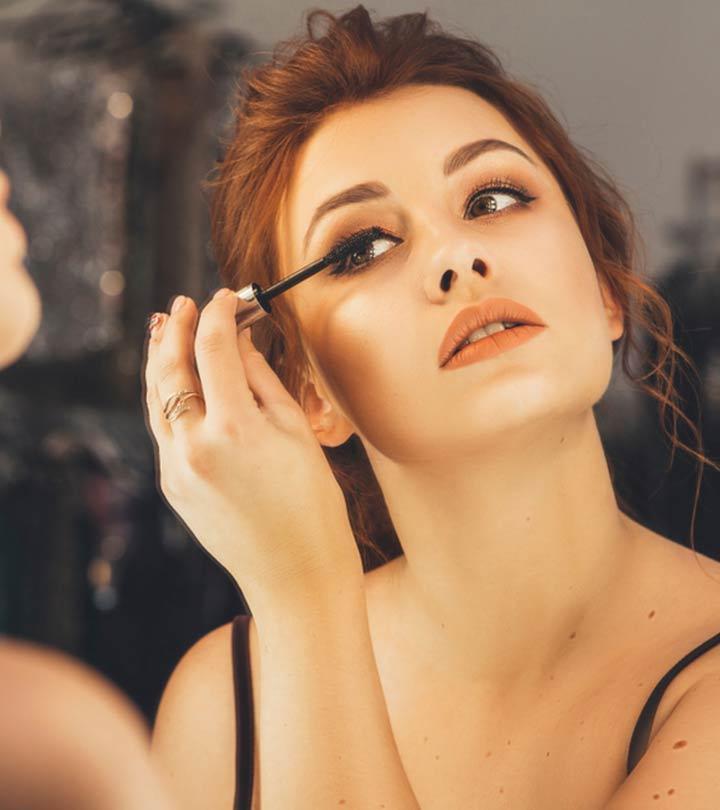 Not everyone is born with thick lashes that need little grooming. So, this one is for all the folks with thin lashes who are looking for a good volumizing mascara. Apart from the basic strokes of eyeliner and lipstick, the best mascara for thin lashes is like the icing on a cake, as it enhances your look, making you look more awake and vibrant. Invest in mascaras that will add the much-needed definition and thickness that your fine strands require. Not only do they make sure your lashes look voluminous, but they also don't tug at the strands too hard or harden them to the point of falling off in clumps. Here are the 8 best mascaras that you can purchase if you have thin lashes along with reviews for your reference. Check them out!
8 Best Mascaras For Thin Lashes That Actually Work Along With Reviews
The Maybelline New York's Full 'N Soft Waterproof Volumizing Mascara is a true fan-fav mascara, made with a hypoallergenic, advanced thickening formula infused with vitamin E to create softer and fuller-looking lashes. It comes in the super-saturated shade of black so you can get a bold, fearless look that lasts all day long. Not only is it waterproof and perfect for contact lens wearers, but its Quick Dissolve System allows for quick and easy removal without leaving your eyelashes feeling dry or brittle
Pros
Waterproof
Hypoallergenic
Long-lasting
Natural ingredients
Suitable for all skin types
Cons
None

Pro Tip
Apply a thin coat of translucent loose powder between two coatings of mascara for thicker lashes.
The mascara that gives your lashes a sky-high lift, this glossy and dramatic mascara is great for length and curl. If you're a fan of the deep dark black, this exclusive triple black colored mascara is your go-to choice. It makes your lash look thicker and longer making you party-ready. Suitable for daily use and occasional party nights, this mascara formula defines your lashes and separates them which makes it suitable for dramatic eye makeup. It creates an illusion of eyes that are bigger, bolder, brighter, and more awake. It adds volume to your lashes and is made from non-toxic ingredients. Take a look at this video to get more information on the product.
Pros
Lifts your lashes
Adds volume and length
Brighter and bolder eyes
Cruelty and paraben-free
Safe for lens wearers
Cons
Might weigh slightly heavy on the lashes

Pro Tip
If your favorite mascara has become clumpy, tightly secure the cap and let the tube sit in a glass of hot water for a few minutes. This thins out the formula for use.
Price at the time of publication: $25
The Lancôme's Glossy Black Mascara is a special treat for people who want to make their eyes pop. This sulfate-free mascara comes in an easy-to-use gel form and features a curved wand with 360 micro-bristles that help you volumize every single lash. The conditioning white tea extract helps keep your lashes healthy, while the clump-free and smudge-proof formula ensures your eye makeup lasts all day long. Whether you are looking for lift or length, this black mascara will offer you the dramatic look you desire without fuss or mess.
Pros
Smudge-proof
Clump-free formula
Easy to remove
Long-lasting
Long-lasting volume and curl
Cons
None

Pro Tip
Pumping your mascara wand into the tube forces air into the product and spreads bacteria. Gently twirl the wand in the formula and pull it up instead.
Price at the time of publication: $30
The COVERGIRL Lash Blast Volume Mascara is a must-have product for achieving thick, luscious lashes. It contains Hyaluronic Complex and Bamboo Serum to instantly plump and volumize your lashes. The curved soft brush makes application a breeze, just one coat gives you beautiful volume and definition while multiple coats offer a more dramatic look. After four weeks of use, you will notice thicker, longer, stronger-looking lashes that will make all your friends jealous.
Pros
Gives your curvy and big lashes
High quality
Increases volume
Adds length
Value for money
Cons
None

Pro Tip
Hold the mascara wand horizontally for thicker lashes and wiggle it from lash line to ends to help hold curl.
Price at the time of publication: $8.85
Get instantly lengthy and weightlessly voluminous lashes with Bestify 4D Silk Fiber Mascara. It curls your lashes with a rich black color without clumping or flaking. The waterproof, smudge-free formula lasts all day, giving you thicker and longer lashes. The formula also contains beeswax to condition your lashes for a shiny look. In addition, this hypoallergenic formula is gentle enough to glam up thin lashes for all occasions.
Pros
Waterproof
Smudge-free
Hypoallergenic
Easy to remove
Long-lasting
Cons
Price at the time of publication: $6.99
Blackest of the black, the Milk Makeup High Volume Mascara not only adds volume to your lashes but also conditions them. It's free formula contains hemp-derived cannabis oil that acts as a conditioner for your lashes. The mascara has a creamy texture which helps in easy application and acts as a lash primer. It makes your lashes smoother and thicker. The creamy texture also makes the removal process easier. The unique feature of this mascara is that it has hollow heart-shaped fibers that help lock your lashes giving it long-lasting volume and curl.
Pros
Blackest of black
Vegan
Heart-shaped fibers
Long-lasting volume and curl
Creamy texture
Cons
Price at the time of publication: $9.89
The new L'Oreal Paris Volumizing and Lengthening Mascara offer you 20x more volume and up to 2x more length. It is smudge-proof, non-clumping, and non-flaking. This mascara will provide your lashes with that feathery soft look without compromising on volume or length. It will help you achieve a seamless volumizing effect for up to 16 hours without fading. The brush comes with 200+ bristles which makes the application very convenient and professional.
Pros
Adds volume and length
Travel-friendly packaging
Hypoallergenic
Easy to remove
Long-lasting
Cons
None
Price at the time of publication: $7.79
Mascara for thinning eyelashes is easy to apply, does not clump and adds volume to your lashes making it gorgeous, the Chanel Waterproof Mascara is just what you're looking for. It comes in a cylindrical black packaging and is great for an instant boost of volume for your lashes. This long-lasting mascara is one of the best waterproof mascaras and also adds length to your lashes and is easy to apply. It is formulated as a high-quality solution and is one of our customer favorites. It is the best drugstore mascara for short thin lashes.
Pros
Brand credibility
High quality
Increases volume
Adds length
Water-proof
Cons
Price at the time of publication: $48.99
Buying Guide Of Mascaras For Thin Lashes
While there are many ways to go about how to choose the right mascara for thin lashes, the general rule of thumb is to choose a mascara based on the wand. For curvy and fluffy eyelashes, it is important to choose a mascara with a curved wand. This adds volume and length to your mascara giving you rocking lashes. 
For the ones with thin lashes, the thing to keep in mind is that you don't want them to become dense and weigh your eyelids down. Therefore, to maintain gorgeous lashes but also keep them lightweight, it is best advised to apply 2-3 coats of mascara to your lashes. This will leave your lashes lightweight but also give it the desired length and volume, saving your from your thin, droop-prone lashes. 
Tips For Thin Lashes
To add the perfect volume and length to your lashes, here are a few tips and tricks that you can follow:
Prep your lashes with an eyelash curler for added length and curl
Apply mascara at the root of your lashes and hold for a few seconds
Next, slowly blink your eye as you apply mascara to the rest of your lashes
Wiggle the wand on your lashes to give your the perfect layer of mascara
There's nothing to worry about if you are not blessed with long, voluminous, and thick lashes. With the best mascara for thin lashes, you can achieve lustrous lashes in no time. These mascaras will offer you the much-needed definition and make your lashes look voluminous. They are hypoallergenic, pigmented, long-lasting, and the best part is that they won't clump after application. Instead, they give your lashes an instant lift. While choosing the best mascara to redefine your thin lashes, pick one that has a curved wand and get incredible volume and curve.
Why Trust StyleCraze?
Chaitra Krishnan, who penned this article, is passionate about makeup and has a keen eye for picking the best makeup products like mascaras. In this article, she lists the best mascaras for thin lashes. She spent hours browsing through many reviews, selecting only the best for you. Each of these products has been recommended as they make your lashes look thicker, among other benefits.
Is Mascara Bad For Your Eyelashes?
Wearing mascara enhances the volume of your lashes and makes you look gorgeous. It does not harm your thinning eyelashes as long as you make sure to remove it while taking off your makeup.
Does Wearing Mascara Thin Your Lashes?
Several mascara products give your lashes an increase in volume and make it dense. It is important to cleanse your lashes and remove the mascara at the end of the day. Good quality mascaras will never harm your lashes. However, cheap and low-quality products can have adverse effects on them.
How can you make thin eyelashes look thicker?
Curling your eyelashes and applying two coats of mascara can make thin eyelashes look thicker.
Should you curl your eyelashes before or after applying mascara?
You can curl your eyelashes before applying mascara. Curling it after mascara can make it look clumpy.
Can you put mascara on your bottom lashes?
Yes, putting mascara on your bottom lashes will make them look natural and define your eyes better.
What kind of mascara makes your eyelashes look thicker?
Any volumizing mascara such as the Stila Huge Extreme Lash Mascara can make your eyelashes look thicker.
Do eyelashes thin as you age?
Yes, thinning eyelash is a natural process of aging. Your eyelashes will shed as you mature.
What is the best drugstore mascara for thin eyelashes?
Mascaras from drugstore brands such as Maybelline New York or L'Oréal Paris are good options to invest in.
Recommended Articles:
The following two tabs change content below.