11 Best Mask-Proof Lipsticks In 2023 That Won't Smudge Or Transfer
Stay safe and stylish all day with these bold and resistant colors in your vanity.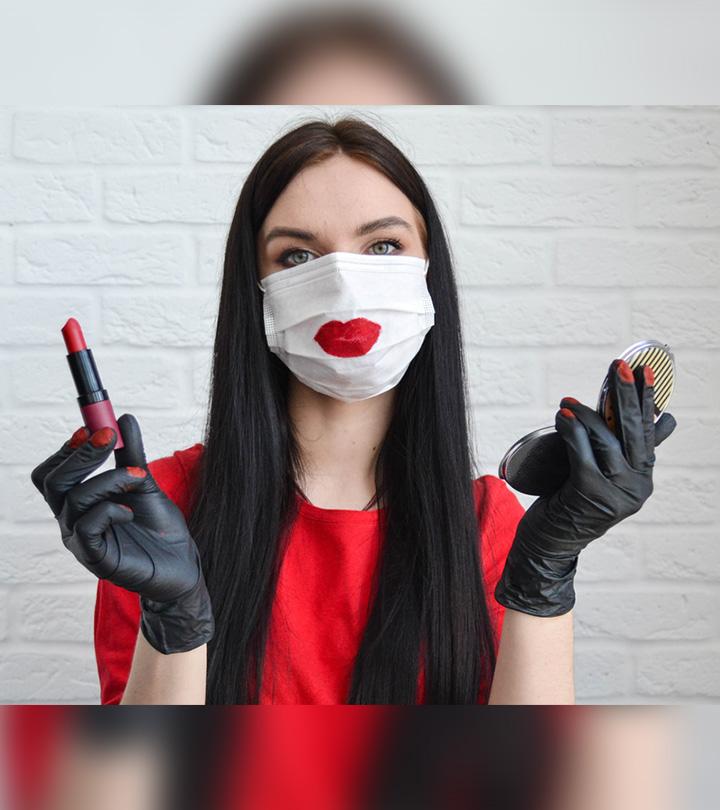 Sometimes, wearing a mask comes with its own challenges when you have to hurry up somewhere, all while looking fab and also trying to avoid lipstick smudges and transfer. And because of this, some have started focussing on eye makeup and are ditching their lipsticks except a little lip balm. Well, we are here to save the day with the best mask-proof lipsticks for some glam lip action without any worries. Mask-proof lipsticks will do an excellent job of ensuring that your shade is intact without dirtying your mask or ruining the look.
As masks are more of a necessity now, you might as well make sure your products are mask-friendly too. We have had our fair share of smudge-free lipsticks, but these are one-step-up pals. These lipsticks can keep your mask absolutely safe. Here is a list of the 11 best ones that are guaranteed to become your new favorite lip product of all time.
Pucker Up With The 11 Best Mask-Proof Lipsticks Of 2023
Although weightless, this stay-all-day liquid lipstick will not bleed, transfer, or feather, even if you wear a mask over it throughout the day. Despite settling as a matte, it boasts a creamy texture and is infused with vitamin E and avocado oil to keep your lips soft and hydrated. So, if you are worried that the liquid lipstick may make your lips look dry and flaky, this transfer-proof lipstick by Stila will drive those concerns away instantly. Check out this YouTuber's review of this product.
Pros
Intense color payoff
Provides full coverage
Long-lasting for up to 12 hours
Moisturizing benefits
Cons
Price at the time of publication: $22.0
Keep your chic meter high under your mask with this kiss-proof wonder! Kiss-proof lipsticks are becoming an absolute favorite this season, all thanks to their transfer-proof formula and intense color payoff. Rimmel's Provocalips leaves no stone unturned to ensure that your lips don't feel tight or dry for 16 hours with its 2-step lock-in process. And that's not all; the formula is flexible and adapts to the lips' movements and contours for lasting and comfortable wear. Oh before we forget, it's transfer-proof too!
Pros
Food-proof
Lightweight
Moisturizing
Easy to remove with an oil-based makeup remover
Budget-friendly
Cons
Price at the time of publication: $3.77
Miss flaunting a classic red lip, do you? Bring them back with Mynena's non-transferable and long-lasting waterproof lipstick. Highly pigmented and vivid, it delivers a velvety matte and non-sticky finish in just one coat. Besides blessing you with pout-worthy lips under the mask, it also hydrates your lips and keeps them soft and supple! The formula is infused with vitamin E, non-toxic mineral ingredients, and a sweet vanilla scent for a sweet and kissable glow.
Pros
Full coverage
Non-drying
Kiss-proof
GMP-certified
Vegan
Cruelty-free
Paraben-free
Cons
May not look appealing when applied to dry and chapped lips
Price at the time of publication: $12.99
With a stunning color and a comfortable texture, this is no ordinary lipstick but a 10-hour indulgence for your lips! The L'oreal Paris Le Rouge Lipstick is the kind you can wear and forget about for the rest of the day. Why? Because it's long, long wearing. Enriched with vitamin E, it helps heal and smooth over dry and chapped lips by boosting cell turnover and regeneration.  The rich and vivid color will surely fetch you compliments every time you unmask!
Pros
Creamy texture
Ensures high-definition finish
Guarantees intense color payoff
10-hour wear
Easy to remove
Cons
Price at the time of publication: $4.97
Imagine a luxurious matte lipstick, but also add moisturizing benefits to it. The lipstick of your dreams isn't it? Gone are the days when matte lipsticks were a no-no for dry lips. Here's an option that will not only deliver an ultra-rich pigment with its superior matte finish but will also keep your lips moisturized at the same time. And if your lips are extremely dry, you can pair it with your favorite lip balm if you want to enjoy flaunt-worthy and soft lips all day. And since it is matte, it won't transfer.
Pros
Available in many shades
Long-lasting and non-drying
Ensures optimal coverage
Smooth application
Cons
Price at the time of publication: $4.99
Not masks or cups, this smudge-proof matte lipstick will stain only your lips for a long-lasting and glamorous look. A cult-classic and well-loved by users for its waterproof, kiss-proof, and moisturizing formula, this lipstick contains ultra-rich and conditioning ingredients such as castor seed oil, beeswax, and vitamin E to prevent dryness and tightness throughout the day. And what makes this decades-old formula all the more worthy is that it ensures minimal to no touch-ups after the first application.
Pros
Intensely moisturizing
Ensures superior staying power
Reacts and changes as per body chemistry
Easy to apply and remove
Cons
Price at the time of publication: $14.95
Forget just masks, this lip color by Maybelline can withstand bites, sips, and kisses too! Formulated with Microflex technology, this long-lasting 2-step lipstick comes with a conditioning balm and liquid lip color that won't fade or chip off after a few hours. Giving your lips a glossy puckering up that'll stay fresh and vivid all day, the brand also ensures a comforting and moisturizing experience with every glide.
Pros
Intense pigment
Glides on smoothly
Ensures all-day hydration
Delivers a satin-smooth finish
Non-cakey, non-drying, and non-flaky
Cons
Slightly sticky upon application
Price at the time of publication: $11.11
Enjoy party-ready lips in one simple and swift glide of this wonder product! A little bit of product goes a long way in dressing up your lips for the day, all thanks to its highly-pigmented, rich, and long-lasting formula. And for those on the go, this lipstick is smudge-proof and will survive pizzas, coffees, and kisses too. This smear-proof lipstick, despite being matte, has a creamy texture that leaves a moisturizing and velvety smooth finish with every glide.
Pros
Contains vitamin E
Vegan
Cruelty-free
Ensures minimal to no touch-ups
Free from parabens and other harsh chemicals
Cons
Not suitable for very dry or chapped lips
Price at the time of publication: $17
OMG, this matte lipstick glitters and how! And no, it will not leave its imprints on the mask as this sparkly wonder is kiss-proof and waterproof. Go on, take a break from your au natural and matte makeup and amp up your evening wear with a glide of stunning shimmer. This smudge-proof lip stain is also long-lasting, highly-pigmented, and will last for up to 16 hours. Do you think you can handle all the envy stares?
Pros
Ensures no smearing, fading, or budging
Creamy matte texture
Comfortable wear
Non-irritating
Easy to apply and remove
Mild fragrance
Cons
May not be a food-proof lipstick
Price at the time of publication: $7.99
One luxurious coat of this Marc Jacobs lipstick will glam up your pout instantly without being over-the-top. Whether you wear it for virtual meetings or pair it with your spring or summer outfits, the pretty colors will complement your OOTDs beautifully, all thanks to the stunning color payoff. Besides this, its ultra-creamy formula has hydrating and antioxidant-rich ingredients such as seaberry, peptides, meranti, and cocoa butter for a non-drying and moisturizing effect. Sounds pretty pampering to us, what about you?
Pros
Long-lasting for up to 10 hours
One-swipe matte finish
Ensures optimal coverage
Moisturizing benefits
Cons
Price at the time of publication: $52
A makeup kit without nudes, beiges, or brown is incomplete. And here's an option that'll stay with you all day without smudging or fading. Yep, go au-natural for those virtual hangouts, and also, masking and unmasking will not be a problem with this lipstick. Also, its long-lasting formula has a creamy feel that turns matte and smooth quickly. Give it a try on days when everything else feels "too much".
Pros
Vegan
Cruelty-free
Lightweight
Non-irritating
Ideal for all skin tones and types
Cons
Not available in many shades
Price at the time of publication: $9.99
Pucker up confidently (under the mask, of course)! There you go, those are the 11 best mask-proof lipsticks that will not smudge or fade. Are you still unsure how to pick the right mask-proof lipstick? Or wondering how to wear one without contaminating your mask? We've collated some tips and tricks for you in our buying guide below.
How To Select The Right Mask-Proof Lipstick
Here are some features you must look out for before buying the lipstick:
Matte or liquid matte lipstick can be slightly drying, no doubt, but they stay intact without transferring the color or fading. So, if you are looking for mask-proof lipstick, we'd say choose matte.
A transfer-proof or smudge-proof lipstick is an ideal option to keep the lipstick stay put on your lips rather than venture everywhere else! Also, a high-quality one will brace through many sips, bites, and kisses too.
Pick a quick-drying lipstick because if you have to retouch after meals, you will not have to wait for several minutes for it to dry before you mask up again. A quick-drying formula will have your lips ready to go within seconds!
It is essential to choose a long-lasting lipstick, so you don't have to unmask for quick touch-ups. However, a long-wear lipstick does not mean they are food-proof or waterproof. Also, there are long-wear lip stain liquid lipsticks on the market that stain the lips temporarily (which is perfectly alright) for a long-lasting effect. So, choose accordingly. A food-proof, kiss-proof, and waterproof lipstick would also be a great option to wear with a mask as these features also indicate that the color will not transfer whatsoever.
Whether you have dry lips or not, it's imperative to choose a moisturizing formula. Lipsticks with vitamin E, peptides, or cocoa butter will provide intense hydration and moisturize your lips all day, so you don't have to apply an extra layer of lip balm.
How To Wear Lipstick With A Mask?
The trick is to have the right lipstick that is transfer-proof and smudge-proof so you can have flaunt-worthy lips and a stain-free mask all day. However, here are some tips that can help:
Use a matte lipstick that dries quickly to keep it from staining the mask.
Use a setting powder after the lipstick has dried for a matte and non-transferable effect.
You can also use a lip pencil to hold the lipstick in place and keep the line lines from fading.
The tissue paper technique works too. Use one to blot off the excess formula when your lipstick has semi-dried on the lips.
Why Trust StyleCraze?
The author, Chaitra Krishnan, is a makeup enthusiast and loves to review different makeup products. After thorough research, she has provided a detailed list of the best mask-proof lipsticks in this post. She went through numerous reviews and feedback on multiple forums and brand websites to help you pick the best mask-proof lipstick. The products in this post hydrate your lips and keep them soft and supple.
Frequently Asked Questions
What lipstick does not come off on a mask?
The Stila Stay All Day Liquid Lipstick provides moisturizing benefits and does not come off on a mask.
How do you keep lipstick from getting on your mask?
Choose lipstick formulas that are transfer-resistant and smudge-proof to keep them from coming off on your masks.
How do you seal lipstick on your lips?
Apply translucent powder on your lips after applying lipstick to set the color in place and seal the lipstick on your lips.
How do you mask proof your makeup?
Mask proof your makeup by using long-lasting, transfer-resistant formulas. You can also use a setting spray or translucent setting powder.
Are MAC matte lipsticks transfer-proof?
Yes, MAC matte lipsticks are transfer- and smudge-proof.
Recommended Articles