The 10 Best Massage Chair Pads To Soothe Sore Muscles – 2023
Why blow your pockets on pricey massage parlors when you can use these chairs daily?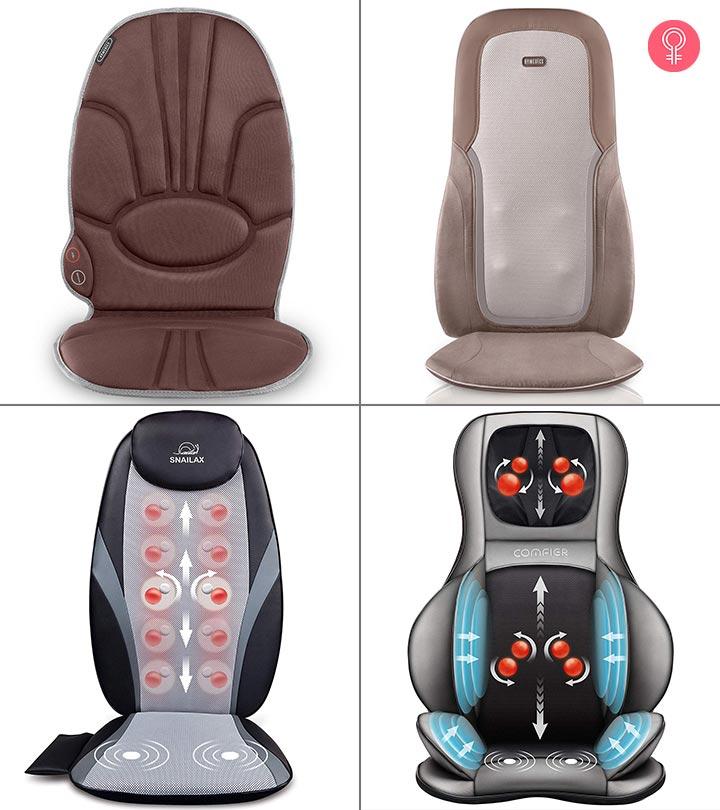 Get your heart set on the best massage chair pad when you crave a better way to relax. Yes, these chair pads will let you enjoy the most soothing massage at any time of the day, no matter where you are. You do not have to rush to the spa or spend your money on expensive salon trips anymore if you have these chair pads in place. And the best part is that these massage chair pads are not heavy or even bulky. They are easy to use, and you can simply install them on your office chair or the car seat. So do that and enjoy the perfect therapeutic massage. To understand how these pads work, scroll down and give this piece a read.
Benefits Of Massage Chair Pads
Studies show that massage therapy relieves lower back pain, neck and shoulder pain, osteoarthritis of the knee, and headache (1). It also:
1. Relieves Stress
Massage chairs with heat function help relax tight muscles. The warmth produced by the device penetrates the tissues and helps them relax. This triggers the secretion of hormones that further relax your system. This is why you feel refreshed after a session of massage therapy.
2. Relieves Pain
Massage reduces pain. It reduces discomfort and strengthens your muscles. It can be used to manage many ailments, like arthritis and fibromyalgia (2).
3. Improves Blood Circulation
Massage therapy improves blood circulation in your system. Regular massage therapy can make your body function better.
4. Improves Posture
Stiff muscles can lead to bad posture. Massage therapy can relax stiff muscles, thus helping your body position itself in a better, more natural posture.
If you want to experience these amazing health benefits, check out our list of the 10 best massage chair pads available on the market right now.
Top 10 Massage Chair Pads To Buy In 2023
The Shiatsu Neck & Back Massager is equipped with an optional heat function and four adjustable neck massage nodes that soothe and relieve tired muscles. These nodes go up and down to relax your lower and upper back. The detachable flap offers you a smooth massage, and the vibration mode with two intensity settings relaxes the hips and thighs. This device features an integrated strapping system and a spot massage option for targeted relaxation.
Pros
Remote control operation
Washable neck cover
Comes with a home adapter
24-month warranty
Cons
Price at the time of publication: $149.96
This product offers deep kneading and rolling massages for the neck, upper back, and lower back. It relieves muscle tension and improves blood circulation while also treating upper and lower back pain.
It features built-in double vibrating motors at the hip to relax and strengthen your body. There are multiple massage heads that work together to provide full-body deep kneading massage that feels it is being done by a real human. This device has 3 massage variations for full back, lower back, and upper back.
A unique feature of this product is the up-down motion of its massage nodes, which was designed using the concept of somatology. Along with deep kneading massage, it also offers heat function, which adds to its therapeutic experience.
Pros
Ideal for computer users, office workers, and athletes
Relieves muscle fatigue
Promotes blood circulation in the neck and back
Relieves shoulder pain
Relaxes tense muscles
Cons
None
Price at the time of publication: $129.95
With 50% extra foam, this product is one of the most comfortable massage chair pads out there. It features 10 powerful vibration motors that target the upper, mid, and lower back, and thighs. This device features 5 modes, 8 intensity levels, variable speed settings, and optional lumbar heat.
It is made of soft polyester material with thickly padded memory foam near the neck and lumbar region. All the modes can be controlled by a simple handheld remote. The best thing about it is that you can select all the 5 modes at once or individually.
Pros
Comes with AC and DC power adapters
Innovative features
Provides deep kneading massage
Mimics real hand therapy
Convenient to use
Cons
Price at the time of publication: $59.99
Snaillax Shiatsu Massage Cushion With Heat Therapy offers a combination of soothing heat and vibration massages for pain and stress relief.
It features 4 Shiatsu nodes that move up and down, relaxing your entire back. It also consists of 3 massage zones for the full, upper, and lower back. This allows you to concentrate the kneading on a specific area.
This is the best massage pad that works by warming your back while relaxing the tense muscles across your entire back, lumbar, and shoulders. This device is equipped with 3 adjustable levels of intensity that provide a comfortable massage from hip to thighs. Take a look at this video for a detailed review of the Snaillax Shiatsu Massage Cushion With Heat Therapy.
Pros
Premium-quality material
Includes an integrated strapping system
Fits most chairs
Lightweight
Cushiony and soft
Cons
Price at the time of publication: $98.99
Gideon Shiatsu Massage Cushion is the perfect product for relieving stiff muscles, sore back, and body pains. It features four deep 3D massaging nodes for the full, upper, and lower back. It has two speed settings – high for a vigorous massage workout and low for a more calming and relaxing massage experience. You can also adjust the level of vibration.
This device also contains a roller massager, which can be adjusted to roll inward (towards the spine) or outward. This rolling function is useful in improving your posture and relieving pain. The additional therapeutic heat feature radiates gentle warmth to help you unwind at the end of a tiring day. Check this video to learn more about the Gideon Shiatsu Massage Cushion.
Pros
Includes an AC and DC adapter
Safety auto-timer
Efficiently targets pressure points
Fully customizable settings
Suitable for home, car and office use
Cons
Price at the time of publication: $216.99
The HoMedics Quad Shiatsu Pro Massage Cushion With Heat offers a variety of massage styles like deep muscle massage, invigorating percussion massage, and gentle rolling massage.
It targets specific spots to release tension from tightened muscles. Furthermore, it uses soothing heat to provide deep muscle comfort. It is designed to fit most chairs. These integrated settings make it easy for you to customize your massage according to your liking.
Pros
Easy to use
Breathable fabric
Lightweight
Portable
Premium-quality material
Cons
Price at the time of publication: $199.95
Comfier Shiatsu Neck And Back Massager uses 2D/3D finger pressure shiatsu, rolling, air compression, vibration, and heat function to provide a soothing spa-like massage. This device consists of 4 rotation nodes that provide deep kneading massages for neck and shoulders. It also features the latest innovative technology in which the nodes move inward and outward to imitate human hands. It is the best massaging cushion.
Other interesting features are its adjustable rolling and spot massage options that help relieve muscle pain across the entire back. The spot massage option allows you to concentrate the message on one particular area.
Pros
Provides deep tissue massage
Features three intensity levels
Multiple settings available
Exerts the right amount of pressure
Cons
Price at the time of publication: $199.99
This massager cushion is excellent for muscle tension relief all over the body. With the help of deep tissue body kneading massage, it promotes blood circulation throughout your body.
This relieves tension in stressed areas and helps you relax instantly. This device is built with high-quality materials, making it incredibly durable.
Pros
Includes heat function
Features multi-function massage option
Convenient and portable
Cons
The material is thick and hard
Price at the time of publication: $99.99
The Sotion Back Massager offers a customized massaging experience allowing you to adjust the air pressure intensities -low, medium, and high. It has three massager zones – neck, back, and hip to stimulate the massaging. Furthermore, the chair pad features a vibrating massager, air compression, and heat function to relieve neck, back, thigh, and hip pain.
The chair pad also comes with remote control for customized operations. In addition, the overheat protection ensures you do not catch burns or irritation. The 20 minutes auto shut-off feature lets you enjoy the required heat and eliminate unnecessary heat. You can enjoy a back massage while sitting on the chair, recliner, sofa, or at the office.
Pros
Versatile
Easy to use
Portable
Highly-functional
Cons
RENPHO Chair Massage Pad is equipped with an adjustable massage pillow to fit perfectly behind your back and neck. It provides 8 deep kneading and shiatsu massage nodes that travel up and down to relax the body. The 3 levels of adjustable intensity provide extra comfort during the massage. The soothing heat and seat vibration applied on the back and neck relax the stress on those areas.
Pros
Adjustable back massager
Easy-to-use
Heating function
Cons
Price at the time of publication: $153.99
Though all massage chair pads are extremely relaxing, you need to look for a few features that suit your specific requirements. Let's check out what features you need to consider before buying a massage chair pad.
Features To Look For In A Massage Chair
1. Customizable Settings
Some massager pads offer a range of features that include vibration, heat, deep kneading, and spot massage. Some come with basic features with limited settings. Choose one that allows you to customize the massage according to your needs.
2. Heat Function
Although most massage pads come with a heating mechanism, its placement and style may vary. Some offer heat only near the neck or upper back area. It is best to choose a massage pad that comes with a full-body heat function. Also, check for the heat on/off feature.
3. Material
Pick a massage pad made of soft and durable fabric. Polyester is the best option as it offers plushness and sturdiness.
4. Purpose
Before making a choice, be clear about your purpose of getting a massage chair pad. Ideally, there are two types of massager pad: one is for relieving pain, and the other is for relaxation. If you are looking for a pain relief massager, check for features like Shiatsu nodes with different levels of heat, vibration, and intensity. If you wish to get a massage pad for relaxation, look for multiple speed settings and soft fabric.
5. Portability
If you plan to use the massage pad at home, in your office, and in your car, pick one that is portable. The shape of the massage pad should be such that it fits most chairs and seats. Look for a lightweight massager with a carrying handle. Some foldable massagers are meant only for traveling.
Why Trust StyleCraze?
The author, Aditi Naskar, has a diploma in health and wellness. She uses her expertise to review various fitness products. She spoke to experts and conducted thorough research to curate the list of the best massage chair pads that will help you relax at home. The thousands of online reviews also helped her find the most convenient and effective products.
Frequently Asked Questions
How often should you use a massage chair pad?
Use it not more than three times a week for 20 minutes.
Can massage chair pads hurt you?
The first two sessions may hurt, but eventually, you will get used to it.
Can you use a massage cushion while driving?
Yes, you can use a seat massager while driving. Make sure to keep the intensity low and drive at a safe, slow speed to avoid any mishaps.
Can I use a massage cushion while pregnant?
While there have been claims that a massage chair can lead to miscarriage or premature labor, there is no evidence to support the same. However, it is always wise to consult your doctor before using a massage cushion while you are pregnant.
Can I sleep on a massaging chair pad?
Yes, sleeping in a massage chair is completely safe. After the end of a long day, a relaxing massage can melt away aches and pains and can help you sleep soundly. However, make sure to set the intensity at low so that it doesn't get overbearing after a while.
Are there any side effects of using massaging chair pads?
There are very low risks and contraindications associated with massage chairs. Some rarely reported side effects include skin irritation, rash, etc. However, people who have circulatory ailments such as varicose veins and those who have just undergone surgery or suffered from an injury are advised not to use these massaging chair pads.
Recommended Articles