11 Best Face Massage Creams Available In India
Say goodbye to stress and hello to relaxation without leaving the confines of your home.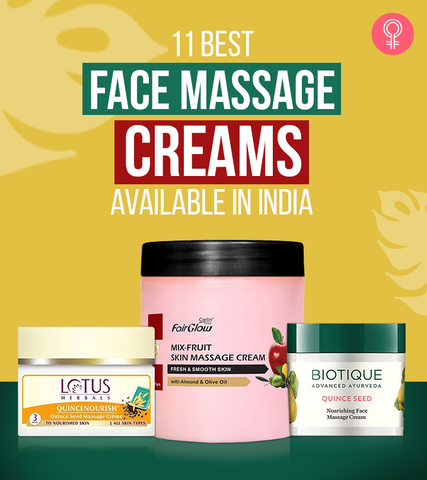 Face massage promotes blood circulation, relaxes the facial muscles, improves skin elasticity, and enhances skin texture. There are specific face massage creams formulated with all-natural ingredients to help eliminate skin impurities and add to your radiant glow. Face massage creams are not just for normal to dry skin – even oily and acne-prone skin types can benefit from these creams. However, make sure you go through the ingredient list.
We have a curated list of the best face massage cream available in India and highlighted some of the best brands. Check out their reviews below and choose the one that suits your needs!
11 Best Face Massage Creams In India
Lotus Herbals Whiteglow Skin Whitening And Brightening Massage Cream contains whitening actives that penetrate the skin for a radiant glow.  This formula helps to stimulate blood circulation and refines your skin texture, while the brightening ingredients reduce dark spots. The antioxidant-rich almond oil and green tea enhance skin elasticity and add a youthful glow. Plus, the lactic acid in the formula fades those pesky dark spots and hyperpigmentation marks. Overall, this cream is magic on your skin.
Key Ingredients: Lactic acid, Almond oil, and Green tea
Pros
Reduces dark spots
Brightens the skin
Enhances skin texture
Tightens pores
Moisturizes the skin
Suitable for all skin types
Cons
Combination skin is oily in some places and drier on the others. To help take care of your delicate combination skin, Biotique presents Quince Seed Nourishing Face Massage Cream. This Ayurvedic recipe contains quince seed gel, vitamin E, and a blend of hydrating oils with skin-renewing benefits. Quince seed is known to improve the moisture retention capacity of the skin, while vitamin E helps protect the skin from environmental aggressors. Also, the blend of nourishing oils – sunflower, mustard, kusumbhi, and groundnut oils – hydrates the skin and adds anti-aging benefits to the mix. This gentle cream soothes your sensitive skin areas like under the eyes, nose, and neck.
Key Ingredients: Vitamin E, Quince seed, Sunflower oil, Mustard oil, Kusumbhi oil, and Groundnut oil
Pros
Hydrates the skin
Soothes the skin
Tightens the skin
Fights the signs of aging
Cons
Price at the time of publication: ₹222.3
VLCC Pista Massage Cream is a multi-action cream that helps to detoxify your skin and brightens your complexion. Extracts of barley with nutmeg and pista oil help in reducing pore size and eliminating blackheads. The rich formula penetrates deep inside your skin to give cellular protection and promote a youthful glow.
Key Ingredients: Pista oil, Nutmeg oil, and Barley extract
Pros
Hydrates the skin
Enhances complexion
Provides cellular protection
Shrinks pores
Cons
Price at the time of publication: ₹215
This is the best facial massage cream to dazzle everyone with your golden glow. Khadi Natural Gold Herbal Facial Massage Cream contains 24-carat gold mixed with herbal extracts, almond oil, aloe vera, and wheatgerm oil. This combination helps to exfoliate your skin and refines your skin texture with its anti-aging properties. Additionally, almond oil helps in depuffing and brightening the skin. Aloe vera is an excellent humectant that adds moisture to the skin and enhances its ability to hold moisture. Shea butter gives your skin deep moisturization to promote glowing and healthy skin. You can always use this cream as an overnight treatment to get fresh, hydrated skin the following day.
Key Ingredients: Shea butter, 24-carat Gold, Almond oil, Aloe vera, and Wheatgerm oil
Pros
Fights the signs of aging
Removes dead cells
Removes skin impurities
Softens the skin
Strengthens the skin's moisture barrier
Cons
The fruity formulation of this lightweight massage cream gets quickly absorbed into your skin for a softer and supple texture. The creamy formula infused with almond oil and olive oil is specially crafted to provide intense moisturization to your skin, giving you instant relief from redness, inflammation, and itchiness. The quantity in the jar is enough to suffice you through the dry, cold weather.
Key Ingredients: Almond oil and Olive oil
Pros
Lightweight formula
Moisturizes the skin
Smoothens the skin
Long-lasting effect
Cons
This quince seed massage cream from Lotus Herbals contains a rich blend of vitamins and minerals that protect your skin from environmental damage. This Ayurvedic formula is infused with ginseng and ashwagandha extracts that help promote cell regeneration and get rid of skin infections. Also, the blend of almond oil and sunflower oil helps heal inflammation and redness.
Key Ingredients: Quince seed, Ginseng extract, Ashwagandha, Almond Oil, and Sunflower oil
Pros
Rejuvenates the skin
Fights skin infections
Reduces inflammation
Tightens the skin
Cons
Price at the time of publication: ₹296
The Nourishing Facial Massage Cream from Just Herbs is specially designed for dry skin. Its Ayurvedic formula contains natural ingredients like sandalwood, manjistha, and ashwagandha to heal your skin woes. Sandalwood battles oxidative stress and enhances collagen synthesis for younger-looking skin. Plus, manjistha and ashwagandha hydrate your skin. These ingredients work together to stimulate your blood circulation and enhance collagen formation. This GMO-certified product is free from parabens and sulfates.
Key Ingredients: Sandalwood, Manjishtha, and Ashwagandha
 Pros
Hydrates the skin
Makes the skin firm
Fights the signs of aging
Petrochemical-free
Paraben-free
SLS and SLES-free
PEG-free
GMO-free
Vegan
Cruelty-free
Cons
Price at the time of publication: ₹486.5
This cream from Lotus' Professional range is suitable for all skin types. It hydrates your skin like a boss and keeps it gentle and soft. Lotus Professional Hydravitals Jojoba Stimulating Massage Cream has active ingredients that enhance your blood flow rate and remove all impurities. The Hydravitals combined with jojoba oil unclog the pores and remove fine lines and wrinkles. Plus, it revitalizes your skin without causing any irritation.
Key Ingredients: Jojoba oil and Hydravitals
Pros
Removes skin impurities
Improves blood circulation
Unclogs pores
Cons
Say 'goodbye' to blemishes, hyperpigmentation, and dark spots with the Luster Papaya Blemish & Pigment Control Massage Cream. Its antioxidant-rich formula stabilizes free radicals, preventing hyperpigmentation and lightening the existing dark spots. The non-irritating formula helps to calm your skin and improves blood circulation to remove toxins. It is free from parabens and sulfates.
Key Ingredients: Papaya
Pros
Offers a radiant glow
Reduces pigmentation
Paraben-free
Sulfate-free
Cons
Vaadi Herbals Fresh Fruit Massage Cream is a nutrient-rich lotion that will redefine your facial massages. Its fruit- and oil-infused formula enhances your complexion, adds a glow to your face, and refreshes your skin. The high nutrient contents of fruits like papaya, apple, apricot, and orange stimulate blood circulation and remove blemishes to keep your skin healthy and fresh. This cream is rich in antioxidants, which further improves your skin tone and gives an even skin structure.
Key Ingredients: Almond oil, Apple extract, Apricot extract, Kokum Butter, Orange extract, and Papaya extract
Pros
Nourishes the skin
Adds a radiant glow
Evens out the skin tone
Paraben-free
Chemical-free
Cruelty-free
Pleasant fragrance
Cons
Price at the time of publication: ₹162
Lotus Herbals Wheatnourish Wheatgerm Oil And Honey Massage Creme is a nourishing formula for your gentle skin. It is formulated with Ayurvedic ingredients like wheatgerm oil, ashwagandha, and honey, which are rich in antioxidants. They help in hydrating the skin, provide protection against bacterial infection, and add a glow to your face. Tulsi and almond oil are rich sources of vitamin E and work as antiseptics to treat your skin. A 3-minute massage with this cream before hitting the bed is all you need for beautiful, healthy, and glowing skin.
Key Ingredients: Wheat germ oil, Honey, Ashwagandha, Almond oil, and Tulsi
Pros
Nourishes the skin
Adds a radiant glow
Works as an antiseptic
Non-irritating
Cons
None
Before you pick up a massage cream, go through the essential shopping guide below that will help you in choosing the most suitable massage cream for your skin.
How To Select The Best Face Massage Cream
Hydrating Formula: Hydrated skin will always look naturally glowing, so look for creams with moisturizing and hydrating ingredients like aloe vera, shea butter, and natural oils.
Sunscreen: Rather than applying sunscreen after moisturizer, choose a skin care cream that contains SPF.
Natural Ingredients: To give your skin complete care and protection, pick a cream that is made with natural ingredients. Harsh chemicals or preservatives may be harmful to your skin.
Long-Staying Formula: It may be difficult for you to constantly reapply the cream, so choose a cream that stays on for at least 6-8 hours.
Regular massage with nourishing facial creams can make a huge difference to your overall skin texture. Listed above are the OG facial massage creams that can revamp your skin. From improving blood circulation to the elimination of toxins, these creams do it all. We would recommend Khadi Natural Gold Herbal Facial Massage Cream as its nourishing formula with herbal extracts helps achieve a more toned skin. Browse the list above for the best face massage creams available in India and pick your favorite!

Recommended Articles
The following two tabs change content below.