The 7 Best Massage Guns To Help Relieve Muscle Soreness – 2023
Ease out your muscles and feel refreshed after workout sessions or a long day at work.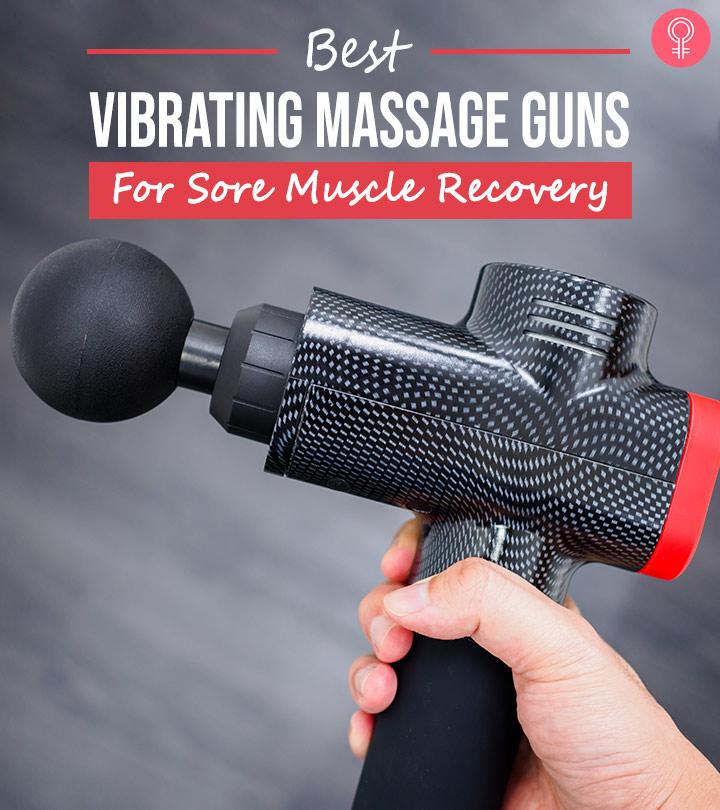 After a strenuous workout session, all you crave is a good massage that can soothe those tired muscles. This is exactly why we have made a list of the best vibrating massage guns that can save your muscles. So don't worry about rushing from the gym to a spa every single day. Grab one of these, and get your job done instantly. We have also put together a buying guide for you in this article so that your search mission becomes more effortless. Then what are you waiting for? Without any delay, go ahead and give this piece a read.
What Is A Massage Gun?
As the name suggests, a massage gun is a device that is shaped like a gun and is used to massage sore muscles and soothe aching tissues. It relaxes tight muscles after a session of intense exercise and improves blood circulation. Massage guns aid in the release of lactic acid from tissues and restore muscular functionality. Sixty minutes of massage relaxes your body as much as 7-8 hours of sleep does.
How Do Massage Guns Work?
Percussion massage guns sometimes look and sound like power drills, but they are fantastic at making you feel better. The improved blood flow, decreased soreness, and reduced tension are blessings for athletes who train hard. Massage guns help improve your range of motion, giving you a better pre-workout warmup and faster post-workout recovery.
Massage guns send direct pulses of vibration through your muscles, which helps reduce delayed onset muscle soreness. This enables you to combat the pains and aches that come with a gym session a little more easily. It increases lymphatic flow, decreases lactic acid levels in your body, and reduces the risk of muscle strain.
Take a look at our top contenders of 2023 below. They all come highly recommended!
Top 7 Massage Guns of 2023 For Sore Muscles
The TOLOCO Massage Gun relieves muscle strain, promotes blood circulation, and restores active body functions. It is installed with seven-speed levels that let you adjust to your needs. This gun comes with 15 massage heads for full body massage. It is equipped with 3200 rmp deep percussion which offers intensive muscle relaxation and reduces soreness.
This powerful yet quiet massage equipment is easy to assemble and clean. The LCD display lets you view the speed level and power level. The display also helps you monitor the machine and enables you to adjust your massage needs. The gun is equipped with a USB charging cable and a 10-minute auto-shut off mechanism. It can work for six hours at a stretch.
This lightweight massage gun has an ergonomic design which makes the product easy to hold. It comes with a travel-friendly, compact case and a user manual for easy operation.
Pros
Lightweight
Ergonomic design
10-min auto-shut off feature
15 massage heads
Cordless
Adjustable speed
Noiseless operation
Value for money
Portable
Comes with a user manual
Cons
The battery dies out quickly
Price at the time of publication: $99.99
Opove M3 Pro Massage Gun is precisely as amazing as it looks. This hand-held percussion massager delivers pulses of concentrated pressure deep into your muscle tissue. It is a form of deep tissue massage that works on tension and knots in the muscles, providing relief from sore and stiff muscles. It also improves blood circulation and boosts your range of motion.
With proper usage, this device can also help decrease the recovery time you need after an injury, as well as offer relief from pain and soreness that usually follows an intensive workout, such as martial arts. The device automatically powers off after 10 minutes to protect you from injury.
The Opove massage gun comes with an innovative Quiet Glide technology and brushless high-torque motor, which gives you a smooth and comfortable massage. It has three speed strength levels that allow you to adjust the intensity of the massage according to your needs and tolerance. The long battery life means that you can use it for 3 hours of massage (which is roughly a week's usage) per charge. Watch this YouTuber's honest review video to get a better idea about the product. 
Pros
Quiet motor
Long battery life
3 adjustable speed settings
Attractive design
Lightweight
Ergonomic
Easy-to-use
4 massage heads
Rechargeable battery
Travel-friendly carrying case
Cons
None 

Price at the time of publication: $234.95
LifePro Sonic Handheld Percussion Massage Gun recharges aching muscles that are feeling sore after an intense workout. The powerful motor penetrates deep into your tissues, sending relaxing waves throughout your body. You can incorporate it into your pre-workout warm-up or post-workout recovery sessions with equal ease.
The Sonic boosts your regular flexibility and mobility and works well as trigger-point massage therapy for joint pain relief. You also get unmatched customer support with a 100% money-back lifetime warranty. The percussion massage gun is suitable for use at the gym or your sports club.
The brushless motor gives you a super-quiet operation, so you can massage your muscles without creating a lot of noise or bothering people around you. The rechargeable battery has a long life of 3-6 hours, so you can go days at a stretch without having to charge it.
You can choose from 5 levels of intensity and switch between 5 massage heads to give yourself a precise massage for various muscle groups and body parts. The durable body will provide you with a stable performance at all speed levels – from 20Hz to 45Hz. This video will give you a better insight into the qualities of the product.
Pros
Quiet brushless motor
Long battery life
Ergonomic hand grip
Rechargeable battery
Portable
Lightweight
Easy-to-use
5 adjustable intensity levels
5 massage heads
Lifetime warranty
Cons
Price at the time of publication: $99.99
Exerscribe Vybe Brushless Personal Percussion Massage Gun may not be the quietest device out there, but it is undoubtedly among the most powerful. The impressive device has a high-quality build and is designed to help you get the best out of your self-recovery tool. No wonder they confidently offer you a 1-year warranty as well as a 30-day money-back guarantee!
The Vybe comes with three massage tips designed to target different muscles: the standard ball for small muscle groups, the large ball for larger muscle groups, and a cone for when you need a good deep tissue massage. The compact massage gun comes in a handy case that makes it extremely travel-friendly.
You can choose from six speeds and a powerful percussion vibration range of 500-2400 strokes per minute. Both are adjustable and can be customized according to your requirements or tolerance.
The handle features an ergonomic design with a power push button, making it convenient to use for most people. The Vybe has multiple uses – it is not just meant for dealing with knots or muscle tension. You can also use it to improve your range of motion or engage or relax your muscles.
Pros
30-day money-back guarantee
1-year warranty
3 massage heads
6 adjustable speed levels
Rechargeable batteries
Brushless motor
Long battery life
Fast-charger
90-degree rotating massage arm
Cons
Price at the time of publication: $58.38
The Everyfun Massage Gun effectively relieves muscle pain and soreness that occurs after workouts. The high-torque motor with power battery cells and 12MM amplitude provides a deep tissue massage and revitalizes sore tissue and aching muscles. This massager features 3200 percussions per minute that send waves of relaxation throughout your body. It has a long battery life of upto 10 hours and comes with five massage heads and speed settings. Here's a personal review video to help you get a better understanding of the product.
Pros
Long battery life
Easy to use
5 massage heads
Ergonomic design
Portable
Durable
Wireless
Quiet operation
5 adjustable speed levels
High-torque powerful motor
15-month warranty
Cons
None
Price at the time of publication: $99
Relieve muscle fatigue and pain with the Kelices Massage Gun. It is effective in relieving lactic acid, promoting blood circulation, and relieving tight muscles. This percussion massage gun is ideal for all ages. You can use this gun for the neck and back as well. The device comes with a user-friendly touch screen that allows you to control 30 speed levels.
It features an in-built rechargeable 2500mAH lithium battery supporting 6 hours of massaging with 1.5 hours of charging. You can use this massager for the whole body or neck, arms, or legs. In addition, the device produces less than 35dB sound offering noise-less operation. Therefore, the device is ideal for a chiropractor or physiotherapist.
This device offers a 16mm deep massage offering high-frequency vibration, making the body strong. The ergonomic and non-slip handle makes it easily portable. It comes with a suitcase for storing the massage gun and massage heads conveniently at a place.
The massage gun includes ten different massage heads: a round, a flat, a thumb, two crescent, two tapers, a fan-shaped, and two u-shaped heads. These heads are suitable for hand, back, buttock, hip muscles, joints, palms, spinal, and Achilles massages.
Pros
 Adjustable speed levels
 Lightweight
 Easy to use
 LCD screen
 Less noise level
 Long-lasting
Cons
Price at the time of publication: $31.49
Say goodbye to muscle pain and stiffness with the Youdgee Massage Gun. It features 20-speed levels and 11 massage heads that are effective for a full body massage. The different speed settings help you to use it keeping in mind your need or tolerance level. Moreover, the different interchangeable massage heads encourage relieving tension from various stress points.
This electric massage gun soothes your muscles, improves mobility, relieves tension, and provides a deep tissue massage. The device is powered by six 2500 lithium-ion batteries and works continuously for five hours on a single charge. It produces a minimum of 55 dB noise and works with unique noise reduction technology even at high speed.
The versatile massage gun is an ideal pick for working professionals, athletes, and old people as it offers an easy daily massage and also a deep professional massage. The lightweight device is portable and you can safely use this massage gun at your gym, office, home, or while traveling.
Pros
Long-lasting battery life
Multiple massage heads
20 speed levels
Lightweight
Carrying case
Durable
Ergonomic handle
Digital display
Cons
None
Price at the time of publication: $19.99
If you need more convincing, here are the advantages that you get with using massage guns for sore muscle recovery. 
Benefits Of Massage Guns
Convenience – Instead of visiting a massage therapist every month, you can use a percussion massage gun in the comfort and privacy of your home and enjoy a relaxing massage whenever you need it.
Improved Muscle Health – Percussive therapy helps your muscles recover faster after an intensive workout. It also decreases the build-up of lactic acid and muscle pain while improving your range of motion and flexibility. It also stimulates blood circulation and improves the overall health and repair of the body's soft tissues.
Deep Tissue Massage – Percussion massage guns give you similar benefits as a deep tissue massage – improved blood circulation, the release of fluids and tension, and improved supply of oxygen and nutrients. This also heals existing injuries while working to prevent future ones.
Value For Money – Massage guns may seem expensive as a one-time investment, but they offer you far more returns when you consider how much you save in terms of regular visits to the massage therapist.
Stress Relief – Massage guns help release stress and tension from your muscles and leave you feeling both relaxed and recharged to carry on with your life.
Improved Range Of Motion – Massage guns help mobility by acting on your muscles, ligaments, connective tissues, tendons, and joints. With regular use, they add flexibility to your joints and make them less vulnerable to sprains. This improved flexibility increases the range of motion of your body, resulting in enhanced athletic performance.
Wellness Benefits – Other benefits of using massage guns include better sleep and improved immunity. Massage guns also help users cope with anxiety, depression, digestive disorders, fibromyalgia, and insomnia caused by stress.
Now that you are ready to bring home your first massage gun, wouldn't you want to know about some things that need to be checked before you press "add to cart"? Read on to learn about the features that must be considered when buying a massage gun.
Features To Consider When Purchasing A Massage Gun
Speed And Power – These are the most critical features in any massage gun. You need to consider your pain tolerance and massage preference and invest accordingly. Most massagers have a range of adjustable intensity settings that you can tweak as per your needs.
Type of Motion – Consider whether you would prefer a percussive massager or a vibrating massager. Percussion massage guns offer deep muscle penetration that aids in recovery after an intense workout. Vibrating massage guns provide a light massage that is more suitable for relaxing your mind and body.
Portability – Many massage guns have a compact design and a travel-friendly weight that allows them to be carried outside the house. Some even come with their own travel cases, so you don't have to bother with packing them properly.
Attachments And Accessories – Take a moment to think about where you intend to use the massage gun. Several models come with as many as four to six replaceable heads, each of which is meant to be used on specific areas of the body. You can pick a model with fewer attachments if you only want to use the gun on large muscles and not specific trigger points.
Budget – As with any other purchase, it is essential to keep your budget in mind before getting a massage gun. There are several models in the market, and the price varies according to the features offered and the brand.
Noise – The nature of therapy offered by a massage gun implies that it is, by nature, not a silent device. However, be sure to choose a model that makes minimum noise so you can give your muscles a massage without creating a din.
Battery Life – You wouldn't want your gun to run out of power in the middle of a treatment, would you? Look for massage guns with a long-lasting battery, and an indicator that displays a warning when it's time for a recharge.
Why Trust StyleCraze?
Sakshi Bahal, the author, is a health and fitness enthusiast and loves reviewing related gadgets and products. She compiled the above list of the best vibrating massage guns after thorough research of a wide range of products available on the market. She considered online user reviews to narrow down on these products. The portable massage guns are ideal for relieving sore muscles and soothing aching tissues. Moreover, they help improve blood circulation and ease muscle tension.
Frequently Asked Questions
How do I use a massage gun?
Turn on the device before putting it on your body. Once it powers on, glide it slowly along the body surface, without putting any pressure. Let it rest for a few seconds on areas of tension or knots before moving on.
Who should avoid using massage guns?
Massage guns may seem innocuous, but this therapy is not meant for everyone. People with pulled muscles, muscle sprains, inflammation-related injuries, broken bones, and chronic conditions such as hypertension, varicose veins, and osteoporosis, should steer clear of vibrating massage therapy. For maximum safety, it is best to consult a doctor before purchasing a massage gun.
Can you use a vibrating massage gun while pregnant?
Yes. Vibrating massage guns improve muscle pains and relieve headaches without harming your fetus. They help release 'feel-good' hormones like serotonin and dopamine, which enhance your mood and reduce stress. However, try to use the guns at a medium intensity to avoid disturbing your baby.
Can you overuse a massage gun?
No. Do not overuse a massage gun to prevent bruising and muscle soreness. Excessive use often results in increased inflammation.
Do doctors recommend massage guns?
Yes. Doctors recommend massage guns to relieve sore muscles and improve body pains.
Do massage guns help with arthritis?
Yes. Massage guns stimulate blood circulation, relieve muscle stiffness, increase your range of motion, and restrict the pain signals between your joints and the brain, easing arthritis.
Should you still stretch if you use a massage gun?
Yes. Stretch to prepare your joints and muscles for deep relaxation. Stretching helps relieve body pain better and prepares your bones and muscles for enhanced mobility.
What are the disadvantages of a massage gun?
Muscle guns have no side effects, but using them the wrong way can cause severe muscle and ligament sprains. Injuries to internal organs like arteries and nerves are some dangers associated with massage guns if misused.
How often can you use a massage gun?
Use massage guns two to three times daily to relieve sore muscles and relax your senses.
Recommended Articles: