The 7 Best Massage Guns To Help Relieve Muscle Soreness – 2023
Ease out your muscles and feel refreshed after workout sessions or a long day at work.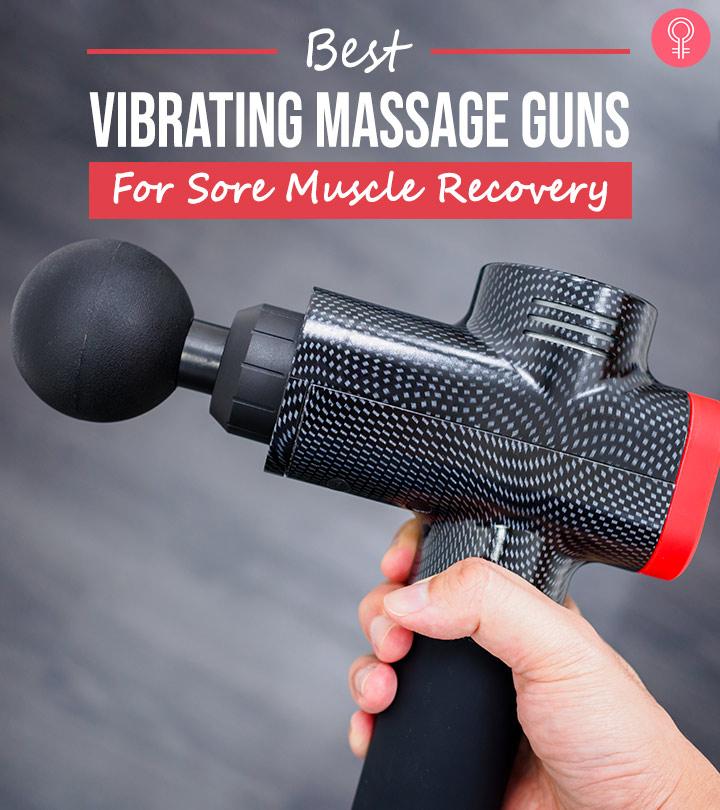 After a strenuous workout session, all you crave is a good massage that can soothe those tired muscles. This is exactly why we have made a list of the best vibrating massage guns that can save your muscles. So don't worry about rushing from the gym to a spa every single day. Grab one of these, and get your job done instantly. Dr. Allen Conrad, a chiropractic care and massage therapist, says, "Using a massage gun can not only help with soreness, but also with muscle recovery time. Helping muscles reduce lactic acid after a strenuous workout can help you get back to your next workout quicker. Massage therapy and massage guns can help speed up the process. They can help reduce muscle spasm, and reduce the chances of an injury as well."
We have also put together a buying guide for you in this article so that your search mission becomes more effortless. Then what are you waiting for? Without any delay, go ahead and give this piece a read.
What Is A Massage Gun?
As the name suggests, a massage gun is a device that is shaped like a gun and is used to massage sore muscles and soothe aching tissues for effective rehabilitation after exposure to strain. It relaxes tight muscles after a session of intense exercise and improves blood circulation. Massage guns aid in the release of lactic acid from tissues and restore muscular functionality. Sixty minutes of massage relaxes your body as much as 7-8 hours of sleep does.
How Do Massage Guns Work?
Percussion massage guns sometimes look and sound like power drills, but they are fantastic at making you feel better. According to expert opinion, improved blood flow, decreased soreness, and reduced tension are blessings for athletes who train hard all throughout the year. Massage guns help improve your range of motion, giving you a better pre-workout warmup and faster post-workout recovery. They are brilliant tools for muscle activation, pain management, and myofascial release.
Massage guns with proven expertise send direct pulses of vibration through your muscles, which helps reduce delayed onset muscle soreness. This enables you to combat the pains and aches that come with a gym session a little more easily, and it may even promote posture correction. It increases lymphatic flow, decreases lactic acid levels in your body, and reduces the risk of muscle strain.
Take a look at our top contenders of 2023 below. They all come highly recommended!
Top 7 Massage Guns of 2023 For Sore Muscles
The TOLOCO Massage Gun relieves muscle strain, promotes blood circulation, and restores active body functions. Reviewers love this product as it is installed with seven-speed levels that let you adjust it to your needs. This gun comes with 15 massage heads for full body massage. It is equipped with 3200 rmp deep percussion which offers intensive muscle relaxation and relieves stiffness and soreness.
This powerful yet quiet massage equipment is easy to assemble and clean. The LCD touch display lets you view the speed level and power level. The display also helps you monitor the machine and enables you to adjust your massage needs. The gun is equipped with a USB charging cable and an AI chip that supports a 10-minute auto-shut-off mechanism. According to reviewers, it can work for six hours at a stretch.
This lightweight massage gun has an ergonomic design which makes the product easy to hold. It comes with a travel-friendly, compact case and a user manual for easy operation.
Item Weight: 1.8 Pounds | Material: Silicone
Pros
Lightweight
Ergonomic design
10-min auto-shut off feature
15 massage heads
Cordless
Adjustable speed
Noiseless operation
Value for money
Portable
Comes with a user manual
Cons
The battery dies out quickly

Pro Tip
Use a massage gun for 30 seconds before or after a workout to activate your muscles for two minutes to prevent or reduce muscle soreness.
Opove M3 Pro Massage Gun is precisely as amazing as it looks. This hand-held percussion massager delivers pulses of concentrated pressure deep into your muscle tissue. It is a form of deep tissue massage that works on tension and knots in the muscles, providing relief from sore and stiff muscles. It also improves blood circulation and boosts your range of motion.
With proper usage, this device can also help decrease the recovery time you need after an injury, as well as offer relief from pain and soreness that usually follows an intensive workout, such as martial arts. As per user experience, the device automatically powers off after 10 minutes to ensure injury prevention.
The Opove massage gun comes with an innovative Quiet Glide technology and brushless high-torque motor, which gives you a smooth and comfortable massage. It has three speed strength levels that allow you to adjust the intensity of the massage according to your needs and tolerance. The long battery life means that you can use it for 3 hours of massage (which is roughly a week's usage) per charge. Watch this honest review video to get a better idea about the product through the tester's experience.
Color: Gray | Batteries: 6 Lithium Ion batteries required | Product Dimensions: 6.88 x 2.75 x 9.84 inches | Weight: 2.4 Pounds
Pros
Quiet motor
Long battery life
3 adjustable speed settings
Attractive design
Lightweight
Ergonomic
Easy-to-use
4 massage heads
Rechargeable battery
Travel-friendly carrying case
Cons
None 


Quick Tip
Begin massaging on the lowest setting and gradually increase the speed as you become accustomed to the intensity.
LifePro Sonic Handheld Percussion Massage Gun recharges aching muscles that are feeling sore after an intense workout. The powerful motor penetrates deep into your tissues, sending relaxing waves throughout your body. You can incorporate it into your pre-workout warm-up or post-workout recovery sessions with equal ease.
The Sonic boosts your regular mobility and flexibility and works well as trigger-point therapy for joint pain relief. You also get unmatched customer support with a 100% money-back lifetime warranty. The percussion massage gun is suitable for use at the gym or your sports club.
The brushless motor gives you a super-quiet operation, so you can massage your muscles without creating a lot of noise or bothering people around you. The rechargeable battery has a long life of 3-6 hours, so you can go days at a stretch without having to charge it.
You can choose from 5 levels of intensity and switch between 5 massage heads to give yourself precise massages for different muscle groups and body parts. The durable body will provide you with a stable performance at all speed levels – from 20Hz to 45Hz. This video featuring the reviewer's experience will give you a better insight into the qualities of the product.
Material: Plastic | Batteries: 1 Lithium Ion batteries required | Product Dimensions: 13.8 x 9.6 x 3.5 inches | Weight: 2.2 Pounds.
Pros
Quiet brushless motor
Long battery life
Ergonomic hand grip
Rechargeable battery
Portable
Lightweight
Easy-to-use
5 adjustable intensity levels
5 massage heads
Lifetime warranty
Cons

Remember
Massage guns are safe to use on a daily or even multiple occasions. However, do not focus on the same muscle group for more than 1-2 minutes.