13 Best Massage Roller Sticks Of 2021 To Relieve Muscle Soreness!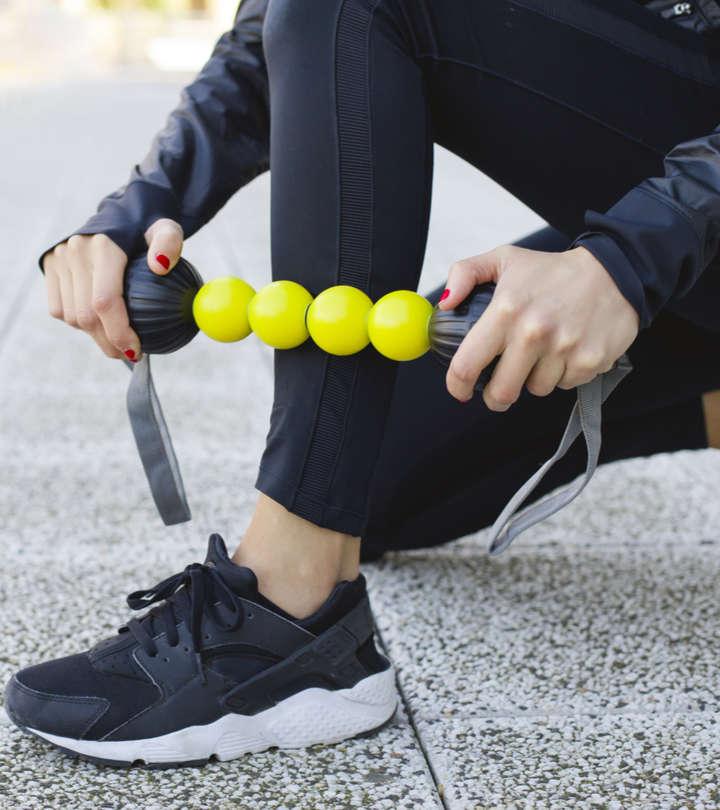 Stretching post-workout feels incredibly exhilarating right? But are those stretches relieving the soreness effectively? It may; it may not. And although foam roller sticks are helpful, making those muscle warmups and cool downs worthy are massage roller sticks! Portable and, more importantly, handy, the best massager stick roller on the market is making people switch from foam rollers. What makes them better than foam rollers? You get the liberty to use it at your convenience and you can change the pressure too. Since they are lightweight, it makes self-massage effortless.
Now, there are umpteen brands on the market that claim to be the best. Whether you are looking for your first and best muscle roller stick or want to upgrade from your previous one, we have rounded up some of the best options on the market for you. Check out our list of 13 best massage roller sticks of 2021 below:
Flex Your Muscles With 13 Best Massage Roller Sticks Of 2021!
A travel-friendly and sleek option, this 17-inch muscle roller stick will aid in muscle recovery and reduce post-workout soreness, stiffness, and pain with ease. Constructed of durable and industrial-strength materials, the handles are robust polypropylene and thermoplastic rubber. The 9 independent rollers are made of ABS and have a steel rod core. Ideal for calves, quads, hamstrings, and more, this therapist-recommended stick improves circulation, reduces aches, and more.
Pros:
 Therapeutic
 Water-resistant
 Ergonomic grip handles
Cons:
 May pull on bare skin
 Not suitable for deep tissue massage
A few minutes with this 17-inch therapy stick will be a blessing for your muscles. First, it's incredibly lightweight to carry anywhere in your bag, and in addition, it's made of durable material for long-lasting use. It has a stainless steel core and high-quality thermoplastic rollers with the molded nub on the handles to reduce hand fatigue. Suitable to use on every muscle on your body, it will improve blood flow, reduce lactic acid, and is ideal for relieving post-workout cramps, stiffness, and soreness too. And for those suffering from plantar fasciitis, tight tendons, and Achilles tendonitis, this handheld massage roller will be a boon in disguise.
Pros:
 Ergonomic
 Robust quality
 Water-resistant
 Energy-booster
 No-squeak design
Cons:
 May pull on bare skin
 Some may find it slightly uncomfortable
Are you looking for a compact option for deep tissue massages? This mint-colored massage stick will deliver with its pointed rolling balls. Lightweight and portable, it is ideal for massaging the neck, back, shoulder, neck, thigh, and other muscular areas with ease. Although compact, it's a great tool for relaxation and relief. Use it post-workout to relieve soreness, tightness, and stiffness, or you can also use it for deep tissue massages and reducing cellulite. Adding a chic touch to your gym arsenal, this 16-inch muscle roller massage stick is available in multiple funky colors.
Pros:
 Sturdy
 Easy-to-use
 Travel-friendly
 Soft foam handles
Cons:
 Spikes may hurt sensitive skin
 Comparatively less roller coverage
Train anywhere, anytime; this 18-inch massage stick is a fantastic choice to massage hard-to-reach areas. If you are too tired to stretch or loosen muscles after running or workouts, this sturdy massager with 9 rollers will relieve tightness and improve circulation effectively. With reinforced plastic and rubber handles, it's a great option for easing knots and tension in the myofascial system. High-quality and portable, so you can use it on the go or at work if you want, Elite Muscle Roller Stick also improves flexibility and aids in muscle recovery.
Pros:
 Non-slip
 Snag-proof
 Lightweight
 Travel-friendly
 Available in 5 colors
Cons:
 Slightly squeaky
 May be uncomfortable on bony areas
To flex muscles after intense workouts, run, or training, this semi-flexible construction will be ideal. It stretches and compresses the muscles, reduces lactic acid build-ups, and you can also use it to relieve trigger points, stiffness, and sore muscles. Made of space-age and flexible plastic, the roller will massage effectively and ensure large area coverage. The 17-inch stick has 8 therapeutic and independent rollers that aid muscle recovery by improving flexibility, resilience, and endurance. Although it works best on the legs, you can use it on the back, neck, and shoulder too.
Pros:
 Portable
 Lightweight
 Anti-slip grip
 Maximum compression
Cons:
 Slightly expensive
 May not be sturdy enough for deep massages
Unlike other massage sticks, this one is gentler with a foam center to cool and warm up the muscles. A fantastic choice for a beginner or to use, the portable stick has an ergonomic and sturdy design. Roll in on the targeted area to relieve stress, fatigue, and knots efficiently. It also helps with muscle recovery and circulation by loosening muscles without causing injury. In addition, the stick does not compromise on delivering a deep and compressing massage! 18-inch long and with medical-grade latex, the massage roller is gentle on the skin but tough on muscles. Yep, it won't break or bend under pressure!
Pros:
 Anti-slip
 Easy-to-use
 Lightweight
 Easy-to-clean
 Non-flexible design
Cons:
 Slightly expensive
 May pull cloth or skin
With this deep tissue massage roller stick, the quality of massage will never be compromised. It has 360-degree free-spinning rollers to target all the aching points without causing injury. Use it for warming up tight muscles or for cooling down; this 17-inch massage stick is great for muscle recovery, improving circulation, reducing soreness, and increasing flexibility and strength. Plus, it targets cellulite and is effective for making dimples on your rear or thighs disappear. And lest we forget, the bright neon color increases its visibility in the bag.
Pros:
 Lightweight
 Travel-friendly
 Compact size
 Anti-slip handles
 Ergonomic design
 Quick relief from muscle pain, soreness, and cramps
Cons:
 May not cover hard-to-reach areas
Are backaches due to continuous screen time giving you a hard time? This compact massage roller stick is all you need for relief. But is it office-friendly? Absolutely. The roller has a no-squeak design, and the gears on the solid steel core tube are aligned uniquely to make no noise when you roll the stick on the muscles. Besides this, the device is sturdy with handles of polypropylene and thermoplastic rubber. Suitable for relieving aches, pain, and fatigue, it also aids in muscle recovery by improving circulation, resilience, endurance, and flexibility. You can use it for warming up your muscles and to prevent injuries too. Want more? The brand guarantees no breaking, bending, or ripping hair and will massage hard-to-reach areas effectively.
Pros:
 Compact size
 Easy-to-use
 Travel-friendly
 Anti-slip handles
 Ergonomic design
Cons:
 May be slightly hard to get used to for first-timers
If you are looking for premium and professional-grade options, this massage stick may suit your liking. It has a foam grid roller so it doesn't cause injury as you roll, and it mimics the massaging pressure of a masseuse or therapist to deliver a professional-grade massage. 21-inch long, durable, and great for massing hard-to-reach areas effectively, you can use this roller stick while standing or sitting. And did you notice its unique foam grid design? The massager stick has a 3-dimensional surface to improve blood and oxygen flow while reducing fatigue, soreness, and muscle aches.
Pros:
 Travel-friendly
 Anti-slip handles
 Ergonomic design
 Ensures targeted compressions
 Suitable for massaging quads, calf, back, and hamstrings
Cons:
 Expensive
 Some may find it slightly stiff
No pinching or bruises, this massager will relieve and heal with its ridge surface. 21-inch long, so you can massage all the hard-to-reach places without assistance, the roller stick is beneficial for both deep tissue massages and myofascial release. Flex your muscles pre-workout or after; this massager will also aid in muscle recovery, prevent DOMS, release knots and tensions to eliminate lactic acid build-ups. Massage quads, calves, hamstrings, and more to increase circulation and decrease fatigue effectively.
Pros:
 Sturdy
 Anti-slip
 Lightweight
 Travel-friendly
 Retractable handles
Cons:
 Slightly expensive
 May be slightly hard for beginners
Fight cellulite with this 15-inch therapy stick made of 100% natural beech wood. Why spend on the expensive massages and therapies when you can get a self-massage with this therapeutic massager. And its benefits? It reduces orange skin, improves circulation, smoothes skin, flexes muscles, and stimulates the flow of oxygen, blood, and lymph, all in a few minutes you spend with it! A great device to keep your body toned and your skin glowing, the curved design reaches all targeted areas and mimics the pressure of a therapist like a pro.
Pros:
 Sturdy
 Compact
 Durable
 Travel-friendly
 Suitable for overall well being
Cons:
 May require assistance for hard-to-reach places
This ultra-sturdy 17-inch muscle roller stick will go a long, long way with you. Made of industrial-strength materials, with durable ABD independent rollers and polypropylene handles, the device is designed to massage every muscle (even the smallest ones!) diligently. Besides this, it has a stainless-steel core, and the spiky balls target every pressure point and muscle effortlessly. Great for light, medium, and deep tissue massages, pre-workout, post-workout, it's a great travel tool for athletes, gym enthusiasts, sedentary crowds, and more.
Pros:
 Anti-slip
 Portable
 Lightweight
 Travel-friendly
 Suitable for at-home treatment
 Recommended by doctors, chiropractors, trainers, and more
Cons:
 It may pull skin or hair.
Be it neck, back, spine, feet, hands, or legs, this kit has all your massaging needs covered! It has a steel core massager stick, foam roller, rollerballs, and yoga block to massage and relieve all your pressure points at home. Since you cannot meet your therapist daily, this kit will be a great backup for at-home massages. From relieving pain, aches to improving circulation and increasing mobility, this set is suitable for warmups, cooldowns, and muscle recovery.
Pros:
 Compact
 Easy-to-use
 Travel-friendly
 Boosts energy
Cons:
Your go-to stick for relief and recovery post intense workouts! There you go; those were the 13 best massage roller sticks of 2021. If you need more assistance while choosing the best one or want to know a little more about them before you buy it, we have some details for you in the buying guide below.
How To Choose The Best Muscle Massage Roller Stick?
Look out for the following features in the product before buying:
Massage stick rollers are available in different sizes for portability and coverage needs. Compact-size massager sticks (15-16 inches) are handy and portable but may not be ideal for hard-to-reach areas. Likewise, 18-21 inches massage sticks ensure great coverage but may not be travel-friendly or effective for small muscles.
Since massaging requires pressure, it's best to choose a product made of high-quality and robust material to prevent breakage or bending. If you are looking for a massager for deep tissue massages, pick one with stainless steel core and sturdy ABS rollers for long-lasting usage.
Anti-slip handles ensure you have a secure grip while massaging, and it also prevents injury. Many athletes and trainers complain of hand fatigue, which they can avoid with anti-slip handles.
Pressure intensity may vary depending on the roller surface design. Those with ribbed or spiked designs are great for deep tissue, myofascial, and intense massages. But, if you are a beginner, have sensitive skin, or looking for muscle recovery post-surgery, it's best to settle for a smooth roller massage stick.
How To Use Muscle Massage Roller Stick?
Compared to traditional foam rollers, muscle massage roller sticks are convenient and easy-to-use because of their compact size. In fact, the handiness of these sticks lets you control the pressure. So, you can maneuver it as you want and wherever you want to relax or massage the muscles. However, if you are a beginner, it's best to start light and for a few minutes and then slowly increase the time you spend with the massager.
Benefits Of Massage Roller Stick:
Here are some benefits you can enjoy with the massage roller stick:
 Ideal for myofascial release
 Reduces lactic acid build-ups
 Activates muscles pre-workout
 Combats cellulite and rejuvenates skin
 Improves circulation, airflow, and lymph in the body
 Relieves soreness, stiffness, tightness, and fatigue
 Aids in muscle recovery, flexibility, mobility, and endurance
Do you still want to stick to bulky foam rollers? Give your muscles relief no matter where you are. Suitable to use in the gym, office, home, or even while traveling, these roller sticks for muscles are making massages effortless for all. With some mimicking the pressure of a therapist and masseuse, you'll never have to endure muscle fatigue or stiffness anymore. So, what are you waiting for? These 13 options on our list guarantee the utmost relief, relaxation, and recovery for your muscles within a few minutes. Also, no more "next day" aches! Keeping you and your muscles happy and flexed like a pro, add the best massage roller stick to your gym or personal arsenal today.
Frequently Asked Questions
Do massage sticks rollers work?
Absolutely! Massage roller sticks are handy and easy to maneuver, thus making them great for massaging pressure points and relieving muscle aches, pain, and fatigue effectively. Besides this, they also improve circulation, flexibility and prevent injury while working out.
How often should you use a massage roller stick?
You can use a massage stick anywhere between 10-50 minutes a day, depending on the intensity and relief you need. However, if you are a beginner, you should start light and increase the massaging time gradually.
What is the difference between muscle roller sticks and foam rollers?
Foam rollers are bulky compared to massage roller sticks and may not provide the required relief to small or sensitive areas such as the neck, shoulder, feet, etc. Moreover, they are not as travel-friendly as massage roller sticks, making them a better choice for athletes and gym goers.