11 Best Maternity Compression Leggings For Expectant Moms In 2023
Get the best belly support and relief from back pain while still looking stylish!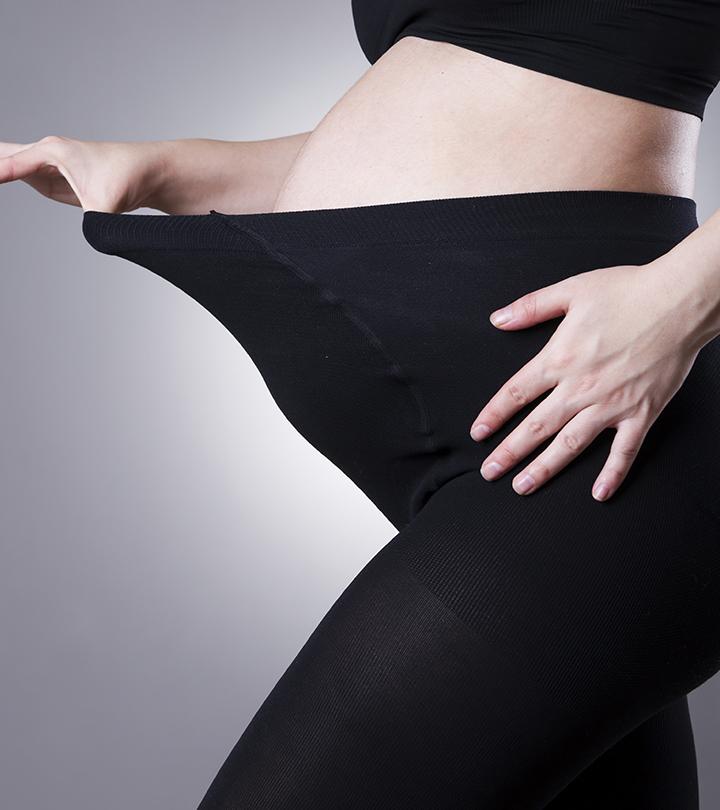 A pregnant woman's body goes through a long list of changes. For all you fatigued soon-to-be moms out there, we have some good news. The best maternity compression leggings support your growing belly through each trimester and also help ease back pain and edema. Michelle Wagman, a fashion industry entrepreneur says, "Compression fabric applies gentle pressure to the muscles in the legs." While you can always invest in good belly bands, these compression leggings are a good addition to your pregnancy wardrobe. You can always style these leggings into a quick glamorous outfit or wear them as everyday casual wear.
Pregnancy does take a toll on women's bodies, and even though mainstream media is always showing us women with glorious pregnancy glows, that is not the scenario in most women's reality. Ladies, we understand the need for extra support, both emotional and physical, during these months. These maternity activewear compression leggings will keep you looking stylish and feeling comfortable throughout your pregnancy and even after you deliver! So, check out the bestselling maternity compression leggings found on the market right now that are perfect for all stages of pregnancy and loved by expecting mothers all over the world. Read on.
Get Extra Support With These 11 Best Maternity Compression Leggings
Made with a deliciously plush blend of premium grade cotton (87%) and spandex(13%), these maternity compression leggings provide a snug yet breathable fit. Offering firm support and extra stretch for your overworked muscles but with enough stretch to accommodate your growing belly, these are amazing! Available in staple solid shades like Black and Navy, the streamlined design, that are the sleek shapes and lines on the fabric and designs pure street chic but can also serve as cozy loungewear. Pair with a neutral colored tee and some white sneakers for a sporty chic look, or layer with a cute printed tunic and some strappy sandals for that breezy summer vibe.
Pros
Supremely comfortable
Machine washable
True to size
Cons
Doesn't help compress varicose veins
These seamless maternity compression leggings possess a wide and thick "over the belly" elastic band that provides fantastic support for your back and posture. Made with a high-quality mix of polyamide (92%) and elastane (8%), the fit is wildly flattering without being uncomfortable. Additionally, the moisture management fabric does not absorb any topical oils or creams that you may apply to your skin. This means that you no more need to restrict your skincare to bedtime; instead, feel free to soak up any stretch mark-busting cocoa butter during the day and on the go! Available in classic colors like black, brown, and grey, these trendy full-length maternity leggings are easy to style and smooth to slip into.
Pros
Great belly support
Moisture-wicking fabric
No see-through hassles
Cons
Run slightly large, may need to size down
The Terramed Maternity Leggings are made of 80% microfiber and 20% spandex, and are machine washable and designed to shape the body with adequate support. They have a stretchy support band that expands with the growing belly and can be worn above or below the belly for added compression. They are made of soft and breathable microfiber yarn with no scratchy seams on the belly area, ensuring maximum comfort.
Pros
Stretchable
Moisture-wicking fabric
Good quality
High-density fabric
Cons
Soft against the skin and possessing tons of stretch to accommodate your growing baby bump (without uncomfortably digging into your belly), these snazzy maternity compression leggings from Terramed are a snugly stylish fit. Made with a mix of high quality nylon and spandex that contours your body lines and is wildly flattering, the breathable microfiber fabric also has moisture wicking properties to ensure all-day comfort. Additionally, the seam-free design is ideal for those with sensitive skin who aren't fans of scratchy stitches, especially on the delicate belly skin. Available in a range of essential neutral shades like black, taupe, gray, and white; besides the full-length style, these fashion staple bottoms also come in a cool capri cut.
Pros
Shape the body
Seam-free smoothness
Breathable compression leggings
Available in different lengths
Cons
The Kindred Bravely Louisa's Maternity Leggings are designed for all women, especially during pregnancy and breastfeeding. It is made of 85% polyester and 15% spandex, which makes the fabric ultra-soft and durable. It gently smooths natural curves and provides stretchy support for a baby bump, while the ultra-high waist ensures additional, full coverage for nursing moms. These high-waist maternity leggings are machine washable for ease and convenience. Moreover, the product has garnered hundreds of positive reviews for the excellent support and snug fit it offers.
Pros
Good quality
Good Fit
Flexible
Stretchable
Cons
None
The Momcozy Women's Maternity Leggings are a great addition to your maternity wardrobe. They are made with breathable fabric composed of nylon, polyester, and spandex. The buttery soft fabric, stretchable construction, and moisture-wicking properties make it a great pick. The leggings are dyed with harmless ones, which make them fit for expecting moms. They are also easy for squats and other activities along with providing protection against tears. The elasticity of the flannel provides over-the-belly support and comfort. The high-waist design of these maternity leggings help you flaunt the natural shape of your body and also accommodate your growing bump. These are suitable for all weather types, and is best to wear for yoga, workouts, jogging, and all the other physical activities.
Pros
Comfortable
Breathable
Seamless
Best for everyday wear
Stylish design
Cons
None
The Leggings Depot's Maternity Leggings are the perfect choice if you're a pregnant woman on the quest for comfort, style, and unrestricted movement. These leggings are made from a soft and stretchy material consisting of 92% polyester and 8% spandex. They are non-see-through, squat-proof, and made from ultra-smooth material that is breathable and lightweight, providing all-day comfort. These high-waisted maternity leggings provide support and compression for your back and abdomen, easing discomfort. These are safe to test throughout your pregnancy and beyond, in any weather condition.
Pros
Soft
Comfortable
Perfect fit
Value for money
No pilling
Cons
None
The Momcozy Women's Maternity Leggings have a buttery soft and breathable fabric that offers gentle compression and moisture-wicking abilities. As per reviews, these leggings are dyed with non-toxic dyes, and have squat-proof and tear-resistant qualities to ensure comfort throughout the pregnancy. The high-waisted design enhances and shapes the natural curves of the body and provides support with the super elastic fabric over the belly – perfect for wearing under dresses, tunics or skirts.
Pros
Comfortable
Adequate waist belt room to grow
Provides back support
Value for money
Cons
The Felina Velvety Soft Maternity Leggings are perfect for anyone who wants a lightweight, soft feel that is perfect for lounging around the house or working out at the gym. These are made with a velvety soft, peached fabric with a stretchy maternity waistband for comfort and ease as the wearer's body changes. The moisture-wicking fabric of these leggings will keep you dry and comfortable all day long while looking stylish and chic.
Pros
Best for layering
Soft
Opaque
Comfortable
Cons
None
The Belly Bandit Maternity Leggings are one of the best in class! These offer comfort at its peak and the smooth fabric is a great pick to flaunt your baby bump and yet work out most comfortably. These leggings are trusted by users as they are made with exclusive material, and offer great stretch and support during rigorous sessions. They are best worn throughout the day because they provide excellent back support and very little compression for the seating area and thighs. These are extremely chic, offer the most seamless workout experience, and are a must-add to your maternity clothes collection!
Pros
Good support
Smooth
Comfortable
Seamless
Stretchable
Stylish design
Cons
Not suitable for tall women
This Amazon Essentials Women's Leggings are  made of breathable fabric. Its composition of cotton, viscose, and elastane makes it the perfect companion to other maternity wear essentials. It offers an over-the-belly panel for comfort, which makes it best to wear in any season and for all kinds of physical activities. This affordable, high-quality, and long-lasting product complements your curves without any hesitation. This one's great for both pregnancy and the postpartum recovery, due to its elastic nature. A great fit for your maternity clothing choice!
Pros
High-quality fabric
Comfortable
Best for everyday wear
Value for money
Cons
That's a wrap on our pick of the 11 favorite maternity compression leggings any to-be mommy (and her sore back & feet) will adore this 2023. However, if you're feeling spoiled for choice and could use a few pointers on how to select the right pregnancy compression tights for you, fear not. We've got your back! Take a quick peek at our handy buying guide below to sort you out.
A To-Be Mommy's Guide To Buying Maternity Compression Leggings
The maternity wear market is overflowing with pregnancy compression leggings of varying styles, fits, degrees of compression, and purported medical claims. Instead of feeling overwhelmed, ask yourself the following questions before making a purchase.
What Are Maternity Compression Leggings And Do I Need Them?
Achy feet and mild swelling (or edema) are rather normal symptoms of pregnancy (you should always notify your physician if you're experiencing severe edema that doesn't disappear, however, as this requires medical attention). Roughly 75% of to-be mommies experience swollen ankles and feet at some point in their pregnancies – most frequently at 27 weeks (or 7 months) (1). And this symptom won't fully disappear until the arrival of the baby. Additionally, 35% of pregnant women will also report the appearance of long tortuous dilated veins (read: varicose veins) during the pregnancy (2). The good news? One solution to help ease, or halt the progression, of the aforementioned symptoms is the timely donning of a pair of nifty maternity compression stockings at the beginning of your day.
These leggings are made with a sturdy elastic fabric that is designed to exert the optimum amount of pressure required to promote good blood flow to your calves, glutes, and back muscles. This keeps them perpetually stimulated while alleviating pain and swelling. The extra boost of support they supply also helps ease the load from your overtaxed muscles, thereby allowing you to stay comfortable and active throughout the day.
How To Choose The Right Maternity Compression Leggings?
If you seek to find the perfect pregnancy compression pants for you, always assess the following factors before you click on "Add to Cart":
Length:
Compression leggings come in all sorts of lengths. From short sporty socks that you can slip into with your sneakers and head for a workout, to those that reach up to one's knees or belly. All in all, the latter tend to be more effective, especially if you suffer from varicosities in your thighs.
Fit:
For the compression stockings to serve their purpose, you require a tight (yet not uncomfortably so) fit, therefore, making a fit assessment is essential for finding the right pair. What you should be looking for is leggings with an anti-roll waistband and firm support that doesn't feel like it's strangulating your limbs.
Style:
You'll often come across "under the bump" and "over the bump" maternity leggings. The former possesses a supremely stretchy waistband capable of providing gentle support to expectant moms. They are a great option for earlier on during your pregnancy, as your belly hasn't started showing enough yet to fill out the latter design. On the other hand, "over the bump" leggings have a built-in panel designed to stretch and accommodate a to-be mommy's growing belly. They provide terrific support during the later trimesters.
Degree Of Compression:
Measured in mmHg, compression can range from mild or light compression (10-15 mmHg), moderate (15-20 mmHg), and firm (up to 30 mmHg). While there are compression stockings with more intense compression levels, these however aren't available over the counter and require a prescription from a physician.
What Are The Benefits Of Compression Stockings During Pregnancy?
1. Help ease pain: the gentle compression from these maternity leggings can help relieve leg fatigue and pain. The firm pressure stimulates your sore muscles, improves blood flow, and helps support weight.
2. Provide comfort: the supportive compression and breathable fabric of the leggings help to ease the load you carry during pregnancy, allowing you to feel more comfortable with being active on your feet.
3. Promote blood circulation: compression leggings are good for blood circulation as it helps to regulate blood flow to neglected areas during your pregnancy. The nutrient and oxygen-rich blood flows to sore muscles and accelerates healing.
4. Reduce swelling: The firm support provided by compression leggings helps to reduce any swelling that accumulates in your ankles and calves. This, in turn, reduces the achy and sore sensation in your legs.
5. Reduce DVT risk: Compression stockings provide a gradient pressure that reduces your risk of forming a blood clot (read: deep vein thrombosis or DVT), which women are at a higher risk of suffering from due to the changes in their body during pregnancy (3, 4). DVTs are a serious matter as they can turn fatal if the clot dislodges and travels to your lungs.
Why Trust Stylecraze
The author, Srijita De, is a fashion enthusiast. She enjoys reviewing different products and recommending them to users. For this article, she has extensively studied maternity compression leggings for pregnant women and evaluated loads of feedback to narrow down on the top-rated products. She considered parameters like fabric mix, comfort, belly support, quality, and design to shortlist the products. These leggings are supremely comfortable and offer good support to the growing belly besides helping ease back pain and edema.
Frequently Asked Questions
Are compression leggings safe during pregnancy?
Yes, maternity compression leggings are safe to wear during pregnancy. The hosiery provides a gradient compression that actually has therapeutic effects. However, always consult your physician before purchase.
How much compression should I go for?
The compression stockings available over the counter usually provide a compression of 15-20 mmHg (read: millimeters of mercury). Values above that are medical classes of compression and can be used if directed by your doctor.
When should you start wearing compression leggings during pregnancy?
It is advisable to wear compression leggings from the beginning of your pregnancy and right until six weeks after your delivery (this is a high-risk period when women are at a greater risk for DVTs). Always consult your physician before use.
How do you know what size maternity leggings to buy?
For any maternity wear, it is recommended that you stick to your pre-pregnancy size. While every pregnancy is unique, most maternity leggings are designed to stretch and accommodate the normally expected pregnancy weight gain. Always refer to the manufacturer's size guide to ensure your US/UK pant size reflects the correct measurements.
Do compression leggings help postpartum?
Yes, they do. Especially during the 6-week window postpartum when women are at a higher risk of DVTs. Always consult your physician before use.
Can tight compression leggings hurt the baby?
Maternity compression leggings are perfectly safe to wear during pregnancy. However, always consult your physician before use.
Recommended Articles