10 Best Maternity Leggings For Pregnancy – Buying Guide
Relax or move around comfortably in these leggings as your carry your baby inside you.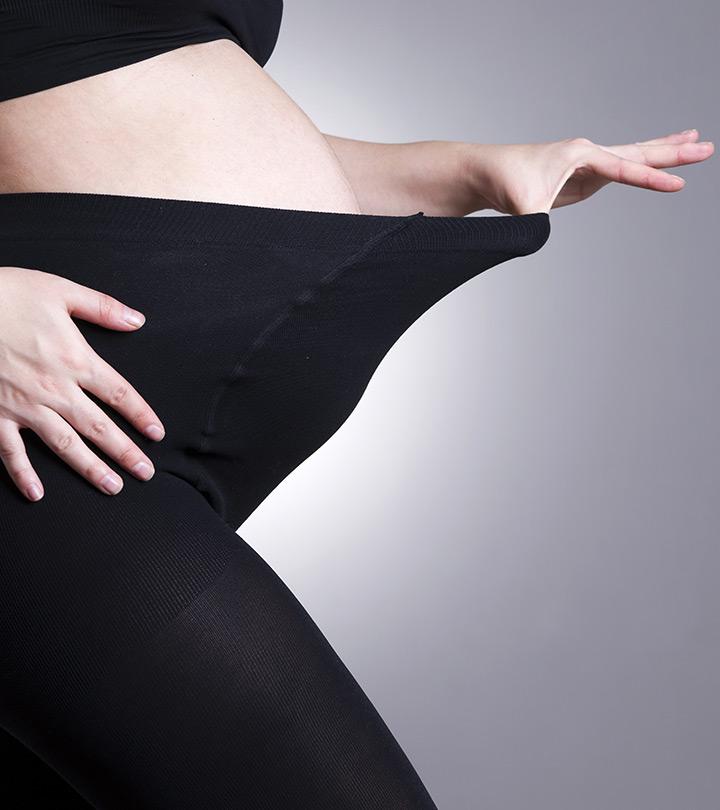 If you're a soon-to-be-mommy you might be searching all over the internet for the best maternity leggings. And why wouldn't you? It's a known fact that pregnancy demands the most comfortable leggings just like food cravings and lots of care. Maternity leggings are made of breathable fabrics and provide cozy fits so that your magical time with your baby pea is memorable. In this article, we have carefully curated some of the best leggings for pregnant women. Read on to check them out.
10 Most Comfortable Maternity Leggings Of 2023
Pros
Full length
Performance fabric
Supports lower back
Minimal chafing
Moisture-wicking
Cons
Price at the time of publication: $88
Pros
Elastic closure
Machine washable
Full length
Soft
Cons
Pros
Stretchable
Seam-free
Lightweight
Non-see through
Cons
Too tight around the ankles
Price at the time of publication: $11.99
Pros
Extra soft
Lightweight
Stretchable maternity waistband
Chic
Quick drying
Cons
Price at the time of publication: $39.95
Pros
Durable
Soft
True to size
Non-see-through
Cons
None
Price at the time of publication: $23.7
Pros
Lightweight
Durable
Machine washable
All-day comfort
Opaque
Squat-proof
Cons
Price at the time of publication: $22.99
Pros
Breathable
High-performance
Buttery soft
4-Way stretch
Non-see-through
Cons
None
Price at the time of publication: $25.99
Pros
Lightweight
Stretchable
Skin-friendly
Full-length
Cons
Price at the time of publication: $28.31
Pros
Elastic closure
Comfortable fit
Full coverage
Over-the-belly support
Moisture-wicking fabric
Cons
Price at the time of publication: $64
Pros
Ulta soft material
Pull-on closure
Machine washable
Fashionable look
All-day comfort
Cons
Price at the time of publication: $89.99
When you are pregnant, the last thing you want to do is waste time and money looking for a comfortable pair of leggings. We have compiled some tips and tricks for you to follow to make this task easier. Check them out!
Buying Guide For Maternity Leggings
Choose elastic bands over drawstrings because they are self-adjusting and do not put too much pressure on your belly. Drawstrings also need to be adjusted constantly.
Look for soft-knit cotton/lycra leggings with a little bit of spandex.
Figure out what style of leggings are the most comfortable for you – under the belly band, over the top mesh panel, or something that sits just on the belly button.
Buy tops or dresses that go well with your leggings.
Select brands that can be used throughout your pregnancy (and even after it!).
Why Trust StyleCraze?
The author, Pratima Ati, covers all bases when it comes to fashion and daily essentials you need to know. She compiled the list of the best maternity leggings available on the market based on extensive research and analysis of all online reviews. She also highlights the parameters to look for when choosing these leggings. The products on the list are made from breathable fabric and are designed to provide a secure fit.
Frequently Asked Questions
Is it good to wear maternity leggings?
Yes, wear maternity leggings to remain comfortable during your pregnancy and postpartum stages. These leggings are stretchable enough to support your growing bump and other changes in your body.
What is the difference between maternity leggings and regular leggings?
The main difference is that maternity leggings are extra stretchable and expand with your growing belly. They come with an extra-supportive waistband to accommodate the changes in your body. Regular leggings are not as stretchable as maternity leggings and fit rather tightly. They are not too accommodating when it comes to a mother-to-be's growing belly bump.
Can you wear plus-size leggings instead of maternity leggings?
No, plus-size clothes may not fit you snugly if you are not of your size. They may fall down from your body due to size differences. However, maternity wear caters to your dimensions while being extra stretchable and roomy.
Is it OK to wear normal leggings when I am pregnant?
Yes, it is okay to wear normal leggings when you are pregnant. However, switch to comfortable maternity wear to keep your growing belly comfortable and well-supported.
Can you wear maternity leggings after giving birth?
Yes, definitely. Wear maternity leggings after giving birth to be comfortable during your postpartum phase.
Recommended Articles:
Best Maternity Yoga Pants
Best Maternity Compression Leggings For Soon-To-Be Mommies
Best Maternity Sweatpants
Best Postpartum Leggings For All Body Types