13 Best Maternity Robes To Try In 2023 (With Buying Guide)
Wear soft and convenient clothes to provide extra comfort to your growing belly.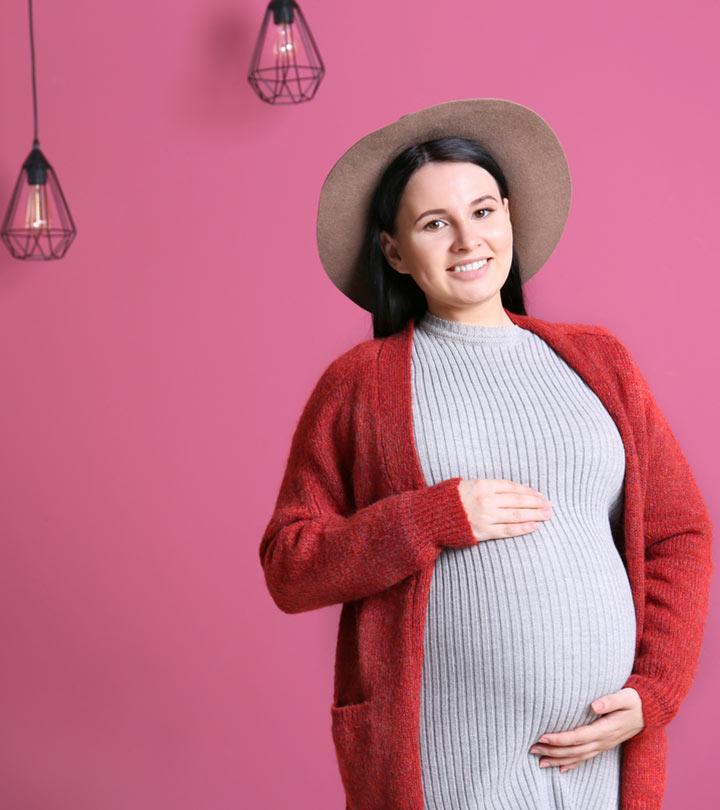 If you are looking for something to wear during pregnancy and the phase after, you need the best maternity robes. They have more fabric than any other traditional robe to accommodate your growing belly and provide extra comfort during the postpartum period. The maternity robes have at least one tie closure in the front to keep them secured while allowing for easy access when you plan on nursing. This tie closure also ensures that you have a secure fit. The extra fabric gives you full coverage.
The best part is that the versatility of wearing these robes is just not limited to pregnancy and the phase after that. You can wear them to feel extra comfortable on lazy days while simply idling at home. Also, they are designed with comfortable and soft fabric for easy wash and care. We have curated a list of the 13 best maternity robes of various lengths, fabrics, colors, and styles in this post. So keep reading to explore our list!
13 Best Maternity Robes To Wear Through Pregnancy And Beyond
Pros
 Stretchable
 Machine washable
 Available in 35+ prints
 Attached adjustable belt
 Designed by moms
Cons
 It might shrink slightly after the first few washes.
Price at the time of publication: $39.99
Pros
 Easy breastfeeding access
 Stylish and multifunctional
 Generous coverage
 Beautiful lace edges
 Available in 16 colors
Cons
 The stitching might be a little delicate.
Price at the time of publication: $27.98
Pros
 Machine washable
 Natural bamboo fabric
 Generous coverage
 Adjustable tie closure
 Available in 15 patterns
Cons
Might not be stain-resistant
Price at the time of publication: $65
For maximum coziness and coverage, you can opt for this gorgeous and richly-colored maternity robe. The material is made from premium quality rayon, making it super-soft and cool to the touch. The functional aspects include a tie closure, ¾-length sleeves, and contrasting white piping that runs along the neckline, providing generous coverage and easy access during nursing time. In addition, the lightweight robe has 2 seemingly hidden pockets that will keep your hands warm and stuff secure whenever necessary.
Pros
 Tie closure
 Easy feeding access
 ¾ length sleeves
 Deep pockets
 Available in 11 colors
Cons
It might get wrinkled easily.
Price at the time of publication: $27.89
Pros
 Versatile
 Lightweight
 Tie closure
 Adjustable satin collar
 Detachable belt
 Available in 2 colors
Cons
 The edges might begin to fray after a few washes.
Price at the time of publication: $39.99
Pros
 Soft and lightweight
 Fast water absorption
 Warm and comfortable
 Adjustable tie closure
 Machine washable
 Available in 10 colors
Cons
 May not be suitable in warm weather
Price at the time of publication: $42.99
This basic-looking postpartum robe has a minimal yet beautiful and feminine form that drapes over your silhouette like a silken dream. It features a rayon-spandex material that feels lighter than feathers, and the robe comes with an adjustable tie closure that cinches in the front to help you avoid any mishaps and cover your bump. The lace trim attached to the bottom hem looks so adorable, you will never want to take the gown off even after you're back from the hospital. Breathable and highly elastic, its modal fabric is a treat to the skin, making the robe suitable for during and after pregnancy.
Pros
 Shrink and fade-proof
 Super-soft modal fabric
 Long sleeves
 Knee-length robe
 Soft and stretchable
 Available in 3 styles
Cons
 The material may not be completely opaque.
Price at the time of publication: $19.99
If you are on a quest for the cutest baby shower gift, this maternity robe comes with a picture-perfect swaddle and headband to make every mum-to-be's life a touch more colorful. The robe's loose, kimono-style fit works perfectly as a hospital gown or when you just want to lounge around the house. Since it's available in 2 sizes, you can get the larger one to pull focus away from your pregnant or postnatal belly. The silk fabric is insanely soft and accommodates almost every body type while allowing easy access when nursing. When it's time for delightful family photos with your beaming newborn, this robe will enhance your inner and outer glow.
Pros
 Light and flowy maternity robe
 Suitable for most body types
 Comes with a swaddle
 Available in 10 prints
 Machine washable
Cons
 The material might not be as breathable.
Price at the time of publication: $19.99
Pros
Breathable
Inner tie closure
Snug fit
Multiple pockets
Ideal for breastfeeding
Works as post-pregnancy leisurewear
Cons
Pros
 Machine washable
 Lightweight
 Adjustable tie closure
 Elegant lace trim
 Available in 2 colors
Cons
 Some may find the fabric slightly thin or sheer.
Price at the time of publication: $27.99
Pros
 Stretchable
 Pretty design
 Lightweight
 Nursing-friendly
 Available in 9 prints
Cons
 Might not be true to size
Price at the time of publication: $89.99
Pros
Breathable fabric
Loose fit
Long-lasting
Comes with a matching swaddle
Machine washable
Cons
Price at the time of publication: $59.95
This lightweight maternity nursing robe is made from a combination of cotton and polyester, which gives it some stretch and makes it super-delicate on the skin. The stylish design features 3/4th sleeves with a beautiful lace trim that runs along the bottom hem of the robe, providing a chic, feminine silhouette. It also has 2 side pockets that you can use to warm your hands or hold everything you need at nursing time. The maternity robe is available in sizes that range from XS to 3XL, so you can choose the fit that'll make you feel your best.
Pros
 Variety of designs
 Amazingly soft
 2 side pockets
 True to size
 Wide lace trim
Cons
 The seams might be slightly delicate.
Price at the time of publication: $19.99
With the prettiest maternity robes in the market laid out in front of you, it's important to figure out what you need to look for while buying. We've put together a little buying guide that will help you decide which one looks and feels the most amazing.
How To Choose The Right Maternity Robe
Before anything else, a maternity robe needs to be practical. This means the tie closure should be adjustable and the fabric should make it easy for you to slip off the robe just enough to nurse your little one. It should also provide enough coverage to distract from your bump and keep you as cozy as possible.
If you are looking for a casual robe to wear only during your morning or evening routines, opt for a mid or short-length robe that can be worn with pajama bottoms. On the other hand, if you want something that you want to lounge around in the whole day while still being fully covered, look for full-length robes that go all the way to your ankles.
There's nothing better than a soft, breathable robe that is gentle on yours and your baby's skin. Cotton and bamboo are excellent in this regard as they are natural and won't agitate you. On the other hand, if stretch is your priority, go for rayon or cotton and spandex blends. Keep in mind that the material should feel comfortable and hold up after multiple washes, so make sure it's not too thin.
The final weeks of pregnancy and early days of motherhood can be incredibly challenging, and the last thing you need is to deal with uncomfortable clothes. A high-quality maternity robe takes the exhaustion out of getting dressed and makes it super-convenient to feed your baby without having to take anything off! No matter which one of these you end up buying, you will be at your comfiest best while having enough coverage to wear it around the house even when loved ones come over to dote over your newborn. Versatile enough to be worn from morning to night, these maternity robes are destined to find a permanent space in your post-delivery wardrobe, too!
Why Trust StyleCraze?
Priyam Gupta, who authored this article, is passionate about fashion and is constantly trying out different fashion items to help her readers purchase the most suitable ones. For the same intent, she went on a hunt to find the best maternity robes. Through extensive research and frequent visits to online forums to check product reviews, she curated a list of the best maternity robes. The listed robes are comfortable and fashionable, and you can continue to wear them even after pregnancy.
Do I need a maternity robe for the hospital?
Even though the hospital does provide maternity gowns, it's better to get your own so that you experience maximum comfort and confidence during this overwhelming time. Besides, hospital gowns can be rough on the skin, so try to avoid any extra discomfort by carrying your own robe.
What is the difference between maternity robes and gowns?
Maternity robes come with front closures and adjustable ties. They can be worn over a maternity gown and provide coverage when you have to breastfeed your newborn. In contrast, maternity gowns have a slip-on closure and can be worn under the maternity robe. They are made from a lightweight material, and the neckline is adjustable so you can nurse easily. These gowns are great for hospital stays and the postpartum phase as they'll keep you cool and comfortable.
Is a maternity robe worth it?
Yes. Maternity robes contain extra fabric to accommodate your growing belly. These soft and comfy materials provide a secure fit and optimum coverage to your belly and allow easy nursing access.
Can I wear a robe during labor?
Yes. Wear a soft robe to cover your skin with a skin-friendly fabric during labor.
Do you need a robe for after delivery?
Yes. A maternity robe is a must-have postpartum clothing item. The soft and comfy material of the robe is ideal for covering your sensitive skin.
How long should you wear maternity robes after delivery?
Wear maternity robes as long as your skin feels sensitive and you experience minor pains in and around your belly after delivery.