10 Best Maternity Sports Bras That Are Breathable With High Support – 2022
Continue working out on pregnancy days with these bras for better support.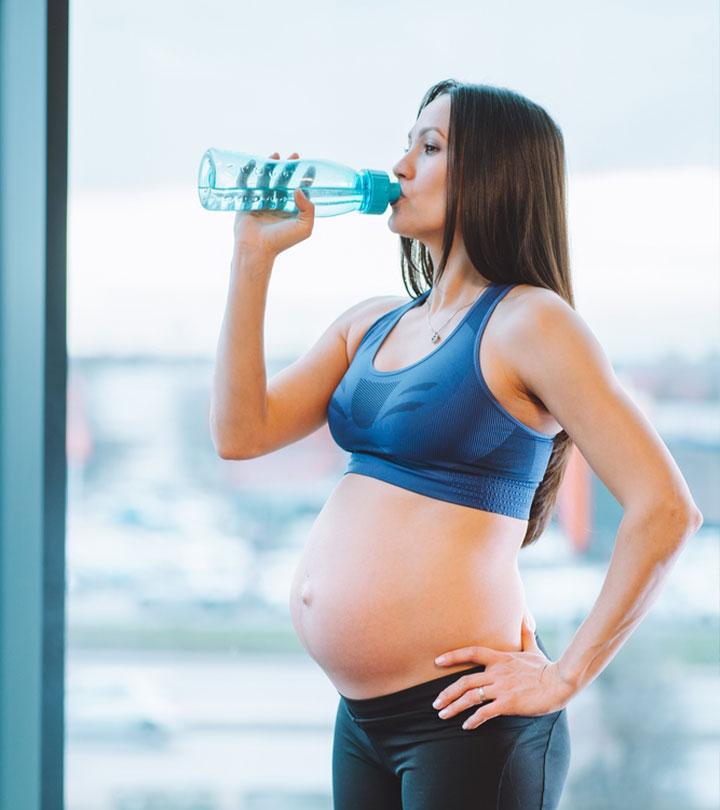 When you are new to motherhood, it's all about staying active, fit, and healthy. This is why you need the best maternity sports bra. A maternity bra offers much-needed comfort and also makes nursing easier. However, finding a good maternity bra that offers support, comfort, and flexibility is never easy. So, that's why we have combed out a few seamless maternity bras with a front opening. It prevents the chest from getting sweaty due to exercising and also prevents saggings of breasts.
So, what are you waiting for? Go ahead and check out the list of maternity sports bras that are stretchable and breathable with high support. Enjoy shopping, ladies!
10 Best Maternity Sports Bras Available Right Now
The super-snug Holifish Nursing Maternity Bras is a comfortable bra designed for easy breastfeeding with one hand. Its strong bottom band gives additional support and prevents sagging. This 3-piece pack is designed for pregnancy use and post-partum nursing. Its shoulder straps are adjustable with an extra-wide side to support your cups well and give a fitter look. It is made with 92% nylon and 8% spandex, making the material breathable and stretchable for flexible wear.
Pros
Highly elastic
Adjustable shoulder straps
Seamless stitching
Removable foam cups
Breathable
Full coverage
Non-slip
Cons
Angelhood Nursing Bra is made with 90% nylon and 10% spandex. It is soft, breathable, and non-irritating on your skin. This bra provides complete support to your bust. Its front-open clasp design allows easy nursing. It has triangle cup shapes that accommodate breast size fluctuations and a 4-inch wide sideband to hide your armpit fat. Its wide elastic band offers easy cup access and provides full support to prevent sagging. Its band is also adjustable thanks to the four-column hook closure design.
Pros
Soft material
Breathable
Stretchable
Offers one-hand access
Removable padding
Full coverage
No pilling
Fade-resistant
Wireless design
Cons
Stelle Body Maternity Bra is made with 4-way stretch fabric that hugs your changing breast shape. It is a perfect nursing bra for everyday use. It is made with high-quality, breathable nylon-spandex material. This hook-and-click bra comes with removable pads for added comfort. Its shoulder straps can be adjusted according to your desired fit. It also has removable pads and no underwire for extra comfort.
Pros
Sweat-resistant
Adjustable straps
Comfortable wear
Stretchable
No underwire
Cons
The 92% nylon and 8% spandex-made Desirelove Nursing Bra is a 3-pack set that delivers comfortable and convenient feeding access. Its full-coverage design gives your bust full support to prevent sagging. This one-hand-accessible bra opens from the front and drops down fully for easy breastfeeding. Its straps are also adjustable. It is available in multiple sizes ranging from small to extra-large.
Pros
Breathable
Stretchable
Full coverage
Removable cups
Adjustable straps
Seamless design
Cons
Cakey Maternity Nursing Bra is made with an ultra-soft and stretchable fabric that can be worn day or night and is ideal for nursing. It is made with 95% cotton and 5% spandex to provide gentle support to your breasts during and after pregnancy while sleeping. Its crossover front design makes your breasts easily accessible for convenient and quick feeding. This pull-down bra is easy to wear as it is free from the hassle of closing and opening hooks or buttons. The built-in bag allows you to insert or remove the pads when required. Its U-back design gives full coverage and reduces pressure on the back. In addition, the elastic lace design makes this sports bra look attractive.
Pros
No underwire
Built-in bag
One-hand pull design
Stretchable
Cons
Motherhood Maternity Nursing Bra is a full-coverage and seamless option that accommodates your changing breasts during and post-pregnancy. Its clip-down nursing function provides ease of breastfeeding. Its material is made with 96% nylon and 4% spandex material that is soft, breathable, stretchable, and easy to wash. This full-coverage bra with a seamless design provides all-day comfort and a convenient fit. It has a hook-and-eye closure and built-in bags to remove or insert pads as and when required.
Pros
Seamless design
Full coverage
All-day support
Machine-washable
Non-sagging material
Cons
Vinfact Nursing Bra has a stylish V-neck design. Its one-hand clip-down clasp in the front allows easy breastfeeding. Its strap can be worn in multiple styles. Its cross-back style with a comfortable chest lift is perfect for yoga, walking, or shopping. Its shoulder straps are removable, while the four columns and four rows of hooks give you the desired fit for comfort and ease. It is made with 88.2% nylon and 11.8% spandex that give it stretchability and softness and helps to absorb moisture. It is available in a pack of 3 and is great for daily use. Its fabric feels gentle on your skin and does not cause any irritation.
Pros
Adjustable straps
Easy to nurse
Comfortable
Multipurpose
Skin-friendly fabric
Cons
The Kindred Bravely Low Impact Nursing & Maternity Sports Bra is made with 54% nylon, 37% polyester, and 9% spandex. Its fabric is soft, comfortable, breathable, and easy to wash. This daily-wear bra has a low impact on your chest and provides sublime support. Its one-handed access makes breastfeeding quick and easy. Its true-to-size elastic band fits snugly, while the convenient clips with fold-down cups allow a quick transition from working out to breastfeed.
Pros
Easy to wear
Ultra-soft fabric
Supportive fit
Adjustable straps
Clip-down nursing access
Breathable
Moisture-wicking material
Cons
This lightly padded bra is made with 50% polyamide, 38% polyester, and 12% spandex. The Gratlin Maternity Sports Bra helps in nursing your baby and provides full support for impactful exercise. Its full-coverage design prevents sagging and holds your bust in place. Its wire-free design feels soft on your skin and offers a firm fit. In addition, its detachable front clips can be unclasped easily for breastfeeding. This lightly padded bra also prevents occasional leakage.
Pros
Adjustable straps
Supportive elastic band
Comfortable cotton lining
Sweat-wicking material
Breathable fabric
Full coverage
Cons
The multifunctional Lupantte Nursing & Maternity Sports Bra is made with moisture-wicking material. Its soft, stretchable fabric absorbs any leakage of overflowing milk. Its mesh design on the front and back makes it breathable. It is designed especially for active moms who like to stay fit while nursing their babies. It is made with a contrasting color design, and its wide straps with a U-back support your bust and reduce pressure on the back. The straps of this bra are adjustable, while the hook-and-eye closure helps in adjusting to your fluctuating breast size.
Pros
Wide adjustable straps
Breathable
Stretchable
Clip-down nursing access
Cons
None
The wide range of maternity sports bras with the variety of features they offer can leave you confused about their suitability to your needs. Therefore, in the next section, we will cover some important points that will guide you to make a better choice.
How To Select The Best Maternity Sports Bra
Here are a few tips to consider before you buy a maternity sports bra.
Comfort is of utmost importance for nursing moms as their breast size changes during pregnancy. Stretchable nursing bras are recommended to accommodate the breast changes moms experience during this time.
When you are breastfeeding, your breasts become heavier and need more support. It is good to buy a bra with a strong supportive band and a snug fit to prevent your breasts from sagging.
When you are breastfeeding, your nipples become large. So, it is advisable to buy full-coverage padded bras that can hide your nipples.
Maternity bras should be easy to wear, so look for seamless designs without underwire and an easy front opening.
Why Trust StyleCraze?
Baishali Bhattacharya, the author of this article, is a certified image consultant and a fashion expert. She has done thorough research on maternity sports bras, read many online reviews, and compiled this list of top ones. The products listed in this article are breathable, stretchable, comfortable, and have adjustable straps.
Frequently Asked Questions
When should I get a maternity sports bra?
As a mom-to-be, when you find your breasts start outgrowing, it is time for you to get a maternity sports bra.
Are maternity sports bras OK during pregnancy?
Yes. Opt for maternity sports bras to comfort and support your growing breasts during pregnancy.
Why do I need a maternity sports bra?
Yes. Maternity sports bra offers support, comfort, and flexibility while you exercise to keep yourself fit during pregnancy.
Can we sleep with a maternity sports bra?
Yes. It is not necessary to wear a bra while sleeping during pregnancy, but if you want a less structured and comfortable bra to sleep in, a maternity bra is your best choice.
Recommended Articles