11 Best Maternity Sweatpants To Lounge Around All Day In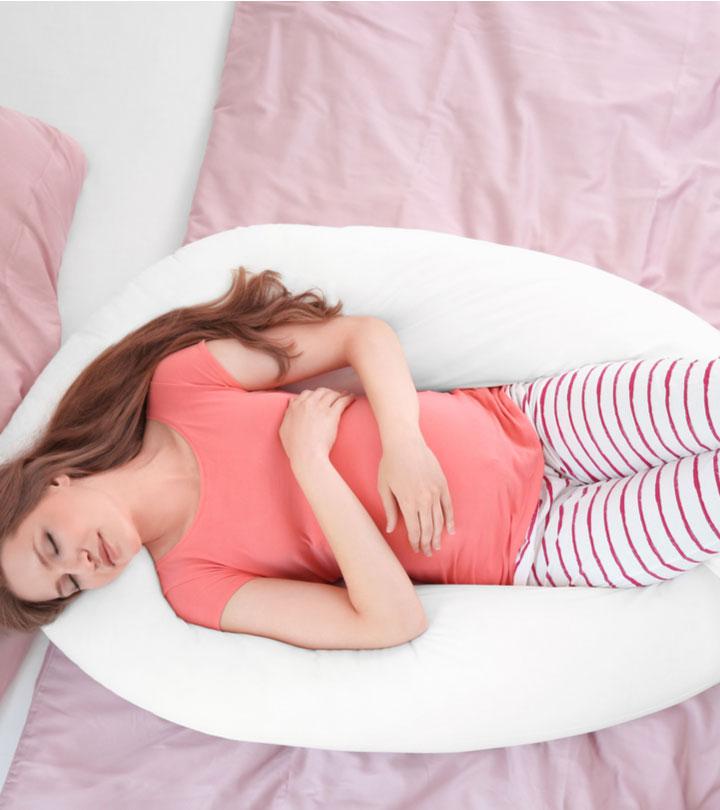 Pregnancy is a mentally, physically, and emotionally taxing time of any woman's life. With the inevitable changes, most people also need to swap out their wardrobes for roomier and baggier clothes. Stashing away your skinny jeans might be quite hard to do, but we're here to tell you there are better options out there. With our list of the 11 best maternity sweatpants, you can spend all your trimesters reveling in comfort with a hint of style sprinkled in. As they also transition well, you can wear the same pair for a checkup and then be on your way to a family dinner later!
Versatile enough to be dressed up or down, these bottoms are oh-so-comfortable even postpartum and when you are nursing your baby. Made with lightweight fabrics that keep you energetic on your toes, these classic pregnancy sweatpants also pair with almost everything in your wardrobe! The waistbands are gentle on the skin to accommodate your cute growing belly and not cause it any harm or discomfort. There are also a few picks for the active ladies that want to lift weights without any panty lines showing while some plus size maternity sweatpants are also available. Choose one from the below list to sleep, lounge around, and even do some yoga in!
11 Best Maternity Sweatpants That Are Perfect For Relaxing
Fitglam's pregnancy sweatpants are made from a soft, stretchy, and lightweight fabric and are perfect for pregnant moms as it has high elasticity to keep the fabric moving with you. Putting no pressure on the belly or causing any rubbing below the bump, these bottoms have a soft waistband that can also be folded. For a cozy fit that is not restricted, the maternity sweatpants over-belly are roomy in the hip, thigh, and ankle area. Breathable and luxurious, full-range comfort is guaranteed.
Pros
 Breathable
 Lightweight
 High elasticity
 Soft and foldable waistband
 Roomy fit
Cons
 Might pill after a few washes
V VOCNI's maternity jogger sweatpants have side mesh panels for breathability and wick away moisture to dry you. Deep zippered pockets on the sides and a hidden one allow you to store your much-needed essentials at a hand's length. With enough room for comfort but not clingy, these pants have elastic ankle cuffs to prevent the leg sleeves from sliding on the floor when you move. The waistband of these maternity activewear sweatpants is soft against the skin and is supplemented with a button for easy adjustment.
Pros
 Moisture-wicking
 Quick-dry
 Breathable
 Cuffed ankles
 Adjustable button
 2 side pockets and a hidden one
Cons
 Some may find the fabric too thin
Love2Mi's black maternity sweatpants are made of machine washable and comfortable materials with tapered ankles so you can move with ease. Functional side pockets are convenient for on-the-go errands or simply warming up your hands in the cold weather. The waistband sits high up without digging into the skin or rolling down and grows along with your belly, keeping you comfortable. What's more, it also has a comfy, elastic fabric that stretches with your growing belly.
Pros
 Side pockets
 Tapered ankles
 Snug yet soft waistband
 Lightweight
 Skin-friendly
Cons
Zenicham's best postpartum sweatpants use 65% cotton and 35% spandex for soft elasticity and come with a pull-on closure. They give off a trendy look and can be paired with any of your cute loungewear for when you're out and about. Staying put securely, the elastic waistband is supplemented with a drawstring so you can adjust how you want the pants to fit. With the pockets on these over-the-bump maternity sweatpants, you can go anywhere hands-free.
Pros
 2 side pockets
 Gentle waistband
 Drawstring closure
 Soft
 Lightweight
 Breathable
Cons
 Some may find the fabric to be too thin
Foucome's best maternity lounge pants use a high-waisted elastic band to extend comfort for growing bumps. Side mesh panels are great for breathability in case you want to sneak in a quick workout. Water-repellent fabric and the full front coverage panel combines for a relaxed fit. The tapered ankle cuffs of these cute maternity sweatpants make wearing and removal easy while the 2 zippered pockets come in handy to keep your valuables safe.
Pros
 Zippered side pockets
 Water-repellent
 Breathable
 Lightweight
 Tapered ankle cuffs
 Comfortable waistband
Cons
 Some may find the material too thin
Joyaria's over-the-belly maternity sweatpants are composed of cotton, polyester, and spandex, making it comfortable and breathable. This fabric blend keeps the bottoms warm so you can rock them when the temperatures drop. Supporting your whole belly, the pants also feature 2 side pockets for extra convenience. The material of these cotton maternity sweatpants is both skin-friendly to prevent overheating and irritation.
Pros
 Available in 4 colors
 Warm
 2 side pockets
 Skin-friendly
 Breathable
 Lightweight
Cons
 Some may not like the placement of the pockets
GLAMIX's comfy maternity sweatpants are made of luxurious materials that keep you comfortable all day long. The fabric allows your skin to breathe as it is lightweight but it isn't see through so you can still attempt some squats or lunges. Gently stretching over the belly, the waistband is super soft against your skin. As the fit is roomy, you can use these bottoms no matter what trimester you are in.
Pros
 Lightweight
 Breathable
 Not see-through
 Available in 8 colors
 Gentle waistband
Cons
 Might shrink after a wash
 Some may find them to put slight pressure on the belly
Polyester and spandex keep CareGabi's full panel maternity pants stretchable, breathable, and ultra-light. The highly elastic waistband features ruched sides that provide support to your belly from all sides. The small cuffs at the ankle prevent the long maternity sweatpants from sliding off and offer a secure fit. It is ideal for light exercises and daily activities! With the side pockets, you can stash your daily essentials and go about running errands.
Pros
 Available in 6 colors
 Lightweight
 Breathable
 Stretchable
 Side pockets
 Ankle cuffs
Cons
Romwe's maternity over-the-belly sweatpants have a pull-on closure with skin-loving materials. The fabric is not only kind to your skin as it is soft, but it allows you to keep cool even in the hot weather. With the tie-dye print, you can pair these loose maternity sweatpants with solid-colored t-shirts for a funky look. You can adjust the waistband with a button attachment present on the inside and give yourself a fit that is comfortable.
Pros
 4 print options available
 Skin-friendly
 Breathable
 Adjustable waistband
 Side pockets
 Soft
Cons
 Might shrink after being washed
Momcozy's petite maternity sweatpants can be easily dressed up or down as they have a classic look. With a loose fit and wide adjustable waistband, you can accommodate your growing belly with no issues. Ankle cuffs at the bottom prevent the pants from sliding down and keep you free to move. The big pockets and composition of 95% cotton and 5% spandex help keep moms that are pregnant and in the postpartum stage comfortable.
Pros
 Wide adjustable waistband
 Large pockets
 Ankle cuffs
 Soft and breathable
 Also suitable for nursing mothers
 Skin-friendly fabric
Cons
None
FABRACK's warm maternity sweatpants will serve you even when the seasons change. They are made of a rayon and spandex blend, which helps them stretch along with your movement. The fabric blend is also buttery soft on the skin while also being lightweight and helping you keep cool. The material is made to last as it is resistant to pilling and fading. With a wide and high waistband, 2 side pockets, and tapered ankles, you can remain highly comfortable throughout the pregnancy.
Pros
 Available in 5 colors
 Skin-friendly
 Lightweight
 Breathable
 2 functional side pockets
 Tapered ankles
Cons
Now that we have looked at the most comfortable maternity sweatpants on the market, let's learn how you can choose the right ones for yourself.
How To Choose Maternity Sweatpants
When shopping for maternity pants, it is important to consider the fabric as this decides comfort to a large extent. You need something that is soft against your skin, allows skin to breathe without overheating, and is also lightweight to carry. Additionally, if you like to stay active, look for something that is water-repellent so it wicks away moisture and odor-repellent so it doesn't trap sweat. Quick-drying materials offer ease in terms of maintenance as well. Some choices to consider are cotton, polyester, and rayon blended with spandex for a good range of motion. Mesh panels that run along the length of the legs also extend a helping hand with breathability.
Waistbands on maternity clothing must be extremely stretchable so that they move with you to accommodate your growing belly. Often, there is a panel just underneath the band to cradle your bump and prevent rubbing. You can also look for adjustable features such as drawstrings, buttons, or inner elastic straps to customize the fit of your pants on your belly.
A lot of pants come tapered at the ankles with some elastic for a snug fit. This is a great option not only for petite women but also anyone that deals with pants being too long for their frames. This design prevents pants from sliding on the floor and also keeps you free to move around as you please.
Pockets are a must-have feature in every pair of pants in the world and pregnant women need them even more. Without having to carry heavy handbags or leave your essentials behind at home, this feature allows you to go hands-free. For when you're supposed to leave the house urgently or run some errands, pockets that can hold your phone, keys, and wallet are ideal. Zippered options are good to store valuables like cash or cards as are pockets hidden in the waistband.
This is a matter of personal preference. However, we suggest you keep a few classic colors such as black, navy blue, and beige on hand. This is because these colors go with almost anything and are easy to pair. Prints are also a good way to spice things up when solid colors get a little boring. You can choose from animal, floral, tribal, or tie-dye prints among many more.
Pregnancy is a trying time in any woman's life that causes her to abandon many things. Among them, fashion is definitely on top of the list as a growing bump necessitates comfort to be prioritized above all. While you hide away all your fancy dresses and stow away your favorite pair of jeans, we urge you not to worry. Our list of the best maternity sweatpants contains picks that are sure to keep you cozy with a hint of style. They're so versatile that you can wear them to your doctor's appointment and dress up for brunch on the very same day! With various color and design options to choose from, these pants are a must-have in your maternity wardrobe.