11 Best Maternity Winter Coats To Keep You Warm And Cozy In 2023
Stay warm, comfortable, and fashionable this winter, and rock your pregnancy like a diva!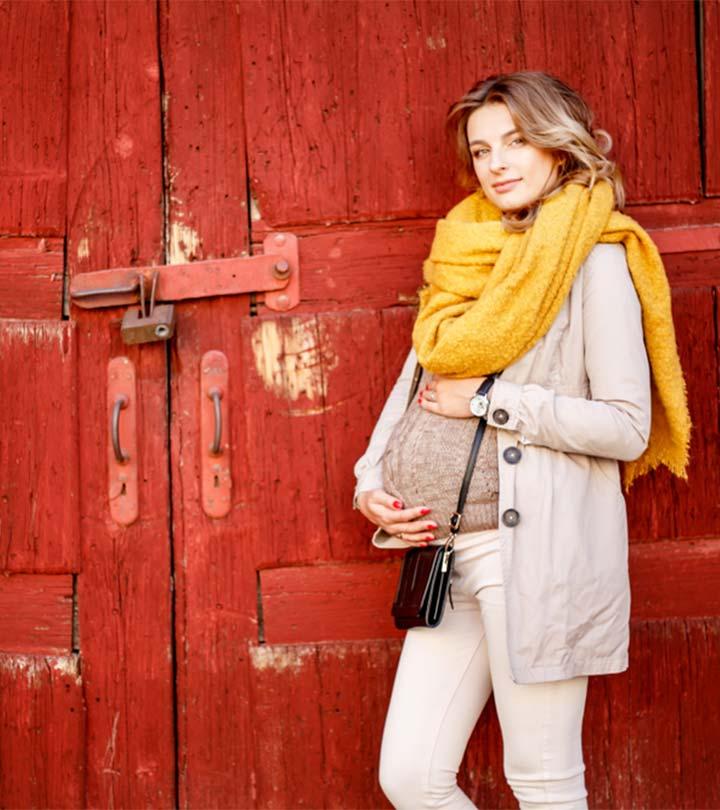 The temperatures are dipping, and if you are an expecting mama, maternity winter coats should be on your must-buy list. These coats will keep you warm and comfortable and would be an excellent addition to your winter wardrobe. And don't worry, we can assure you that you can still wear these coats after having your baby, and it's a worthwhile investment. Maternity coats are specially designed for pregnant women and have breathable and high-quality materials that ensure warmth. Depending on where you live, your needs for a coat can range from a light denim coat to a super cozy puffer. Also, nowadays, many brands are designing 3-in-1 maternity winter coats that moms can use during postpartum as well. They can come with an in-built expander where you can carry your little one safely. Below, we have created a detailed guide to help you find the perfect, perfect coat for your bump. Read on to find the comfiest winter coat that will keep you and your growing baby warm this winter.
11 Comfy Maternity Winter Coats To Wear This Winter
The Woman Inside Fleece Swing Funnel-Neck Coat will keep you warm and fashionable. This lovely coat has a funnel neck that offers warmth and protection from the cold, and a swing silhouette that flatters any outfit. It is ultra-comfortable, soft, and cozy, with deep side pockets for your hands to stay warm on chilly days. This non-restrictive coat provides room for movement and allows for easy layering. It is a must-have for your winter wardrobe, thanks to its adaptable style and premium design. This coat will keep you warm and look great whether you are running errands, going to work, or going out for a casual evening.
Pros
Snug fit
High-quality material
Ultra-soft fabric
Machine washable
Cons
None
Price at the time of publication: $59.99
If you're reaching that stage of pregnancy where your zipper is simply refusing to go up, maybe it's time to buy a new maternity winter coat made from a wool blend to keep you and your baby bump warm and safe. Amazon Essentials brings you a water-resistant, lightweight, quilted cocoon coat with contoured seams to make this lightweight coat look more fitted. Its length provides full coverage up to the knees. The 3-in-1 maternity puffer coat also features a hidden snap front placket, an interior zipper chest pocket, and sherpa-lined front pockets for convenience,especially to keep your hands warm and toasty. With ensured fit and comfort, this polyester coat and baby carrier is contoured to give you the perfect figure, while keeping snug and freeze-proof.
Pros
Water-resistant
Lightweight
Quilted
Contoured for shape
Hidden snap front placket
Interior zipper chest pocket
Sherpa-lined front pockets
Cons
Size may run small, so it is advisable to size up
Price at the time of publication: $62.8
The Konny Winter Cover is a fleece jacket cum maternity coat and a nursing vest that helps to shield your baby against brutal cold winters. The special design ensures that the baby and mother share body heat. The fabric is so soft that you can wear it comfortably all through the day. The maternity coat has a maternity-friendly length, is very lightweight, and comes with a detachable hood. The machine washable design allows you to wash it easily if the baby has an accident.
Pros
Lightweight
High quality fleece
Ultra-soft fabric
Detachable hood
Machine washable
Cons
None
Price at the time of publication: $49.99
Slip on this sturdy weather and water-resistant maternity parka coat specially designed to keep you and your baby bump extra warm in the harsh weather. Keep a flattering shape with the empire belted waist and drawstrings that are adjustable to your body and come with a zip closure along with a toggle closure packet. The maternity winter jacket comes with 2 exterior pockets for your hands, rib knit cuffs, and a hood that you can remove as you please. It fits true to size and with a fill power of 600, it is sure to keep you safe from cold winds and harsh climates. It exudes a modern and contemporary look which is also suitable for work or formal occasions.
Pros
Weather and water-resistant
Empire waist
Adjustable drawstrings
Two exterior pockets
Rib knit cuffs
Removable hood
Cons
Zipper may get stuck
Bottom may be bulky for some
Price at the time of publication: $149.99
Maintain a trendy appearance with the Woman Within Plus Size Fleece-Lined Taslon Anorak which is made of high-quality Taslon fabric, making it the ideal material for weather protection. The warm fleece inside the jacket adds extra warmth and insulation on chilly days, and is one of its standout characteristics. The jacket has a detachable, adjustable hood that you may wear or remove according to your preferences. You may zip it in front with a snap placket that keeps you protected from water and wind. Additionally, the drawstrings at the hem allow you to adjust the silhouette to your perfect fit.
Pros
Lightweight
Waterproof
Windproof
Cons
None
Price at the time of publication: $80.49
Any expectant mother's wardrobe would benefit from the Smallshow Women's Fleece Zip-Up Maternity Jacket because it is both functional and comfortable. You will stay warm in cooler weather, thanks to the jacket's soft and cuddly fleece material. The neck design and zip-up fastening offer a snug fit for more protection from the cold. You can wear this during any stage of your pregnancy due to the adjustable drawstring waist design. Its pregnancy-specific features are designed with comfort in mind. The detachable panel of this winter jacket can fit your baby in a wrap, sling, or carrier style.
Pros
Detachable panel design
Customized fit
Side pockets
Adjustable drawstring design
Zipper closure
Cons
None
Price at the time of publication: $74.99
Grab yourself this universal jacket extender from MakeMyBellyFit that fits most zippered jackets and turns them into maternity coats that you can wear around your tummy and later your baby in a carrier or sling! Attach the extender to your jacket using an innovative design that slides over and secures itself onto any zip size, which has long pull-up tabs on the zips to make wearing the extender easier. It allows you to brave wind, rain, and snow. This wrap coat also comes with a "Snaperoo" adjustable elastic and removable belt that can be snapped anywhere on the extender for a custom fit.
Pros
Attach extender to existing jacket or coat
Adjustable
Long pull-up tabs on the zips
Can extend around a baby wrap, carrier, or sling
Cons
Most suitable for zips that are 26 inches and longer
Price at the time of publication: $104.99
Battle the snow, wind, and rain with Columbia Women's Last Tracks Insulated Ski Jacket made from a breathable fabric and a waterproof Omni-TECH outer shell. The jacket has an insulated inner layer lined with reflective thermal lining and has silver dots designed to maintain natural body heat. The jacket is available in adjustable sizing for your maternity needs and also comes with a removable and adjustable hood, a snap-back powder skirt, ski pass pocket, interior security pocket, goggle pocket, an internal key clip, adjustable comfort cuffs, and a drawcord elastic hem. A feature-loaded alpine-ready coat, this one has a signature heat reflective lining with an important layer that is designed to keep you warm and cozy!
Pros
Insulated
Waterproof
Reflective thermal lining
Maintains natural body heat
Removable and adjustable hood
Adjustable comfort cuffs
Drawcord adjustable hem
Cons
Can be used as a maternity coat but not designed to be one
Price at the time of publication: $175
For the new mommies (and mommies to be), grab this 3-in-1 maternity winter coat that you can wear while pregnant and wear afterward to keep you and your newborn cozy! The jacket's outer shell is coated with a water-resistant coating and is insulated to keep you warm wherever you go. The jacket has a removable maternity extender panel, which, when reversed, can fit your baby in a wrap, sling, or carrier. With a luxurious down filling, this one is also nursing-friendly! Ideal for your growing pregnant belly, you cannot miss out on this one!
Pros
Adjustable and reversible
Water-resistant
Removable maternity panel
Can fit baby in a carrier, sling, or wrap
Insulated
Hood included
Cons
Material may be a little thin for some
Price at the time of publication: $179
The Maacie Maternity Thickened Coat is suitable for outdoor activities or wintertime commuting because the hood and adjustable drawstring waist offer additional protection from the harsh weather. It comes with two detachable panels, one to create extra width during pregnancy and another to place your newborn baby in a wrap and protect them from the cold. The weather-resistant maternity clothing has adjustable drawstring ties and side pockets with zippers so you can feel and look your best. The faux fur hood protects your head, face, and ear from cold weather. The long sleeves have elastic openings and nylon fastener tape, making it easy to adjust and keeping you warm. The drawstring waist with a cord lock helps showcase your curves better.
Pros
Windproof
Waterproof
Weather-resistant
Side pockets
Adjustable drawstring ties
Cons
None
Price at the time of publication: $95.99
For women seeking both fashion and warmth during the winter months, the Orolay Women's Thickened Down Jacket is the ideal option. This jacket has a thicker down filling that offers good insulation from the cold and is made of high-quality polyester. The jacket is long enough to provide extra protection for the lower back area. The Hood and threaded cuffs provide additional protection from the harsh winters. The hood is quite big and comes with a removable faux fur. With the help of drawstrings and buckles, you can adjust the hood and also prevent it from falling.
Pros
Water-resistant
Wind-proof
Durable
Lightweight
Zippered closure
Cons
None
Price at the time of publication: $135.99
As your baby bump grows bigger and while you look for the perfect maternity winter coat, here are a few tips to keep in mind while choosing the best one for you.
What To Look For When Buying A Maternity Winter Coat?
Depending on how cold the area you live in is, you would want to pick out the material for your maternity winter coat accordingly. If you prefer a thicker coat with a puffy or fleece lining for very cold days, then you can see those. For milder weather you can check thinner and lightweight yet warm jackets. Alternatively, you can pick a jacket with removable lining to wear it according to the weather.
Before choosing your new maternity winter coat, think about whether you just want it to keep you warm during pregnancy or whether you will still want to wear it after delivery. For post-delivery wear you can opt for the multi-use coats that come with an attachable panel to support your baby. You can get one with a zipper or button closure for ease of use.
While all maternity winter coats will no doubt be warm, you can check if they're weather-resistant, water-resistant so that you can be equipped with the right level of durability. These will ensure that you stay protected regardless of the weather outside.
Why Trust StyleCraze?
Priyam Gupta, the author of this article, is a makeup and fashion enthusiast. She loves to try out new fashion trends and has written many well-researched articles about the same. She thoroughly researched and read hundreds of online reviews to put together a list of the best maternity winter coats. Priyam compiled the list based on the material, style, and comfort. These winter coats are water-resistant, lightweight, and keep you warm.
Frequently Asked Questions
Is it worth buying a maternity coat?
Absolutely! As your precious little one grows inside of you, so does your little one. Investing in a good maternity coat means you have one large enough to fit your growing body, ensuring you are always warm and cozy.
Motherhood is an exciting yet overwhelming journey. While nothing can fully prepare you for the rollercoaster ride of pregnancy, a few things can come to help to make things easier for you. One such investment is buying a maternity coat that is large enough to protect you and your baby from the harsh winds of the winter month. Furthermore, today some inserts convert your standard jackets into maternity coats! With innovative features like water-resistant materials, adjustable drawstrings, and contoured shapes, you will be spoilt for choice. Hopefully, our list of the 11 best maternity clothes has come to your rescue and helped you pick out the perfect one.
Is a maternity coat necessary?
Yes, a maternity coat keeps you warm, comfortable, and stylish throughout your pregnancy.
Does cold weather affect pregnancy?
Yes. Exposure to extreme cold weather tends to lower the birth weight of babies. Keep yourself warm and toasty during the winter while you are pregnant.
Should I size up for a maternity coat?
No. If it is a maternity coat, get your usual size as it will be designed to accommodate your growing size.
Recommended Articles