Best Matrix Hair Straightening Products Available In India
Power up your hair care regime with protective formulations that do not cost much.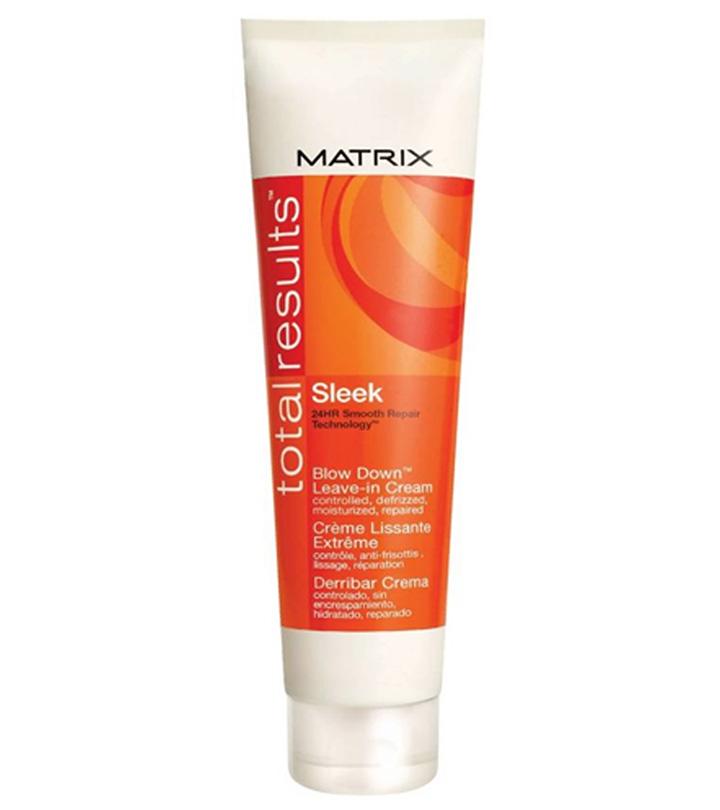 Matrix is the most popular hair care brand that was found in the year 1980 by the American hairdresser, Arnie Miller. Matrix range includes various hair care, colour, style and texturing products as well as in-salon treatments and services. They have a wide range of products suitable for every hair type. This article discusses the best matrix hair straightening creams you can try based on your requirement.
Matrix Hair Straightening Creams
Here are the top 6 matrix hair straightening products:
This crème is easy to apply and has a perfect texture. This tames frizz immediately without weighing down your hairs. It will make your hair softer, shinier and smoother. This blow down leave-in cream gives a weightless straight feel and light texture to your hair. This is formulated with 24hr full boost technology to control, defrizz, moisturize and repair hair. This is best suitable for medium to coarse hair.
This is the first ever anti-breakage straightening system by Matrix. This gives a permanent straightening effect and also conditions your hair. This has a unique auto-control technology that stops straightening as soon as the natural straight look is achieved. This is useful to maintain your hair's strength. It has strong floral fragrance to neutralize the ammonia scent and provides a pleasant floral experience.
This matrix permanent hair straightening cream is available in two different strengths on the basis of hair type:
Normal (For medium to fine, naturally wavy/frizzy hair)
Resistant (For medium to thick, naturally curly/frizzy hair).
This is used for permanent hair smoothing and is 100% formaldehyde free, hence it is absolutely safe. It contains smoothing cermides for healthy, perfectly smooth and natural looking hair. Opti smooth gives long lasting and safe results. It has an Interim treatments and Ceramide Technology to protect and fortify your hairs. Cermaide is useful to fill the cracks in your hair cuticle to give smoother and healthier hair. Opti Smooth will give you that stunningly smoothened hair you always wanted.
This has a complete range of products for hair straightening:
• Shampoo- This is a hair smoothing shampoo that gently cleanses and moisturizes your hair.
• Smoothing Conditioner– This helps to control straightened hair. This gives an intense smoothness and shine for frizz-free hair.
• Intense Smoothing Mask– This is used to conditions very dry, coarse or chemically straightened hair.
• Split End Serum– It can prevent your hair from frayed tips, split ends and frizz. This gives your hair a silky and shiny look.
This is available in three different strengths on the basis of hair type:
Sensitized (For colour treated or sensitized hair)
Normal (For naturally wavy or frizzy hair)
Naturally Resistant (For naturally curly or frizzy hair).
Matrix conditioning cream neutralizer is used for straightening or smoothing hairs. This gives you the desired results of straightened hair. It has a long lasting effect of straitening or smoothening frizzy hair.
This will smoothen and de-frizz unruly, hard-to-manage hair. This gives smooth hair versatility with three great services:
Heat Straightening (sleek, perfectly straight hair),
Cold Smoothing (smooth, natural looking hair with movement) or
3D Curl (enhanced, smooth curls full of shine).
This formula will give your hair an overall conditioning and shine. This is also useful to prevent breakage!

6. Matrix Opti Care Extra Conditioning Cream
This is an alkaline conditioning formula that is suitable for normal to resistant hair. This gives you the perfect radiant, resilient and beautiful hair. This gives a special treatment to dry, damaged strands and equalizes porosity as to smooth the hair surface for softness and shine. This comes with Cer-Amino Complex Interin Treatment with fortified ceramide and amino acids. This will deliver you a double dose of strength and conditioning for your hair.
*Subject to Availability
Hope you found the list of matrix hair straightening creams useful. Leave us your comments below. Till then, keep it stylish!
Frequently Asked Questions
What are the main ingredients used in Matrix hair straightening products, and are they safe for regular use?
Elastin and collagen, which soften and strengthen the hair, are key ingredients in Matrix straightening products. Shea butter is also present to moisturize the hair, while ceramides nourish and protect it from drying out. They are completely safe to use on a daily basis.
How long does the straightening effect of Matrix hair products last?
The effects of the Matrix hair straightening cream can last for 3-4 months or till the new hair grows.
What is the recommended aftercare routine for hair treated with Matrix hair straightening products?
Here are some tips for aftercare routine:
• Use the right haircare products that are free of harsh chemicals.
• Wash your hair less frequently
• Use a deep conditioner once a week.
• Always use heat protection.
Are there any potential side effects or risks associated with Matrix hair straightening products?
Yes, excessive chemical and heat treatments can dry and damage the hair. Therefore, allow enough time between hair straightening sessions for the hair to recover and return to its natural state.
Can Matrix hair straightening products be used on hair extensions or wigs?
No, synthetic wigs may not withstand the heat from flat iron.
Recommended Articles
The following two tabs change content below.