15 Best Matrix Biolage Shampoos Available In India
Revitalize your hair and meet all its needs with the right hair care formulations.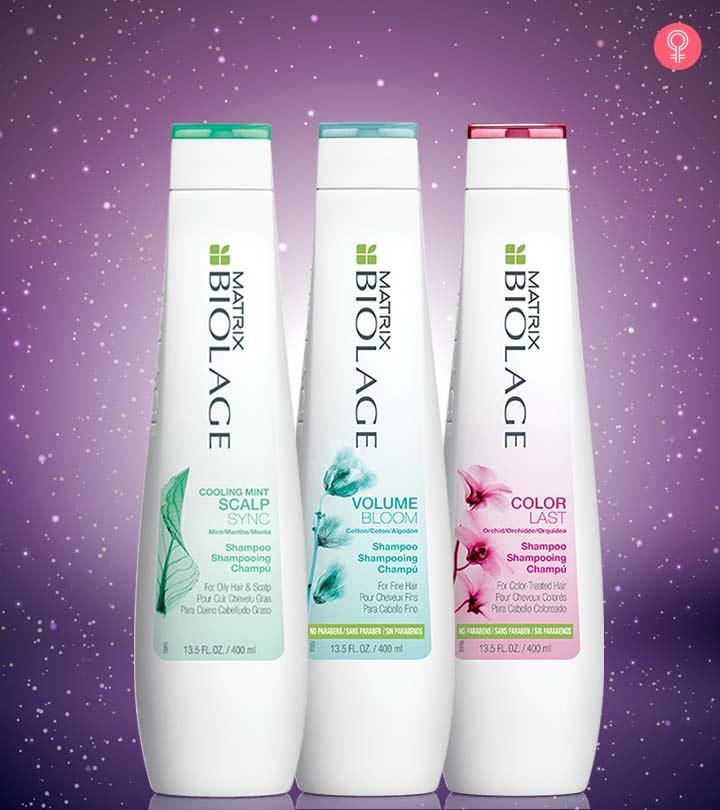 A good hair day – isn't that what we all dream of? But does your hair get wretched by Friday? Are you looking for ways to improve the condition of your grieving hair all through the week? Well, great hair doesn't happen by chance. It happens with the help of an ideal shampoo. Conditioning, volumizing, nourishing, moisturizing – you name it, and there's a shampoo popping up. With so many shampoos on the market, choosing the right one can be challenging.
Thankfully, Matrix has a solution for every hair problem. With its new Biolage formula that delivers high-functioning results, Matrix is creating waves across the globe. To find your perfect match, scroll through our list of the best Matrix Biolage shampoos available on the market.
15 Best Biolage Matrix Shampoos Available In India
This gentle shampoo is formulated to polish your hair and encapsulate each strand in a protective shield. It contains camellia extract that helps in controlling frizz even in 97% humidity. If you have frizzy and unmanageable hair, use this shampoo as it is specially created to provide salon-like silky hair. This shampoo helps retain moisture and restore your hair's natural shine.
Pros
Suitable for medium to coarse hair
Protects your hair against environmental pollutants
Adds shine
Pleasant fragrance
Leaves hair feeling soft and silky
Reduces roughness
A little product goes a long way 
Cons
None 
This shampoo is an excellent product for improving the texture of your hair. It is formulated to repair damaged tresses. It claims to reduce breakage with the help of ingredients like Intra-Cylane, bamboo extract, and ceramide. It also strengthens the hair follicles and restores elasticity. This unique shampoo imparts the required proteins to fragile areas. It has been proven to condition your hair and make it 12 times stronger in just one application.
Pros
Cleanses scalp well
Makes your hair healthy and resilient to damage
Adds shine
A little product goes a long way
Does not weigh your hair down
Free of parabens
Cons
Does not reduce hair fall
This shampoo contains aloe vera extract that hydrates your scalp and treats dryness. You can feel your hair getting softer after just one application. It has a blend of unique botanicals like sage leaf, lemongrass, and wheat germ oil extracts that cleanses and nourishes your hair thoroughly. The ingredients in this shampoo include high-performing formulas that enhance the beauty of your hair.
Pros
Cleanses scalp well
Controls frizz
Makes your hair soft and smooth
Long-lasting results
Suitable for dry hair
Cons
Dries out your hair initially 
Gently cleanse away dirt and impurities from your scalp and hair with the Matrix Optilong Nourish Protect Shampoo. It effectively nourishes your hair and keeps it hydrated. In addition, this shampoo is enriched with ceramide that removes greasiness, strengthens the mid-lengths, and protects from your hair splits and damage.
Pros
Pleasant smell
Easy to use
Paraben-free
Shiny hair
Cons
None
Matrix Biolage Keratindose Advanced Shampoo is like therapy for your hair. If you suffer from damaged and brittle hair, try out this shampoo. This hair cleanser is formulated with a pro-keratin and silk formula that targets over-processed, weak, and fragile hair. It moisturizes your hair and increases its shine and elasticity effectively. Within a single application, this shampoo will soften your hair and remove frizz.
Pros
Does not contain harsh chemicals
Long-lasting results
Prevents breakage
Strengthens damaged hair
Conditions your hair from within
Improves the texture of your hair
Cons
Availability issues 
Price at the time of publication: ₹23.0
This repairing shampoo is formulated with amino acids and soy that help condition severely damaged hair. It claims to smoothen your hair and hydrate each hair strand effectively. It contains arginine that helps in conditioning the hair cuticles from within. It also softens dry and coarse hair within a single application. If you have damaged tresses, this shampoo is the best choice.
Pros
Gentle cleanser
Cleanses scalp well
Restores shine
Prevents breakage
A little amount of product required per use
Nice fragrance
Cons
Availability issues 
Looking for a shampoo that can add tremendous volume to your hair? Your search ends here! Matrix Biolage Volume Bloom Shampoo claims to plump fine hair by adding long-lasting volume to it. It adds 70% more volume to your hair within a couple of washes. It also contains soy proteins that make your hair shiny and soft. It curbs hair fall and gives your hair the much-needed strength from the roots. This shampoo keeps your locks clean and fresh, giving you bouncy and silky hair.
Pros
Hydrates follicles
Long-lasting results
Rinses off oil and other residues
Pleasant fragrance
Lathers well
Suitable for all hair types
Cons
Contains SLES
Price at the time of publication: ₹21.0
Color-treated hair can be high maintenance. To ease your efforts, Matrix has created Biolage Color Last Shampoo that protects your colored tresses from damage. It is made with orchid extracts that help preserve the radiance of your hair color and prevent it from fading. In fact, it claims to keep your hair color intact for up to 9 weeks. It also moisturizes your hair, leaving it feeling soft and silky. 
Pros
Gentle cleanser
Lathers well
Low pH
Prevents hair fall
Free of parabens
Cons
Unpleasant fragrance
Bid adieu to fine-textured hair with Matrix Biolage Full Density Thickening Shampoo. This shampoo is formulated with zinc, biotin, and Gluco-Omega that help in removing the clogged up impurities instantly, giving you fuller and healthier-looking hair. It claims to reduce breakage by 95%. This shampoo works on the surface of each hair strand by expanding the hair diameter to give you thicker and fuller hair. Besides thickening, it also strengthens your hair follicles to give you much stronger and healthier hair.
Pros
Controls hair fall
Protects hair from damage
Improves the hair texture
Removes impurities effectively
A little product goes a long way
Free of parabens
Cons
Dries your hair out 
Matrix Biolage Normalizing Clean Reset Shampoo contains lemongrass as its key ingredient that helps in keeping your hair clean and fresh. Lemongrass acts as an intense cleansing agent by removing dirt build-up and residue off your scalp. It gets rid of impurities and deeply hydrates your scalp. If you swim often, this shampoo is a go-to product as it washes off chlorine effectively. The refreshing properties of lemongrass also protect your hair from the effects of pollution.
Pros
Cleanses hair without stripping off its natural oils
Rinses off oil and other residues
Improves scalp health
Does not weigh your hair down
Ideal for oily hair
Long-lasting results
Cons
The formula has changed in recent times. 
This unique oil-infused shampoo provides a rich blend of moringa, macadamia, coconut, and almond oils to your hair. The formula is extremely lightweight. It cleanses and nourishes your scalp with its highly nutritive properties. It claims to impart proteins to your hair, add shine, and moisturize each hair strand effectively.  
Cons
Leaves your hair looking healthy and silky
Cleanses scalp thoroughly
Pleasant fragrance
Conditions your hair
Lathers well
Long-lasting results
Pros
Dries out your hair initially 
This unique product contains a potent formula made with natural extracts that give you uncompromised results. It claims to be 100% real, authentic, and wholesome. This new nourishing formula contains quinoa husk and honey that treat dull and dry hair. It contains 86% natural ingredients and 93% biodegradable components. It promises to condition each hair strand from within and prevent breakage completely.
Pros
Lathers well
Makes your hair soft instantly
Clears built up residues
A little product goes a long way
Adds shine
Controls breakage
Cons
Unpleasant fragrance 
The Matrix BIOLAGE Advanced Scalppure Shampoo is formulated with bergamot & Piroctone Olamine. It effectively cleans the scalp, removes excess oil, dandruff, itchiness, odor, clogged scalp, and stickiness. This shampoo washes away dandruff in one use and keeps your scalp free from dandruff for 72 hours.
Pros
Paraben-free
Flake-free
Suitable for all hair types
Cons
Matrix Opti Care Smooth Straight Professional Ultra Smoothing Shampoo softens and restores the health of chemically treated hair. Its formula is enriched with silk amino acids and shea butter that protect, condition, and moisturize your hair to make it healthy, silky, and shiny. This shampoo is effective for gently cleansing your hair and making it more manageable.
Pros
Softens and smoothens the hair
Moisturizes the hair
Tames frizz
Adds shine
Pleasant fruity fragrance
Suitable for chemically treated hair
Cons
This shampoo works wonders on dry and lifeless hair. It adds brilliance and shine to natural and color-treated hair. This shampoo acts as a professional product that helps prevent breakage. It polishes each hair strand from within and improves its texture. It also helps in detangling stubborn knots. This shampoo effectively adds moisture and keeps your hair hydrated throughout the day.
Pros
Hair feels soft and hydrated
Imparts shine to your locks for up to 48 hours
Attractive packaging
Long-lasting results
Pleasant fragrance 
Cons
Weighs your hair down 
Say 'hello' too good hair days with these amazing Matrix Biolage shampoos. Have you tried any of these shampoos before? If not, pick your favorite one and comment below to let us know about your experience!