Best Matte Lipsticks Available In India – Our Top 11
Achieve flawless lip colors every day without compromising on hydration!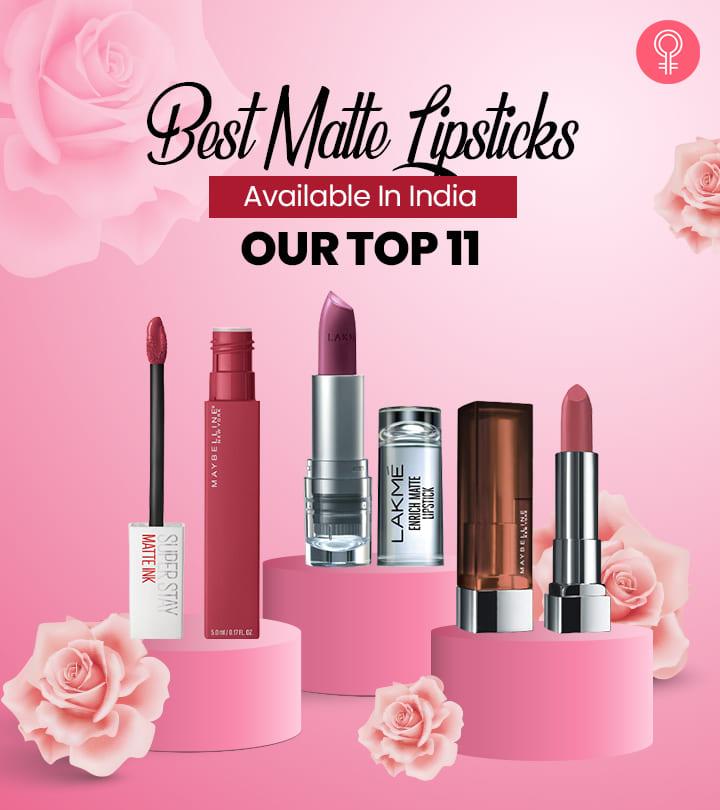 Matte lipsticks are often misunderstood as a drying lip color. The common notion is only glossy lip balms keep the lips soft and moisturized. Well, gone are those days of blind belief. Matte lipsticks are a new rage and come infused with oils and vitamins that moisturize the lips and give them a nourished, fuller look. In this article, we have listed the 11 best matte lipsticks available in India that we love. Scroll down to take your pick!
11 Best Matte Lipsticks In India – 2023 Update (With Reviews)
TheColor Sensational Creamy Matte Lipstick by Maybelline New York is blended with honey nectar that keeps the lips soft and moisturized. The vibrant color and supple, smooth finish produces a rich, attractive look while being comfortable on the lips. This lipstick has a creamy texture that does not crack and lasts throughout the day. The 660 Touch Of Spice shade matches every outfit and brightens up your face!
Pros
Moisturizes lips
Full coverage
Non-drying
Lasts long
Cons
The Enrich Matte Lipstick by Lakme contains vitamin E that provides nourishment to the lips. It also has olive oil that hydrates dry and chapped lips to make them soft and smooth. The WM10 shade gives your lips a luscious finish. Moreover, the lip color is long-lasting which means fewer touch-ups.
Pros
Does not bleed
Hydrating
Comfortable on the lips
Smudge-proof
Does not flake
Cons
None
Maybelline's Super Stay Matte Lipstick is an ultra-pigmented liquid ink that comes in a bottle with a doe foot applicator. The lipstick is long-lasting and offers a lustrous matte finish. In addition, the bold and trendy 80 Ruler shade keeps your lips from getting dehydrated, giving them a lush, sensual appearance. 
Pros
Lasts up to 16 hours
Easy application
Intense color payoff
Non-drying
Cons
The Velvet Matt Lipstick by Colorbar 2-in-1 formula lasts up to 5 hours. These lipsticks are infused with vitamin E and other softening agents, which keep the lips soft and supple. It has a smooth velvety feel and a light creamy texture that makes your lips look vibrant and ready for all occasions.
Pros
Highly pigmented
Smudge-proof
Non-drying
Dermatologically tested
Cruelty-free
Cons
The Sugar Smudge Me Not Liquid Lip Color is highly pigmented and offers a lasting stay. It provides an opaque pigmentation with a single stroke. The color does not feather or fade and leaves your lips with an irresistible bold finish. It is fortified with vitamin E that keeps the lips moisturized and prevents a dry, chapped look.
Pros
Intensely color payoff
Glides smoothly
Transfer-proof
Water-proof
Quick-drying
Fade-resistant
Cruelty-free
Cons
L'oreal Paris Rouge Signature MatteLip Stain provides a smooth, lightweight finish to your bare lips. It is an oil-in-water formula that keeps the lips breathing with all-day comfort. A single swipe of this lipstick gives you instant color with an elegant soft matte finish.
Pros
Non-sticky
Lightweight
Highly-pigmented
Easy to remove
Cons
Not transfer-proof
Not long-lasting
Faces Canada brings you the luxurious range of Weightless Matte Finish Lipsticks that are richly pigmented and offers an intense color payoff. This lip color glides effortlessly on the lips. It has a powder matte texture and is enriched with jojoba oil, vitamin E, and almond oil that keeps the lips moisturized and supple. This plush formula gives you high coloration, full coverage, and all-day comfort with one single stroke.
Pros
Lightweight
Full coverage
Comfortable
Moisturizing
Long shelf life
Cruelty-free
Paraben-free
Cons
Swiss Beauty brings you an amazing range of Pure Matte Lipsticks that give your lips a youthful feel. It has a velvety texture infused with skin-friendly ingredients and covers fine lines to make the lips look fuller. It offers long-lasting comfort and an exquisitely smooth finish.
Pros
Intense Pigmentation
High Color Payoff
Budget-friendly
Cons
Insight Cosmetics brings you a soft Matte Lipstick that glides seamlessly on your lips. It has a highly pigmented formula that provides an intense color payoff in just one sweep. It is a no-fading lip paint that features a buildable formula. It also includes a moisturizing property that keeps the lips hydrated all day and provides an elegant touch.
Pros
Moisturizing formula
Buildable
Cruelty-free
Budget-friendly
Cons
Sery Capture D'Matte is a purely indulgent lipstick infused with exotic, silky pigments that complement all skin tones. The Capture D'Matte Lipstick comes in an incredibly slim stick and gives you intense color shade in one stroke. It provides extra comfort, glides on the lips smoothly and the matte finish sets in gradually. This lipstick is infused with red raspberry that nourishes the lips, making them soft and supple. 
Pros
Weightless
Micronized pigments
Paraben-free
Cruelty-free
Cons
Matte lipsticks provide your lips a bold finish and keep them soft and supple. But here are a few points that your need to consider before buying a product.
What To Consider Before Buying A Matte Lipstick
Always go for a trusted and reputed brand. Such brands never compromise on quality. Any product that is low on quality will not deliver the actual shade. It also may cause irritation, rashes, and sensitivity.
It is essential to choose the right lipstick shade according to your skin tone. Those with cooler skin tones can carry brighter shades like orange or red easily and comfortably. People with dark undertones may have to go for lighter shades.
Online reviews can clearly tell you the good and bad about a product. Go through the customer reviews to ensure that you are choosing the right product.
There is no point in investing in a lipstick that quickly fades away. A lipstick that does not wear off even after eating or having a drink is said to have an excellent stay. You do not have to apply them again and again.
The better the quality, the higher the cost. You can easily get a decent matte lip shade at a nominal price. However, stay away from cheap products that do not last long or are from an unknown brand.
Matte lipsticks can give your face an instant makeover. The lipsticks mentioned above are smudge-proof and make your lips look full and supple. So, what are you waiting for? Take your pick from our list of the 11 best matte lipsticks in India and watch the heads turn!
Frequently Asked Questions
Which matte lipstick brands are recommended by makeup artists in India?
Lipstick brands such as Loreal, Maybelline, and Lakme are known for their excellent color payoff, pigment, and long-lasting properties, making them cult-favorites among professional makeup artists.
Which matte lipstick brands offer a wide range of shades in India?
Matte lipstick brands like Sugar, Maybelline, and Lakme offer a wide range of lipstick shades in matte finishes that offer rich pigment, comfort, and long-lasting wear.
What are the key features to look for in a good matte lipstick?
Look for matte lipsticks that can be easily layered, deliver an excellent color payoff, glide smoothly on lips, have minimal transfer, and long-staying power.
Recommended Articles: