13 Best Matte Nail Polishes That'll Make You Forget About Glossy Ones!
Mattify your dull nail color in just a few swipes of these amazing polishes!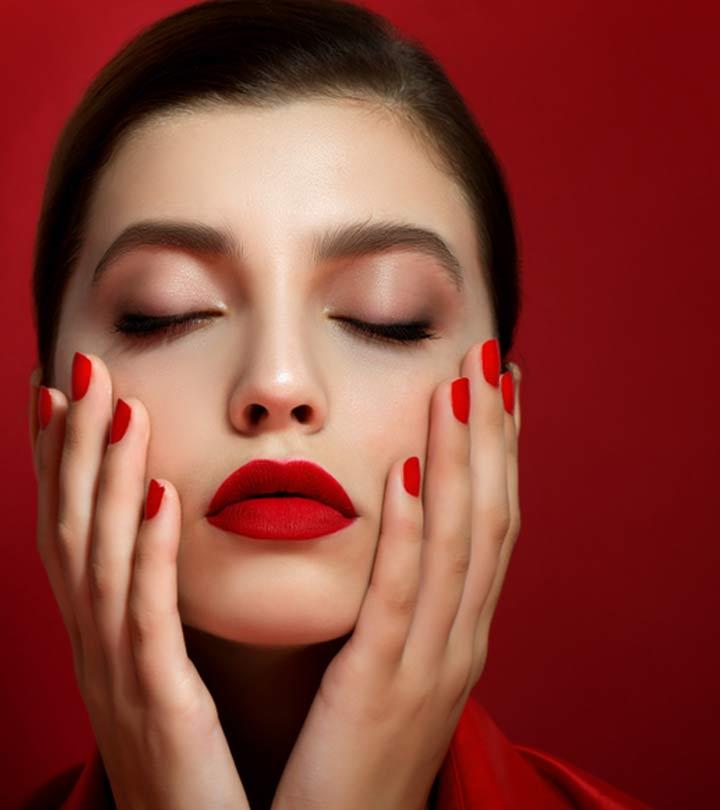 A few years back, matte nail polishes were very much in trend, and once again, they have come back in the limelight. The best matte nail polishes add an extra oomph to your nails, and they do not look insanely over the top. What's more? You cannot deny that they look chic and classy on application.
Nowadays, you have many matte topcoats available that allow you to turn any nail color into a matte one. So, whether you simply want a top coat that will mattify any of your favorite nail colors or a brand new one with a no-shine finish, you can pick one that suits your preferences. Also, you should pick a color that will be long-lasting and not chip off easily.
Have you tried matte nail polish for yourself, or are you looking forward to trying one? This article lists the 13 best matte nail polishes ranging from warm, bright tones to deep ones. Keep scrolling further to look at the list and pick one now!
Spruce Up Your Nails With The 13 Best Matte Nail Polishes Of 2023!
Why break the bank purchasing multiple nail polishes when this top coat can turn any nail polish into matte instantly? Call it the matte-maker if you like, as it will give your favorite matte nail polish colors an edgy finish like a pro! Use it as a top coat for a superior matte look or base coat to prevent yellowing; you can also wear it alone with a French manicure for a semi-glossy look. This top coat is the way to go for all matte lovers!
Georgia Smith, an experienced cosmetologist and beauty therapist, says, "This formula has a simple, straight forward ingredient list and will give your nails a matte look when applied over existing polish. A great choice for all matte lovers!"
Pros
Protective coat
Locks in nail color
7-day wear
Prevents chipping, scratches, and smudges
Cons
May take a long time to dry
Price at the time of publication: $14.49
Do you know what'll look great with your favorite nail polish? This top coat by Essie. Girls, life is too short to wear the nail paint as it is, so explore other options with this topper endlessly! Wear your nail paint glossy one day and turn it matte the next day with this mattifying top coat. A smooth and chic finish that you'll want to flaunt at every opportunity you get, do you still want to give this lacquer a miss?
Pros
Easy to apply
Dries quickly
Prevents chipping
Seals in and refreshes the color
Cons
The liquid may turn goopy.
Price at the time of publication: $9.5
Curing never looked this satisfying! This gel matte nail polish will have your nails ready to wow in minutes. Watch it go on smoothly like butter and deliver an ultra-matte finish after curing under a UV/ LED light. And its staying power is up to 21 days, no kidding! So, if you are craving a salon-worthy matte look, you must give Aimeili's matte top coat a try.
Pros
No-wipe top coat
Easy to apply and remove
Ensures no smudges, nicks, or chipping
Suitable for fake and acrylic nails
Cons
May not be suitable for sensitive nails
Price at the time of publication: $6.99
Nail polish odor can be a huge turn-off when it stays on for a long, long time. But not with Beetles! Low on odor (it's barely there) and free from 9 toxic ingredients, you know for once that your nails are safe and in good hands. Yep, feel good every time you apply a coat of this clear matte nail polish! All you have to do is cure it under the LED lamp and let the matte magic ensue.
Pros
No-wipe matte top coat
Non-damaging and flexible
Long-lasting for up to 21 days
Prevents nicks, smudging, and chipping
Suitable to wear on natural nails, artificial nails, nail tips, etc.
Cons
The curing process may take a long time.
Price at the time of publication: $6.99
No UV/LED light at home? No problem. Sally Hansen's Top Coat is a gel with a polish-like consistency that'll mattify your nail paint without curing. Yep, you heard that right, gel-matte nails are now possible in the comfort of your home and that too without curing! Apt called a miracle for all the right reasons, it delivers a salon-worthy finish with every coat you sweep, and also, the precision brush ensures a quick and smooth application. Indulge already!
Pros
Seals in the color
Prevents chipping
Easy to apply and remove
Long-lasting up to 8 days
Cons
Not ideal if you need a quick-drying top coat
Price at the time of publication: $7.49
Here's a different kind of long-lasting matte nail polish for you. And by different, we mean it has no harsh chemicals, harsh adhesives, harmful odors, or acetone to trouble your nails or nose! Feel good with every swipe as this gel matte topper locks in color and ensures staying power for up to 14 days after curing. Yep, trust matte for healthy nails this season!
Pros
Protective top coat
Prevents smudging and chipping
Easy to apply and remove
It will not dry, damage, or age your skin.
Cons
Some may find it time consuming to wipe off
Price at the time of publication: $7.99
How about adding some fun to your trendy nails? This unique nail polish changes color as per your thermal temperature! No, seriously, this vegan matte nail polish when warm looks light blue and jade green when cold. And are you obsessed with glitter? If yes, you'll love this glitter matte nail polish even more as it has metallic specks added to it with a hint of shine without being loud or flashy.
Pros
Easy to apply
Long-lasting and intense
Cruelty-free
Handmade
Free from formaldehyde, camphor, parabens, phthalates, fragrances, and more
Cons
May not suit all skin tones
Price at the time of publication: $16.5
What is modern and classic at the same time? Black matte nail polish, hands down. Black and matte is a combo that can never go wrong. And this matte black fingernail polish ensures a low shine, high style look that'll get everyone in the room talking about your nails. Also, whoever said black is the color for emo teens doesn't know that black matte is a crown for those who dare! Do you think you can pull off this edgy style?
Pros
Easy to apply
Dries quickly
Velvety smooth formula
Leaves an ultra-flat matte finish
Cons
It may chip after a few days.
Price at the time of publication: $9.98
The JOYA MIA No Wipe Matte Top Coat is perfect for people who want to achieve a trendy and modern matte look on their nails. The coat is formulated with high-quality ingredients that provide long-lasting results, ensuring that your nails remain beautiful and vibrant for an extended period. It also helps to protect your nails from damage and keeps them healthy and strong. You can cure your nails with a UV or LED lamp to drastically speed up the polishing process.
Pros
Long-lasting
Easy to apply
Easy to remove
Value for money
Available in different sizes
Cons
May cause allergic reactions
Price at the time of publication: $10
If you can't get enough pastels, it's time to indulge in this pastel delight. Soft, elegant, and charming, watch your nails go from blah to beautiful instantly with this semi-matte finish. Also, this matte blue nail polish is an ultimate favorite amongst spa and salon regulars. And why wouldn't it be? Delivering a satisfying full-coverage and a tip-top glow, spring and summer OOTDs will hit differently with this pretty pastel on the nails.
Pros
Requires no base coat, curing, or UV lamp
Durable, chip-free, and long-lasting
Free from formaldehyde, toluene, and DBP
The professional-grade brush ensures easy application.
Cons
Price at the time of publication: $9.49
Young Nails Mani-Q Matte Gel Polish is designed to give your nails a beautiful, long-lasting finish. It is easy to apply, making it ideal for beginners. The formula is self-leveling and spreads evenly over your nails without leaving any streaks or bumps. This gel polish is easy to cure under a UV or LED lamp, making it perfect for those who want to achieve salon-quality results at home.
Pros
Long-lasting
Applies smoothly
Suitable to wear on natural and artificial nails
Easy to wear
Cons
None
Price at the time of publication: $12.95
This fuchsia in matte will steal your heart with its royal touch. Packed with holographic pearl specks, this amethyst lacquer looks every bit like painting cosmos on the nails. Also, it is not flashy and leaves a traditional matte and velvety finish with every sweep. And besides the finish, the color is to die for and looks every bit chic, no matter what you pair it with. Do not skip it!
Pros
Dries quickly
Sweeps on smoothy
Long-lasting and vegan
Easy to apply and remove
Free from parabens, lead, phthalates, formaldehyde, and more
Cons
Some may find the consistency too thick.
Price at the time of publication: $10
If you like French manicures, you will love this matte finish clear nail polish. Also, this clear top coat mattifies, protects, and helps your color stay intact effortlessly. Yep, no chipping or smudges with this lacquer! A trusted brand for 60 years by professionals, in case you are brand conscious, the Nail Magic Matte Nail Polish will keep the nail paint salon-fresh always. Still, want to miss it?
Pros
No-shine top coat
Seals in the color
Dries quickly and easy to apply
Suitable for all nail types
Cons
Price at the time of publication: $8.99
Nail folks, it's time to move on to matte! There you go, those were the 13 best matte nail polishes that are too chic to be missed. However, if you still need assistance with choosing the best matte nail polish, we have some tips for you in the buying guide below.
How To Choose The Best Matte Nail Polish 
No matter your matte need, we've got you covered. All you have to do is lookout for the following features before buying:
We don't mean to scare you, but some components in your nail paint can be toxic for your nails and skin. Harsh chemicals such as formaldehyde, parabens, camphor, phthalates, and more, should be avoided as much as possible for the best experience. And, if you are pregnant or looking for matte nail polish to give away for a baby shower, you must opt for nail paints that are pregnancy-safe. For example, the Zoya Nail Polish is vegan and pregnancy-safe.
Drying or curing time can drive one's patience up the wall and if you are an impatient soul, we recommend you look for a quick-drying formula. Although curing time can take up to 2 minutes, some lacquers dry almost instantly upon application. The Kleancolor Matte Nail Lacquer and the Golden Rose Matte Nail Polish are two of the many quick-drying nail polishes on our list.
No nail polish can last forever, but there are nail paints that can stretch the color's staying power for up to 2 weeks! So, before the color or the matte finish triggers your impulsive buying mode, check the staying power and if the nail polish is chip-resistant and smudge-proof for the best experience.
Unsure about which color to pick? We have some seasonal recommendations to keep your nails in vogue all the time. Pastels, fuchsia, shades of yellow, tangerine, shades of blue (especially turquoise), and more are great colors to flaunt during the spring or summer. And for fall and winter, you can trust burgundy, shades of browns, shades of green, grey, dark blue, etc., to spruce up your nails in style.
To find nail paint that matches the skin tone can be tricky, especially if you are shopping online. However, we have some suggestions to make your hunt easier. Light skin tones can settle on pastels and bright solid colors. Medium to olive skin tones should look for tangerine, sky blue, and coral colors whereas, for deep skin tones, intense reds, pinks, and blues will balance out their skin color beautifully.
Why Trust StyleCraze?
Chaitra Krishnan, the author, is a beauty and makeup enthusiast, who loves experimenting with new looks and trends. After carefully going through several makeup and beauty forums and websites, she has curated this list of the best matte nail polishes available on the market. Her recommended products are long-lasting, chip-proof, and do not smudge. They can transform your nails from drab to fav instantly with their intense color payoff.
Frequently Asked Questions
How long does a matte nail polish last?
Matte nail polishes will last for up to 4-5 days if you maintain and touch up the paint regularly. However, gel matte nail polish lasts longer and up to 3 weeks with a thin coat.
Is matte nail polish bad for your nails?
No, matte nail polishes are not bad for the nails if you pick a lacquer that is free from harsh chemicals such as formaldehyde, parabens, phthalates, and more that can cause drying or yellowing.
Does matte nail polish dry faster?
Yes, most of the matte nail polishes dry quickly and faster than regular nail polishes, which is why you must apply them precisely in one coat to avoid uneven layering.
Do matte nails look good?
Yes. Matte nail polishes offer a satin but smooth finish to your nails. Matte nails look subtle yet luxurious.
Can any nail polish be matte?
Yes. Mix baking or talc powder with some nail polish and make it matte.
Does matte nail polish chip easily?
Yes. Matte nail polishes are usually drying. As a result, they develop cracks and get chipped easily.
How do you remove matte nail polish?
• Pour a few drops of nail polish remover onto a cotton pad.
• Press the pad on your nails for a few seconds.
• Wipe the pad all across the nails and remove the matte polish.
Recommended Articles