10 Best Mattress For Kids – Reviews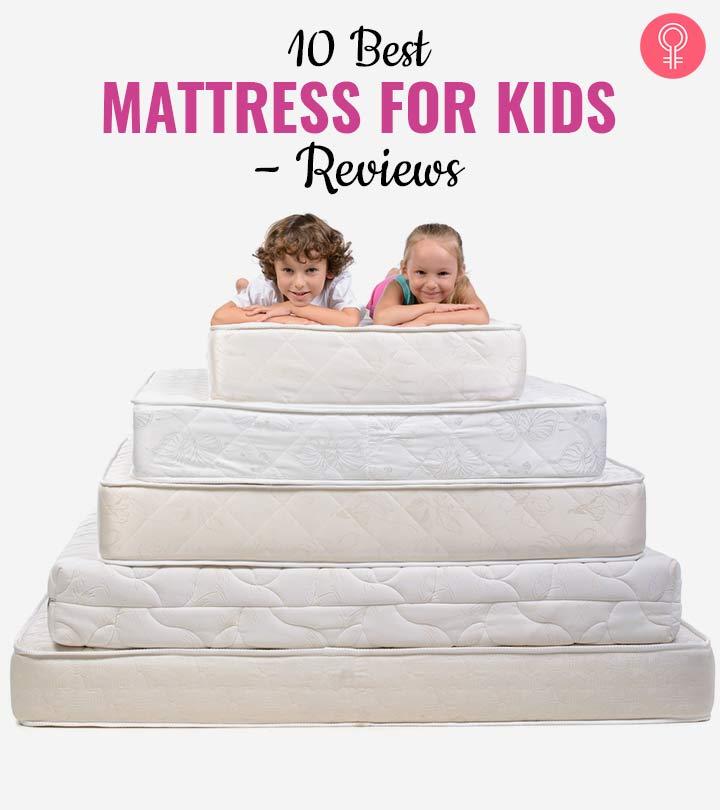 Sleep is an essential part of a daily routine, especially for kids. Studies show that adequate sleep results in better attention, behavior, cognitive functioning, emotional regulation, and physical health among children (1). On average, kids spend at least 10 hours sleeping. Hence, it is important to invest in a good mattress to aid their physical and emotional development.
However, shopping for a mattress for your kid can be challenging – you need something that offers bang for your buck without compromising on comfort. Don't worry, we have got you covered. We have compiled a list of the 10 best mattresses for kids. Scroll down to check them out.
10 Best Mattresses For Kids
The Graco Crib & Toddler Premium Mattress features a water-resistant outer cover that offers a clean and comfortable sleeping experience. All you need to do is unzip the cover and wash it in the machine. This mattress is suitable for newborn babies, infants, and toddlers. It is made of high-quality, breathable polyurethane foam that enhances airflow and
provides adequate firmness for infant safety.
This mattress is designed to fit any standard crib or toddler bed. It is CertiPUR-US GREENGUARD Gold, and JPMA certified for safety and performance. The mattress comes with a 6-year warranty.
Specifications
Dimensions: 6 X 52 X 5 inches
Weight: 7 pounds
Material: Foam
Firmness Level: Medium
Warranty: 6 years
Pros
Water-resistant outer cover
Easy to clean
Breathable
GREENGUARD Gold certified
CertiPUR-US certified
JPMA certified
Cons
No products found.
The Naturepedic Organic Crib Mattress has 100% organic cotton fabric and filling. The 150 heavy-duty coil innersprings offer edge support and durability. The food-grade PE surface of this product is non-toxic, and you can just wipe and clean it with soap and water. It features two-stage dual firmness – you can start with the firm side of the mattress for your infant and slowly introduce the softer side as your baby grows to a toddler.
This mattress has waterproof seams that prevent moisture penetration and keep dust mites and bed bugs at bay. The strong reinforced edges prevent rolling over and jumping. This mattress is coated with an organic cotton fabric and incorporated with echo-polymer, a non-GMO sugarcane product. This makes it 100% waterproof, adequately durable, and safe for the child. It is GOTS, MADE-SAFE, and GREENGUARD certified.
Specifications
Dimensions: 6 X 27.8 X 52 inches
Weight: 20 pounds
Material: Organic cotton
Firmness Level: Medium
Warranty: Lifetime
Pros
Easy to clean
Lifetime warranty
Phthalate-free
PVC-free
GREENGUARD certified
GOTS certified
MADE-SAFE certified
Cons
The Dream On Me mattress is one of the best kid mattresses that meet flammability and ASTM standards. It has 80 interwoven heat tempered coils that offer supreme comfort and support for your toddler's growing bones. Both the sides are wrapped in polyurethane foam for a plush sleeping surface. The mattress has two hypoallergenic layers that provide cushioned comfort for infants and toddlers alike.
This mattress features perimeter border wires to prevent sagging. The airflow pockets enhance airflow and keep the mattress fresh. The laminated waterproof cover is stain-resistant and prevents mildew, mold, and odors from seeping into the mattress. The lock-stitched binding ensures that the edges don't unravel.
Specifications
Dimensions: 52 X 28 X 6 inches
Weight: 5 pounds
Material: Foam
Firmness Level: Plush
Warranty: 30 days
Pros
Lightweight
Phthalate-free
Lead-free
Hypoallergenic
Easy to clean
Waterproof cover
GREENGUARD Gold certified
Cons
The Delta Home Memory Foam twin Mattress has a two-inch layer of memory foam to distribute weight evenly and ensure adequate comfort. The 4-inch high-quality foam base provides support and durability. The soft knit cover with waterproof backing helps in keeping the mattress stain-free and clean for a long time. This memory foam mattress can be rolled and compressed for easy transportation. It is compatible with all bed types.
Specifications
Size: 75 X 38 X 6 inches
Weight: 4 pounds
Material: Foam
Firmness Level: Medium
Warranty: 5 years
Pros
Waterproof
Stain-free
CertiPUR-US certified
Strong and durable
Compatible with all bed types
Cons
The Newton Baby Crib Mattress is one of the best full-size mattresses for your infant. It is designed with an innovative Breathe-Thru Technology that enhances airflow and reduces the risk of CO2 rebreathing and suffocation, even if your baby rolls over in sleep. This 2-stage infant and toddler mattress has a removable and machine washable cover.
The Wovenair core is made of 90% air and 10% food-grade polymer, which offers superior breathability. The mattress offers comfort and regulates temperature to prevent overheating and enhance sleep quality. It is pediatrician recommended, hypoallergenic, and GREENGUARD Gold certified for low emissions.
Specifications
Size: 52 X 28 X 5.5 inches
Weight: 11 pounds
Material: Polyester and food-grade polymer
Firmness Level: Medium
Warranty: Lifetime
Pros
Breathable
Removable cover
Easy to clean
Durable
Pediatrician recommended
GREENGUARD Gold certified
Cons
The Modway Aveline Gel Infused Mattress is the best mattress for children with a 6-inch pressure relief with twin memory foam. The gel-infused memory foam dissipates body heat and adapts to the body contours of your child. This mattress comes with a cell ventilated memory foam solution to relieve the pressure on the head, neck, and spine and reduce bounce between two sleepers.
The diamond-patterned knit top aids air circulation and facilitates a comfortable sleeping experience. This mattress is CertiPUR-US certified, which means it is free of formaldehyde, ozone, phthalates, mercury, and flame retardants, and is backed with a 10-year warranty.
Specifications
Size: 75 X 39 X 6 inches
Weight: 26 pounds
Material: Foam
Firmness Level: Medium
Warranty: 10 years
Pros
CertiPUR-US certified
10-year warranty
Durable
Comfortable
Cons
This mattress from Zinus has infused with green tea and active charcoal that keep the mattress fresh and block moisture, respectively. The pressure-relieving foam has two layers – 1 inch of memory foam that conforms to the body contours and 5 inches of high-density foam that offers support and durability.
It is specially designed to keep the joints and spine of your child with perfect alignment. The middle layer of the foam has open-air pockets to promote airflow and prevent overheating in the mattress. It is CertiPUR-US certified and offers optimum support for the back and spine. This mattress comes with a 10-year warranty.
Specifications
Size: 75 X 39 X 6 inches
Weight:85 pounds
Material: Foam
Firmness Level: Medium
Warranty: 10 years
Pros
No odor
Durable
Value for money
CertiPUR-US certified
10-year warranty
Cons
The Milliard Foam Crib Mattress offers the perfect balance of comfort and firmness that is perfect for babies and toddlers. This unique foam mattress is hypoallergenic and enhances air circulation and weight distribution to promote healthy and restful sleep for your little one. It also reduces the chances of tossing and turning.
This mattress has a removable waterproof cover, which prevents any liquid from seeping into the mattress. The foam adapts to your baby's contours without losing its shape and helps relieve stress and aches. It is compatible with all standard cribs and toddler beds.
Specifications
Size: 32 X 9 X 9 inches
Weight: 8 pounds
Material: Foam
Firmness Level: Medium
Warranty: NA
Pros
Waterproof
Hypoallergenic
CertiPUR-US certified
Affordable
Cons
The Dourxi Crib Mattress provides cushy firmness and advanced breathability to help your baby sleep soundly. The inner open cell foam core promotes airflow and regulates temperature to prevent overheating and reduce sweating. The toddler side features cool gel memory foam to provide comfort and support.
This mattress comes with a flexible fabric cover that is removable and easy to clean. The product fits all standard-sized toddler beds and American cribs. It is CertiPUR-US certified and comes with a 10-year warranty and a 100-night free trial.
Specifications
Size: 52 X 27.5 X 6 inches
Weight:6 pounds
Material: Memory foam
Firmness Level: Extra firm
Warranty: 10 years
Pros
CertiPUR-US certified
Odorless
100-night trial
Lead-free
Latex-free
Phthalate-free
Dual-sided
Cons
The Bubble bear Crib Mattress is made from memory foam. It features a flax cover that is breathable, moisture-wicking, anti-static, and heat-resistant. The firmness is as recommended for infants. The one-side demountable cover is washable and removable.
The product is free of odors as you can clean drooling, spit-ups, and diaper leaks easily. This crib mattress has border wires to maintain its shape and provide a safe sleeping environment for the kid. It is suitable for standard-sized cribs and is non-toxic and free of harmful chemicals.
Specifications
Size: 5 X 8.7 X 7.8 inches
Weight: 75 pounds
Material: Foam
Firmness Level: Medium
Warranty: NA
Pros
No odors
Easy to clean
Meets US CPC standards
Lead-free
Mercury-free
Cons
While looking for a suitable mattress for your child, you will come across three types of mattresses, and each has its pros and cons.
What Is The Best Type Of Mattress For A Child?
You can pick from the below types:
Innerspring Mattress: Most parents prefer this type for children of all age groups. Innerspring mattresses are durable, and rough use by children does not easily damage them. These mattresses are supportive, sturdy, and extra firm and support various sleeping styles.
Foam Mattresses: Though memory foam mattresses are popular, they are not advisable for infants and toddlers. They are suitable for older children, especially if they are side sleepers. Keep in mind that memory foam mattresses have off-gassing problems. Eventually, this can result in a strong smell for a few weeks when you start using them. You need a well-ventilated room to dissipate the smell faster.
Hybrid Mattresses: Hybrid mattresses have both the characteristics of an innerspring mattress and foam. The cushion of the hybrid mattress is filled with foam.
Organic Mattresses: Organic mattresses incorporate organic and natural elements, especially in hybrid and foam mattresses. These mattresses are free of chemicals, flame retardants, allergens, and toxins. You can go for this type to ensure safety for your child.
Choosing the right mattress for your child is tricky. Here's a buying guide to help you make the best choice.
How To Choose A Mattress For A Child – Buying Guide
Size: The size of the mattress depends on the age of your baby, its size, and how long you decide to let your baby use the mattress. Check the dimensions and determine what size fits your needs the best.
Type Of Mattress: If your baby is newborn or infant, a crib mattress may be the best fit for you. You will need a toddler mattress when your baby is growing. The toddler mattress usually comes with a railing to protect your child from rolling out of bed.
However, many parents prefer twin beds for their toddlers. A toddler mattress is for younger children, while a kid's mattress is for older kids. Many parents go for mattresses that can accommodate their child until their teenage.
Firmness Level: One of the most critical factors while choosing the best mattresses for kids is the firmness of the foam. You need a firm mattress if your child is under 18 months. It is essential for the safety and development of your child. The firm mattress provides appropriate spinal support and proper alignment for your child.
Durability: Go for a high-quality foam mattress or a wrapped steel coil material to ensure it lasts long.
Certifications: Look for mattresses that are GREENGUARD Gold and CertiPUR-US certified to ensure they are hypoallergenic, toxin-free, and safe.
Warranty: Go for a mattress that offers considerable warranty so that you can get it replaced in case of any defects.
A good mattress can have lasting effects on your child's overall health and sleep quality. Go through the points mentioned in our buying guide and pick a suitable mattress for your kid from the above list.
Expert's Answers for Readers Questions
Should a toddler have a firm or soft mattress?
Mattresses that are too soft can cause your child to sink deep into it and smother them. Hence, medium-firm mattresses are better for toddlers.
Is a memory foam mattress good for a child?
Yes. Non-toxic and spinal-supportive memory foam mattresses can be comfortable for children.
What should I look for if my child has allergies?
Ensure that the mattress is hypoallergenic, toxin-free, and latex-free. Opt for mattresses made of organic material. Go for mattresses with removable and washable covers.
Recommended Articles