10 Bestselling Maybelline Lip Balms For Luscious Lips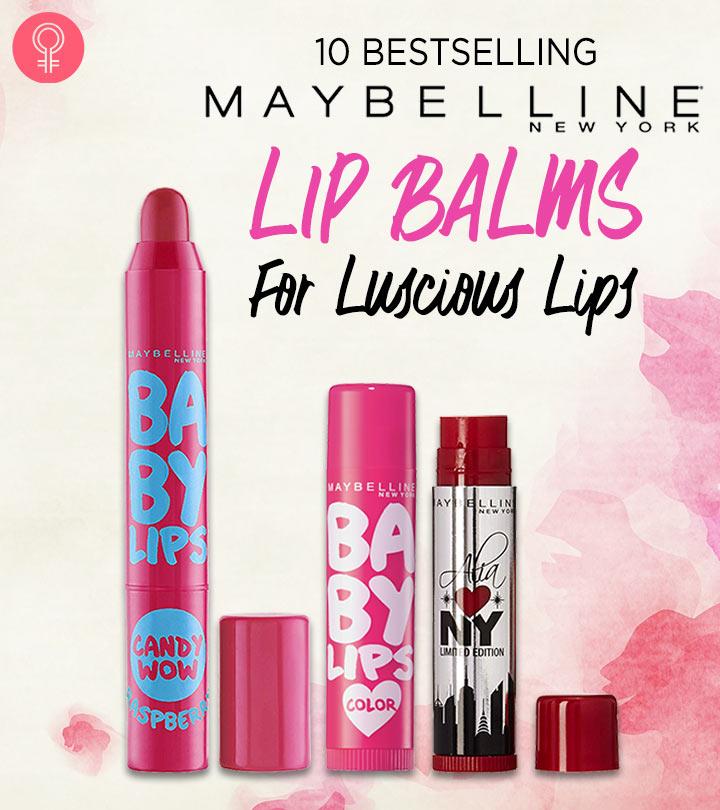 Lip balms are the most popular and trusted makeup accessories for women of all ages. Whether it's winter or summer, a lip balm is the easiest way to nourish chapped lips. With all the bright and peppy shades available today, buying a lip balm has never been more fun. Take a look at the bestselling Maybelline lip balms available in the Baby Lips range from Maybelline New York.
Top 10 Maybelline Lip Balms – Baby Lips
Product Claims
The color-changing Maybelline lip balms are a massive hit with the young crowd. The pink bloom shade comes with color tone technology that reacts with your lips to give a sensational sheer pink color. It is formulated with jojoba and pro vitamin E to keep your lips hydrated and nourished all day. It also contains SPF 16 to protect your lips from sun damage.
Price at the time of publication: ₹6.77
Product Claims
The Bright Out Loud range of Maybelline lip balms contains bright pigments for a vivid pop of lively color on your lips. This lip balm is infused with vitamin E, jojoba oil, and shea butter to give your lips constant moisture and keep them supple and smooth all day. The exclusive formula with SPF 13 hydrates and protects your lips from dryness and sun damage while giving them subtle shine and color.
Product Claims
Make your pout baby-soft in an instant with the Maybelline lip balms in the Baby Lips range. It nourishes your lips with its unique blend of soothing ingredients. This lip balm has an exclusive Lip Renew formula with SPF 16 to protect against sun damage and keep your lips hydrated for up to 8 hours. The Cherry Kiss lip balm has a delicious fruity flavor to pamper dry and chapped lips.
Product Claims
Use the Candy Wow line of Baby Lips lip balms to give your lips a sheer pop of color with a glossy shine and a yummy candy flavor. The Raspberry stick is enriched with vitamin E that helps keep your lips hydrated for long. The gorgeous shade comes in a crayon format that glides on smoothly and makes it easy to apply.
Product Claims
The Pink Alert shade of lip balm from Baby Lips' Bright Out Loud line gives your lips dazzling color and shine. It features an intensely moisturizing formula packed with vitamin E, jojoba oil, and shea butter. Apart from providing long-lasting hydration, the lip balm also contains SPF 13 to protect your lips against sun damage. The pocket-friendly size makes it convenient to carry for on-the-go moisturization.
Product Claims
Alia Loves New York is the first limited edition collection of Maybelline lip balms curated by Alia Bhatt. The attractive packaging is inspired by edgy New York-style graffiti. Four vibrant tints highlight the city's energy and glam quotient: Broadway Red, Manhattan Mauve, Highline Wine, and Brooklyn Bronze. Vitamin E and coconut oil give dry lips up to 16 hours of moisture, and SPF 20 protects them from sun damage.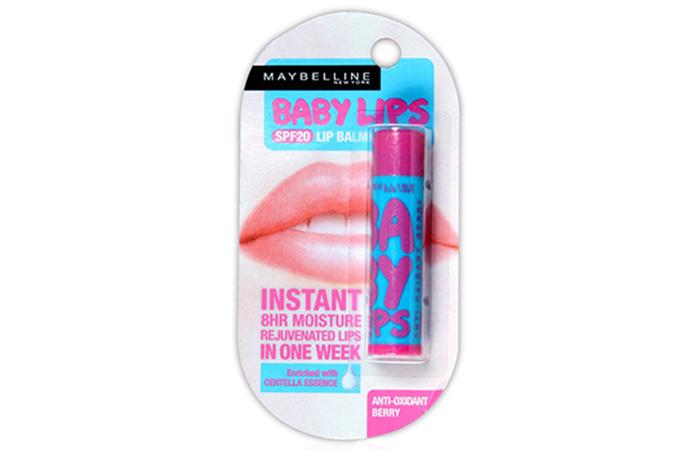 Product Claims
The Anti-Oxidant Berry Baby Lips is a nourishing clear lip balm that you can use daily for soft and smooth lips. It is enriched with Centella essence and provides instant hydration that lasts for up to 12 hours. The SPF 20 protects from sun damage, while the repairing formula reduces fine lines and makes your lips more supple. The handy, retractable stick is easy to use and carry. The transparent color makes it convenient to apply under lipsticks.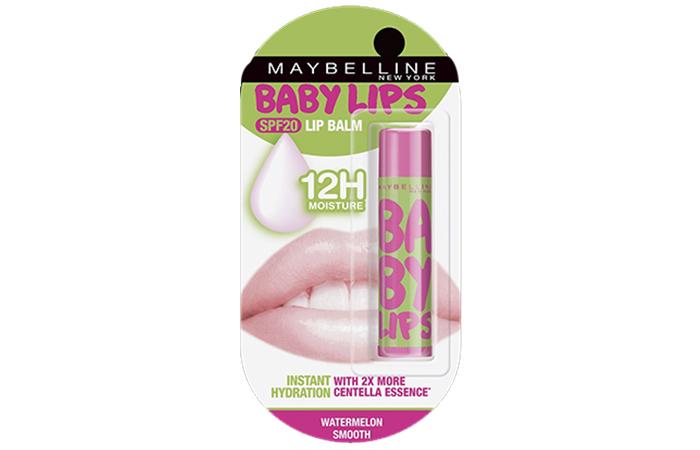 Product Claims
Watermelon Smooth provides acute, clinical care to give you baby-soft lips. It is a transparent lip balm that imparts no color to the lips. It is perfect for everyday wear or for wearing at home when you only need moisturization without any fuss. It has a very mild watermelon fragrance. The Centella essence and SPF 20 give you the dual benefits of long-lasting hydration and sun protection.
Product Claims
You can't refuse a lip balm that gives your lips intense hydration, long-lasting sun protection, and a bright pop of color. And the Maybelline Baby Lips Bright Out Loud – Striking Orange lip balm does just that! It keeps your lips supple and nourished all day with jojoba oil, shea butter, and vitamin E. SPF 13 protects them from sun damage, and the vibrant orange shade is an instant pick-me-up!
Product Claims
Maybelline Baby Lips Loves Color in Pink Lolita moisturizes your lips and gives them a lovely pink color. This nourishing lip balm has a delicious fruity flavor and a "Pure Color System" that lends your pout a translucent pop of color and shine. The SPF 20 protects your lips from sun damage while vitamin E and coconut oil hydrate them for up to 16 hours. The retractable stick packaging is easy to use and travel-friendly.
Price at the time of publication: ₹8.48
These are some of the best Maybelline lip balms from Baby Lips. They are perfect for that much-needed hydration in winters and a pop of color in summers. Don't forget to let us know about your favorites in the comments below.

Recommended Articles: