Best Maybelline Lip Glosses – Our Top 8 Picks
With the shiny '90s lips making a comeback on the beauty scene, it's time you take a break from that matte lipstick and make room for some gloss. Ladies, lip gloss is a thing again! After all these years, lip glosses today finally aren't tacky or goopy the way most of us remember them. Erase everything you think you know about them – because the world has changed, and so has their formula. To help you pick out a gloss, we have put together a list of the best Maybelline lip glosses. Check out the various lip glosses from everyone's favorite drugstore brand.
Top 8 Maybelline Lip Glosses
1. Color Sensational Vivid Hot Lacquer Lip Gloss
Review
If you're looking for incredibly saturated color with a high-shine finish, this Maybelline Color Sensational lip gloss from range is all you need. The formula does not feel sticky and stays put all day long. It also leaves your lips feeling hydrated and moisturized. These lip glosses come in 12 different shades ranging from nudes to reds and also a bunch of blues and purples. This is one of the best Maybelline lip glosses out there.
Pros
Extremely pigmented
Suitable for dry lips
Long-lasting
Affordable
Cons
Applicator tends to pick up a lot of product.
2. Maybelline Baby Lips Moisturizing Lip Gloss
Review
The Maybelline Baby Lips lip gloss is perfect for anyone who likes a sheer finish. It adds a natural flush of color to your lips and makes them look fuller and plump. Its formula is quite thick, but it glides on smoothly and is excellent for daily wear. We also love its pleasant fragrance. It comes in 12 different shades ranging from pinks to lilacs. It also works as a great top coat to achieve that wet-lip look.
Pros
Sheer finish
Moisturizing
Easy to apply
Reasonably priced
Cons
If you are sensitive to smells, you might not like the lingering fragrance.
[ Read: Maybelline Baby Lips Lip Balm Review ]
3. Electric Shine Prismatic Lip Gloss
Review
Want to achieve the oh-so-trendy holographic lips? The Electric Shine Prismatic lip gloss from Maybelline delivers iridescent shine for a duo-chrome lip look. This collection consists of six shades ranging from pinks to purples. It has a double-sided flat sponge applicator, which makes it really easy to apply the formula with precision. This Maybelline gloss is inarguably the best drugstore holographic lip product out there.
Pros
Fragrance-free
Easy to apply
Affordable
Pigmented
Cons
4. Glitter Fix Glitter Lip Gloss
Review
This lip gloss from Maybelline's Lip Studio range delivers a remarkably lightweight glitter finish that you can either wear alone or pair with your favorite lipstick to intensify its look. Its formula is buildable and easy to apply. It also has a very impressive staying power. This gloss is available in six unique shades.
Pros
Lightweight formula
Comfortable to wear
2-in-1 product
Budget-friendly
Cons
Not suitable for parched lips
5. Lip Studio Shine Shot Lip Top Coat
Review
The Maybelline Shine Shot Lip Top Coat is a fairly thick formula with a gel-like consistency. Although it is not the most comfortable gloss to wear owing to its stickiness, it works well for those with dry lips. It has an opaque, cloudy color combined with micro-shimmer particles that leaves you with a subtle holographic finish. You can either wear it alone or as a top coat over your favorite lip color.
Pros
Good for dry lips
Smooth texture
Adds shine and gloss
Cons
[ Read: Best Maybelline Lipstick Shades ]
6. Shine Sensational Lip Gloss
Review
This Maybelline shine sensational lip gloss is a sheer formula with a minty flavor. It comes in a range of 12 shades. Some of the Maybelline lip gloss shades are more pigmented, while others are more shimmery – so that's a win-win for all of us. It comes in a simple tube packaging, and you'll have to use your finger to spread the product. However, its lasting power is impressive, and it does a good job at adding shine and volume to your lips.
Pros
Easy to use
Long-lasting
Pleasant fragrance
Cons
7. Color Sensational Elixir Lip Lacquer
Review
Want a more saturated color in your gloss? The Color Sensational Elixir Lip Lacquer offers a balm infused formula with intense color pigments. It feels incredibly soft and cushiony on your lips, while its formula moisturizes and hydrates them. Also, there is no added shimmer in this gloss, making it perfect for daily wear. With a range of 10 super-saturated shades, there's something in Maybelline elixir lip gloss for everyone!
Pros
Feels comfortable on the lips
Does not bleed
Non-sticky
Cons
[ Read: Best Tinted Lip Balms ]
8. Color Sensational High Shine Gloss
Review
The Color Sensational High Shine Gloss applies extremely smoothly and feels very comfortable on your lips. It has no shimmer, but it does have a super shiny finish. The color is buildable and gives you an even finish with just two swipes. The packaging is sleek, and the doe-foot applicator helps you apply the formula with ease and precision. It comes in 12 shades ranging from nudes and pinks to reds.
Pros
Non-sticky
Moisturizing
Very glossy
Cons
Needs to be reapplied every couple of hours
With the return of lip gloss, you might as well give this trend a shot and see if it works for you. No harm in trying, right? Besides, there really is no look as classic as minimal makeup paired with a glossy pout! That was our round-up of the 8 best Maybelline lip glosses out there. Which ones are you looking forward to trying? Let us know in the comments section below.
Recommended:
The following two tabs change content below.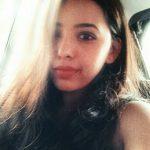 Latest posts by Esha Saxena (see all)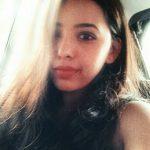 Esha Saxena
Esha Saxena is a writer, journalist, and a full-time wallflower. She holds a Master's degree in Media and Mass Communication and firmly believes that makeup is nothing less than art. Combining her love for writing with her passion for makeup, she brings to you reviews, techniques, and her ever-growing knowledge on this form of art. In her spare time, she loves reading, listening to obscure indie bands, and writing poetry – all of this while being a crazy dog lady.