The 10 Best Measuring Cups – Reviews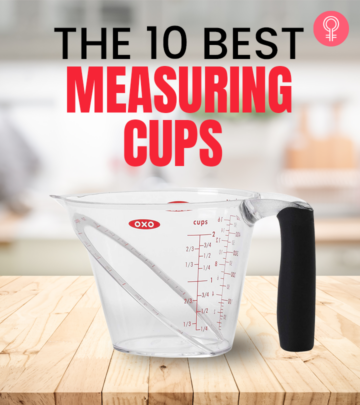 If you want to add the perfect amount of ingredients to a dish to whip up a delicious meal, you need a measuring cup. Whether you are adding melted butter to the cake batter or flour to make bread dough, measuring cups will give you better and efficient results. These cups measure the amount of both dry or wet ingredients with absolute precision.
Without a measuring cup, anything you add would be a mere guess, which might ruin your dish by dis balancing the taste. Here are the 10 best measuring cups you can buy online. Scroll down to check them out!
Are Measuring Cups Accurate?
The accuracy of measurement in measuring cups varies from brand to brand. The difference in measurements occurs because of the difference in cup shapes. To minimize the inaccuracy, have separate measuring cups of different sizes for dry and wet ingredients.
For measuring liquids, place a wet measuring cup on a flat surface. Pour the liquid until the bottom of the meniscus (liquid surface) matches the graduation level on the cup. Do not hold the cup in your hand while checking the measurement as it may be misleading.
Dry ingredients like flour and sugar can be measured by the sifting, spooning, and scooping method. But with each method, the measurement of the ingredient changes. It is said that dry measures are inherently inaccurate because of the compressibility of the ingredient.
Thus, a measuring cup may not provide a precise measurement like digital kitchen scales. However, by following the same measuring technique every time, you might reach the exact mass of your ingredient.
Top 10 Measuring Cups
The Pyrex Glass Measuring Cup Set is sturdy and affordable. The high-quality tempered glass provides a strong build, and the clear measurement markings are in cups, ounces, milliliters, and quarts. The easy-to-read markings in red enable an at-a-glance view. The non-porous glass does not absorb food odors, stains, or flavors, unlike plastic. It also features a curved spout for controlled drip-free pouring and an easy-grip handle for a comfortable hold. This measuring cup set is BPA-free and freezer, microwave, and top-rack dishwasher-safe.
Specifications
Number Of Cups: 3
Material: Glass
Type: Wet measuring cup
Warranty: 2 years
Pros
BPA-free
Durable
Non-porous
Microwave-safe
Freezer-safe
Dishwasher-safe
Cons
None
 The measuring cups in a set of 4 (237 ml, 118 ml, 79 ml, and 59 ml) comes with easy to read size markings on the handle in standard and metric units. They feature a glossy interior and a matte exterior with a soft, black end grip for easy handling. The cups are held together securely using a thick plastic ring for easy organization and storage. These measuring cups are BPA-free, durable, dishwasher-safe, and work with both wet and dry ingredients.
Specifications
Number Of Cups: 4
Material: Plastic
Type: Dry measuring cup
Warranty: 1 year
Pros
BPA-free
Durable
Dishwasher-safe
Easy to clean
Easy to store
Cons
The OXO Measuring Cup has multiple markings for cups, ounces, and milliliters in both standard and metric measurement units. This oval-shaped cup is dishwasher-safe and BPA-free. Its patented angled surface enables you to read the measurements from above, eliminating the need to bend, check, and adjust the fill repeatedly. The cup features a soft, non-slip handle and a pointed spout for controlled and comfortable pouring.
Specifications
Number Of Cups: 1
Material: Plastic
Type: Wet measuring cup
Warranty:NA
Pros
Dishwasher-safe
Non-slip handle
Angled readings
BPA-free
Cons
The Simply Gourmet Measuring Cups And Spoons Set is crafted with a professional grade 18/8 stainless steel that is rust-proof and dishwasher-safe. The measurements are engraved into the cups to prevent fading or rubbing off. The flat base provides stability, and the nesting feature enables easy organization and storage in a drawer or cabinet.
Specifications
Number Of cups: 6
Material: Stainless steel
Type: Dry measuring cup
Warranty: 1 year
Pros
Durable
Dishwasher-safe
BPA-free
Rust-resistant
Cons
The Morgenhaan Measuring Cups And Spoons set is made of specialty-grade, 0.8mm thick stainless steel with high tensile strength. These measuring cups have graduated markings and 3-in-1 multi-measure that enable two additional measurements in a single piece. The volume markings are stamped into the metal, making them easy to read and permanent, without fading and scratching off. The handles are crafted from a single sheet of metal and claim never to bend, break, or fall off.
Specifications
Number Of Cups: 6
Material: Stainless steel
Type: Dry measuring cup
Warranty: Lifetime limited
Pros
Sturdy
Rust-proof
Dishwasher-safe
Durable
Cons
None
This 11-piece measuring cups and spoons set is durable and crafted with premium food grade 18/8 stainless steel. Each cup has stamped measurements on the handle and exterior, and partial-stamped measurements on the interior. The stackable design enables easy storage in drawer, cabinet, or cupboard by nesting them inside each other. These measuring cups are dishwasher-safe, rust-proof, corrosion-proof, and chemical-resistant.
Specifications
Number Of Cups: 7
Material: Stainless steel
Type: Wet &dry measuring cup
Warranty: Lifetime
Pros
Easy to clean
Durable
Rust-proof
Chemical-resistant
Dishwasher-safe
Easy to store
Cons
CuttleLab 22-Piece Stainless Steel Measuring Cups and Spoons Set, Tad Dash Pinch Smidgen Drop Mini Measuring Spoons, Measuring Stick Leveler, Measurement Conversion Chart Fridge Magnet, (Farmhouse)
⭐ THE ONLY SET YOU WILL EVER NEED! This versatile set of 22 pieces include: * 6 measuring cups (1/8 cup, 1/4 cup, 1/3 cup, 1/2 cup, 3/4 cup, and 1 cup) * 6 measuring spoons (1/8 tsp, 1/4 tsp, 1/2 tsp, 1 tsp; 1/2 tbsp and 1 tbsp) * 5 mini-measuring spoons (drop, smidgen, pinch, dash, and tad) * 1 cup- or spoon-leveling tool with mini-ruler * 1 fridge-magnet conversion chart * 3 round hinged rings. Whatever measurement you need, we got you covered.
⭐NO MORE GUESSING! The measurements on each piece of the set are clearly engraved, using both imperial (e.g., 1 cup) and metric (e.g., 250 ml). Attractive color coding helps in instant identification. You can choose from a variety of pretty colors to match your kitchen décor.
⭐ SAFE COOKING: Do you care for the ones that you cook for? So do we. Our product use Food-grade stainless steel—it won't rust or leak chemicals into your cooking, keeping your loved ones safe. These sturdy cups and spoons are long lasting, easy to use and clean, and easy to store.
⭐ GREAT FEATURES! Easy and neat storage. Flat-bottomed cups rest upright on kitchen counter preventing spills. Avoid those annoying pouring messes, our cups are double-spouted for easier pouring, and the mini spoons can fit into spice jars. The pretty silicone handles are designed for easy and comfortable grip. CuttleLab's Measuring Cups & Spoons make an ideal gift for anyone wanting a reliable, good-looking, quality set. Neat practical packaging with info on the set's 22 pieces.
⭐ WE GUARANTEE 100% SATISFACTION! We believe that you'll be very happy with your purchase, but if you aren't, let us know and we'll refund you 100%. Moreover, if you have questions or comments, let us know and we'll be delighted to attend you.
The CuttleLab Measuring Cups and Spoons set includes six measuring cups, 16 measuring spoons, a metal leveler, a fridge-magnet conversion chart, and three round-hinged rings. Both imperial and metric units are engraved on each cup, and the color-coded system facilitates instant identification. The handles have a silicone grip for a comfortable and secure hold. The cups are double-spouted for easy pouring and suitable for both right and left-handed use. Their flat-bottom rests upright on the countertop and prevents spillage. The measuring cups are made of food-grade stainless steel that is rust-proof and prevents chemicals from leaking into the food. They are long-lasting and easy to clean and store.
Specifications
Number Of Cups: 6
Material: Stainless steel
Type: Dry measuring cup
Warranty: NA
Pros
Easy to clean
Easy to store
Long-lasting
Rust-proof
Dishwasher-safe
Cons
None
The KitchenMade Measuring Cups Set is made of high-quality, polished 18/8 stainless steel without any sharp edges. Each cup comes with a weighted handle to scoop out ingredients easily. This set is dishwasher-safe and has graduated markings on each cup for accurate measurements. The flat base ensures balance, and the pouring lips are ideal for when liquids need to be added gradually.
Specifications
Number Of Cups: 6
Material: Stainless steel
Type: Dry and wet measuring cup
Warranty: Lifetime
Pros
Sturdy
Dishwasher-safe
Includes a baking eBook
Cons
The measuring cups in this set have non-slip silicone handles that are heat-resistant. The unique stainless steel ring and the strong magnetic center hold the cups together and enable hanging them on the wall or storing them inside the drawer. It can be easily opened when you want to use them separately for cooking. Each cup sports engraved markings that are color-coded for instant identification.
Specifications
Number Of Cups: 8
Material: Stainless steel
Type: Dry and Wet Measuring Cup
Warranty: No
Pros
Non-slip handles
Dishwasher-safe
Rust-resistant
Heat-resistant
Cons
The Farberware Professional Measuring Cups come in a set of four cups (1/4, 1/3, 1/2, and 1 cup)and a two tablespoon coffee scoop. These measuring cups come in assorted colors, and the hanging ring holds them together for easy storage and separation during cleaning. The flat base keeps the cups upright on a countertop without spilling.
Specifications
Number Of Cups: 4
Material: Plastic
Type: Wet and dry measuring cup
Warranty: Lifetime limited
Pros
Dishwasher-safe
Includes a coffee scoop
Easy to store
Cons
None
While buying a set of measuring cups, it is imperative to take into account certain significant factors that will help you with the ideal selection. Let us take a look at some of these factors in the following section.
What To Look For In A Good Measuring Cup – Buying Guide
Material: The most commonly used materials for measuring cups are plastic or stainless steel. But each material has its set of advantages and disadvantages. For instance, plastic is not heat-resistant, while silicone is appropriate for high temperatures. If you want durability, a glass or stainless steel measuring cup is ideal.
Type: Every measuring cup serves a specific purpose. While some are versatile, others only measure either dry or wet ingredients. Wet measuring cups come with a spout for easy pouring of liquids, while dry measuring cups come with a leveler for precise measurements. Thus, consider your needs before making a purchase.
Ease Of Use: Your measuring cup should be devoid of complex mechanisms that make it difficult to pour or scoop ingredients. For instance, non-slip surfaces like silicone handles enable comfortable handling.
Accuracy: Having precise measurements of your ingredients is important, and you must buy a cup that guarantees this accuracy.
Capacity: The dry ingredients are usually measured in increments of 1/8, 1/4, 1/2, 3/4, 2/3, or 1 cup. The wet ingredients use large units of 1, 2, or 4 cups and can go up to 8 cups. Some measuring cups can also come with capacity options apart from the standard ones.
Additional Features: Measuring cups also come with innovative features that make cooking easier. The angled wet measuring cup comes with rings and measurements in the interior for tracking the quantity even when tilted. With an adjustable measuring cup, you can adjust the size as per your requirement. It comes with a knob that you can turn to activate a plunger, which pushes any stuck-on liquid from inside the cup, ensuring the right measurement.
Ease Of Handling And Storage: Measuring cups should enable easy handling and compact storage. Stackable nesting measuring cups are the best when you have limited storage space.
The next section answers a few questions associated with measuring cups. Take a look.
What Are The Types Of Measuring Cups?
The two types of measuring cups are dry and wet cups. The dry cups measure the dry ingredients like sugar, flour, and powders, while the wet ones measure liquids like water, oil, or syrups.
Dry measuring cups come in the standard size of 1, 1/2, 1/3, and 1/4 cup measurements. To ensure accuracy, fill the entire spoon and scraped off the excess with a flat spatula or knife.
Liquid measuring cups come with a handy pour spout and is made of clear plastic or glass, enabling you to view the liquid. These cups usually come in 4, 2, 1 cup measurements.
What Is The Difference Between Dry And Liquid Measuring Cups?
Liquid measuring cups are made of glass or plastic and feature a handle. You can pour the liquid and check its measurement without spillage. Dry measuring cups hold the precise amount of the dry ingredient, which can be leveled with a flat spatula.
Is There A 3/4 Measuring Cup?
Yes, many manufacturers design a 3/4 measuring cup. However, it is not standard cup size. If you want to measure a 3/4 cup, fill a usual cup with the ingredient. Take out half of it into another 1/2 cup and follow it by taking out another half of the ingredient into a 1/4 cup. Add this 1/4 cup to the 1/2 cup quantity, and you will get a 3/4 cup measurement.
What Are The 4 Sizes Of Measuring Cups?
The 4 standard measuring cup sizes are 1, 1/2, 1/3, and 1/4 cups.
The following are the best ways to ensure your recipe comes out perfectly even without measuring cups.
How Can I Measure Without Measuring Cups?
1 cup almost equals to the size of a baseball or an apple.
1/2 cup can measure equal to a tennis ball.
1/4 cup is the same as a large egg.
1 tablespoon is the size of an ice cube or a half ping pong ball.
1 teaspoon is the same as the tip of the finger(from joint to the tip).
1/4 teaspoon is equal to two solid pinches between your thumb, as well as both the forefinger and middle finger.
1/8 teaspoon can be measured as a pinch between your thumb and both the forefinger and middle finger.
Check out the standard conversion chart from cups to tablespoons.
What Is A Standard Cup Size?
| Quantity | Equivalent |
| --- | --- |
| 1 cup | 16 tablespoons |
| 1/2 cup | 8 tablespoons |
| 1/4 cup | 4 tablespoons |
| 1/8 cup | 2 tablespoons |
 How Many Spoons Is A Cup?
One cup equals 16 tablespoons.
With a measuring cup, leave the guessing game out and add the precise amount of ingredients to your recipe. Pick your favorite measuring cup from our list and prepare delicious meals with an accurate balance of ingredients.
Recommended Articles
The following two tabs change content below.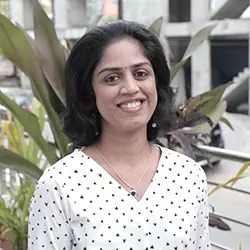 Harini Natarajan
As Chief Editor, Harini sets the tone and editorial direction for StyleCraze to deliver engaging, interesting, and authentic content revolving around women's health, wellness, and beauty. She has over 14 years of experience in content writing and editing for online media. She specializes in the areas of Beauty, Lifestyle, and Health & Wellness and is proficient in Medical Sciences (Biology, Human Anatomy and Physiology, and Biochemistry). Her background in Biomedical Engineering helps her decode and interpret the finer nuances of scientific research for her team. Harini is a certified bibliophile and a closet poet. She also loves dancing and traveling to offbeat destinations.