13 Best Medicated Lip Balms Worth Trying In 2022
Get rid of dehydrated, chapped lips this season for the soft, plump, gram-ready pout!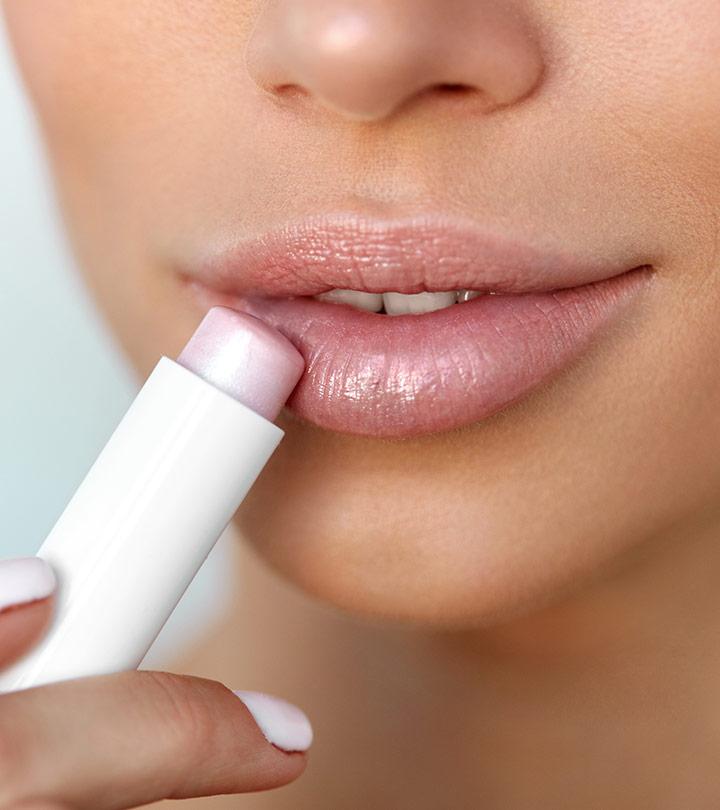 When you are stuck with dry and chapped lips, the best medicated lip balms can come to your rescue. In most cases, the weather is the most likely culprit for chapped lips. The lack of moisture during winters and the excess exposure to the sun during summers can leave your lips wanting more TLC. However, while the weather is the reason behind your dry lips more often than not, spicy food, low intake of water, and medication can also lead to the same result.
Furthermore, a few ingredients in your beloved lip balms can cause your lips to burn. Trust us; that lip balm is not working. As it is causing you discomfort, you need to stop using it immediately and go for medicated lip balms. They contain soothing ingredients such as shea butter or castor seed oil that protect your lips from harm and keep them moist and supple. In this article, we have compiled a list of the top medicated lip balms to get your hands on. Keep scrolling!
13 Best Medicated Lip Balms For Acutely Dry And Chapped Lips
The Burt's Bees 100% Natural Medicated Moisturizing Lip Balm With Menthol & Eucalyptus helps you care for your lips by renewing them and providing temporary relief from itching and pain. These harmful lip conditions are associated with fever blisters and cold sores which can be taken care of by using the Burt's Bees medicated lip balm. One of the best medicated lip balms, it naturally hydrates dry lips and the effect is visible after a single swipe. Discomfort is eased and lips remain softball year around. 0.9% menthol in the lip balm gives instant results and smells great too, making your lips feel luxurious and taken care of. The Burt's Bees medicated lip balm is tint free and leaves a matte finish as well as a moisturized balm texture on your lips. What you get are lips that are healthy and revitalized so you can sport a happy smile.
Pros
Sustainably-made
Parabens, petrolatum, SLS and phthalates-free
Infused nourishing oils like Eucalyptus extract as well as butters that soothe and hydrate dry lips.
Contains all-weather SPF 15 and natural emollients to protect lips from harmful effects of the sun.
Cons
The lip-balm may feel a bit too oily on the lips.
Price at the time of publication: $8.49
The Blistex Medicated Lip Balm seals moistures in your lips and prevents the lip tissue from drying up. It also provides relief from dry, cracked, and chapped lips. This medicated lip balm for cracked lips protects the lips temporarily, but also contains three long-lasting protectants that alleviate the dryness on the lips and prevents it from recurring. It is easy to apply and glides on smoothly for complete coverage. Blistex is a classic lip care brand and the Blistex medicated lip balm lets you care for your lips in an indulgent way and offers elevated moisturization by sealing in the moisture. Dry and irritated lips feel soothed and are prevented from any further form of irritation.
Pros
Provides SPF 15 sun protection and prevents sunburn
Protects lips from dry or cold weather and icy winds.
Infused with beeswax, camphor, and flavors.
Cons
The lip-balm may need to be applied every 2 hours.
Price at the time of publication: $2.99
The Jack Black Intense Therapy Lip Balm provides sun protection at an optimum level and guards against extreme temperatures and windburn. The antioxidants and superior skin conditioners contained in this medicated lip balm relieve and soothe irritated, chapped and dry lips. It protects your lips from sun, wind as well as harmful UVB and UVA rays that can often be a challenge. If you are seeking lip protection of a superior level then the Black Jack Intense Therapy Lip Balm is an excellent solution as it is also a balanced product with certified organic ingredients. Unlike other waxy lip balms, this intense medicated therapy balm penetrates into the lips instantly for relief.
Pros
Contains SPF 25 and can be used all year round.
Induced with avocado oil and shea butter for superior conditioning.
Vegan, safe from harsh surfactants, dermatologically tested, cruelty, paraben-free
Contains petrolatum which is an FDA-approved skin protectant and is very effective as a moisturizing agent.
Induced with the goodness of vitamin E and green tea as well as natural emollients that provide protection to cells against damage done by free-radicals.
Cons
The lip balm may not be suitable for sensitive skin.
Price at the time of publication: $8
The O'Keeffe's Unscented Lip Repair Lip Balm is a hardworking lip balm that provides skincare and instant relief to extremely cracked and dry lips. This medicated lip balm for cracked lips repairs, heals and relieves lips that are so dry and cracked that they hurt. By creating a multi-layer flexible barrier which moves along with your lips, this good medicated lip balm keeps the dry lips protected from any further damage. The lips absorb the balm quickly and smooth and soft lips are returned to you almost instantly. The lips stay moisturized for 8 hours since application and when used on a daily basis, this clinically approved lip balm keeps working even when you are eating and drinking. This chap ice medicated lip balm comes in two varieties, cooling relief and original. If you prefer no flavor and scent in your lip balm then original is the one for you, but if you look forward to minty sensations on your lips then you can try cooling relief.
Pros
Cruelty-free
Does not contain a direct addition of gluten
Contains 7 different moisturizing ingredients
Contains natural beeswax for soft and smooth texture
Cons
The lip balm may need to be re-applied at regular intervals specially in very dry weather.
Price at the time of publication: $5.49
Dr. Dans CortiBalm Lip Balm contains 1% hydrocortisone that is formulated specifically for chapped lips. It heals lips that are chapped due to weather conditions, sunburn, cosmetic use, or side effects of medicines. This medicated chapstick reduces any inflammation caused by cold sores and is ideal for allergies, cold sores, chemotherapy patients, accutane patients and people with sensitive skin. Cortibalm is a very mild lip balm that is hypoallergenic and contains a blend of petroleum jelly, beeswax and mineral oil. It is proven and developed by a leading dermatologist and is created to work on all types of lips that may be chapped for any reason. The formula of this medicated lip balm is patented and does not contain any ingredient that can cause irritation to the sensitive layer of the lips.
Pros
Recommended by most dermatologists.
Contains hydrocortisone, beeswax, mineral oil and petroleum jelly.
The lip balm never expires.
Cons
The lip balm may not taste very nice.
Price at the time of publication: $7.75
The Maybelline New York Dr. Rescue Baby Lips Medicated Lip Balm Makeup is a medicated lip balm that contains a hint of eucalyptus so you can enjoy baby soft lips. This lip balm moisturizes the lips for 12 hours and keeps them cool with the icy menthol that it contains. Lips feel soothed within a minute from application, they look smooth within a week and soon the lips are completely renewed. Say goodbye to basic lip balms with this exclusive medicated formula that can be worn alone or even under your lipstick or lip gloss. The lip balm has a very faint pink tint and leaves the skin with a cool sensation when applied. Let dry and chapped lips be a thing of the past with this tinted medicated lip balm from Maybelline New York.
Pros
Smells great and feels cool on the lips.
Can also be used on the nose if you have a cold.
Makes lips feel fuller and acts as a great moisturizer before applying lipstick
Cons
The tint of the lip-balm may gather near the dry areas of the lips.
Price at the time of publication: $2.98
The Chapstick Classic Medicated Lip Balm comes as a pack of 3 and contains 0.15 oz in each. One of the best medicated lip balms available this is a classic and can be used as an external analgesic or as a skin protectant. ChapStick as a brand is a leader in testing and producing lip care that provides serious protection to the lips all year round from any type of dryness, cracking, chapping and blisters. It provides a high level of moisturization that remains locked in efficiently all day long. With active ingredients like 1% camphor, 0.6% menthol, 41% petrolatum and 0.5% phenol this medicated chapstick gives you instant relief from the pain on your lips and heals them for the long term.
Pros
Provides temporary relief from pain caused by fever blisters.
Induced with the goodness of cocoa butter, light mineral oil and carnauba wax.
Can be used to heal minor cuts in the body as well.
Cons
It may not be safe to apply the lip balm more than 3-4 times a day.
Price at the time of publication: $7.4
The Carmex Original Lip Balm External Analgesic is crafted to provide comfort to dry, chapped and cracked lips. This medicated lip treatment offers trusted relief and soothes and heals the lips, at the same time protecting them from any further damage. Lips can become dry or cracked due to multiple factors like cold winds, sunburn, low temperature, dryness in the air and many more but they all can be healed using this medicated lip balm. One solution to so many problems makes this lip balm one of the best medicated lip ointments to choose from. The jar is easy to carry around and even if you end up leaving it in your car, it may liquify a little but doesn't change the positive impact that the lip balm has on your lips.
Pros
Packed in a convenient container that can be carried anywhere.
Contains menthol, camphor, beeswax and lanolin for instant relief.
Induced with theobroma cacao, seed butter, cetyl esters and flavor.
Cons
The lip-balm may contain phenol in it.
Price at the time of publication: $6.6
The Blistex Lip Medex External Analgesic Lip Protectant is specially formulated to provide quick and cool relief to your lips and you can actually feel the lip balm working. This blistex medicated lip balm also helps in restoring healthy and balanced moisture to the lips irrespective of what weather conditions prevail. Sore lips can start feeling an immediate cooling action thanks to the Blistex medicated lip balm ingredients and fast relief is delivered in a noticeable fashion. Say goodbye to hot itching sensations that come along with sore lips with the use of this medicated lip ointment. Even if you feel that your lips are seriously dry and beyond repair, try the Blistex Lip Medex and feel the external analgesic lip protectant create a special barrier that lets lip cells come back to their natural form with retained moisture balance. This is one of the strongest medicated lip balms you can possibly find.
Pros
Lips remain moist for the entire day free of irritation and dryness.
Once you start using Blistex Lip Medex, you won't have to use it for a very long period of time.
Induced with castor oil, theobroma cacao seed butter and beeswax that ensures smooth surface of the lips.
Cons
The lip-balm may contain phenol as an active ingredient.
Price at the time of publication: $5.25
The Dermatone Medicated Lip Balm For Dry Chapped Lips features a dense healing formula that helps prevent chapping, cracking and sunburn on the lips. Due to this dense formula you need to apply only a small amount of lip balm and you can still enjoy long lasting protection. The pack includes 2 lip balms containing 0.15 oz medicated balm in each and you can easily carry it with you in your pocket on your adventurous day out. Unmatched coverage is offered in all weather conditions whether you are curled up at home or are trekking with your friends and family in the hills. This medicated lip balm ensures that lips stay nice and smooth so you do not have to miss out on your outdoor activities. Rough terrain is fun and challenging as long as it is not on your lips.
Pros
Non-greasy formula
Water and sweat-resistant.
Contains broad spectrum SPF 30, UVB and UVA protection.
Official sponsor of products for the US Ski & Snowboarding Team.
Cons
The smell of the lip-balm may not be liked by all.
Price at the time of publication: $24.99
The Lipster Medicated Lip Balm With 1% Hydrocortisone helps soothe lips that are severely itchy, cracked, and chapped. It does not contain beeswax and is certified for being animal cruelty-free. This medicated lip balm does not contain petrolatum or by products of petroleum and is completely safe for sensitive skin. Even if you are suffering from an allergy from cosmetics or itching due to an unknown cause this is your go-to lip balm. Acne patients suffering from accutane, amnesteem, and claravis can also use this lip balm on their skin for instant relief. This medicated lip balm was formulated by 2 pharmacists who were looking for a vegan and natural solution to heal lips.
Pros
Vegan and cruelty-free
Can also be used to heal skin conditions like psoriasis, eczema, dermatitis and seborrheic and skin irritation caused by insect
bites or by contact with oak, sumac, and poison ivy.
Induced with vitamin E, cocoa seed butter, jojoba seed oil, and coconut oil.
Cons
The lip-balm may not taste very good.
Price at the time of publication: $7.99
The eos Medicated Sphere Pain Relieving Lip Balm has a delicious flavor that will make you want to keep licking your lips. This eos medicated lip balm is filled with super shea making it an amazing lip balm that helps your helps and lets you enjoy the yummy flavor all at the same time. The cooling chamomile flavor literally tastes like a cup of tea with lemon zest in it that will make the lip healing process an enjoyable one for you too. Most of the ingredients used are sustainably sourced like coconut oil, shea butter, and jojoba seed oil. It also contains shea butter that is sustainably sourced and is USDA certified as organic. This eos medicated lip balm is made using wild-grown shea butter for a long-lasting hydrating impact on the lips.
Pros
Gluten, cruelty-free
Derma-tested and hypoallergenic
Phthalates, paraben-free
Cons
The lip-balm may not glide on the lips in a smooth manner.
The Blistex Medicated Lip Ointment features an advanced moisture system that delivers penetrating medication using a unique formula that relieves severe lip dryness and cold sores. This medicated lip ointment is made up of four medications that provide relief from itching, pain, and discomfort of blisters and lip sores. The emollient base and moisture in the Blistex medicated lip ointment softens and hydrates the lip cells to heal cracking and soothe the acutely dry lips. Blistex lip ointment is highly effective and it has been clinically proven that it helps to elevate moisture content in the lips, helps soothe dry and chapped lips, and also improves the overall condition of the lip. Blistex medicated lip ointment is also used by beauty artists and professionals around the world to smooth the texture of the lip before applying any lip color to them.
Pros
Comes as a pack of 6
Prevents dryness of lips if you wear it to bed every day.
Helps cold sores and fever blisters to vanish in merely a few days.
Cons
The ointment may run out soon if you use it every day.
Price at the time of publication: $26.99
With so many types of lip balms available, here is a buying guide that will help you choose the best medicated lip balm for acutely dry and chapped lips:
Buying Guide For Medicated Lip Balms
Some factors when choosing a medicated lip balm depend on your skin and the severity of your condition. Here is a buying guide that will help you choose the right medicated lip balm for you:
How To Choose Medicated Lip Balm
Let's review multiple elements that make each lip balm stand out from the other which will help you in choosing the medicated lip balm that will suit your lips the most.
Soothing ingredients
Always look for lip balms with occlusive ingredients that form a barrier on the lips that prevent loss of moisture. Silicone, petrolatum, lanolin, squalene, waxes, and shea butter come under this category of ingredients. Hyaluronic acid and humectants that have a tendency to absorb water into the skin are also ideal.
Irritant-free
Lip balms that contain cooling agents, namely menthol and camphor may sting and are not essential in the lip healing process. Ingredients that work as exfoliators like physical granules or salicylic acid should be avoided as they will make the lips feel raw and won't fix the actual underlying problem. If the lip balm contains a plumping ingredient such as capsaicin, that is also not a good idea for your chapped lips as it may cause swelling.
Know your allergies
Some traditional ingredients that have always been used in lip balms like beeswax may not suit everyone and can result in allergic reactions in some people. If you are also allergic to peppermint, fragrances, coconut oil, dyes, propylene glycol you may want to ask a dermatologist to recommend the right lip balm for you.
Consult a doctor
If your chapped lips have not been healed in 2-3 weeks it may be more than just dryness that is causing them to be like that. It could possibly be a sign of actinic keratosis which is a precancerous skin condition that is caused due to excessive exposure to the sun.
How Do Medicated Lip Balms Work
Medicated lip balms use an advanced moisture system that uses penetrating medication that is created using a unique formula that helps relieve severe lip dryness and cold sores. Some lip balms use an emollient base that prevents cracking in the lips.
Medicated lip ointments can differ in their ingredients and formulas so that every skin type is taken care of and every type of dry lip is healed. Once you find a medicated lip balm that suits you and moisturizes your lip completely, start drinking lots of water and keep applying moisturizer on your lips so that you do not have to go through another fortnight of the same process, all over again. Lips are often the focal point of the face, which means even if you are not necessarily speaking to someone, they will still glance at your lips when they see you. Lip care is as important as skin care and with the right medicated lip balm you can get your moisturized pout back!
Why Trust StyleCraze?
The author, Vaishnavi Kothuri, shares a deep interest in reviewing skin care products to help her readers amp their skin care game. She listed the best medicated lip balms after evaluating user feedback from trusted online sources and brand websites. These products are infused with nourishing ingredients and provide you with supple, soft lips in no time. The author has also included the benefits and drawbacks of each product to help you make an informed decision.
Frequently Asked Questions
Is medicated lip balm bad?
Medicated lip balms with active ingredients can cause sensitivity and cracking of your lips. Choose a lip balm that does not have active ingredients so you do not end up being dependent on the lip balm to try healing the lip, over and over again.
Is blistex medicated lip balm good?
Blixtex medicated lip balms have a positive impact on dry and chapped lips, they smell nice and the scent is not too strong, but rather faint, making them one of the best medicated lip balms to choose from.
Is blistex medicated lip balm gluten free?
Yes, blistex medicated lip balms do not contain any direct gluten products and bi-products.
Is medicated lip balm good for cold sores?
A medicated lip balm that contains natural analgesic ingredients is good for cold sores, but medicated lip balms that contain docosanol as one of the main active ingredients, are the best to heal cold sores effectively.
Why do medicated lip balms burn?
Menthol and camphor are the main ingredients that cause medicated lip balms to burn when applied.
What is the best thing to put on severely chapped lips?
A medicated lip balm or white petroleum jelly can help soothe chapped lips and return the moisture into them.
Is lip gloss bad for your lips?
In the long run, lip gloss can cause extra dehydration on your lips as a result of which you will have to apply lip balm to moisturize them.
Are chapsticks bad for your lips?
Being addicted to chapsticks is bad, but using chapsticks once in a while for not very damaged and dry lips is ok.
Is carmex bad for your lips?
Carmex is not good for people with sensitive skin and can cause additional dryness and irritation on the lips.
Recommended Articles