10 Best Medicated Shampoos For A Dry Scalp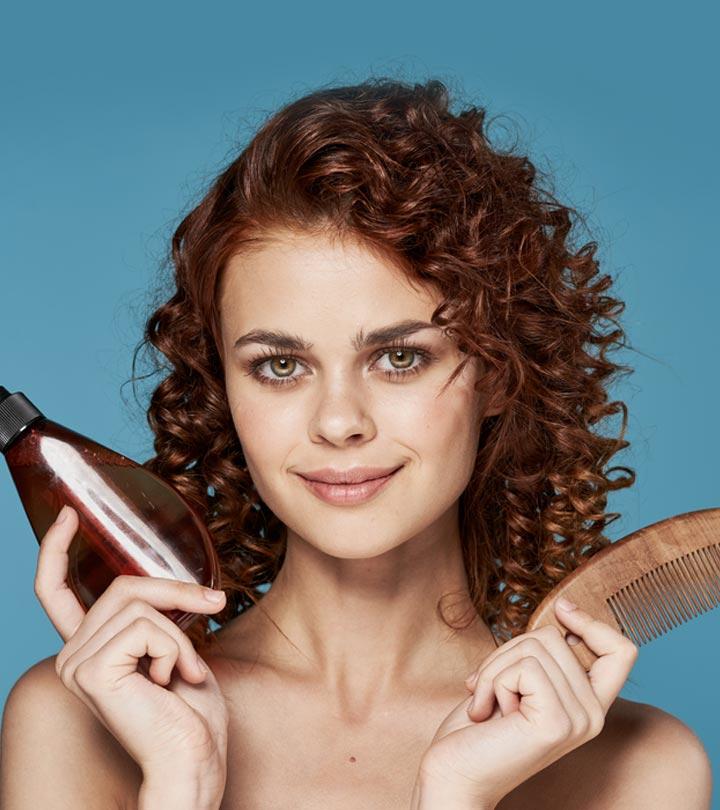 Winters can be tough on your skin, including the scalp. When you take a hot water bath during the cold months, it worsens the dryness. For many, dandruff on the scalp is not just limited to the winter season, but is a problem throughout the year due to various factors. Dandruff or seborrheic dermatitis, in medical terms, is an accumulation of dead skin cells that leads to an itchy and flaky scalp. Some develop psoriasis, a condition in which skin cells build up and cause itchy and dry patches.
Hence, it is important to wash your hair with the best medicated shampoos for a dry scalp. Not washing your hair regularly with an anti-dandruff shampoo can lead to oil build up and skin cells on your scalp. Scalp problems can also be caused due to fungus, improper washing, and lack of sebum or oil on the scalp. Are you wondering what the best medicated shampoos you could use are? Fret not. Here are the 10 best shampoos for a dry scalp for you recommended by certified dermatologists.
10 Best Medicated Shampoos You Should Definitely Try
If you have severe dandruff problems, you can use this shampoo for dandruff twice a week between regular shampooing to control flaking, scaling, and itching. The anti-dandruff shampoo is clinically proven to be 10 times more effective to fight dandruff. It contains ketoconazole, an antifungal medication that reduces the volume of pityrosporum yeast on the scalp along with redness and scaly patches. One of the best medicated shampoos for a dry, flaky scalp, it has a rich consistency and pleasant fragrance. To apply, wet your hair and apply it generously before you rinse it off. If swallowed by a child, seek medical help immediately.
Pros
Clean, fresh scent
Reduces itching
Helps control hair fall
Suitable for color-treated or gray hair
Cons
It may take a long time to show results.
This medicated shampoo for extremely dry scalps claims to control severe dandruff with twice the amount of active ingredients in its formula. The shampoo contains Neutar technology with 1% coal tar, which has proven to control a flaky and itchy scalp hours after use. The alcohol-free formula contains added conditioners, which leave your hair soft and shiny. To use the shampoo, wet your hair thoroughly before applying the shampoo twice a week to your scalp. Leave it on your scalp for a few minutes before you rinse it.
Pros
Pleasant fragrance
Leaves hair soft and smooth
Proven to treat psoriasis and dandruff
Results in just 3 washes
Cons
Recognized by the National Psoriasis Foundation, this medicated hair shampoo is known to control itching, scaling, and scalp build up. It is formulated with 3% coal tar that fights the symptoms of psoriasis and strengthens the hair. It claims to work by slowing down excessive cell reproduction, reducing inflammation, and flaking of psoriasis. The conditioning formula in this over-the-counter medicated shampoo leaves your hair clean and soft. It also prevents the recurrence of dandruff.
Pros
Leaves your hair soft
Slows down excessive cell reproduction
Prevents recurrence of dandruff
Relieves itching and irritation of the scalp
Recognized by the National Psoriasis Foundation
Cons
Cannot be used with other forms of psoriasis therapy
This medicated shampoo has been proven safe and effective in controlling skin cell growth and scale build up. It helps reduce inflammation, redness, and itching in the scalp. The main ingredient of the medicated hair shampoo is the FDA-approved coal tar, which helps to treat psoriasis. For the shampoo to work, it is better to use it 3 to 5 times a week and leave it on for 5 to 10 minutes on your scalp before you rinse it off. You may then not use the shampoo for weeks or months until you need to retreat your scalp.
Pros
Controls skin cell growth
Reduces inflammation and itching
Quick results
Eliminates symptoms of many kinds of psoriasis
Cons
Contains coal tar that may increase the risk of cancer in reproductive issues.
This medicated shampoo for a dry scalp was developed by a physician to treat itching, flakes, and folliculitis (irritated hair follicles) on the scalp. It helps wash off unwanted oils, dead skin cells, and any residue or build up from pores. Hence, you may use it once or thrice a week for your scalp or beard without any worries of allergic reactions. It is fragrance-free and doesn't contain any antibiotics, parabens, or triclosan. To use, wet your hair and massage a small amount of the medicated anti-dandruff shampoo for 30 seconds into the desired area.
Pros
Hypoallergenic
Eliminates flakes and unclogs pores
Paraben-free
Suitable for all hair types
Cons
This medicated hair product claims to provide quick relief from flakes and other symptoms of dandruff and nourishes your scalp and hair. It goes deep into the scalp to prevent itchiness, flaking, and dryness. The product is a 2-in-1 combo with a clarifying shampoo and conditioner. Infused with almond oil, tea tree oil, lemon extract, and peppermint, the shampoo can be used on all hair types and textures. This medicated shampoo for the scalp comes in various scents and formulas. It is safe for everyday use and to hydrate your hair.
Pros
2-in-1 combo offer
Cleans and conditions hair
Restores the natural moisture of the scalp
Contains almond oil
Cons
Might leave your hair frizzy once dry
Introduce the LivSo moisturizing shampoo, conditioner, and scalp lotion into your hair care routine. The ingredients in this medicated shampoo such as coconut oil help moisturize your hair and xylitol fights dandruff and flakes. The medicated hair shampoo gives you relief from dryness and itching on your scalp. The product has been developed after an extensive scientific study of 12 weeks with patients of dry hair and scalp. It's been proven to be over 90% effective. The sulfate-free formula restores your scalp's moisture and strengthens your hair.
Pros
Sulfate-free
Pleasant fragrance
Suitable for kinky and curly hair
Treats dry scalp, flakes, and damaged hair
Preserves natural moisture of your scalp
Cons
May not be suitable for coarse hair.
With this medicated hair shampoo, you can get relief from dandruff or seborrheic dermatitis. One of its main ingredients is 2% zinc pyrithione, proven to be effective in fighting dandruff. It soothes and nourishes your scalp and hair to provide long-lasting effects. As it contains gentle healing properties, it is safe for regular use. It can prevent the recurrence of itching, flaking, and other symptoms of dandruff.
Pros
Long-lasting effect
Makes your hair healthy
Soothes and nourishes your scalp
Helps prevent the recurrence of dandruff
Cons
May not be safe to use if you have allergies to any chemical
This medicated shampoo is an excellent choice to control dandruff, seborrheic dermatitis, and psoriasis. The main ingredient of the shampoo is salicylic acid, which attacks the fungus that contributes to dandruff. The shampoo also helps to get rid of flakes and moisturizes your dry scalp. Apply it on wet hair until you work up a lather and rinse it off after massaging the scalp for 2 to 3 minutes. It's proven effective on any scalp condition, especially those with severe symptoms.
Pros
Helps fight more severe symptoms of dandruff and psoriasis
Moisturizes your scalp
Helps get rid of flakes and itch
Rich lather
Cons
With an advanced formula rich in emu oil, this shampoo promotes healthy hair. It claims to penetrate deep to moisturize and carry nutrients, minerals, botanical extracts, and vitamins to the root of the hair. Its anti-bacterial and anti-inflammatory agents soothe redness, itching and reduce flakes on the scalp. The blend of methanol and peppermint leaves a cool and fresh feeling scalp with a refreshing aroma. It works towards restoring the health of your scalp and hair. And, it is safe for daily use.
Pros
Penetrates deep to moisturize
Reduces hair loss
Refreshing and soothing effect
Control inflammation and redness
Cons
Now, here are some pointers you need to keep in mind while purchasing a medicated shampoo for your dry scalp.
How To Choose A Medicated Shampoo for A Dry Scalp
Ingredients
When buying a medicated shampoo, one should thoroughly check the ingredients. Manufacturers use multiple ingredients to treat your scalp issues by reducing yeast build-up on your scalp and preventing your sweat glands from producing too much oil. The active ingredients include coal tar, ketoconazole, salicylic acid, and zinc pyrithione. Also, check for conditioning ingredients such as essential oils and plant extracts.
Hair type
If you have oily hair, avoid shampoos with selenium sulfide as it is known to make your hair more greasy. A study has found that 75% of women with dandruff prefer 1% ZPT solution or a 2% ketoconazole shampoo as they tend to make their hair less frizzy. If you have flyaway-prone hair, you can try a ZPT-containing product. ZPT is known to reduce yeast growth, excess oil, and overproduction of skin cells that cause flakes in your scalp. For low porosity hair, it is best to use a clarifying shampoo to help retain moisture in your hair.
Hair Color
Medical practitioners usually do not recommend products with coal tar to patients with light-colored hair as it can darken or affect the appeal of your hair.
How To Use A Medicated Shampoo For Dry Scalp

Step 1: Wet your hair.
Step 2: Apply it to wet hair.
Step 3: Work up a lather
Step 4: Massage your scalp for 2 to 3 minutes.
Step 5: Rinse it off.
Dandruff and other symptoms such as dead skin build up, redness on the scalp, and an itchy and flaky scalp can be very irritating but remember not to scratch your head as it can worsen your condition. No matter the cause, you should try these medicated shampoos for a dry scalp recommended by the experts. To get relief from these scalp problems, you should use a shampoo with a formula that removes flakes and build up from your scalp and strengthens your hair. Experts recommend picking products with ingredients such as coal tar and salicylic acid. While you use these medicated shampoos for your dry scalp, ensure that you also include other habits in your routine. Drinking more water, avoiding heat styling with curlers, flat irons, or blow drying, and using a humidifier in your room.
Recommended Articles