10 Best Medicated Shampoos For A Dry Scalp – 2023
Leave your worries behind with these formulations for a clean, healthy scalp. Many brands advertise themselves to make the best-medicated shampoo for dry scalp, but choosing the right one for your hair is essential. Medicated shampoos and conditioners come into play mainly during the winters, as this season can wreak havoc on your skin and your scalp. Your scalp can become dry during the winter season, leading to flaky dandruff formation, itchiness, and dry patches. Hence it is vital to use medicated shampoos in your hair care routine. Medicated shampoos can help with dandruff and control the excess oil build-up in your scalp. In addition, it can also help in removing fungus from your scalp that occurs due to poor hygiene.
If you aren't sure which is the best medicated shampoo you should be using, we've got you covered. Take a deep sigh of relief and check out our top 10 list of the best medicated shampoo for dry scalp. We're sure with the help of our buying guide, you will pick the perfect one for your scalp and tresses.
10 Best Medicated Shampoos You Should Definitely Try
If you have severe dandruff problems, you can use this shampoo for dandruff twice a week between regular shampooing to control flaking, scaling, and itching. The anti-dandruff shampoo is clinically proven to be 10 times more effective to fight dandruff. It contains ketoconazole, an antifungal medication that reduces the volume of pityrosporum yeast on the scalp along with redness and scaly patches. One of the best medicated shampoos for a dry, flaky scalp, it has a rich consistency and pleasant fragrance that offers restorative care. It provides residue-free cleansing with its soothing scalp formula. To apply, wet your hair and apply it generously before you rinse it off. If swallowed by a child, seek medical help immediately. Click here to check out a detailed personal review of this product.
Pros
Clean, fresh scent
Reduces itching
Helps control hair fall
Suitable for color-treated or gray hair
Cons
It may take a long time to show results.
Price at the time of publication: $26.83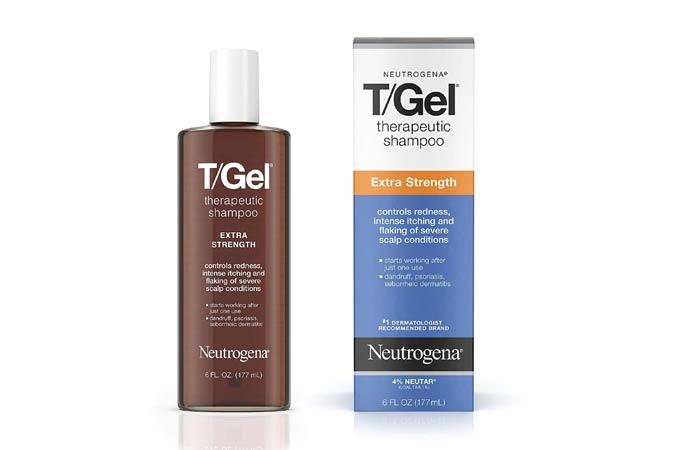 This medicated shampoo for extremely dry scalps claims to control severe dandruff with twice the amount of active ingredients in its formula. The shampoo contains Neutar technology with 1% coal tar, which has proven to control a flaky and itchy scalp hours after use. This effective scalp treatment provides gentle cleansing. The alcohol-free formula contains added conditioners, which leave your hair soft and shiny. To use the shampoo, wet your hair thoroughly before applying the shampoo twice a week to your scalp. Leave it on your scalp for a few minutes before you rinse it. To understand the nuances of the product in detail, you can check out this review.
Pros
Pleasant fragrance
Leaves hair soft and smooth
Proven to treat psoriasis and dandruff
Results in just 3 washes
Cons
Price at the time of publication: $8.9
The Jupiter Balancing Shampoo is one of the bestselling products of the company and for the right reasons. This award-winning anti-dandruff formulation contains the scientifically proven super ingredient zinc pyrithione (an FDA-approved OTC dandruff medication) that actively removes dead cell buildup, soothes and hydrates itchy, dry scalp, and reduces flaking, redness, and excess oil secretion. It also reduces hair breakage by about 30%. This hydrating scalp product provides effective irritation relief. The shampoo also contains hair-nourishing ingredients like coconut oil and squalene along with sugar kelp extract that has amazing anti-aging and antimicrobial properties, which keep scalp infections at bay. It is suitable for mild to moderate dandruff on all scalp types and is safe for chemical and color-treated hair. The clinically proven results show that the shampoo reduces hair breakage by 75%.
Pros
Dermatologically-tested
Vegan
Sulfate-free
Paraben-free
Phthalates-free
Artificial fragrance-free
Artificial dyes-free
Cons
None
Price at the time of publication: $27
This medicated shampoo has been proven safe and effective in controlling skin cell growth and scale build-up. It helps reduce inflammation, redness, and itching in the scalp. The main ingredient of the medicated hair shampoo is the FDA-approved coal tar, which helps to treat psoriasis. This nourishing scalp care treatment may also help those with eczema. For the shampoo to work, it is better to use it 3 to 5 times a week and leave it on for 5 to 10 minutes on your scalp before you rinse it off. You may then not use the shampoo for weeks or months until you need to retreat your scalp. Many reviewers have mentioned that the product has a strong smell, but it thoroughly cleanses the scalp and makes it feel fresh.
Pros
Controls skin cell growth
Reduces inflammation and itching
Quick results
Eliminates symptoms of many kinds of psoriasis
Cons
Contains coal tar that may increase the risk of cancer in reproductive issues.
This medicated shampoo for a dry scalp was developed by a physician to treat itching, flakes, and folliculitis (irritated hair follicles) on the scalp. This dermatologist-recommended shampoo helps wash off unwanted oils, dead skin cells, and any residue or build up from pores. Hence, you may use it once or thrice a week for your scalp or beard without any worries of allergic reactions. It has fragrance-free options and doesn't contain any antibiotics, parabens, or triclosan. To use, wet your hair and massage a small amount of the medicated anti-dandruff shampoo for 30 seconds into the desired area.
Pros
Hypoallergenic
Eliminates flakes and unclogs pores
Clinically proven formula
Paraben-free
Suitable for all hair types
Cons
Price at the time of publication: $36
The Pharmbanner Extra Strength Folliculitis Shampoo has a powerful formula for a variety of scalp issues such as folliculitis, dandruff, psoriasis, itchy, dry and flaky scalp, and seborrheic dermatitis. It is powered by piroctone olamine and natural herbal extracts from nymphaea alba, panax ginseng, coptis chinensis, fallopia multiflora, taraxacm mongnlicum and houttuynia cordata, and prevents bacterial and fungal infections of the scalp, nourishes and strengthens the hair follicle, regulates sebum secretions and restores scalp health. Further, its protective formula easily absorbs on hair and forms a protective cationic macromolecular layer that prevents hair damage. Ideal for those with a sensitive scalp, it provides much-needed dryness relief. Within a few weeks of use the product gives complete relief from itchiness, redness and flaking problems. While using the product let it sit for a couple of minutes before rinsing for enhanced effectiveness.
Pros
Reduces scalp acne
Paraben-free
Vegan
Cruelty-free
Cons
None
Price at the time of publication: $21.24
Introduce the LivSo moisturizing shampoo, conditioner, and scalp lotion into your hair care routine. The ingredients in this medicated shampoo such as coconut oil help moisturize your hair and xylitol fights dandruff and flakes. The medicated hair shampoo gives you relief from dryness and itching on your scalp. The product has been developed after an extensive scientific study of 12 weeks with patients of dry hair and scalp. It's been proven to be over 90% effective. The sulfate-free formula restores your scalp's moisture and boosts hair health.
Pros
Sulfate-free
Pleasant fragrance
Suitable for kinky and curly hair
Treats dry scalp, flakes, and damaged hair
Preserves natural moisture of your scalp
Cons
May not be suitable for coarse hair.
Price at the time of publication: $14.48
With this medicated hair shampoo, you can get relief from dandruff or seborrheic dermatitis. One of its main ingredients is 2% zinc pyrithione, proven to be effective in fighting dandruff. It soothes and nourishes your scalp and hair to provide long-lasting effects. As it contains gentle healing properties, it is safe for regular use. It can prevent the recurrence of itching, flaking, and other symptoms of dandruff.
Pros
Long-lasting effect
Makes your hair healthy
Soothes and nourishes your scalp
Helps prevent the recurrence of dandruff
Dermatologist-recommended
Cons
May not be safe to use if you have allergies to any chemical
Price at the time of publication: $14.48
The clinically-tested brand Nutrafol has come up with the Nutrafol Root Purifier Scalp Microbiome Shampoo that has a unique cleansing formula created by physicians to help deep clean your scalp, nourish your hair roots, and preserve the scalp's natural microbiome. This purifying shampoo reduces flaking and peeling of the scalp and prevents excess sebum secretions. The product is enriched with alpha-glucan oligosaccharide, a type of prebiotic that serves as food for the scalp microbiome and thereby serves to strengthen the scalp barrier. It also contains Australian wild berries that are rich in antioxidants, vegan protein that moisturizes and revitalizes the scalp, and biosurfactants that cleanses the scalp without stripping it of its essential oils. Its pH balancing formula is suitable for use on sensitive dry scalp, hair extensions, and color-treated hair. The clinically proven results show improvement in scalp dryness and flakiness with reduction in sebum.
Pros
Vegan
Paraben-free
Sulfate-free
Hormone-free
Phthalates-free
Silicone-free
Synthetic fragrance-free
Dermatologically-tested
Cons
May dry-out color treated hair
Price at the time of publication: $44
With an advanced formula rich in emu oil, this shampoo promotes healthy hair. It claims to penetrate deep to moisturize and carry nutrients, minerals, botanical extracts, and vitamins to the root of the hair. Its anti-bacterial and anti-inflammatory agents soothe redness, itching and reduce flakes on the scalp. The blend of methanol and peppermint leaves a cool and fresh feeling scalp with a refreshing aroma. It works towards restoring the health of your scalp and hair. And, it is safe for daily use.
Pros
Penetrates deep to moisturize
Reduces hair loss
Refreshing and soothing effect
Control inflammation and redness
Cons
Price at the time of publication: $15.99
Now, here are some pointers you need to keep in mind while purchasing a medicated shampoo for your dry scalp.
How To Choose A Medicated Shampoo for A Dry Scalp
Ingredients
When buying a medicated shampoo, one should thoroughly check the ingredients. Manufacturers use multiple ingredients to treat your scalp issues by reducing yeast build-up on your scalp and preventing your sweat glands from producing too much oil. The active ingredients include coal tar, ketoconazole, salicylic acid, and zinc pyrithione. Also, check for conditioning and nourishing ingredients such as essential oils and plant extracts.
Hair type
If you have oily hair, avoid shampoos with selenium sulfide as it is known to make your hair more greasy. A study has found that 75% of women with dandruff prefer 1% ZPT solution or a 2% ketoconazole shampoo as they tend to make their hair less frizzy. If you have flyaway-prone hair, you can try a ZPT-containing product. ZPT is known to reduce yeast growth, excess oil, and overproduction of skin cells that cause flakes in your scalp. For low porosity hair, it is best to use a clarifying shampoo to help retain moisture in your hair.
Hair Color
Medical practitioners usually do not recommend products with coal tar to patients with light-colored hair as it can darken or affect the appeal of your hair.
How To Use A Medicated Shampoo For Dry Scalp

Step 1: Wet your hair.
Step 2: Apply it to wet hair.
Step 3: Work up a lather
Step 4: Massage your scalp for 2 to 3 minutes.
Step 5: Rinse it off.
Why Trust StyleCraze?
Medha Deb is a skin and hair care enthusiast. She has curated a list of the best medicated shampoos for dry scalp in this article. A dry scalp is often accompanied by problems such as dandruff and needs special care. Sneha has researched and reviewed several products available in the market to sort out the most effective ones. She has mentioned the pros and cons of each product and included a buying guide to help you purchase the most suitable medicated shampoo.
Frequently Asked Questions
What do dermatologists prescribe for dry scalp?
Dermatologists prescribe shampoos containing pyrithione zinc and salicylic acid for dry scalp. These antibacterial and antifungal shampoos treat scales and nourish the scalp.
What medications cause dry scalp?
Medications like diuretics, antihistamines, and acne and cholesterol medications (statins) can cause dry scalp.
Is ketoconazole 2 shampoo available over the counter?
Yes. Ketoconazole 2 shampoo is available over the counter.
How often should I use a medicated shampoo?
Use a medicated shampoo two or three times a week.
Should you use conditioner after using a medicated shampoo?
Use a medicated conditioner after washing the hair with a medicated shampoo to retain the hair's shiny and healthy look and feel. If you are using the shampoo only on your scalp and a regular shampoo on your strands, you can use a regular conditioner on your strands as well.
How do you apply medicated shampoo to your scalp?
• Wet the hair thoroughly.
• Pour a few drops of the medicated shampoo.
• Rub the product on the scalp gently. Do not apply it to the rest of your hair.
• Leave the shampoo on the scalp for five minutes.
• Wash the rest of the hair with regular shampoo.
• Apply a moisturizing conditioner.
• Rinse the hair thoroughly with clean water.
Recommended Articles