The 15 Best Medicine Balls Of 2022 – Reviews And Buying Guide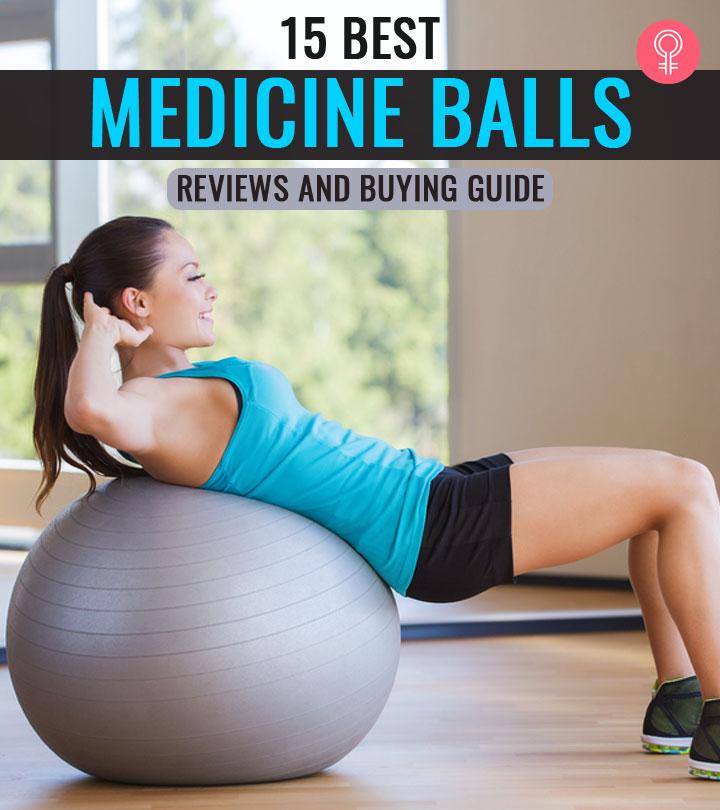 Medicine balls make for an effortless addition to your home gym, being both a convenient and affordable gym accessory. When you invest in the best medicine ball, you get to enhance your muscle strength and add some of the best exercise to your cardio routine. What's more is that medicine balls also help with recovery from injuries and let you work on coordination and balance. Since medicine balls are available in a host of sizes and weights, picking one that's most suitable for you can be an ordeal. And to help you better, we've curated a list of the 15 best medicine balls that can seamlessly be integrated into your workout routine.
15 Best Medicine Balls Available Right Now
AmazonBasics Medicine Ball is an inexpensive medicine ball. This 10 lbs. ball is ideal for classic medicine ball workouts and lower and upper body exercises. It helps improve core strength, balance, and coordination. This ball has a rugged surface design that is made with a sturdy rubber and can bounce off hard surfaces. The textured finish surface also ensures a safe and secure grip. You can check this video out for more information on this medicine ball from AmazonBasics.
Key Features
Weight:10 lbs.
Sturdy rubber construction
Textured finish
Pros
Durable
Inexpensive
Easy to hold
Sturdy
Suitable for classic medicine ball workouts
Cons
Strong chemical smell
Slippery
j/fit Medicine Ball is an extremely versatile piece of gym equipment. It can be used for strength training and plyometric exercises. This medicine ball comes with a heavy-duty laser-cut and triple-stitched soft shell covering. The hand-stuffed and weighted construction allows the ball to maintain balance and keep its shape. This dead weight slam ball is available in 4 lbs., 6 lbs., 8 lbs., 10 lbs., 12 lbs., 15 lbs., 18 lbs., 20 lbs., 25 lbs., and 30 lbs. sizes. It is an excellent medicine ball for stretching and rolling out tight and sore muscles. All balls are available in a 14″ diameter, except the 4 lbs. ball which has a 9″ diameter. This triple-stitched dead ball is perfect for high impact action.
Key Features
Weight: 4 lbs., 6 lbs., 8 lbs., 10 lbs.,12 lbs.,15 lbs.,18 lbs., 20 lbs., 25 lbs., and 30 lbs.
Triple-stitched soft covering
All sizes have a 14″diameter, except the 4 lbs. ball
Pros
Versatile
High quality
Durable construction
Heavy-duty
Sturdy
Suitable for strength training and plyometric exercises
Cons
Yes4All Slam Medicine Ball is a high-density medicine exercise ball. It is filled with sand to prevent it from bouncing or rolling. This also enhances the balance and firmness of the ball. This ball features a textured PVC shell for easy grip. The specially formulated and resilient soft shell is rotationally molded for seamless construction. It improves muscle mass, increases your heart rate, and burns more calories. Also, this ball enhances coordination between the hands and eyes for smooth movement in sports.
Key Features
Weight: 10 lbs., 15 lbs., 20 lbs., 25 lbs., 30 lbs., and 40 lbs.
Heavy-duty textured shell
Strong construction for better performance
Pros
High density
Easy-to-grip textured surface
Durable
Boosts your aerobic capability
Helps build muscle mass
Burns calories
Enhances balance and hand-eye coordination
Suitable for tough workouts
1-year warranty
Cons
Day 1 Fitness Slam Ball is a no-bounce medicine ball. Its extra-tough and thick shell absorbs impact from extended use and is available in multiple weights ranging from 10 lbs. to 50 lbs. It is used for high-intensity exercise, functional strength training, cardio, and Cross Fit. This medicine ball is designed to have the weight move around on the inside of the ball to help aid in strengthening your core muscle group.
Key Features
Weight: 10 lbs., 15 lbs., 20 lbs., 25 lbs., 30 lbs., 35 lbs., 40 lbs., 45 lbs., and 50 lbs.
Heavy-duty exterior
Extra-tough and thick shell
Pros
Durable
Sturdy
Easy to hold
Targets different muscles
Cons
Cap Barbell Medicine Ball is the best medicine ball for women. This classic fitness tool is lightweight and has a small diameter and a great textured grip. It is used to develop strength, coordination, and endurance. This small and light ball allows women to do movement-based and dynamic entire body workouts. It comes in six weight options and a two-tone color design. This ball is easy to bounce and is ideal for core, leg, and arm exercises.
Key Features
Weight: 2 lbs., 4 lbs., 6 lbs., 8 lbs., 10 lbs., and 12 lbs.
Single texture rubber surface
Two-tone color design
Pros
Lightweight
Small diameter
Easy to bounce
Sturdy
Suitable for core exercises
Cons
Champion Sports Exercise Medicine Ball is easy to control. It is made from professional-grade, high-quality synthetic leather. The leather cover and stitching offer exceptional durability and withstand extreme exercises. It comes in 8 weight options, ranging from 4-5 lbs. to 21-22 lbs. Its non-slip exterior offers a steady grip and is perfect for aerobics, slamming, Cross Fit, and other workouts.
Key Features
Weight: 8 weight options ranging from 4-5 lbs to 21-22 lbs
Synthetic leather exterior
Premium reinforced stitching
Pros
Multipurpose
Professional-grade
Durable
Non-slip, controlled grip
Suitable for a variety of exercises
Cons
A2ZCARE Medicine Ball is a soft weighted mini medicine ball. This weight-toning ball is used for performing pilates, fitness, body strength, yoga, and in rehabilitation. It is conveniently small, easy to grab, and made from a durable soft PVC shell that fitsin the palm of your hand. This mini medicine ball is available in 6 colors and different weights – 2 lbs., 3 lbs., 4 lbs., 5 lbs., 6 lbs., and 8 lbs. It is the best alternative to dumbbells to improve self-balance, strength, and flexibility.
Key Features
Weight: 2, 3 lbs., 4 lbs., 5 lbs., 6 lbs., and 8 lbs.
PVC material filled with sand
Available in 6 colors
Pros
Comfortable design
Convenient
Easy to hold
Durable
6-month warranty
Cons
None
8.​
Best Grip:
Valeo Medicine Ball
​​​​​​​​​​​​​​​​​​​​​​​​​​​​​​​​​​​​​​​​​​​​​​​​​​​​​​​​​​​​​​​​​​​​​​​​​​​​​
Valeo Medicine Ball is a classic medicine ball with excellent utility. It helps you develop core strength, improve coordination, and fine-tune your balance. It is also ideal for strength training, plyometric training, balance training, and building muscle. This medicine ball is available in 4 lbs., 6 lbs., 8 lbs., 10 lbs., and 12 lbs. Weights. The balls are color-coded by weight. The sturdy rubber construction with an easy-grip rubber surface allows the ball to bounce off hard surfaces. This medicine ball comes along with an exercise wall chart that makes training easy.
Key Features
Sturdy rubber construction
Finger grades to enhance gripping
Rubberized texture for secure grip
Color-coded and stamped for easy weight identification
Pros
Durable
Sturdy
Superior grip
Helps develop core strength
Easy to hold
Suitable for various types of workouts
Cons
SPRI Dual Grip Xerball is a dual-handle easy-grip medicine ball. This ball is ideal for abdominal and rotational motions and lower-body movement drills. Its synthetic rubber PVC construction with handles is well-suited for rotational core workouts as well as arm and leg exercises. It includes an instruction sheet for safe, effective use. It also features an easy-grip textured exterior with a weight range of up to 20 lbs.
Key Features
Two-handle movement
Synthetic rubber PVC construction
An ideal choice for performing rotational abdominal exercises
Pros
Dual-handle
Easy to grip
Sturdy handles
Comfortable
Has minimal bounce
Cons
DYNAPRO Medicine Ball is a burst-resistant and durable rubber ball. It is designed to withstand the pressure of constant slamming and bouncing on the floor or wall. This air-filled medicine ball is made from a durable rubber casing that offers more bounce. It is available in5 weight options –4 lbs., 6 lbs., 8 lbs., 10 lbs., and 12 lbs. It strengthens and tones your core, upper body, and lower body. This DYNAPRO ball is designed with a diamond pattern on the black surface and a marble texture on the rest of the ball. This dual pattern delivers a secure and steady grip.
Key Features
Weight: 4 lbs., 6 lbs., 8 lbs., 10 lbs., and 12 lbs.
Durable rubber construction
Dual surface structures
Pros
Burst-resistant
Durable
Suitable for solo and group workouts
Sturdy
Cons
F2C Medicine Ball is a portable workout medicine ball. It is made with high-quality and eco-friendly rubber material that ensures durability. It features a basketball-like surface texture that offers a more comfortable and easier grip during the workout. This 10 lbs. medicine ball is perfect for full-body exercises. It helps develop your muscular strength, core strength, endurance, balance, stability, and improves coordination and joint integrity.
Key Features
Weight: 10 lbs.
Sturdy rubber construction
Non-slip durable rubber shell texture surface
Pros
High quality
Sturdy
Versatile
Durable
Comfortable
Easy to hold
Suitable for home, gym, and outdoor use
Cons
None
Titan Fitness Soft Medicine Ball is a soft wall ball. It is used for medicine ball workouts like squats, sit-ups, and twists. It is made with high-quality synthetic leather material on the exterior. The tight-double stitching holds it closed. It helps develop core and muscle strength, increase your cardiovascular endurance, and burn calories. This ball weighs 6 lbs. and has a 14″diameter.
Key Features
Weight: 6 lbs.
Durable and high-quality material
Tight and thick double stitching
Pros
High quality
Durable
Suitable for core, cardio, and muscle exercises
Sturdy
Cons
None
Bionic Body Soft Medicine Ball is a weighted slam wall ball for cardio workouts and core training. This body training ball comes in 6 lbs., 10 lbs., 14 lbs., and 20 lbs. with a 13″diameter. It features a soft surface that can withstand the force created when dropped on hard surfaces. This soft medicine ball can be used for improving cardiovascular endurance, increasing speed and flexibility, and building muscles and strength. The multi-stitched structure ensures that this toning ball does not lose its shape easily. It is loaded with a premium material filling that effectively absorbs impact. It is ideal for both first-time users and fitness buffs. It can be used for cardio, strength, speed, balance, conditioning, and flexibility training.
Key Features
Weight: 6 lbs., 10 lbs., 14 lbs., and 20 lbs.
Heavy-duty construction
Impact-absorbent filling
Pros
Durable
Sturdy construction
High quality
Heavy-duty
2-year warranty
Cons
None
Garage Fit Soft Medicine Ball is a handcrafted wall ball with reinforced seam construction. It features a uniquely stitched design and PVC material that enhances your grip on the ball for CrossFit and maximum weight training exercises. These soft medicine balls are designed to absorb impact, thereby minimizing the risk of injury.
Key Features
Weight: 4 lbs., 6 lbs., 8 lbs., 10 lbs., 12 lbs., 14 lbs., 16 lbs., 18 lbs., 20 lbs., 25 lbs. and 30 lbs.
Reinforced seam construction
Impact-absorbing build
Pros
Easy to grip
Premium design
Multiple weight options
Durable
Handcrafted
Cons
None
Power Systems Elite Power Medicine Ball is a durable, hollow, and synthetic rubber ball. It is made from synthetic rubber and offers perfect balance. The easy and comfortable grip design makes this ball easy to hold, toss, catch, and bounce. This medicine ball improves power and coordination and enhances the range of motion.
Key Features
Weight: 30 lbs.
Easy-to-grip design
Synthetic rubber construction
Pros
Durable
Easy to hold
Offers the perfect amount of bounce
3-year warranty
Cons
None
Now that you know everything about medicine balls, check out the desirable features you should look for to pick the best one for your needs.
How To Choose Best Medicine Ball
Weight is the most important parameter while choosing a medicine ball. It determines how well you can use it to achieve your fitness goals. The medicine ball should not be too heavy as you may struggle when using it and injure yourself. If it is too light, you won't get the level of resistance required to see good results.
Generally, 2 to 3 lbs. medicine ball is the lightest option. 2 to 5 lbs. medicine balls are suitable for beginners who require these medicine balls for aerobics and other light exercises. For intensive core or strength workouts, a 20 to 50 lbs. medicine ball is recommended. Go for 100 or 150 lbs. medicine balls for high-intensity workouts.
Generally, medicine balls are made from rubber, genuine leather, or synthetic leather. The first medicine balls were strictly made of leather and were durable and weather-resistant. Synthetic leather balls were not the most durable, but technology has improved over the years, leading to tougher balls with rigid exteriors. Textured rubber medicine balls are a far more popular option because they offer an excellent grip and are ideal for various types of exercises.
The style of a medicine ball is one of the important factors to consider as it determines what you can accomplish with it. For example, handled medicine balls are not suitable as a slam or wall balls. However, the grips on such balls make them suitable for non-release exercises, such as kettlebell style workouts.
Other types available in the market are sand-filled medicine balls. They offer minimal bounce and are the perfect choice for doing slam exercises. Wall balls, on the other hand, are popular among Cross Fit enthusiasts, especially for explosive exercises such as hand-to-eye drills and squats.
Medicine balls are available in many sizes and shapes. Choosing the best medicine ball always depends on what you are using it for and the type of workout that you want to do. One thing to keep in mind is that just because a medicine ball is small does not mean that it will be light. Smaller medicine balls can be used for speed training. Some others may be used for strength and weight training. So, choose a medicine ball that suits your workout routine.         
Even with proper usage, medicine balls can get deformed over time. Most brands in the market take many steps to prevent this deformation and ensure the maximum life of their products. Some companies choose to go with a more rigid exterior and design their medicine balls with double or reinforced seams. This added outer layer strengthens the weakest points on a medicine ball. Also, it lengthens the life of the medicine ball as it reduces the risk of splitting along the seams. So, always look for this information while choosing a medicine ball.
Why Trust StyleCraze?
The author, Aditi Naskar, has a diploma in health and wellness and loves to write reviews about fitness products. She has carefully listed these medicine balls, selected based on user reviews and feedback available on multiple forums and brand websites. The products listed in this post enhance your muscle strength. They can add some of the best exercises to your cardio routine.
Frequently Asked Questions
Are medicine balls and slam balls different?
Yes. Medicine balls are softer and a little larger in diameter. They bounce back when tossed against a wall. Slam balls are compact, have a harder exterior, and don't bounce back when tossed. Medicine balls are best for push-ups, wall tosses, and partner drills. Slam balls are good for lateral throws, overhead slams, chest passes, and broad jumps to pass.
Which muscles does the medicine ball engage?
Workouts with a medicine ball can burn some serious calories and work well for abs, shoulders, thighs, calves, hips, back, and arm muscles.
It's my first time using a medicine ball – what should I do?
4 to 15 lbs. medicine ball is a good choice to start your workout routine. The medicine ball that you are going to use should not disrupt your control and range of motion. So, use the one that is heavy enough to slow your motion.
Is a medicine ball good for abs?
Yes, a medicine ball is good for abs workout. A 9 lbs. ball is recommended for this purpose. Always use a ball that is light enough to do your workouts without straining your back.
Recommended Articles