11 Best Meditation Chairs With Back Support To Help You Attain Zen
Engage in soul-rejuvenating spiritual practice daily without straining your back.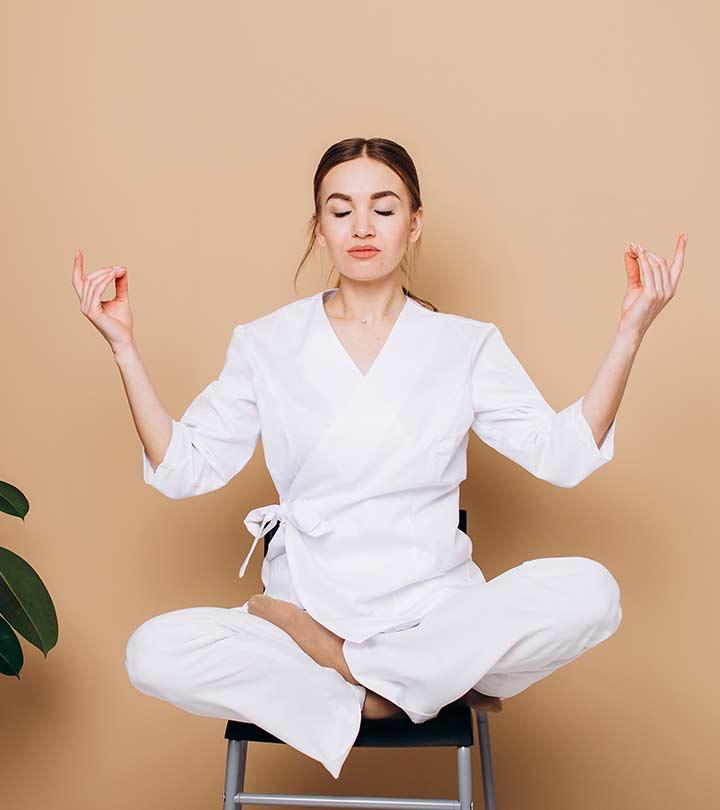 Mediation seems like the easiest thing you can do to free your cluttered mind. Well, until you actually get around to doing it, that is. This spiritual practice that has been around for centuries boasts many benefits of which needing only your mind and a quiet space seem the most inviting. But if you're a beginner, you might find meditation a tad bit difficult due to sitting or kneeling too long. Even those seasoned in this practice can do with a little help, so we have a list of the 11 best meditation chairs with back support. Now all you need to do is be seated, turn on the guided meditation podcast, and reclaim your peace!
What Is A Meditation Chair?
Meditation chairs are pieces of furniture that keep your body comfortable throughout this spiritual practice. You can assume the traditional lotus position that requires you to sit cross-legged or kneel. As the former needs you to sit upright for a period of time, you might develop back problems or worsen those that already exist.
Kneeling on the hard floor is also detrimental to your joints and can make activities like walking or using the stairs more difficult. Therefore, meditation chairs are well-cushioned and have firm backrests to support you all around. They are comfortable so that your physical condition doesn't distract you from concentrating on your session. You can also find features such as extra and adjustable backrests or meditation blocks that come with these chairs. A few kinds have a raised front so you can assume the lotus pose as well.
11 Best Meditation Chairs With Back Support For Peace Of Mind
Pros
Available in 5 colors
Soft covering
Thick foam filling
Conforming backrest
14-position adjustment
Foldable and portable
Cons
Price at the time of publication: $89.96
The bonVIVO portable meditation chair with back support is well-padded to keep you cozy whether you want to sit or lie down. You can adjust the back up to 180° to improve your posture and maintain body stability. The upper polyurethane fabric is stain-resistant, making cleaning as easy as pie in case of any accidental spills.With its comfort level, you can also use this chair to lounge around in when having your morning coffee. bonVIVO's meditation floor chair is also perfect for lounging around to read or catch up with your friends on the weekends.
Pros
4 color options available
Portable
Stain-resistant upper
Lightweight
Easy to clean
Adjustable
Cons
Some might find the padding too thin.
Price at the time of publication: $68.35
Pros
5 different angles
Foldable
Long-lasting
Removable cushion
Portable
Cons
Price at the time of publication: $189.99
Pros
Premium metal frame
14 tilt positions
Easy to store
Portable
Lightweight
Cons
Price at the time of publication: $59.99
Pros
Available in 7 colors
14-position adjustment
Sturdy steel frame
Soft sponge filling
Breathable outer covering
Foldable
Cons
Might not support people of heavier build
Price at the time of publication: $74.99
Pros
Super comfortable
High quality
Ergonomic design
5 adjustable positions
Easy to store
Foldable
Cons
None
Price at the time of publication: $119.99
Pros
Available in 9 colors
Lightweight
Portable
Stackable
2 adjustable positions
Removable cotton cover
Cons
Some might find the padding to be inadequate.
Price at the time of publication: $57.95
Pros
Arched back design
42 seat angles
Comfortable
Durable
Waterproof base
Cons
None
Price at the time of publication: $68.99
If prolonged sitting is your inevitable enemy, this companion from Friends Of Meditation offers you complete back support. This meditation lounge chair can solve your spinal issues or extend your flexibility range by soothing overworked muscles. Easy to remove and clean, the soft-brushed cotton cover keeps this gear durable for long term usage. A carrying bag with a strap is also included with the vipassana meditation chair for convenience.
Pros
Also available in black
Soft foam filling
Removable cotton cover
Carrying bag with strap included
Offers full spinal support
Cons
Price at the time of publication: $190
With Pipersong's meditation chair, back support comes easy with a crescent-shaped backrest for lumbar support. A 360° swivel footstool extends convenience in crossing or stretching your legs so you can get some blood flowing in the middle of long sitting durations. High-density resilient foam makes the cushion extra thick to keep your joints happy with soft bedding to rest on. Withstanding up to 200 pounds of weight, the heavy-duty casters and steel base on this ergonomic meditation chair keep you moving freely.
Pros
Available in 4 colors
Offers lumbar support
Suits all kinds of sitting positions
Withstands 200 pounds of weight
Swivel base
Thick cushioning
Cons
Some might find the chair to be inflexible.
FDW's folding meditation chair saves you a ton of space as it can be stowed out of sight after use. Firm padding with the help of high-density recycled cotton prevents the chair from flattening over time. Tall enough for all builds, the headrest can be customized at up to 14 angles depending on the kind of activity you're about to engage in. These folding meditation chairs can also be carried with you in case of travel so you don't skip a single day.
Pros
Lightweight
14-angle adjustment
Firmly padded with cotton
Foldable
Also offers head and neck support
Eco-friendly
Cons
Some might find the outer fabric to be on the thin side.
Now that you've seen some of the choicest meditation chairs with back support out there, let's get into the characteristics of a good one.
How To Choose The Right Meditation Chair With Back Support For You
As these chairs are a piece of furniture, their appearance should match our already-decorated interior and blend in well. If you're big on aesthetics, you should choose a style that you like so that it can also act as a decor piece and motivate you to meditate daily. But if you want the opposite of this, something that can be kept out of sight, look for foldable and easily portable options. Something well-designed also serves its purpose by being constructed in a sturdy manner, using durable materials, and being comfortable all around.
The material you choose highly depends on your lifestyle because some fabrics can be easily damaged by children or pets. If so, you will have to look out for wooden chairs, for example. Those who love connecting with nature while they get in the zone should choose material that is waterproof. As meditation is a spiritual practice, a few people like to make choices that align with their purpose. If you're looking to build sustainable habits, you should keep an eye out for vegan leather or recycled cotton and polyester.
Thankfully, meditation can be practiced literally anywhere, which helps you establish solid routines no matter where you are. But if you're someone that needs stable furniture for the same, ensure that it is portable. Chairs, tools, and benches that fold up easily, take up less space, are lightweight, and come with storage bags are your best bet. Carrying your own gear to new and unfamiliar situations can help make the novel environment feel safe so you can concentrate better.
Meditation can be performed sitting down cross-legged or in a kneeling stance. If you're at an advanced level, a chair would be most ideal and stools or kneeling chairs are better for kneeling. However if you're a beginner at this spiritual practice, chairs that can be used kneeling or sitting must be sought out for maximum comfort.
Every person is built differently and might have bodily issues that must be taken into account when choosing a meditation chair. If you suffer from back pain, look for chairs that support your spine all the way through and actually help alleviate the pain instead of making it worse. Some people prefer firm backrests rather than soft support as it can cause aches. Look for gear that not only helps you meditate better but is not a hindrance to your body's needs.With so many kinds available on the market, choosing a meditation chair can be quite overwhelming. Let's look at what types you can pick from.
Different Types Of Meditation Chairs
This is a great option for people that like to meditate in a kneeling position rather than the traditional sitting way. Kneeling on the floor can make our joints dig into the hard ground and cut off blood flow. These benches will cushion the kneecaps which allows you to meditate in comfort and for longer periods without any disruption. If you're always on the go, you can also look for portable and foldable options.
Meditation is generally performed sitting cross-legged on the floor, but it is not just limited to this. For this classic position, this pad has you seated on the floor with thick cushioning and back support without the legs and handles of regular chairs. When you're comfortable, you're able to concentrate better and having the backrest does wonders for your spine and posture. Made with a combination of fabric and foam, this option is lightweight yet sturdy and can be packed and transported easily.
This tool is pretty versatile as you can also use it for yoga or when you're working at a desk for long hours at a stretch. Stools accommodate both sitting and kneeling positions, so if more than one person in a household meditates, this would be an ideal choice. The height can often be adjusted and the backrest can be tilted to accommodate people of various builds and comfort levels.If you began meditating recently for some peace of mind, you would've also noticed that this practice isn't the easiest. While keeping your attention hyper focused is difficult enough, sitting for a long time, especially on the cold hard floor is a feat for many of us. You might not be able to meet the goals you set for yourself but fret not as all you need's a little comfort. Pick one from our list of the best meditation chairs with back support and watch your sessions transform instantly. This furniture cradles your back so you can meditate distraction-free, and some are so cute you might buy them simply for the aesthetic appeal!
Why Trust StyleCraze?
StyleCraze's list of meditation chairs offers the best solutions to your peaceful sessions. Shreya Vishwanathan, an expert in fitness and health, has been curated this list after going through online user feedback. Some of these chairs with firm back support are a must-have for anyone to keep their body cozy yet upright during the at-home meditations. These products are made with breathable fabric and good-quality fillings to offer you the utmost comfort you often long for after a tiresome day.
Frequently Asked Questions
Is a meditation chair worth it?
Yes. A meditation chair helps maintain the correct postures and offers adequate back support to ensure you meditate in peace and comfort.
Are kneeling chairs good for meditation?
Yes. Kneeling chairs prevent your knees from digging into the hard ground. They offer enough cushion and help you meditate in comfort.
Are backless meditation chairs good for you?
Yes. Backless meditation chairs ensure you maintain an upright position and do not slouch back unconsciously or consciously while meditating.
What are the benefits of meditation chairs?
•  Spine alignment
•  Holding the proper posture
•  Comfort levels while meditating
How to use meditation chairs?
Sit comfortably on the chair and place your feet and ankles flat on the ground. Adjust the position of the chair until it feels comfortable to your pelvis, back, and hips.
Can you sit on a chair to meditate if you have bad knees?
Yes. Use a chair to meditate if you have bad knees and cannot kneel or sit cross-legged on the ground.