9 Best Meditation Cushions & Pillows Of 2023 + Buying Guide
Meditate and relax your way to inner peace without worrying about any back pain.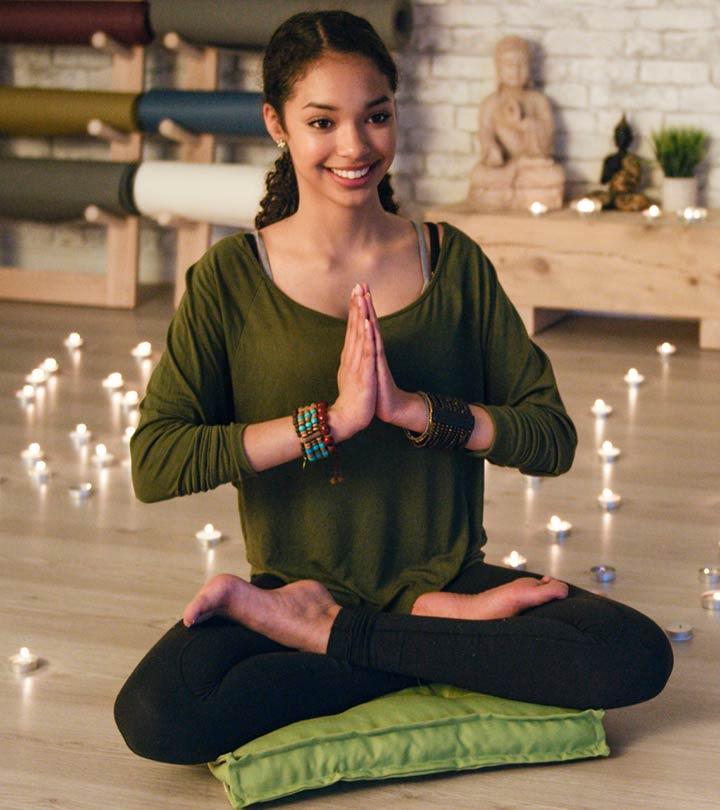 Do you remember the last time you attended a meditation session and were in awe of the chairs and fancy cushions used by fellow meditators? Then, you must have also noticed they could hold all the poses for quite a while longer than those who didn't have the specialized cushions. If you are a regular meditator, you must be well-acquainted with the backaches, numb ankles, or uncomfortable postures that ensue. To make your meditation experience more relaxing and refreshing, we have compiled a list of the 9 best meditation cushions available online. Have a look!
Top 9 Meditation Cushions To Buy In 2023
Seat Of Your Soul Meditation Cushion lets you meditate in peace by providing total comfort. It deepens your experience by keeping a check on your stress levels. The unique design allows you to sit raised off the ground for the perfect meditation position. It helps you avoid straining your back as the cushion aligns your spine perfectly. The shape provides excellent support to the hips, lower back, and thighs. Since the cushion contains buckwheat, it contours according to your shape as you sit.
Pros
Made of certified organic cotton
Machine washable
Takes up minimum space for travel
Lets you hold your yoga and meditation postures for long
Cons
None
Quick Tip
Wash the product in cold water instead of hot to prevent color bleeding.
Price at the time of publication: $39.87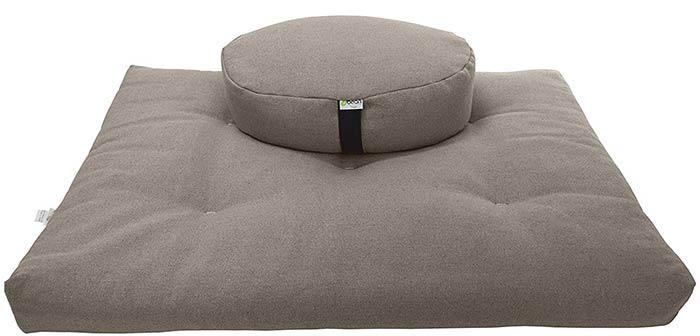 This set includes a zafu and zabuton that facilitate a comfortable position for stress-free meditation. It provides the best seating height while reducing stress on the knees, ankles, lower back, and hips. The zafu meditation pillow, combined with the 100% natural large cotton zabuton mat, lets you rest your ankles, preventing them from numbing after sitting for long hours.
Pros
Available in 26 attractive colors
Relieves bone pressure
Provides proper spine alignment
Easy to wash
Cons
Price at the time of publication: $189.99
This cushion is designed for comfort and portability. It is a lightweight travel meditation mat that has separate adjustable chambers embedded for stability and comfort. The three inflatable chambers allow optimal spine support and pelvic tilt. Fill in some air, meditate, deflate it quickly, and carry it in your bag. This simple yet effective meditation pillow is a perfect product for travel enthusiasts. Have a look at this video to learn more about the product.
Pros
Adjustable air pressure in each chamber
Soft fabric
Can be used as a head pillow
Comes with a carrier
Cons
Possibility of air leakage after 4 to 5 months.
Price at the time of publication: $49.95
Find centered stability while you meditate with the Peace Yoga Meditation Cushion. If aching bones and benumbed ankles interrupt your meditation, this is the right product for you. The cushion is tightly packed with buckwheat hulls that impart the perfect balance of firmness and softness. It provides bedding and relieves stress from your knees and hips. Quit adjusting your position during the meditation with this amazing cushion.
Pros
Machine-washable
Travel-friendly
Multipurpose cushion
Cons
Remember
Refrain from putting the cushion cover in the dryer as it may lead to fabric shrinkage.
Price at the time of publication: $41
This meditation bench is made from lightweight acacia wood with a comfortable cushioned seat. It is sturdy and non-foldable and measures 18″ long and 8 inches wide. It allows you to sit a few inches above the ground for the perfect meditation position. It relieves lower back stress and keeps your posture aligned.
Pros
Sustainable wood
Alleviates pressure
Durable
Cons
Not as sturdy as it claims to be.
This cushion has three foldable parts for perfect support. It is a double stitched cushion made with 100% kapok stuffing. The material is light, hypoallergenic, environmentally friendly, and very buoyant. Its firmness can help correct your posture, unlike other foam cushions. The ergonomic design allows you to adjust the height while you rest, raise the hips, and stabilize your position. Here is an informative video that tells you more about the product.
Pros
Durable
Sustainable
Portable
Cons
Price at the time of publication: $51.04
Relive your legs and back from discomfort during meditation with the Nolavea Zafu Meditation Cushion. This cushion is specially engineered to offer proper posture, ensuring peaceful meditation. The cushion comes with a removable soft velvety cushion cover for softness and comfort. In addition, it is filled with buckwheat filling and dried lavender for relaxation. You can carry this cushion by the practical handle or carry it in a stylish bag that comes with it.
Pros
Smooth fabric
Durable
Sturdy
Easy maintenance
Stable
Value for money
Cons
None
Price at the time of publication: $19.99
This meditation cushion is designed to avoid numbness in legs. It makes cross-legged, and lotus poses more comfortable. These yoga pillows help keep the spine perfectly aligned by supporting the tailbone. It is lightweight and portable.
Pros
The higher cushion supports the pelvis.
Durable material
Travel-friendly
Cons
The floor cushion doesn't stay in place.
Price at the time of publication: $85
This meditation cushion can be folded and unfolded based on your comfort. It supports your ankles, knees, and elbows. It can be used in various yoga (inversion) positions. It eases the poses and eliminates discomfort. This cushion can be of great help for those with tailbone issues. It is filled with 100% organic kapok fiber.
Pros
Provides comfort for difficult poses
Long-lasting
Lightweight and portable
Cons
Price at the time of publication: $40.95
Those were the nine best medication pillows you can try out. But, before you buy a meditation cushion, there are certain points to consider – why you need a meditation cushion and how to choose the right one for you. We have discussed these points in the next section.
Purpose Of A Meditation Cushion
Besides causing pain and discomfort, sitting for long hours on a hard floor can misalign your back. A meditation cushion improves your posture by elevating your pelvis, raising your hips above your knees for the perfect curvature of your spine. It also helps you concentrate as you will be less distracted due to pain. It helps you reach a deeper meditative state by supporting every pose.
Meditation Cushion – The Ultimate Buying Guide
How To Choose The Ideal Meditation Cushion (Things To Consider )
Here are some points to keep in mind while selecting a meditation cushion:
Portability
Cushion filling
Size and height
Material
1. Portability
If you often travel or prefer meditating in different places, a portable meditation cushion is your best bet. Travelers can also consider buying an inflatable meditation cushion. Any set that comes with a carry bag or a handle fixed to the cushion makes it easier for you to bring it along to classes. Most meditation seats or benches are inconvenient to carry as they do not include a handle.
2. Cushion Filling
These grain-like seeds provide a firm grip and conform to your shape by shifting according to your movements. Buckwheat hull is incredibly durable and lasts for up to 10 years. Most meditation cushions have buckwheat fillings due to its stability. These are heavier than cotton and other fillings and easy-to-maintain.
Cotton is usually preferred for its softness and flexibility. It is breathable and allows air circulation without retaining moisture. It is lightweight and portable. It is hypoallergenic and is ideal for those who have sensitivities, body sores, and allergies. It is washable and survives abrasion. But, cotton has a risk of developing mildew and molds in a humid climate. Also, it can lose its fluffiness with time.
This is the most common filling used for thousands of years. It is softer and lighter than buckwheat. The texture is somewhat similar to cotton. But the cons of kapok are that it flattens with use and becomes lumpy over time.
These are artificial, human-made fillings made from fossil fuels.
3. Size And Height
Be clear about the use of the cushion while considering its size. Do you plan on carrying it to the class? Will it have its permanent place in your room? Do you have a space to store the cushion? Look for the dimensions before buying the product.
If you are considering height, decide how high off the ground you prefer to sit. There are benches, seats, and other cushions with elevated height.
4. Material
Ensure to choose a soft and durable material that is comfortable on your skin. Here are some common choices for meditation cushion covers.
Hemp
Vegan leather
Cotton
Different Types Of Meditation Cushions
Zafu and zabuton meditation cushions found in the market. Let's take a look at them.
1. Zafu
The word "Zafu" translates to "Sewn seat" in American English. It is a traditional pillow for meditation used by Zen Buddhists. It is a round or moon-shaped cushion that helps raise your hips to an ideal sitting position. It can have various fillings like buckwheat hulls, cotton, or kapok. Typically, these measures 14 inches in diameter and 8 inches in height.
2. Zabuton
This is a flatter cushion, often used in full or half-lotus postures. Usually, it is designed to go underneath a zafu to protect your ankles from numbing. It relieves pressure on the knees and feet and allows you to sit in pain-free Vajrasan (meditation position). It is not as elevated as a zafu. Zabuton is more like a mat with a stable base.
Other Types Of Meditation Cushions
3. Meditation Bench
These are firm benches with heavy-duty hinges. They relieve stress on the joints and spine. They have two wooden legs supporting the cushion.
4. Meditation Chair
These chairs increase your capacity to sit on the floor. For those who require back support in lotus or cross-legged position, a meditation chair can be a good investment. It helps relieve back pain for beginners in prolonged meditation.
Meditation helps you to control your mind and body by relaxing the stress. But sitting on the floor during meditation may not allow you to hold the posture for a long time. So you need a meditation cushion to provide you with good support while meditating. In addition, the cushion provides perfect balance and minimizes back stress. The best meditation cushion keeps you comfortable by aligning your posture. However, consider investing in cushions that provide great comfort for a longer time and steer clear of cushions that are not durable.
Choose a product from the list using the guidelines discussed above and make your meditation a pain-free and effortless experience. Let us know which product worked well for you in the comments section below.
Why Trust StyleCraze?
We have compiled this list of the best meditation cushions following extensive research of the products available on the market. Besides going through hundreds of reviews to evaluate the feedback, we have also considered their durability, quality, and functionality to shortlist these products. These cushions offer comfort and help you hold different poses for longer without having to worry about backaches and numb ankles.
Frequently Asked Questions
Are meditation cushions worth it?
Yes. To ensure you sit comfortably while meditating, meditation cushions are your best option.
Do meditation cushions fit?
Most meditation cushions are large enough for any person to sit comfortably.
Are meditation cushions better than a chair?
Yes, sitting on meditation cushions in the correct posture will keep you fit. It will also help your body posture improve.
Can you wash meditation cushions?
No, it is best to not wash meditation cushions; instead, keep them in sunlight or dry clean them to keep them clean.
How do you sit on a meditation cushion?
Try to sit on the first half of the meditation cushion to get the best back posture.
How do you clean meditation cushions?
You can use a damp cloth to remove stains from your meditation cushions or else, for a thorough cleaning, get them dry cleaned.

Recommended Articles:
The following two tabs change content below.