10 Best Mehandi Designs For Kids – Special Collection
Because it definitely is important to let the kids be part of the celebrations too!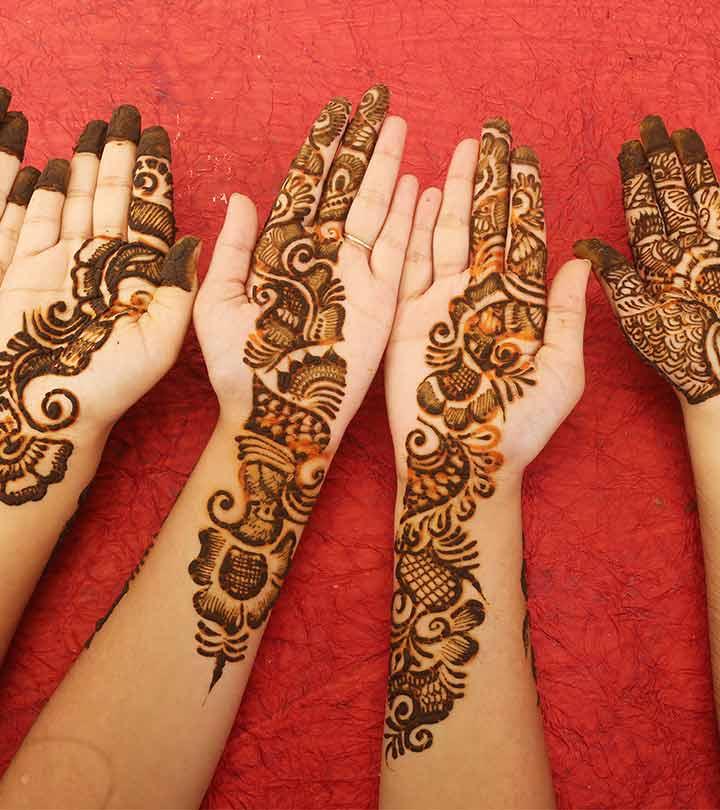 Mehendi is an inseparable part of Indian rituals and festivities. While women of all ages indulge in this beautiful art, kids often miss out on it as there are very few designs that suit their little hands. But don't lose heart! We are here to help you out by showcasing ten simple and beautiful mehendi designs for kids. Try to be creative and ask your child's inputs while selecting a beautiful mehendi design for her. Let your imagination run wild!
Mehandi Designs For Kids : 2018-2019 Special Collection
Design 1:
1. Your little princess hands can be a perfect canvas to try out some special designs. The black mehendi trend has caught up with the masses as the dark colour makes the design more prominent. This design is simple yet attractive.
The centre of the hand has been decorated with a circular pattern, around which floral motifs are drawn. The tips of the fingers are filled with additional designs.
Design 2:
2. Your impatient daughter may not be ready to sit through a full-hand mehendi application process. If your daughter is restless and impatient, then here is one of the simple mehndi designs best-suited for her.
Uneven patterns form a floral motif in the middle of the hand. Short lines have been drawn to join the central design with the ones on the fingertips. Since it is easy to draw, you can encourage her to design her own Mehendi and express her creativity.
Design 3:
3. Kids are often seen as sweet innocent flowers. To capture your child's sweet innocence, you can ask her to try this floral and paisley mehandi design. There is a floral motif in the middle of the palm, a paisley design on the wrist and a name written near the wrist. This design is easy enough for any mom or kid to design.
Design 4:
4. Your kid wants to apply her own mehendi? No problem. Here is an easy yet beautiful design that features a paisley motif in the middle of the back of her hand and floral designs below it. The finger tips have small, petal-like spiral designs. The design is a great option for any occasion like weddings or other special events.
Design 5:
5. Floral designs are some of the all-time favourites and this pretty floral design hardly requires any skills or time. This design features small floral motifs along the back of the hand that lead to the wrist and beyond. It is simple, fills a considerable area of the hand and looks elegant enough to be flaunted at formal events.
Design 6:
6. Here is another floral mehendi design that is pretty neat with fine details. The design starts from the tip of the middle finger and extends well past the wrist. The design mainly has floral motifs and a bangle like pattern adorning the wrist.
Design 7:
7. If your daughter loves mehendi and is ready to sit through the time required for a complicated design, then try this one with intricate details that combine floral patterns and shading. The tips are filled in and the fingers are decorated with delicate designs.
Design 8:
8. This is a black mehendi design that any kid will be able to pull off. The design is simple but it will add to the beauty of your kid's hands, especially the bangle-like design on the wrist which makes it even more attractive. The design is abstract in nature and has very few details.
Design 9:
9. This design features an intricate round motif in the middle. It decorates the hands in a simple pattern while the fingertips are filled in with small designs.
Design 10:
10. Glitter mehendi designs have been gaining popularity and are very popular with kids. This glitter mehendi design is a purple and golden one that highlights the design created with black mehendi. Simple and attractive, your kids will definitely love this design.
Mehendi is an integral part of Indian weddings. But did you know that your kids can also get mehendi designs done on their palms or feet along with you? You can go for simple curricular patterns with flower motifs or glittery and colorful designs. If you have trouble selecting the right one, go through the mehendi designs for kids mentioned in this article. Do remember to keep your child's palm or feet size in mind when selecting the best mehendi design for them.
Do let us know. And if you want, we will surely be back with more designs.
The following two tabs change content below.