13 Best Menopause Pajamas To Banish Night Sweats For Good
Calm yourself in the comfort of skin-friendly and easy-to-wear clothing.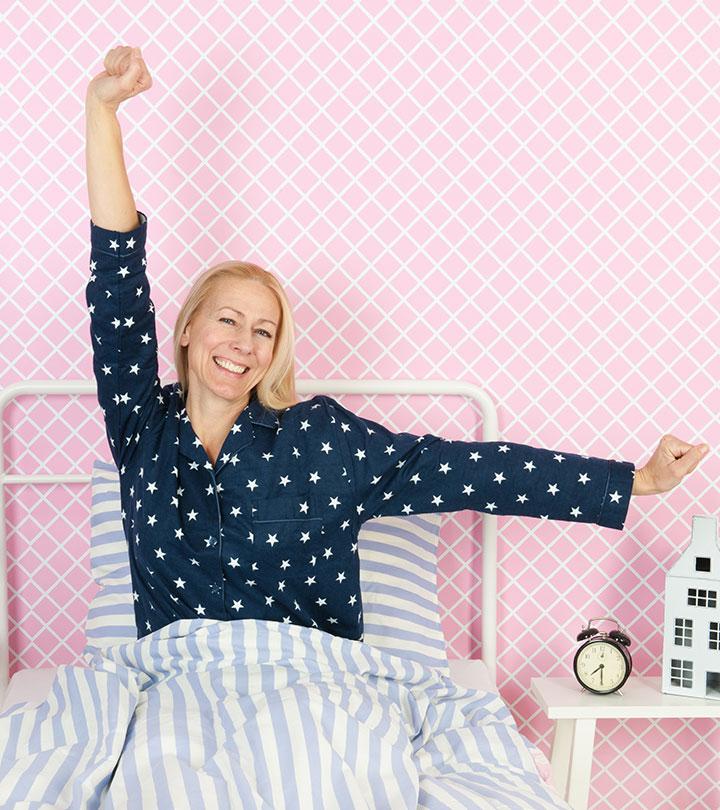 If you cannot get that perfect 8 hours of sleep during menopause due to your heavy pool of sweat, we recommend you use menopause pajamas.
No matter how chill your room is with the air conditioner, the hormonal changes can take over your body so much that nothing else lets you keep cool and calm. However, no matter the day or condition, 8 hours of sleep is a must for healthy body functioning. So, try the menopause pajamas of high quality that can easily cross off this concern of night sweating, hot flashes from your list. This lightweight and breathable material of the pajamas absorbs sweat while keeping you cool and fresh. These pajamas are made of a blend of synthetic and natural fibers that absorb sweat and evaporate it. Wearing these pajamas, you can forget sweat, have a peaceful night's sleep, get active the next day, and have better days ahead.
Check out the 13 best menopause pajamas below!
13 Best Menopause Pajamas In 2023 For A Restful Night's Sleep
The HUE Women's Sleepwell with Temptech Pajama Sleep Pant is the best to experience the ultimate comfortable sleep all night long. This modern pajama is crafted with 95% rayon and 5% spandex. It also comes with a ribbon drawstring and elastic closure, providing ultimate comfort for a good night's sleep. The TempTech technology maintains a comfortable temperature while you sleep and keeps you cool when you are feeling hot. The super-smooth and ultra-breathable fabric delivers buttery soft comfort to help you relax and sleep soundly, making it the ultimate choice for sleep and loungewear.
Pros
Perfect fit
Soft and lightweight
Super stretchy
No shrinkage
Cons
None
The Victoria's Secret Flannel PJ Pajama Set is comfortable and stylish to wear The classic checkered design with a blend of cotton, modal, and elastane feels soft and stretchy. This set includes a long-sleeve top with a button-front and a chest pocket and full-length bottoms with a drawstring elastic waist. It is perfect for a cozy night, a sleepover party with the girls, or lounging around the house.
Pros
Soft and comfortable
Classic design
Good blend of fabrics
Easy to adjust
Cons
Price at the time of publication: $79.5
The Eberjey Gisele Modal Women's Pajama Slouchy Set is the ultimate comfort experience with 95% modal jersey and 5% spandex. The high-quality fabric stays wrinkle-free and does not shrink even after wearing them for a long time. The drawstring closure ensures the perfect fit. This shirt and pajama set is perfect for staying cozy and casual all day. You can rest easy knowing that the sustainable Lenzing Modal used in these pajamas makes them a guilt-free choice.
Pros
Soft fabric
Cozy, comfortable wear
Stylish and cute
Cons
None
The PJ Harlow Women's Jackie is a comfortable set for sleep, lounging, or play. The cami top is made of a knit Supima cotton and a micro modal blend that feels buttery soft against the skin. It has a long sleeve V-neck with side slits. The palazzo pants are made of a lightweight woven rayon blend and feature an elasticized waist and satin drawstring for the perfect fit. So, slip into pure comfort in this ultra-soft loungewear set.
Pros
Value for money
Luxurious material
Comfortable to wear
Soft fit
Cons
Price at the time of publication: $100.04
The LilySilk Silk Pajamas for Women are made of high-quality mulberry silk that is soft and durable. This pajama set features long sleeves with banded cuffs, a classic notched collar, one left chest pocket, and silk-wrapped buttons for a luxury touch. The elastic waist with drawstrings are comfortable and practical, suitable for year-round wear. These silk pajamas are suitable for all occasions and smooth and soft like baby skin.
Pros
Soft fabric
Good for the skin
Premium quality
Bright colors
Cons
Price at the time of publication: $149
The PajamaGram Pajama Set For Women is designed by sleepwear experts and crafted from high-quality double-brushed cotton jersey fabric. It is luxuriously soft, comfortable, and slightly stretchy, ensuring a perfect fit. The PJs are made generously oversized for maximum comfort. The two-piece matching set includes a long-sleeve button-front top and full-length relaxed pants with an elastic drawstring waist. It also features a notched collar, breast pocket, and elegant piping trim. Choose from rich solids or playful polka dots to add some fun to your sleepwear.
Pros
Soft and comfy
Good-quality fabric
Easy to wash
Little stretchy
Oversized sizing
Cons
None
Price at the time of publication: $54.99
The Cool-jams Moisture Wicking Scoop Neck Pajama Set is made of 100 % poly microfiber. It is compact, lightweight, dries quickly, and is suitable for traveling. These pajamas are great for hot flashes and night sweats as they dry four times faster than cotton, and can efficiently absorb moisture and heat. They also stay odor-free for a long time.
Pros
Soft and comfortable
Not sheer
Keeps you cool
Lightweight
Cons
None
Price at the time of publication: $89
The Ekouaer Pajamas Set Short Sleeve Sleepwear is made of high-quality fabric that is extremely soft and cozy, allowing your skin to breathe naturally. This two-piece set comes in a classic casual loungewear style. You can enjoy maximum comfort and flexibility with the button-down shirt and an elastic waistband. This pajama set enables you to move around freely and stay relaxed throughout the night. The pajama features a pleated back and pocket, making it a stylish and functional addition to your nighttime routine. The cozy fabric is stylishly designed for added comfort.
Pros
Great to sleep in
Soft, good fit
Value for money
Durable
Cons
None
Price at the time of publication: $31.99
Available in 8 colors, these well-fitting, cooling pajamas for hot flashes by Fishers Finery are breathable and soft. They are composed of 70% bamboo-derived viscose, 25% organic cotton, and 5% spandex for that little bit of stretch. Drawing sweat away from your skin, this blend of materials keeps your body temperature regulated for a blissful night's slumber. With these cooling pajamas for ladies, you can keep your sleep pattern consistent.
Pros
Available in 8 colors
Breathable
Moisture-wicking
4-way stretch
UPF 50+ protection
Fade-resistant
Cons
Price at the time of publication: $59
Barefoot Dreams offers a menopause nightgown made of 71% nylon and 29% viscose. It features gorgeous ribbed detailing both in the front and the back. The lightweight caftan has a deep V-neck with relaxed sleeves and side slits for the utmost comfort. It combines coziness with style so you can enjoy roomy clothing at any time of night or day. With 3 neutral color options available, you can even rock these non-restrictive menopause nightgowns to some casual events.
Pros
Ribbed detailing
Side slits for easy movement
Relaxed fit
Available in 3 neutral colors
Can be dressed up or down
Cons
Some might find the neckline to be revealing
Price at the time of publication: $98.07
The WiWi Bamboo Pajamas Set for Women is super-soft, comfy, and made of 95% viscose bamboo and 5% spandex. It features a simple scoop neck, customized high-stretch satin at the collar and the leg opening, a short sleeves top with capri pants, and an elastic waistband. The lightweight, smooth, and breathable texture is perfect for a cool night, helping you drive away tiredness and sweat. You can move freely at home in this pajama set as it has a good drape that fits most body shapes and is both casual and stretchy.
Pros
Loose and soft
Easy to wash
Comfortable to wear
Value for money
Cons
None
Price at the time of publication: $35.99
The Avidlove Women Pajamas Set is made of a soft and comfortable cotton blend. The short-sleeved button-down top and long pants with an elastic waistband enable easy movement. This set features contrasting piping, left chest pockets, and a notch collar. The pajamas are easy to care for and can be machine- or hand-washed easily. This set is perfect for lounging and sleeping and can be worn in any season.
Pros
Classic design
Machine washable
No color fading
Soft and comfortable
Cons
None
Price at the time of publication: $36.99
The Latuza Women's Cotton Pajamas Set helps relax in style. This cotton lounge set is made of soft, lightweight, and breathable cotton fabric, and includes a classic V-neck tee with short sleeves and capri bottoms with an elastic waistband and drawstring. This set is perfect for lounging at home and offers a comfortable fit.
Pros
 Comfortable wear
Good quality fabric
Adjustable drawstring
Perfect fit
Cons
None
Price at the time of publication: $32.99
Fashion stylist Michelle Wagman says, "Different brands offer different varieties of styles and fabrics, so try various options to find what works best for you." Now that we've seen some of the best menopause pajamas on the market, it's time to learn how you can pick the right type for yourself.
How To Choose The Best Menopause Pajamas
Lightweight and moisture-wicking fabrics like bamboo must be your first choice for night clothes. Natural fibres like silk or cotton are soft but they tend to hold moisture for a little longer, so you can avoid them or opt for blended fabrics. Polyester and cotton blended together, for example, dries quickly. Look for light knits because tight weaves aren't optimally breathable. Additionally, some pajamas feature lace near the neckline or sleeve edges. If you have sensitive skin, it is best to avoid this fabric as it can be itchy. If not, you can opt for a softer lace.
While getting your correct size is important, there are a few features that can help your pajamas fit better. A wide waistband that lies snugly but isn't so tight that it digs into skin and leaves marks. If it includes a drawstring, even better because you can adjust the tightness and prevent the bottoms from sliding down in your sleep. Ergonomically-placed and flat seams are also ideal as they can lessen instances of irritation or chafing, allowing the fabric to move along with you.
This is completely up to your personal preference and comfort levels. You can choose from multiple colors, patterns, and styles. A set that comes with a button-down or a T-shirt and full-length or capri pants, nightgowns, or crop tops and shorts are all available. Depending on whether you will be wearing pajamas only to bed or prefer them as loungewear, you can decide on which type to pick.
Why Trust StyleCraze?
Priyam Gupta is a fashion and lifestyle enthusiast who understands the struggles a menopausal woman undergoes with night sweats. She shortlisted the most breathable menopause pajamas for them after thorough research and a deep analysis of the reviews posted by customers online. The pajamas are made of a blend of natural and synthetic fibers that quickly absorb sweat and make your nights comfortable.
Frequently Asked Questions
Why do hot flashes happen at night?
Women's hormonal levels fluctuate easily during the night which can lead to increased sweating. Additionally, the intake of alcohol, caffeine, or spicy food in your diet can also be a contributing factor.
What fabric is best for night sweats?
Cotton and polyester fabrics are good at keeping you cool at night. Bamboo-derived viscose is a great option while microfiber can also be chosen owing to its superior moisture-wicking properties.
What do I wear to bed during menopause?
You can wear lightweight, sweat-wicking, comfortable fabrics to bed duirng your menopause period.
What helps with menopausal night sweats?
Drinking cool water throughout the night, keeping a cold pack under the pillow, wearing comfortable clothes, and avoiding caffeine and alcohol before bedtime can help with menopausal night sweats.
What is a menopause belly?
The weight gain around the midsection of the female body due to hormonal changes during menopause is referred to as a menopause belly.
Do your hips widen during menopause?
Yes, this is a common change in the female body after menopause. This is most likely due to the weight gain associated with hormonal changes.