15 Best Menstrual Cups Of 2023: Benefits & How To Use Them
Everything you need to know about reusable menstrual cups for a better experience!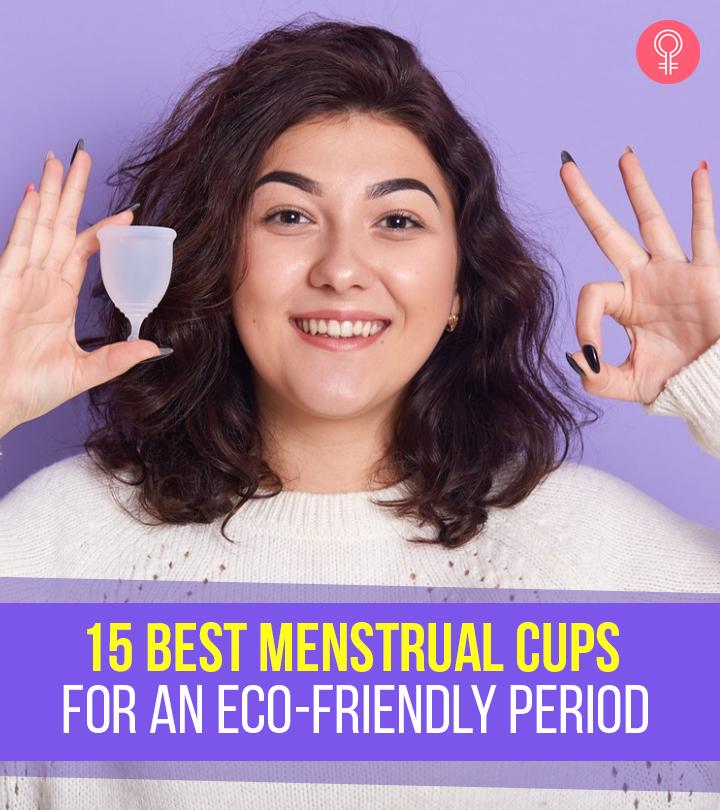 Menstrual cups are effective and environment-friendly alternatives to pads and tampons. The best menstrual cups last for a few years and save you a lot of money. You may take a while to get accustomed to these funnel-shaped cups, but once you do, there is no looking back! These are available in different sizes and slightly varying shapes and can surely be your one-stop menstruation solution. Remember that it takes some trial and error to get your perfect size. Here, we have discussed menstrual cups and have listed the 15 best menstrual cup brands that you can buy from. Take a look.
15 Best Menstrual Cups Of 2023
The menstrual cup from Lena is a sustainable product with no toxins and can be great alternative to tampons and pads. It is available in a small cup for first-time users with a light-heavy flow, while the large cup is for experienced users and days of heavy flow. The cup is made from 100% medical-grade silicone. There is no leakage when the cup is positioned correctly. It stays in place for 12 hours without reinsertion and cleaning. It helps you feel comfortable and allows you to do all physical activities – from dancing to running and swimming to sleeping. The brand also offers various menstrual cup sizes, making it suitable for everyone to use. To understand the nuances of the product in detail, you can check out this review.
Pros
 Leakproof
 12-hour wear
 Durable
 Medically graded
 Easy to use
 Hypoallergenic
 Odorless
 Plastic-free
 BPA-free
 Phthalate-free
 Plastic-free
 Latex-free
 Dioxoin-free
Cons
 Placement might be difficult
 Might leak for the first time
Price at the time of publication: $24.9
The Diva Cup – Model 2 is one the best menstrual cups for women over 35. It is made of eco-friendly, medically graded silicone that adjusts to your body heat, making you feel comfortable. The leak-resistant air holes under the rim of the cup secure it, and the sturdy base makes removal easy. The cup is a little bigger, making it ideal for heavier flow and women who have given birth. The stem of this sustainable menstrual cup is trimmable, which means you can trim the stem according to your body's comfort zone, but it is advised not to go shorter than 0.6 cm. Check out this YouTuber's review of this product.
Pros
 Leakproof
 Comfortable
 Durable
 Easy to use
 Comes with a pouch
 BPA-free
 Chemical-free
Cons
Price at the time of publication: $29.98
For mess-free periods you can trust the Cora Menstrual Period Cup. This reusable cup offers 12 hours of leak-free use for worry-less traveling. It is made from super-soft silicone and non-toxic material that lasts for up to 10 years. How ever intense your flow, you can easily sleep or work while wearing these cups. If you purchase this menstrual cups, you also contribute to providing access to period care and health education to women across the world.
Pros
Easy to remove
Strong suction power
Leakproof
Slip-free grip
BPA-free
Medical-grade silicone
Cons
None
Price at the time of publication: $27.99
This innovative product made by Jane Hartman Adame has a unique pull string that makes removal easy. One needs to pull it down to break the cup's seal for effortless removal. The kit consists of one menstrual cup and two menstrual discs. The slim-fit design makes it perfect for light to medium flow and all body types. The cup has a bigger capacity, which can hold as much fluid as two super tampons, making your day worry-free for at least 12 hours. Although the flow might differ from person to person, it makes the user feel comfortable during daily activities.
Pros
 Medical-grade silicone
 Made with natural rubber latex
 Hypoallergenic
 Phthalate-free
Cons
Price at the time of publication: $34.96
The Peesafe Menstrual Cups is an eco-friendly alternative to tampons. It is comfortable, chemical-free, and highly economical as compared to the cost of pads, tampons, or other menstrual cups. It collects menstrual blood equal to 3-4 tampons, at once. It can be safely worn for upto 12 hours and reused for upto five years. These are pee-safe and you can visit the loo as many times as you must without the cup slipping down. Thse also reduce the risk of rashes, vaginal irritation, and dryness.
Pros
Swim-safe
100% medical grade silicone
Available in 3 sizes
Round stems for grip
Cons
EcoBlossom is a 4.4 cm menstrual cup with a rounded stem and ridges that can be cut as required. The rim is smooth and has an efficient grip that prevents leakage for an extended period. This comfortable menstrual cup lasts for approximately three years and is a good investment towards hygiene needs. It is made with soft silicone and comes in vibrant colors and two size variants: small and large. The small size is perfect for teens and adults with low flow, while the large is for adults with normal to high flow.
Pros
 Compatible with different folds
 12-hour usage
 Leakproof
 Comfortable fit
 Odor-free
 BPA-free
 Phthalate-free
 Dioxin-free
 Latex-free
Cons
 May be irritating to some
Price at the time of publication: $11.99
The silicone menstrual cups by Talisi help you have a comfortable and odorless period. They can be worn for 12 hours and serve as an excellent alternative to tampons and pads. The cups are made from soft silicone, which is comfortable to wear, flexible, and easy to insert. The package includes two small cups with a capacity of 30 mL for pre-child birth, while the two larger ones can be used post-childbirth and have a capacity of 38 mL. The cups can be easily worn while engaging in daily activities by teens and adults. Apart from the menstrual cups, the package also contains a user guide, a cotton bag, and a sterilizing cup container.
Pros
 12-hour protection
 Suitable for teens and adults
 Non-toxic
 Hypoallergenic
 Dioxin-free
 Phthalate-free
 Latex-free
 BPA-free
Cons
None
Price at the time of publication: $9.99
The soft and flexible Sckoon menstrual cup is best for medium-high cervix. The beginner's set is available in two sizes – with capacities of 23 mL and 30 mL, respectively. These cups are flexible and easy to insert without being uncomfortable for up to 12 hours of wear.
They have angled suction holes that provide a secure and leakproof top. The smooth and ridge-free top and flexible tapered stems adjust themselves around your body as you move and keep you comfortable during physical activities. The cups are made of soft and squishy material and come with an organic cotton pouch. The bell-shaped menstrual cups have a significant base that offers a mess-free removal.
Pros
 Durable
 Leakproof
 Easy to clean
 BPA-free
 Latex-free
Cons
Price at the time of publication: $29.99
Looking for an easy-to-carry and compact menstrual cup? The Lily Cup by Intimina is a perfect choice for you. It is collapsible and comes with an easy-grip stem with ridges, making it perfect for women with a lower cervix. The no-spill rim of this eco-friendly menstrual cup holds light to medium flow and gives up to 8 hours of non-stop protection. It is made up of zero toxins and environmentally friendly, body-safe silicone material. The product comes in a small protective case in which the cup can be folded flat to fit easily in your pocket or bag.
Pros
 Compact
 No spin
 Easy to remove
 No dryness
 Odor-free
Cons
Price at the time of publication: $32.95
No more red sheets or leakage with the DivaCup BPA-Free Menstrual Cup. It is ideal for women with high cervix and usually over 35 years of age. If you have had a normal childbirth or have heavy flow, this cup is for you. This reusable menstrual cup provides eco-friendly protection against stains and irritation. It does not contain any chemical dyes and is safe for your vaginal health. It is approved by the Society of Obstetricians and gynecologists of Canada.
Pros
100% medical grade silicone
Chemical-free
Non-slip
Easy to fold and use
Cons
Price at the time of publication: $29.98
The set of menstrual cups by Saalt includes large and small sizes for different requirements. The small size is for women with a lower cervix and light to medium flow while the larger size is for women with a high cervix and medium to high flow. It is a wonderful post-pregnancy menstrual cup because of its firmness.
The cup's stem is flexible with the perfect length and is easy to hold as it has grip rings. The four holes on the upper rim create the perfect suction to give 12-hour protection. The upper rim is slightly softer, which makes it easy for the cup to adjust during insertion. This is the best menstrual cup for women with sensitive bladders as it is hypoallergenic.
Pros
 Maintains pH
 Vegan
 BPA-free
 Latex-free
 Toxin-free
 Cruelty-free
Cons
 Not for beginners
 Expensive
Price at the time of publication: $47.49
The Peachlife Inc Menstrual Cup is made with medical grade silicone and has a unique design with ring pull-off, which makes the removal easy. One can wear it for around 12 hours without any worries about leakage. It comes with a cotton bag and serves its value over the years. The medium cup has a 28 mL capacity and an ergonomic design. It is available in different variants that cater to the flow and cervix position of different individuals.
Pros
 Reusable for up to 10 years
 Available in 9 different sizes
 Firmness variation available
 Hypoallergenic
Cons
 Not transparent
 Might cause hassle while insertion
Price at the time of publication: $17.99
The Honey Pot Company Menstrual Cup is a treasured tool for girls and women to ensure safe and hygienic periods. If you feel that tampons are too messy and pads too distracting, this cup is ideal for you. It offers weighless and long-lasting protection whether you're sitting at work or running errands outside. It comes in two sizes; size 1 for ladies 18-30 years with medium flow and size 2 for mothers who have given birth and may now experience a heavy flow. Just pair it with thin pantyliners and you are set for a long day.
Pros
Sustainable
Latex-free
Plastic-free
Phthalate-free
Medical grade silicone
BFA-free
Easy removal
Cons
Price at the time of publication: $21.88
The Croing Menstrual Cup Set is a pack of four cups that comes with a carry bag, a storage cup for sterilizing, and a cotton bag. It is an economical and eco-friendly choice that has a small stem and firm grip. This helps in easy insertion and removal. The product is FDA-approved and made in such a way that it perfectly fits into your vagina.
Pros
 BPA-free
 Latex-free
 Dioxin-free
 Phthalate-free
Cons
Price at the time of publication: $13.99
The Intimina Lily Cup Ultra-Soft Menstrual Cup is highly comfortable and made with medical-grade silicone. This FDA-approved ensures safe and hygienic periods. You can wear it for extended periods of time for 12 hours straight for medium to heavy flow. Its unique slanted design with no-spill-rim ensures leak-proof protection and fits well as per your natural vaginal shape. It is available in two sizes as per your period needs and pelvic strength.
Pros
Perfect fit
Easy to clean
Easy to use
Hypoallergenic
BPA-free
Cons
None
Price at the time of publication: $21.7
Now that you know about the best menstrual cups available on the market, let's take a look at a detailed definition of these products and what benefits they offer.
What Are Menstrual Cups? What Are Its Benefits?
A menstrual cup is a perfect feminine hygiene product that is funnel-shaped and used for collecting period fluid. Unlike tampons, they do not absorb but rather collect the liquid to maintain the pH level of the intimate area. These cups are convenient alternatives as they are leakproof and healthy. One disposable silicone cup can be worn for an average of 10 to 12 hours.
There are multiple benefits of using menstrual cups over tampons and pads. These cups are good alternatives for your health and the planet. There are countless menstrual cup benefits like they are eco-friendly, free of toxins, chemicals, and perfumes, and help you have odor-free and comfortable periods.
Read the next section to find out how menstrual cups work.
How Do Menstrual Cups Work?
These silicone cups are flexible and have a stem at the bottom that contains ridges. Sometimes, the base of the cup also has ridges to ensure easy insertion and removal. The rim of the cap has air holes that create suction to provide leakproof wear. The menstrual cup catches and collects the period fluid when inserted into the vagina.
The menstrual cup is folded into C-shape, U-shape or 7-shape to insert it through the vagina. Like a diaphragm, it fits itself into the right place by sticking to the walls of your vagina. It forms a seal and then blood drips into the cup. The reusable ones are washed with soap and water and replaced after pulling them with the help of the stick. After the end and before the next menstrual cycle, it is advised to sterilize your cup in hot boiling water at least once.
Choosing a menstrual cup should not be done in a rush but after checking the following factors and your body type.
How To Choose The Best Menstrual Cup
Determine the flow that you usually have during your periods. For example, if you have light to medium flow, you can opt for a small menstrual cup, but if you have medium to high flow, you should go for a larger cup.
Check the position of your cervix with your finger. If you have a higher cervix, a longer cup will be suitable for you. If you have a lower cervix, a shorter cup will serve you better.
A person with a sensitive bladder or an active lifestyle is advised to use firm cups as they do not to break the seal and cause leaks.
There are often knock-off brands of menstrual cups on the online market. Hence, one should always consider a menstrual cup of a good brand that has gone through FDA regulations and is made of safe silicone.
Why Trust StyleCraze?
Aditi Naskar has a diploma in health and wellness and loves to write reviews about health and fitness-related products and devices. After thorough research, she has provided a detailed list of the best menstrual cups. She went through numerous reviews and feedback on multiple forums and brand websites to help you pick the perfect menstrual cup. These menstrual cups are affordable and free of toxins.
Frequently Asked Questions
Which menstrual cup is best for beginners?
The Flex menstrual cup is perfect for beginners because of its slim-fit design. Other menstrual cups that are good for first-timers include Lena and the Dutchess cups.
What is the best menstrual cup for heavy flow?
You can go for Lena, Diva, and Talisi cups that can cater to those with heavy flow.
How to clean menstrual cups?
It is essential to clean your menstrual cup thoroughly to avoid health disorders or catching any infection. Follow the steps given in the menstrual cup cleaning guide below:
 Submerge the cups into a container with boiling water for 5-10 minutes.
 Strain the menstrual cups and allow them to cool to room temperature.
 Wash your hands with antibacterial soap and warm water.
 Wash the cup with a warm, oil-free, and water-based soap.
 Rinse the cup thoroughly.
 Dry the cup with a clean towel and store it in a dry place.
Are there any side effects of using menstrual cups?
The major danger of using a menstrual cup is that it can cause vaginal irritation if not cleaned properly. It can also create bacterial surges in intimate areas, making your body prone to multiple infections. Other issues like pain and rashes occur if you insert the menstrual cup without lubrication.
Do menstrual cups leak when full?
Yes, if you do not empty your menstrual cup on time, it will eventually overflow and leak.
Can I sleep wearing a menstrual cup?
Yes, menstrual cups are excellent options to wear to bed while on your period. Unlike tampons and pads, a menstrual cup can be worn for almost up to 12 hours and is also quite comfortable.
Which menstrual cup size is the best for beginners?
A size small is recommended for beginners or anyone below the age of 30 who has not given birth.
How often should I replace my menstrual cup?
If used and stored properly, a menstrual cup can be used for several years. However, it is recommended to replace your menstrual cup every 2-4 years or as soon as you see signs of wear.
Recommended Articles