11 Best Metallic Eyeshadows
Flaunt your bold eyes with these metallic hues without breaking a sweat.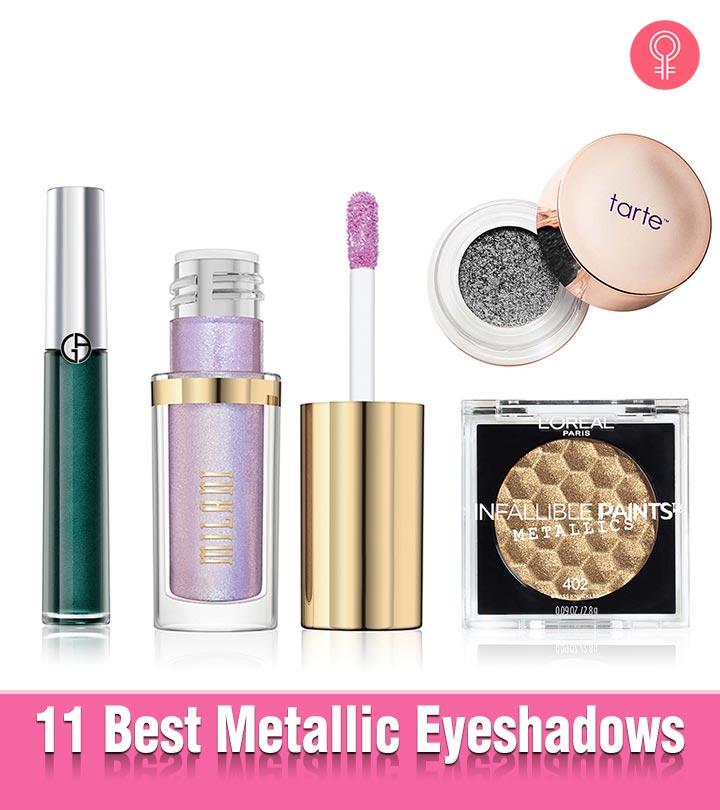 If you are thinking of using the best metallic eyeshadows, we will tell you why that's a good ideal. Metallic eyeshadows never run out of trend, and they are the boldest options to go for when in the mood to shine. The color is the ultimate choice for standing out and is perfect for flaunting in the festive season. Not only do they not have fallout and are easy to use, but they also have a mess-free application so that you don't have to test your artistic skills while applying them. If you plan to buy one for yourself, check our list of the 11 highest-rated metallic eyeshadows to invest in.
11 Best Metallic Eyeshadows
Review
This luxurious, pearl-infused eyeshadow stick from Bobbi Brown is perfect for beginners. It gives you all the shine in the world without the mess you might experience with a loose powder formula. This 8-hour formula applies and blends effortlessly, while the multidimensional pearls in it deliver a high-impact, glistening finish. This eyeshadow is available in nine gorgeous shades.
Pros
Versatile
Easy to use
Long-wearing
Creamy formula
Highly pigmented
Cons
Price at the time of publication: $26.99
Review
If you're trying to achieve a prismatic effect, this metallic liquid eyeshadow from Milani has got to be your go-to product. Its water-based formula can be used alone or layered on top of another eyeshadow for a dazzling chrome finish. Our favorite shade is Luster Light, a champagne-y, shimmering rose gold. This eyeshadow is available in a range of four lit shades. This video will help you understand the product better.
Pros
Long-wearing
Lightweight
Easy to use
No fallout
Pigmented
Cons
None

Price at the time of publication: $19.38
Review
This drugstore gem from L'Oreal helps create a high-impact foil finish that lasts all day long. You can also apply it wet for a more dramatic metallic look. It is available in five metallic shades – Rose Chrome, Brass Knuckles, Caged, Violet Luster, and Aluminum Foil. Check out the detailed review of the product in this video.
Pros
Easy to blend
Highly-pigmented
Easy to apply
No fallout
Affordable
Cons
None
Price at the time of publication: $3.94
Review
This revolutionary palette from cult-favorite brand Huda Beauty consists of 18 buttery-smooth shadows that offer the most amplified metallic finish. It is inspired by Huda Kattan's obsession with essential colors that we need on an everyday basis. This palette won an Allure Best of Beauty Award. Watch this video of the product for more information.
Pros
Extremely pigmented
Long-wearing
No fallout
Versatile
Comes with a large mirror
Cons
Price at the time of publication: $59.99
Review
Inside this glitzy pot, you'll find a creamy powder that is so incredibly reflective that it will make your eyelids like little mirrors. The best part? Its stunning formula lasts all day! This eyeshadow is available in seven shades, ranging from a metallic gold to a gorgeous burgundy.
Pros
Super-pigmented
Easy to blend
No fallout
Long-wearing
Suitable for beginners
Cons
None

Review
Take your shine to the next level with this luxurious gold and cocoa powder-infused palette that smells as good as it looks. The colors in this palette are created with real gold for the most epic high-shine finish. It is especially great for the holiday season.
Pros
Long-wearing
Extremely pigmented
Infused with skin-loving ingredients
Blends easily
Value for money
Cons
None
Price at the time of publication: $69.99
Review
Urban Decay's Elements Eyeshadow Palette contains 19 mystical shades in a celestial, ultra-sleek case. It includes molten metallics, holographic shimmers, and bright mattes to help you create a whole bunch of fabulous looks.
Pros
Easy to blend
Unique colors
Long-wearing
No fallout
Value for money
Cons
None
Price at the time of publication: $33
Review
This luxurious twelve-shade palette from Stila consists of six mega metallic and six modern matte shades. It helps you create eye-catching color combos with the right mix of shimmer and matte. If you really want to dazzle, this palette is a must-try! It is especially great for beginners.
Pros
Smooth formula
No fallout
Easy to blend
Versatile shades that flatter all skin tones
Paraben-free
Cons
None
Price at the time of publication: $49.0
Review
If you're looking for something really fancy, this eyeshadow tint from Giorgio Armani Beauty is as elegant as it can possibly get. This long-lasting formula combines the purity of powder, the staying-power of ink, and the feel of cream for up to 16 hours! This liquid eyeshadow is available in 19 luxurious shades.
Pros
Long-wearing
Easy to blend
Super-saturated
Versatile (can also be used as an eyeliner to create smokey eyes)
Cons
None
Review
Another incredible drugstore find is this metallic eyeshadow palette from NYX. Featuring six versatile and edgy neutrals in shades of plum, gold, and mauve, this gem will load your lids with a rich metallic color and a beautiful color payoff.
Pros
No fallout
Long-lasting
Easy application
Budget-friendly
Cons
None
Price at the time of publication: $9.85
Review
This metallic eyeshadow pot from Colourpop costs less than your morning cup of Starbucks coffee. Its revolutionary creme-powder formula is famous for its unique, bouncy texture. It delivers bold metallic color in a single swipe. This unique eyeshadow is available in a whopping 28 shades.
Pros
Easy to use
Inexpensive
Crease-resistant
No fallout
Cons
None
Price at the time of publication: $13.49
Frequently Asked Questions
What is the difference between shimmer and metallic eyeshadow?
Metallic eyeshadows look like actual metal. They usually have gold or silver undertones with a foiled effect. They are highly pigmented and perfect for night occasions. On the other hand, shimmer eyeshadows provide a subtle shine to your lids and add a hint of sparkle. They offer sheer coverage to the lids and offer a natural look.
How do you wear metallic eyeshadow?
•  Apply a thin layer of primer to the lids.
•  Swipe a padded brush on a glitter eyeshadow.
•  Press the brush on the lids. Then, cover the lids entirely with the metallic eyeshadow.
•  Swipe the brush in a matte eyeshadow color.
•  Apply it to your crease line and slowly blend the color in with the metallic shade.
Are metallic eyeshadows safe?
No. The specks of glitter in a metallic eyeshadow may irritate sensitive eyes. Contact lens wearers need to be more careful while applying the eyeshadow to prevent it from entering the eyes.
Can you wear metallic eyeshadow over 40?
No. Metallic eyeshadows tend to settle between fine lines and wrinkles. Therefore, skip wearing metallic eyeshadows after 40. Instead, opt for shimmer shadows.
What is metallic finish eyeshadow?
Metallic finish eyeshadows feature golden and silver undertones and resemble real metals. They provide a foiled look to your lids and are ideal for parties.
Should I use metallic or shimmer eyeshadow?
Use metallic eyeshadow if you wish to achieve a shiny, bright, and sparkly eye look. And opt for a shimmer eyeshadow if you want sheer, natural-looking eye makeup.
What do you put on eyelids before eyeshadow?
Wear an eye primer on the lids before applying eyeshadow to neutralize discolorations and hold the eyeshadow in place.
Recommended Articles