10 Best Metallic Lipsticks For A Gorgeous Glittery Pout
A bold range of uniquely attractive lippies that glam up your look instantly!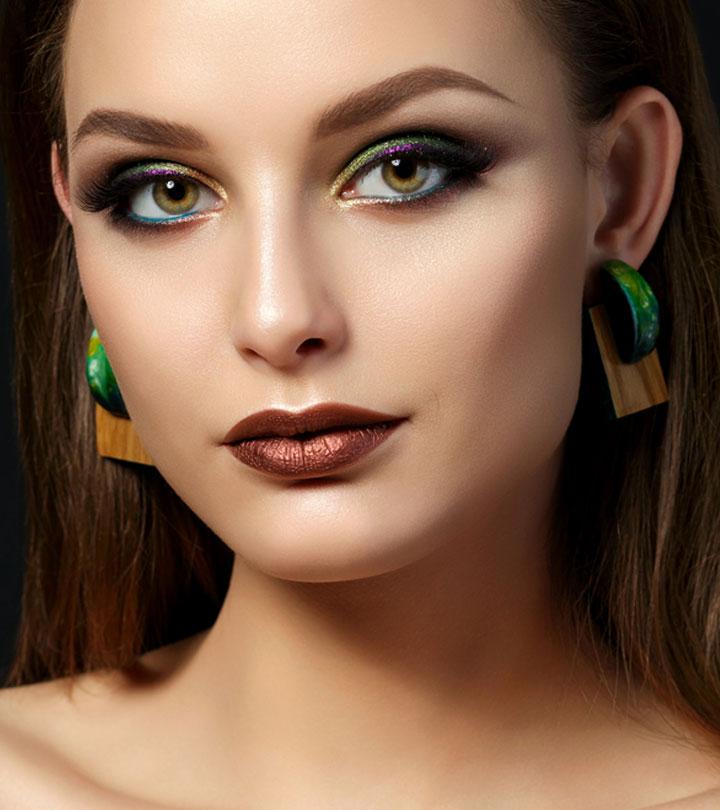 The 1990s were a time of experimentation in fashion, and we saw some bold beauty trends in that decade. They have all made a tremendous comeback, and how! Women are now looking for the best metallic lipstick for glam and glitzy metallic lips that rocked the era. They are all the rage right now, with celebrities wearing them for every social outing and flaunting the shimmer on their pouts in style.
You might think of overly glittery lips that seem gaudy instead of lovely when we mention metallic lips, but the current version of metallic lipsticks is anything but that. With each brush, they provide just the proper amount of oomph to give your lips a softer and fuller appearance. If you are considering experimenting with the glam look that only metallic lipsticks can help you get, you have landed on the right page. So, stop waiting and get on the bandwagon for metallic lips by replacing your favorite matte tint or gloss with this gleaming beauty. Here is our list of the top 10 metallic lipsticks to try. Keep scrolling!
Top Picks
10 Best Metallic Lipsticks Of 2023
With a pigment of a lipstick and application of a gloss, this gel formula lends an intense color pay-off with just a single coat. Super velvety and featherlight, it offers a smooth application that dries into a metallic matte finish. Swipe this silver-gray shade over your lips to achieve a bold, edgy look that was a hit in the '90s. What's more? This drugstore metallic lipstick smells as amazing as it looks. It has a creamy mango and whipped vanilla fragrance that smells so delicious that you would never want to take it off. Click this video to learn more about the product.
Pros
Velvety texture
100% wax-free
Affordable
Lends a high-definition color
Lightweight and moisturizing formula
Available in 7 other metallic shades
Cons
Price at the time of publication: $4.39
Pros
Cruelty-free
Lightweight
Non-drying
Full coverage in 1 coat
Excellent staying power
Multidimensional metallic finish
Cons
Slightly expensive
Might be a little gritty
Price at the time of publication: $5.97
Take your '90s beauty trends obsession to a whole new level with this metallic gold lipstick. With a luxurious matte texture and a 'liquid metal' finish, this liquid lipstick lasts for hours together without smudging or bleeding. Inspired by the petals of a rose, this formula glides on smoothly and makes your lips feel velvety soft. It is highly pigmented, which means one coat is all you require for opaque coverage. Use this liquid formula as a lip color or a highlighter over another shade. This video gives you more information about the product.
Pros
Long-wearing
Opaque coverage
Smudge and transfer-proof
Cruelty-free and vegan
French vanilla-scented
Cons
It may dry out your lips
Might be too shimmery for some
Price at the time of publication: $19.94
A combination of 2 peak '90s trends – brown and metallic – this Metallic Brown Lipstick will help you achieve 2 stunning looks. This lipstick has a creamy texture, which means it glides on effortlessly on the lips to set into a stunning metallic finish. Rest assured, it does not cause any dragging or pulling during application. Saturated with pigments, this lipstick lends rich coverage. Plus, it's comfortable to wear for long, thanks to its super lightweight quality and the addition of honey nectar. For those cold winter days and nights, we can't think of a color that's more fitting than this burgundy-brown shade with a metallic finish.
Pros
Creamy matte texture
Infused with honey nectar
Brushed metallic shade
Smooth application
Cons
May not have good staying power
Price at the time of publication: $9.49
Color your lips with this bright red metallic lipstick shade spiked with flecks of glitter, for a bold, luscious pout that is sure to turn heads. Its super-silky texture ensures smooth application and comfortable wear. Meanwhile, it offers a medium to full coverage that lasts for long without flaking, fading, or drying out your lips. This lipstick comes packaged in a limited-edition clear casing and is available in 11 other vibrant metallic shades.
Pros
Vegan
Cruelty and paraben-free
Glides smoothly
Highly pigmented
Creates a multidimensional lip look
Does not smudge, flake, or feather
Cons
May not be long-wearing
May have a strong smell
Price at the time of publication: $6.99
Pros
Transfer-proof
Long-wearing
Cruelty-free
Super-pigmented formula
Nourishes and soothes lips
Cons
Price at the time of publication: $6.99
Make your lips dazzle with this mesmerizing metallic gold shade by Cosmic Moon. For those who want to try something outside their comfort zone, this vibrant color will do the trick. Though it may not be suitable for everyday wear, it's perfect for festive occasions, evening parties, or stage performances. This lipstick can be applied directly on the lips to create the look you want and is easy to remove with a makeup removing cleanser. It is loaded with pigments to provide maximum coverage, while the creamy texture adheres to the lips to ensure long-lasting wear and comfort.
Pros
Cruelty-free
Comfortable to wear
Long-lasting formula
Paraben and fragrance-free
Cosmetically certified product
Available in 7 other shimmery shades
Cons
May need to re-applied a few hours after application
Price at the time of publication: $7.99
Unlike few other traditional bullet lipsticks that dry out your lips, this metallic lipstick helps keep your lips supple and protected, thanks to the addition of she a butter. Not only does it have moisturizing benefits, but this beautiful brick rose metallic shade is universally flattering on all skin tones. It provides an even application, feels super-soft on the lips, and delivers a rich, long-lasting coverage. This beautiful red hue with a shimmery finish guarantees to add oodles of oomph to your appearance.
Pros
Keeps lips hydrated
Long-lasting color
Cruelty-free
Suitable for all skin tones
Available in 48 shades and 3 finishes
Cons
Some people may find it too shiny.
Price at the time of publication: $6.15
It may look like the shimmer in this classic red shade is barely noticeable, but make no mistake; once it goes on, it does lend a bold metallic finish. It features a hydra-gel core at the center that gives a beautiful color of lipstick and a mirror shine effect of a top coat. Formulated with mango butter, hyaluronic acid, and ceramide-like molecules, this cult formula hydrates your lips and creates a volumizing effect. It delivers 16 hours of comfortable wear and color without streaking or drying out lips. Additionally, it is enriched with a shield oil that ensures that the formula adheres to your lips easily. This bullet lipstick comes enclosed in an attractive metallic couture case.
Pros
16-hour wear
Highly pigmented color
Smooth texture
Stylish metallic case
Does not dry out lips
Cons
Price at the time of publication: $63.53
For an over-the-top elegant look, KIKO MILANO Ocean Feel Sparkle Lipstick is your go-to. This metallic glitter lipstick creates a multidimensional effect on the lips. The result is a dazzling coat of bright red hue with shimmering flecks that is perfect for special occasions and the holiday season. It has a soft consistency that ensures the lipstick glides on smoothly on the lips while delivering an even application and intense wash of color. Enriched with marine algae extract, this formula sits on your lips comfortably without feeling sticky.
Pros
Metallic glitter finish
Comfortable formula
Velvety texture
Intensely pigmented color
Dermatologically-tested
Cons
Might be too glittery for some
The author, Chaitra Krishnan, has a deep interest in the beauty, lifestyle, and fashion segments. Here, she writes about the best metallic lipsticks that will give you all the glam and glitz while making your lips look softer and fuller. Each option has been thoroughly researched and vetted by the author after considering numerous user reviews across various trusted online forums.
Frequently Asked Questions
Can I use metallic lipstick as a highlighter?
Yes, you can use metallic lipstick as a highlighter. Just swipe it at the high point of your face and blend it seamlessly to achieve a highlighter-like glow.
How do you style metallic lipstick?
•  Choose a color that complements your skin tone.
•  Apply lip balm before using the metallic lipstick to keep your lips nourished.
•  Use a lip liner to draw your lip outlines. It will keep your lips defined all day without looking hazy or smudged.
•  Swipe your metallic lipstick to fill your lips or use a lip brush to do the same.
How do you remove metallic lipstick?
To remove the metallic lipstick, use a makeup remover or oils such as coconut or olive oil. Pour a few drops of the product on a cotton swab and wipe away the lipstick.
Which type of eyeshadow goes well with metallic lipstick?
Apply a more neutral eyeshadow to avoid drawing attention away from your lips. Beiges, ivories, grays, and browns look fantastic with metallic eye shadow. However, if you want a glamorous look, you can go with shimmery eyeshadow as well.
Which skin tone do metallic lipsticks looks good on?
Metallic lipsticks look good on every skin tone.