6 Best Micellar Waters For Sensitive Skin
Top micellar water options that are gentle on your sensitive skin and tough on makeup.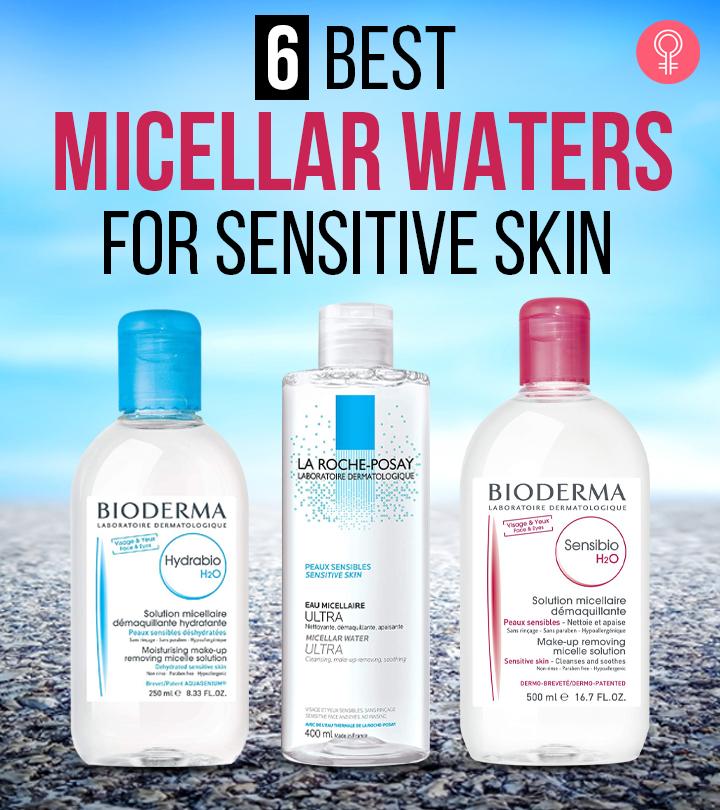 If there's one skincare staple for every skincare expert or blogger, it'll be the micellar water. So, in case you have been looking for one, ahead, you'll find the best micellar waters for sensitive skin. Micellar water is a must-have for every skincare routine as it removes the makeup easily and then cleanses the skin deeply without causing inflammation or irritation. So, if you have sensitive skin, we have good news for you! Here you'll come across the 6 great micellar waters perfect for sensitive skin!
6 Best Micellar Waters For Sensitive Skin
The Bioderma Sensibio H2O Micellar Water is formulated with a very similar composition to the human skin. It hydrates sensitive skin while cleansing and removing makeup. This micellar water uses micelles, which are tiny molecules of fatty acid esters that help in capturing impurities without irritating or drying the skin. It contains DAF, a patented natural complex that calms your skin and increases its tolerance threshold. The cucumber and fruit extract further soothe the skin. This micellar water is non-sticky and free of oil, parabens, and alcohol. Watch this video to know why you should buy the Bioderma Sensibio H2O Micellar Water.
Key Ingredients: Fatty acid Esters, Cucumis Sativus (Cucumber), and Fruit Extract
Pros
Fragrance-free
Alcohol-free
Paraben-free
Hypoallergenic
Oil-free
Gentle
Non-sticky
Value for money
Travel-friendly
Cons
May not work well with waterproof makeup

Quick Tip
To effectively remove makeup, soak a cotton pad, press it against your face and lift away to remove impurities and makeup. Do not wipe harshly.
Price at the time of publication: $10.99
The Bioderma Hydrabio H2O Micellar Water cleans your skin and removes makeup. It also hydrates dry and dehydrated skin without disturbing its balance or causing irritation. This micellar water is infused with fatty acid esters that tone and protect the skin's outermost layer and naturally help rebuild the skin's hydrolipidic coat.
It contains the Aquanium Patented Natural Complex with vitamin PP and apple seed extract that reactivate the natural hydration process of the skin. Glycerin keeps your skin hydrated. This micellar water leaves your skin feeling softer and more radiant. This video will give you an unfiltered review of the Bioderma Hydrabio H2O Micellar Water.
Key Ingredients: Fatty Acid Esters, Glycerin, Vitamin PP, and Apple Seed Extract
Pros
Gentle
Instant freshness
Non-irritating
Soothes the skin
Decongests pores
Paraben-free
Hypoallergenic
Cons

Pro Tip
Use micellar waters with formulation on the oilier side to remove heavy makeup.
Price at the time of publication: $27.99
The La Roche-Posay Micellar Cleansing Water Ultra is a no-rinse cleaner. It cleans your skin thoroughly, removes makeup, and refreshes it. The dirt-encapsulating micelles in the formula attract dirt, sebum, microscopic pollution particles, and makeup to gently wipe them off your face. This product also soothes and comforts the skin while refreshing and rejuvenating it.
This micellar water is formulated with poloxamer, a gentle cleanser. It also contains the antioxidant-rich La Roche-Posay Thermal Spring Water and glycerine that soothe and hydrate the skin. It claims to remove 99% of long-wearing foundation without harsh rubbing or causing breakouts.
Key Ingredients: Poloxamer, Glycerine, and La Roche-Posay Thermal Spring Water
Pros
Alcohol-free
Fragrance-free
Soap-free
Paraben-free
Oil-free
Dermatologist tested
Ophthalmologist tested
Cons
Not suitable for acne-prone skin

Pro Tip
Always use a second cleanse to effectively remove all traces of makeup and dirt to prevent clogging your pores.
Price at the time of publication: $16.99
The Klorane Micellar Water is a 3-in-1 makeup remover that ensures to clean the skin quickly and gently to remove all traces of dirt and makeup. It is specifically formulated for contact lens wearers and those with sensitive eyes and is suitable for all skin types. This soothing micellar water removes makeup from the face, eyes, and lips without tugging at the skin, irritating it, or disturbing its fragile balance.
This product is formulated with micelles, organically farmed cornflower, and a minimalist 6-ingredient formula, which effectively remove makeup and leave the skin clean, soothed, and soft. Cornflower water soothes the skin as its pH is similar to that of tears. This reduces irritation and is gentle for sensitive eyes and skin. This micellar water ensures that the skin is left feeling clean, hydrated, and soft with every use.
Key Ingredients: Organically Farmed Cornflower Water
Pros
Hypoallergenic
Gentle
Alcohol-free
Paraben-free
Sulfate-free
Silicone-free
Oil-free
Fragrance-free
Ophthalmologist tested
Vegan
Cons
None
Price at the time of publication: $10
The Vichy Pureté Thermale Mineral Micellar Water has a multi-benefit formula that not only cleanses the skin and removes makeup but also soothes and strengthens it – all in one simple step. It is a quick, effective cleanser that is ideal for sensitive skin as it does not require unnecessary rubbing or rinsing to clean the skin.
This micellar water contains Vichy Mineralizing Thermal Water, which is rich in 15 minerals that hydrate the skin and reinforce its barrier to protect it against environmental aggressors. It also contains panthenol (vitamin B5) to soothe and strengthen the skin. This micellar water leaves the skin feeling hydrated and soothed.
Key Ingredients: Vichy Volcanic Thermal Water and Panthenol (Vitamin B5)
Pros
Dermatologist tested
Ophthalmologist tested
No-rinse formula
Alcohol-free
Allergy-tested
Soap-free
Paraben-free
Alcohol-free
pH-balanced
Cons
Does not remove long-lasting makeup
Price at the time of publication: $14.99
The Simple Water Boost Micellar Cleansing Water is infused with skin-friendly minerals and a plant extract, making it ideal for dry, dehydrated, or sensitive skin. It makes your skin feel refreshed, supple, and instantly hydrated without any irritation. This product is lightweight, and the micellar cleansing bubbles attract and lift makeup and impurities off your face without leaving the skin feeling dry or tight.
This micellar water features the Water Boost regimen that specifically works towards reversing the five symptoms of early dehydration – dryness, roughness, tightness, dullness, and dehydrated lines. It leaves your skin feeling rejuvenated, hydrated, and revitalized. This product contains no harsh chemicals, added fragrances, or artificial colors. Click on the video to find the benefits of the Simple Water Boost Micellar Cleansing Water.
Key Ingredients: Lactic Acid and Glycerine
Pros
Reverses 5 symptoms of dehydration
Lightweight
Alcohol-free
Fragrance-free
Paraben-free
Non-greasy
No artificial colors or fragrances
Cons
May irritate the skin and eyes
Price at the time of publication: $12.99
Micellar water is now a much loved and essential product in every vanity kit. This multitasking miracle product works overtime as a makeup remover, facial cleanser, and hydration booster. . For sensitive skin, it works best as it is non-abrasive and skin-friendly. If you are wondering how to choose the best micellar water for sensitive skin, scroll through our list of factors.
How To Choose The Best Micellar Water For Sensitive Skin
For sensitive skin, look for a minimalistic product that holds back on the number of ingredients, to include only the basics for cleansing and makeup removal. Products without parabens, phthalates, petrolatum, mineral, oil or added fragrances work best on sensitive skin.
Apart from deep cleaning the skin, micellar waters are packed with ingredients that keep the skin hydrated and healthy. Look for products that contain ingredients like thermal spring water, glycerin, rose water, orange fruit extracts, panthenol (Vitamin B5), aloe vera, and avocado extract to protect and soften the skin. The presence of soothing natural botanical extracts like lavender, sage, cucumber, and calendula prevent the skin from drying out.
Look for micellar waters with gentle, non-irritating formulas. Avoid harsh ingredients like soap and alcohol which can cause allergic reactions. These can also irritate the delicate skin, especially around the sensitive eye area, while removing eye makeup. Since micellar waters are not meant to be washed off, it is advisable to choose products that are lightweight and non-sticky.
If you want to be extra safe, opt for the micellar waters that are dermatologist and ophthalmologist tested. These work best for those with sensitive eyes to remove mascara without making the eyes water.
Choose micellar waters that help to maintain the natural pH of skin. Unlike the classic foaming cleansers, these require no scrubbing to be effective so they are perfect for sensitive skin. Ingredients like cornflower water soothes the skin and maintains the natural pH levels.
Removing the makeup thoroughly without scratching or stressing the skin is essential to keep your skin healthy and irritation-free. This is why you need micellar water to do it most conveniently. Micellar water combines purified water, moisturizing ingredients, and mild surfactants. And when you dab a cotton ball and remove the makeup with it, it attracts dirt, oil, and makeup smoothly and leaves behind clear and beautiful skin. Include micellar water in your skincare regimen to see visibly healthy and happy skin.
Why Trust StyleCraze?
Shiboli Chakraborti is a certified skin and hair care expert. She conducts thorough research before recommending products to her readers. She has compiled this list of the best micellar waters for sensitive skin to help remove makeup easily without irritating the skin. Shiboli has also mentioned each product's pros and cons and specifications to help you pick the most suitable one.
Frequently Asked Questions
Is it OK to use micellar water every day on sensitive skin?
Yes. You can include micellar water in your daily skin care routine. It acts like a cleanser or a toner that you can use every day. It will not strip off the natural moisture from your skin and will not irritate it while cleansing. This is what makes it ideal for sensitive skin. Simply pour a few drops of micellar water on a cotton pad and gently rub it over your face to remove all residues and makeup; you won't even need to rinse afterward.
Do I need to wash my face after using micellar water?
No. You can use micellar water as a regular cleanser. It will help cleanse the surface of your face and remove impurities.
How do I choose micellar water for sensitive skin?
If you have sensitive skin, look for micellar water that is gentle and has a perfume-free formulation, and one that does not require excessive wiping.
Do dermatologists recommend micellar water?
Dermatologists widely recommend micellar water as it is gentle and will effectively remove debris and pollutants from the skin's surface.