10 Best Microneedling Pens For A Beautiful, Youthful Skin
Needle your way to better skin without visiting your dermatologist's office.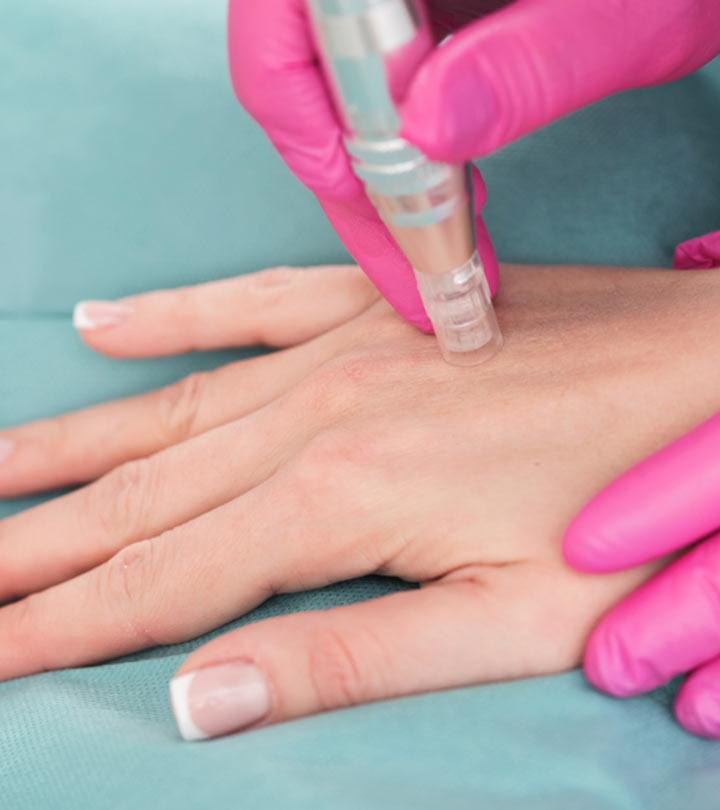 With more and more people opting for treatments that can be done at home, it is not surprising to see that a few brands have come out with the best microneedling pens on the market. Though earlier microneedling was only conducted in dermatological clinics, companies have now come out with these pens that keep your skin in top form. This procedure involves pricking the skin with a derma pen which increases the production of collagen, sheds dead cells, and regenerates new skin cells.
At-home microneedling pens are affordable and easy to use. This treatment can be done in the comfort of your home without spending extra dollars at your dermatologist's clinic. Dr. Anna H. Chacon, a dermatologist with 9 years of experience, states, "Microneedling pens can eliminate stretch marks, scars, wrinkles, and other skin issues. In contrast to face rejuvenation procedures that involve heat, light, or lasers, microneedling pens do not cause skin discoloration." We have gone ahead and compiled a list of the best microneedling pens available for you to choose from. Scroll down to check them out and get the best skin!
What Is A Microneedling Pen?
A microneedling pen is a derma pen which pricks your skin with small needles to regenerate collagen and skin tissues. When you invest in the best microneedling pen, you can effortlessly exfoliate dead skin cells and boost production of collagen for younger-looking skin. It can also help fade stretch marks, scars, wrinkles, and fine lines. Microneedling can also help you relieve hair loss and baldness issues.
10 Best Microneedling Pens For A Naturally-Radiant Skin
You do not have to shell out huge chunks of money at a dermatologist's office anymore. Get a clear skin at home with this economical Dr Pen microneedling pen. The sterile, individually-sealed, disposable needle cartridges can be used mostly for face wrinkles, scars, stretch marks, and facial lines. The derma pen works well on deep acne scars, evens out your skin tone and minimises sagging skin around your eyes. It has an in-built battery and comes with 6 pieces of 122-pin cartridges, a charger, and a cord. The dial can be adjusted according to your needs at 5 speed rates and goes deeper than the usual derma rollers. Check out this video to reach out the product specifications and features of the Dr. Pen Ultima M5 Microneedling Pen.
Pros
Sterile and individually-sealed
Disposable needle cartridges
Wired as well as wireless operation
Safe and comfortable to use
Cons
Some may feel the pen drag on skin
Price at the time of publication: $94.99
It helps improve the absorption of the skincare products and adds a natural glow to your face
. You'll notice reduced fine lines, wrinkles, and tighter skin upon using the pen just once or twice a week on a regular basis.
Pros
Safe and hygienic
Safe to use by multiple people
Reduces signs of aging
Evens out skin tone and texture
Promotes healthy skin
User-friendly
Cons
It may not be suitable for sensitive skin
Price at the time of publication: $135
Pros
Rechargeable
Wireless
Helps reduce burn and surgical scars
Minimizes appearances of enlarged pores
Cons
Some may find it slightly difficult to use
Price at the time of publication: $129.99
If your friend is serious about skin care, this Dr Pen microneedling kit can make a perfect gift for their birthday for a spa-like treatment at home resulting in clear and smooth skin. Convenient and easy to use, this derma pen rejuvenates your skin by eliminating acne, stretch marks, and deep wrinkles. It can also help remove age spots and shrink pores to brighten your face. This much-raved wireless device is recommended by estheticians for beautiful and healthy skin which makes it an ideal addition to your beauty regimen. Ensure that you recharge and replace the cartridges each time for a hassle-free microneedling experience. Go through this video for a clear demo of the Dr. Pen Auto Microneedle System Ultima – M8.
Pros
Helps remove age spots
Shrinks enlarged pores
Brightens your face
Fights against acne, wrinkles, and stretch marks
Promotes healthy and beautiful skin
Cons
It may occasionally drag on the skin.
Price at the time of publication: $149.99
Dr. Pen Ultima M7 Professional Microneedling Pen is designed for facial lines, scars, wrinkles, and stretch marks. It comes with an adjustable dial allowing desired treatment. Each disposable needle cartridge is individually sealed for optimal safety. Ultima M7 comes with an in-built battery that needs to be charged before use.
Pros
Speed indicator
Cartridges socket
Individually wrapped cartridges
Clear manual
Cons
Price at the time of publication: $99.99
The high quality cosmetic-grade needles of the 12 pieces of N-cartridges in this microneedling kit promote natural healing of skin by repairing the damage and nourishing it. This kit can help reduce fine lines, wrinkles, deep acne scars, stretch marks, chickenpox or surgical scars, hyperpigmentation, and sun damage. Made with grade A Titanium, this gentle derma tool can be used for facial therapy and on the forehead, neck, nose, scalp, chin, and other parts of the body where you would like to enhance the texture and tone of your skin. It boosts the production of collagen and thus, helps reduce the appearance of any imperfections. You can also combine it with products like hyaluronic acid serum and vitamin C to increase the effectiveness of the treatment.
Pros
Promotes collagen production
Boosts natural healing
Evens out skin tone and texture
Can be used anywhere on body
Cons
May not be suitable for those allergic to titanium steel
Price at the time of publication: $72
Turn your home into a beauty salon and get a refreshed and healthy skin with this best-at-home microneedling pen. Its advanced micro-needling system can help improve the appearance of deep wrinkles and scars. The lightweight and user-friendly tool shrinks enlarged pores, improves skin firmness, and brightens the complexion of your face. Its innovative technology enables single-button operation with a manual in 5 languages makes it user-friendly. The 5 individually-sealed disposable cartridges come along with 2 pack post repair gel masks that help reduce redness after the treatment. Its high grade quality material makes it durable, and this tool can be used 10 times on a single charge with a USB cable. Take a look at this video to watch the Koi Beauty MDP A400 Advanced Skin Innovations demo.
Pros
User-friendly
Lightweight
Brightens skin
Improves appearance of wrinkles
Diminishes enlarged pores
Tightens skin
Cons
It may take a few days for the skin to heal.
Price at the time of publication: $118.99
Fall in love with your skin all over again as this microneedling pen reveals a glowing, younger, healthier, and softer skin. This high speed micro-derma pen rejuvenates and refreshes your skin. The kit comes with a charger, 24 pieces of needle cartridges, and skin serum for calming and moisturizing your skin. The tool stimulates new skin cells by boosting production of collagen. It helps reduce balding, deep acne scars, body scars, stretch marks, and fine lines, and also increases the effectiveness of other skin care products you use. Its thin surgical-grade stainless steel needles create micro-punctures on the skin and eliminate chances of bleeding, offer more stable control, and reduce any risk of damage, making it a safe tool worth counting on.
Pros
Free of color-dye
Reduces scalp balding
Minimizes cellulite and scars
Fades stretch marks and wrinkles
Safe and efficient USB charging
Cons
You can now increase the effectiveness of skin care products that you use regularly. Wondering how? This microneedling pen promotes enhanced absorption of the products into your skin. Not just that, the derma pen can help shrink pores, repair deep acne scars, fine lines, and also brighten your skin. The electric microneedling pen can be used on face and body to relieve your skin issues. The 20 pieces of cartridge with 2 types of replacements are packed individually and are equipped with 6 different speed levels that you can choose from. Its compact and lightweight design and non-slip rotary dial make it all the more user-friendly, and the cartridge can be easily adjusted according to your needs.
Pros
User-friendly
Promotes better absorption of skin care products
Reduces acne scars and signs of aging
Brightens skin tone
Compact and lightweight design
6 speed levels for different skin areas
Cons
It may not be suitable for sensitive skin.
Price at the time of publication: $69.99
If you are looking to try microneedling to restore your skin health naturally, you need to have the perfect tool for the job like this one. This microneedling kit has 6 pieces of individually-packed sterile and disposable A690 needles with 6 replacement pieces, a charger, and a USB cable. Its dial can be adjusted to suit your needs. The microneedling pen has 2 color lights— red and blue. The red light is for promoting production of collagen and improving elasticity of the skin and the blue one helps repair your skin to make it soft and smooth. This trending skin care tool enables you to gear up in a fight against signs of aging like wrinkles, fine lines, stretch marks, and scars. It is also suitable for sensitive skin as it has a soothing and calming effect on your skin.
Pros
Improves skin's elasticity
Repairs damaged skin
Prevents wrinkles and fine lines
Suitable for sensitive skin
Gives soft and supple skin
Cons
Some may find it slightly painful
Price at the time of publication: $49.55
Microneedling pens can do wonders for your skin, but if not selected properly can also prove to be not-so-useful. Let us look at the factors you need to keep in mind while picking one for your skin.
How To Choose The Best Microneedling Pen
Microneedling pens come with cartridges and they have different numbers of needles. More the cartridges, more the needles, and the more skin areas you can treat. Also, you would then need only fewer cartridge replacements. 
If you are looking to reduce fine lines, mild stretch marks, and scaring, you can use a medium needle depth, about 1 mm. And if your primary aim is to get rid of deep acne scars, surgical scars, deep wrinkles, pore size, and stretch marks, you need a needle which can penetrate deeper with at least 1.5 mm to 2.0 mm length. 
Micro-derma pens have 4-6 levels of speed settings that give you speed ranging from 5,000-12,000 rpm. Higher the number of speed settings, you can use it for a greater number of body parts with appropriate speed selection.
It is also important to consider different cartridge types. You may choose ones with nano tips so that there is not much pain during microneedling. The 12-pin cartridge can significantly help improve scars as they can offer thorough needling with more space in between the needles. The 36-pin needles go 2.5 mm in depth and it pricks very evenly, causing the skin to glow.  
Ensure you do not use non-regulated microneedling pens. When you are performing microneedling, there could be some blood as the pen micro-punctures the skin and this can cause backflow, in the back of the pen tips. Also, the depth of penetration of the needle cannot always be predicted and controlled, leading to more damage to the skin.
Now that you have understood key points to keep in mind before buying a microneedling pen, let us also look at how to use one appropriately.
How To Use A Micro Needling Pen At Home
Select a microneedling pen according to your skin issues.
Adjust the length of the needles to the right size using the non-slip adjuster on the microneedling pen. The length ranges from 0.25 mm-3 mm, and each size is based on specific skin treatment. If you are looking to treat wrinkles and fine lines, you can choose a needle that is 0.25 mm-1mm long.
Sanitize the microneedling pen to kill any lurking bacteria on the pen. You can immerse it in a bowl filled with alcohol and leave it for about 2 minutes.
Clean the part of your skin that you want to treat so that it is free of dirt, micro particles, or makeup.
If you are treating your face, it is the best to work on one section at a time so that you can ensure that you treat all parts of your face. When you are exfoliating, you can tighten the skin by pulling it with one finger. Follow it the same way for all skin areas you want to treat.
Apply slight pressure while the needles in the cartridges puncture the skin at a controlled height. Also remember, the pen should land gently on your skin as it may otherwise injure you. Ensure to lift the pen while changing the direction.
Follow the post-treatment care. Avoid washing your skin for 6-8 hours after the procedure. Your skin may turn red, but it is a normal phenomenon after microneedling.
Sanitize your microneedling pen again by immersing it in a bowl of rubbing alcohol for 2 minutes.
Why Trust StyleCraze?
The author of this article, Kirtana Divakar, is a skin care enthusiast. Her interest in the latest trends in skin care motivates her to try them out and review them for her readers. She has checked several reviews online to compile a list of the best microneedling pens for beautiful, youthful skin. These at-home devices are easy to use and help increase collagen production.
Frequently Asked Questions
Do microneedling pens really work?
Microneedling pens have proven to be effective in skin care. They offer light exfoliation of dead skin cells and reduce your wrinkles and fine lines. They can also help rejuvenate your skin by treating acne scars.
Is it safe to use microneedling pen at home?
It is considered safe for those who are in good health. However, there are some risks associated with it if you do not use a microneedling pen appropriately. It can damage your skin rather than refreshing it, and it can lead to superficial tears in the skin and ultimately resulting in scars.
How often should you use a microneedling pen?
The general rule of thumb is to use it once every 4 to 6 weeks.
How long does it take to see the results of using a microneedling pen?
You can see results in 4 to 6 weeks as it takes roughly that long for your body to create new and healthy collagen.
Can you use a microneedling pen on active acne?
It is advised to not use a microneedling pen on the areas where you have active acne or tender acne cysts as it can irritate and burn your skin. Experts suggest you wait until it gets cleared before you go for the procedure.
Are all microneedling pens the same?
No, every microneedling pen is different. They vary based on the needle's speed, type, depth, and width.
What is the difference between microneedling and DermaPen?
Microneedling is a skin rejuvenating treatment where you create minor skin injuries to signal your skin cells to heal independently. On the other hand, DermaPen is a tool with which you perform this procedure.
Can microneedling be done under eyes?
Yes, you can carefully perform microneedling under the eyes to promote collagen production and reduce early signs of aging.
Everything You Need To Know About RF Microneedling