13 Best Mid-Calf Boots For Women That Look Stunning – 2023
Walk past puddles and potholes without any worries with uniquely designed footwear.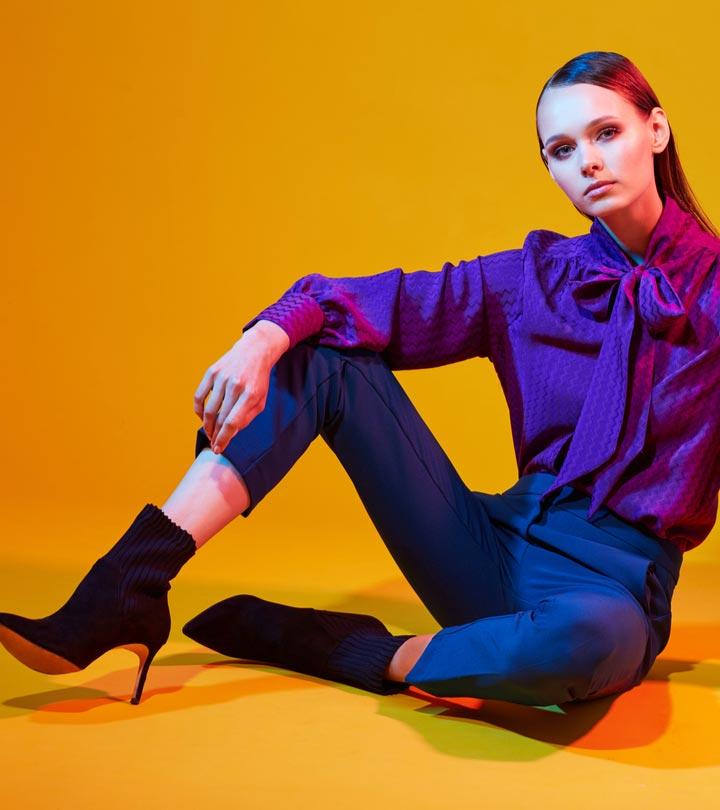 Classic knee-length boots are classics for a reason — but that doesn't mean you can't shake things up once in a while. Mid-calf booties can be refreshing in the summer months when you want to look stylish without compromising on breathability. Running till the middle of your calves, the best mid-calf boots are versatile and pair perfectly with dresses and skirts. You can even put them on with jeans with the pant legs tucked in, especially if it's a skinny cut.
From snakeskins and Western shoes to contrast heels and block prints, we've rounded up 13 of the bestselling, coolest and most comfortable mid-calf boot styles that look stunning with short and long hemlines. Mette Baillie, a couture designer, remarks, "These are great suggestions of mid-calf boots." What makes these boots unique is the fact that they can elongate your appearance, giving you legs for days. To make them pop, play around with a combination of socks that feel right for your aesthetic. Before delving into the list, let's see what mid-calf boots are all about.
What Are Mid-Calf Boots?
As the name suggests, mid-calf boots rise up to the middle of the calves and are not as long as regular knee-rise boots. These boots come in various styles and are crafted from many types of materials like leather, synthetic, suede, etc. Just like regular boots, they're designed for comfort, warmth, and elevating your wardrobe.
The 13 Best Mid-Calf Boots For Enhancing Your Winter Style
When all you need is mid-calf boots that add oomph to your look and make you feel amazingly comfortable, these are the shoes to go for. The range comes with exposed sheepskin and beautifully lined suede. Altogether, it is a pretty good blend of sheepskin and faux fur to make your every step cozy and warm. To take extra care of your feet, there exists cushioning along with a street-ready sole to ease your walks. The shaft measures around a slight calf-high from the arch, for that comfortable snug fit.
Pros
 Dyed sheepskin used
 Has cute little ribbons
 Unique design
 Premium quality
Cons
Owning a durable pair of boots that never misses out on comfort and keeps your feet warm in dipping temperatures is literally the dream. One such pair of mid-calf boots are these from the Dream Pairs. Created with a solid air-permeable material, the boots succeed in keeping the feet warm and dry in chilly winters even while enduring soiling. Embedded with a plush faux fur lining and padded faux leather insole inside, the shoes are capable of maintaining all-day comfort and hygiene. Bonus points go to the EVA rubber outsole that is meant to prevent slipping. There are tread designs created on the outsole to create better traction. These snow boots amaze you with the quality and the stunning design with the woven back panels and dual adjustable buckle straps. Based on reviews, these boots are of great value as they are comfortable, warm, and waterproof.
Pros
 Front lace-up
 Soft crochet knitted cuffs
 Seam-sealed water-resistant design
 Water and wind-resistant upper part
Cons
 Some may find the shoes a little tight
The Vionic Charm Lani Lace Up Mid-Calf Boots are lightweight lug sole lace-up boots designed to be both city chic and country cool, with patent leather, suede, tumbled leather, and a full easy side zip. It also features an ultra-comfortable podiatrist-designed footbed that provides unique three-zone comfort for all-day wearability. The heel measures approximately 1.3 inches giving you just enough lift while still feeling stable on your feet. Not only does this ankle boot look great but it's also incredibly easy to maintain as well! All you have to do is use a dry cotton cloth if needed every once in a while to wipe away dirt or dust from the surface of your boots. As per reviewers, you can pair this with your weekend outfit for a casual look.
Pros
Comfortable wear
Lightweight
Sturdy design
Provides stability
Cons
None
The Muck Boot Chore Mid Snow Boots are designed to provide superior protection from cold weather conditions. They feature a 5-mm neoprene construction that provides comfort and flexibility while offering excellent waterproofing properties. The breathable Airmesh lining wicks away humidity and perspiration while allowing air to travel throughout the boots. The exterior of this snowboot is made with high-grade extended rubber which offers extra toughness for various activities and during the messy water-related tasks. With superior shock absorption capabilities along with heat retention properties rated from subfreezing temperatures up to 65 °F/18 °C, these boots will make you feel like you're walking on clouds all throughout the winter season.
Pros
Comfortable feel
Convenient design
Stays warm
Sturdy rubber outsole
Cons
None
Designed for snowy days, these mid-calf boots have a lot of potential to make your walks effortless and cozy. With PU material, these boots are durable and tough enough to resist changing weather conditions. The outsoles are made of rubber, which keeps the risk of slipping away. With a platform heel of almost 3.14inches, these boots are a perfectly chic choice. There are zippers on the sides for easy wearing and removing. Ideal for enchanting all your casual looks, these boots add an edgy touch to long coats and down jackets. Many reviewers noted that the boots are very comfortable for people with small calves.
Pros
 Sturdy look
Comfortable fit
Convenient design
Multifunctional-use
Affordable
Cons
 Some might find the size small
The Ariat Country Western Boots are a classic choice for any fashion-forward woman. They feature 100% genuine leather construction, are imported from the finest tanneries in Europe, and are finished with an elegant stitch pattern that adds to their sophisticated look. The shaft measures approximately 11.5 inches from the arch, providing plenty of support for long days on your feet. To ensure superior stability, no-weathered look, and all-day comfort, these boots are designed with Ariat's ATS technology which promotes foot health while keeping you comfortable.
Pros
High-quality leather
Provides stability
Long-lasting build
Elegant design
Shock-absorbing
Cons
None
The Frye Veronica Short Boots are the perfect fashion investment as they are a combination of style, comfort, and durability. They are made from full-grain leather with antique metal hardware and Goodyear Welt construction that give the pair a unique two-tone finish that has been hand antiqued and polished for an authentic vintage look. The rubber lug soles provide traction in any weather condition while the 6 ¾" shaft height provides support without sacrificing style. Whether you're walking around town or riding your motorcycle on a cross-country trip, these fashionable boots will keep your feet comfortable all day long. Based on reviews, these boots are true to size.
Pros
Leather and rubber sole
Durable
Long-lasting
Waterproof
Buckle closing
Cons
None
The Dr. Martens 1460 Pascal Mid-Calf Boots are stylish, yet durable, constructed with 100% leather, and feature an iconic air-cushioned sole for superior comfort and slip resistance. The Goodyear welt ensures that your boots are heat-sealed and sewn together with a z-welt stitch so they last longer while still providing excellent abrasion protection. This trendy pair has an eye-catching versatile height which makes them perfect to pair up with any outfit, whether casual or dressy! Reviews suggest that these are not the best option if you have an arched foot.
Pros
Synthetic sole
Durable build
Air-cushioned sole
Good slip resistance
Cons
None
The Franco Sarto Stevie Mid Calf Boots feature a sleek leather or suede upper with a side zip for easy on/off, seaming details, and a square toe for a classic look that will never go out of style. The shaft measures approximately calf high from the arch with an opening measuring 9.45 inches around. It has a 3.54-inch stacked block heel to give you just enough lift while still being comfortable all day long. Wearing this pair of stylish and functional boots will give a runway-inspired look and is sure to get you tons of compliments.
Pros
Square toe design
Sturdy rubber outsole
Comfortable feel
Convenient design
Cons
None
The Joules Rain Boots are crafted from hard-wearing natural rubber with adjustable side strap accents and buckle details to ensure the boots fit perfectly. The water-dispersing outsole provides a better grip so you can stay safe in wet weather. They are waterproof and have a hand-drawn print. With a shaft measuring approximately calf high from the arch and a heel measuring approximately 1″ inch, your feet will stay dry while still feeling cozy all day long. Users who have tested these boosts suggest that they are sturdy, comfortable, and of great value.
Pros
Hand-drawn print
Waterproof
Natural rubber
Water dispersing outsole
Cons
​​
When looking for solid, durable yet smart mid-calf boots, these shoes rock the picture. The upper part of these boots is crafted with leather, whereas the bottom part is made of a man-made synthetic sole. There are breathable linings attached inside the shoes that enhance comfort and provide a soft feel. For that extra comfort, there are padded insoles used that enable you to stay active all day long. The lace-up detailing lends an amazing modern look that allows you to step out in style.
Pros
 Lightweight
 Inside zipper
 Grooved outsole
 Rounded toe shape
Cons
 Some may find the heel too high
The Aerosoles Cinnamon Mid Calf Boots feature rubber composition soles with a unique diamond pattern designed to disperse friction away from the foot. The shoes are crafted in an ultra-flexible way, using STITCH 'N TURN technology, so there's no need for breaking in. The memory foam insoles provide cushioning and comfort while the Heel Rest Technology ensures maximum support. The faux leather upper gives off an effortlessly chic vibe, finished off with printed stacked heel detailing. Whether it is a party or a casual day out, these stunning mid-calf boots will keep your needs sorted!
Pros
Faux leather
Durable build
Lightweight
Heel Rest Technology
Zipper closure
Cons
None
The Columbia Minx Mid III Snow Boots, with their waterproof, breathable membrane construction and Omni-HEAT thermal reflective lining, will keep your feet warm and dry all day long. Not only is it functional but it also looks great with its quilted ankle support for extra flex. These boots have a unique design featuring a faux fur collar and tongue lining, to keep your toes warm effortlessly. In addition, the 200g insulation ensures maximum warmth on even the chilliest days, while its removable contoured PU footbed provides superior cushioning so you can wear them for hours without feeling uncomfortable or tired feet. This one is surely under the category of a wardrobe staple!
Pros
Quilted build
High-tech insulation
Stays warm
Sturdy rubber outsole
Cons
None
How To Choose The Right Mid-Calf Boots
Mid-calf boots must be chosen as per one's own comfort. Choosing calves that fit comfortably, especially around the calves are probably the best. Avoid boots that are too tight around the ankles as they can be painful.
Choose mid-calf boots that have zippers, as zippers can lead to easy pull on and pull off. Zippers also help in better adjustability, which enhances the level of comfort.
As far as material is concerned, look for material as per your requirement. Leather needs slight care and so cannot be used in extreme temperatures. For seasons like winter, choose boots with durable synthetic material which is waterproof. The inner linings must be of fleece to keep the feet warm.
How To Style Your Mid-Calf Boots
Wearing mid-calf boots is as simple as wearing other shoes. You can team them up with both summer and winter outfits. Such boots also look good with skinny jeans, jeggings, dresses, and skirts. One can create monochrome looks, try for neutral colors, or contrast looks with mid-calf boots. Use a little heel on the boot to look taller. Also, one can opt for certain embellishments for a Western-inspired look!
Surely, after knowing about this mid-calf boot collection, you are all set to give mid-calf boots a try. After all, a celebrity-approved look with just a pair of jeans, a shirt, and boots is something worth trying. Not just this, there are many more styles that one can adopt by inculcating these boots in your wardrobe. Whether you are planning to go on a camping trip, trekking hike, or casual outing, getting your hands on the best mid-calf boots will be really fruitful. From uplifting your looks to enhancing comfort, these boots have the power to do it all. Just grab one for yourself and be ready to be a showstopper.
Frequently Asked Questions
Do mid-calf boots make you look shorter?
Mid-calf boots might make you look shorter if you have a short height.
How do you style mid-calf boots?
You can style mid-calf boots with skinny jeans, skirts, or even dresses. When using slightly heeled boots, you can elongate your look. You can also pair such shoes with long coats and jackets.
Can I pair mid-calf boots with skirts?
Yes, you can pair mid-calf boots with skirts.
What is a mid-calf boot?
Mid-calf boots are boots that come halfway between your ankle and knee.
Can you wear mid-calf boots in summer?
Yes, you can wear mid-calf boots in summer. Even though the style is more common during fall but you can style them in many ways for summer. Pair them with mini-skirts or shorts for a chic look.
Can you wear mid-calf boots with a dress?
Yes, there are plenty of ways in which you can style mid-calf boots with a dress. A pair of the TOP Moda Data-1 shoes will go well with your casual outfit or you can try the Naturallizer Callie Mid Shaft Calf Boots if you're going out for a night out.