10 Best Migraine Hats To Save You From Debilitating Migraine Pain
Say No to painful bouts of headaches while coping with migraines with these amazing headwears.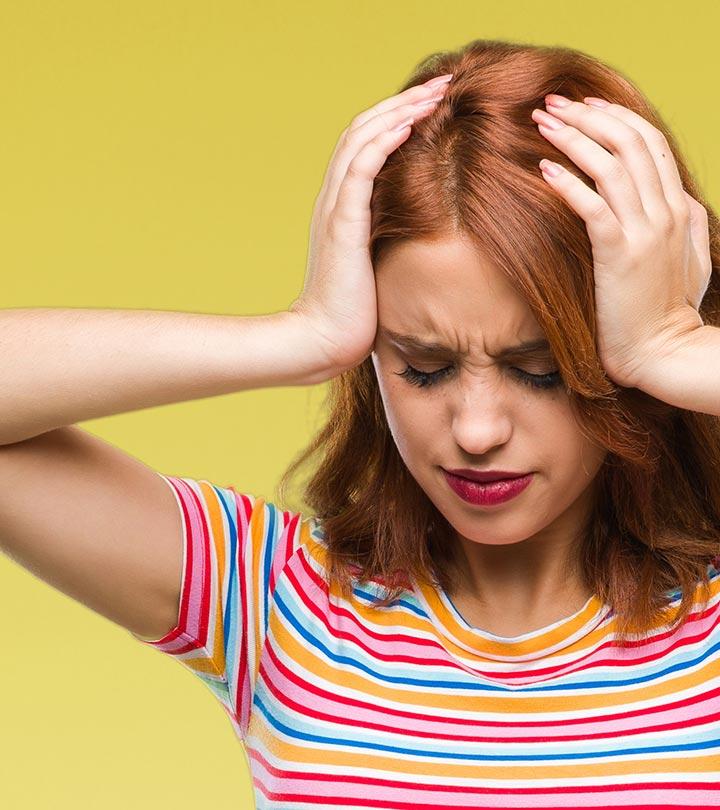 With the best migraine hats, you can stop yourself from running to grab ice to ease the pain because these hats work just wonders for those who have excruciating migraine pain. Yes, migraines are way more than just headaches. Although some people apply frozen gel packs over their heads and some others fashion the cold compress by putting ice into plastic bags, they are cumbersome to try, especially when the brain is flogged. And the worst is, if the plastic bursts, you will end up waking up to a wet bed. Moreover, the icing restricts your mobility too. But with migraine hats, you can chill as they are extremely therapeutic. Therefore, we have created a list of the 10 most amazing migraine hats that you must try. What are you waiting for then? Without any further delay, learn how these migraine hats work and pick the one your heart desires.
How Does A Migraine Hat Work?
A migraine hat or a migraine band is a handsfree and soft adjustable band that wraps around your head. The ice gel pack is placed inside the band – which is also long enough to cover your head. It is adjustable, which means you can loosen or tighten it to target the pressure points. The cold and compressing therapy provided by the migraine caps has a numbing effect that helps reduce pain sensation.
As already discussed, the hassles with DIY ice hats are many. Another major problem with the DIY ice packs is that they obstruct fingertip compression. Migraine hats claim to solve this issue by allowing you to adjust the level of compression. If you have responded well to cold or compression therapy in the past, you have reasonably good reasons to try the migraine hat. We resort to a lot of home remedies to get rid of that throbbing or pulsing pain.
Here are the 10 best migraine hats that can provide relief from the pain.
10 Best Migraine Hats
The original headache hat, also known as the headache halo, is made up of comfy fabric like 92% cotton and 8% lycra. It gives quick and long-lasting cooling therapy for migraine headaches. It also works well for head and neck stress. This headache hat is made of soft material, such as cotton, spandex, and microfleece, and is convenient to wear for long hours (including during travel). The ice cubes are coated in thin plastic layers to provide you lasting relief without having the ice melt on you. This hat has a flexible design; you can move the ice cubes within the headband and target all the pain points on your head and body.
Material: Cotton and lycra | Weight: 1.05 lb | Washable: Yes | Sizes: Standard, X-Large
Pros
Made up of soft and comfortable material
Provides instant and long-lasting cooling therapy
Flexible design
Can be used as an eye cover mask, neck pillow, etc.
Cons
None

Price at the time of publication: $71.99
The headache relief ice pack hat from World-Bio is a flexible gel-ice head-wrap. This cold hat is made up of soft, flexible material, and you can wear it comfortably for long hours. The hat has a clever design and perfectly contours your head to look like a real wrap or hat. It stays secure in place with no need to readjust repeatedly. This migraine hat is leakproof and latex-free. The gel packs remain mouldable even when frozen. This helps target the pain points and offers targeted relief. Watch an honest review of this product here.
Material: Cotton | Weight: 2.47 lb | Washable: Yes | Sizes: One-size
Pros
Made of soft and flexible material
Convenient size
Reusable (both hot and cold)
Long-lasting gel
Moldable
Quality construction
Latex-free
FDA-approved
Cons
None

Price at the time of publication: $27.8
This ice head wrap is made of soft and flexible material like cotton, spandex, and microfleece – making it comfortable to wear for long hours and even while traveling. The individually wrapped ice cubes move easily and can be adjusted to target pain points and provide an instant cooling sensation. This lightweight band can be worn in multiple ways. It not only helps with migraine pain and headaches but also provides relief from head and neck tension and body pains.
Material: Cotton and spandex | Weight: 1.32 lb | Washable: Yes | Sizes: One-size
Pros
Soothing compression
Long-lasting cooling therapy
Flexible design
Soft and comfortable material
Cons
None

Price at the time of publication: $29.57
The Arctic Flex migraine head wrap comes with a soft fabric that makes it comfortable to wear. It has two snap buttons to prevent the ice from shifting. This ice pack hat has got a stretchable cover that has a maximum head circumference of 24". This wrap also includes an extender strap that can extend up to 30" in circumference. It is leakproof and latex-free. This migraine hat comes with a 60-day unconditional guarantee that helps you make a confident purchase. Check out this honest review about the product for further details.
Material: Nylon, polyester, and spandex | Weight: 2.31 lb | Washable: Yes | Sizes: One-size
Pros
Targeted migraine relief
Customizable for hot or cold therapy
Adjustable fit with an extender strap
Machine washable cover
60-day guarantee
Cons
None
Price at the time of publication: $13.99
The Icekap Migraine Cap is the first of its kind. It is supported by the National Children's Cancer Society and recommended by MDs. What makes it unique is the soft microfleece and the adjustable occipital tension band. It allows your head to melt into the fabric and also creates the correct compression. The Icekap Migraine cap has 5 therapy-grade non-toxic gel ice packs. These gel packs stay colder for longer and remain soft when frozen. Icekap migraine cap provides full coverage to the occipital area and the neck. It also covers the crown, temporal, parietal, and frontal regions. Here's an expert review of the product.
Material: Nylon, polyester, and spandex | Weight: 2.31 lb | Washable: Yes | Sizes: S, M, L, XL
Pros
Adjustable occipital tension band
Comes with non-toxic gel packs that last up to 3 hours
Remains soft when frozen
Can be heated or cooled
Customizable
Cons
None
Price at the time of publication: $99
This migraine relief cap is made of a PVC and nylon exterior with a soft lycra layer. The inside of the cap is made of a mixture of water, glycerol, SAP, and Korean clay to provide long-lasting coolness. It remains soft and flexible even at low temperatures. It creates a calm, cool, and dark environment. The magic gel migraine relief cap is drug-free and recommended by neurologists.
Material: Nylon and PVC | Weight: 1.26 lb | Washable: Yes | Sizes: One-size
Pros
Comfortable fit
Drug-free
Provides 35 minutes of cold relief
Reusable up to 300 cycles
Comes with multiple fitting options
Leakproof
Cons
Price at the time of publication: $19.99
Fomi's Migraine hat is made of soft, fleecy material and is lightweight. This ice hat comes with three removable and reusable gel packs – two ice packs to cover each side of the head and one for the front, thereby giving you full coverage. This wearable ice hat gives an instant cooling sensation and provides soothing relief by targeting all the pain points in your head. It reaches deep into the tissue to diminish the pain and stays in place, thereby creating a hands-free experience. You can put either the entire migraine hat or just the gel packs alone in the refrigerator or freezer to achieve the desired temperature for cooling. It is made up of non-toxic medical-grade liquid gel. It comes in a PVC covering and is latex-free.
Material: Fleece | Weight: 0.67 lb | Washable: Yes | Sizes: One-size
Pros
Provides an adjustable and secure fit
Helps with pain management
Comfortable
Machine washable material
Reusable
Safe to use
Cons
Ice packs become hard when frozen.
Price at the time of publication: $22.5
Aroma Seasons migraine hat comes in a V-shape design. It covers your entire face – the skin around your face – except for the nose. It comes packed with 9 gel packs individually in 9 separate pockets, and they can be adjusted to target the pain points. This provides optimal comfort. You get one extra gel pack free with this cold pack. This migraine hat helps relieve not only migraine and headaches but also facial swelling, aches, or strains. It is designed to cover the entire head and leave no pressure on the nose.
Material: Rayon, nylon, and spandex | Weight: 0.65 lb | Washable: Yes | Sizes: One-size
Pros
Lightweight
Flexible fabric
Immediate pain relief from migraine and headache
Comes with polar fleece fabric on one side
Designed with velcro closure
Can be worn on both sides
Cons
It doesn't stay cold for long.
This lightweight cap is designed to cover your sinus, temples, eyes, and neck area. It stimulates acupressure points around the sensitive eyes and neck to reduce headaches. The cap is suitable for people with migraine, headache, and face swelling. It can be used for both hot and cold therapy. This is an all-natural product made from 100% natural herbs and flax seeds to reduce migraine pain.
Material: Polyester | Weight: 1.54 lb | Washable: Yes | Sizes: One-size
Pros
Adjustable design
All-natural product
Covers the eyes and supports the neck
Cons
Extremely lightweight
Cooling doesn't last long.
Price at the time of publication: $33.99
The AllSett Health Form Fitting Migraine Relief Ice Head Wrap is a specialized headwear designed to relieve headaches and migraines. Its unique design targets congestion, tension, and stress, providing effective relief from these discomforts. This head wrap comes with reusable gel packs that can be either heated or chilled, depending on the type of therapy needed. The gel packs are easily removable and can be stored in the freezer or microwave for cold or hot therapy, respectively. With a velcro strap, this head wrap offers a customizable fit, ensuring both comfort and security. The head wrap also helps to reduce eye puffiness and dark circles. It is lightweight and compact, making it easy to carry around wherever you go.
Material: Spandex | Weight: 1.37 lb | Washable: Yes | Sizes: One-size
Pros
Full 360-degree coverage
Provides tension and stress relief
Microwavable for hot therapy
Built-in eye mask
Travel-friendly
Multi-layer design
Cons
None
Price at the time of publication: $17.95
There are different types of migraine hats available, so it is important to choose one that will work best for you. Here are some things to consider when choosing a migraine hat.
What To Consider When Purchasing A Migraine Hat
Type of fabric: First, consider the type of fabric the hat is made from. Some fabrics can actually trigger migraines in some people. If you are sensitive to certain fabrics, make sure to choose a hat made from a breathable and hypoallergenic material. Choosing breathable material will also keep your head from overheating.
Style: There are many different styles of migraine hats available. Some have straps that go around your head, while others tie in the back. Choose a style that you will be comfortable wearing for long periods of time. If you typically wear your hair down, a beanie or visor may be more comfortable than a baseball cap. If you often find yourself outdoors in bright sunlight, look for a hat with a wide brim to help block out the light and help with sun protection.
Fit: You want it to be snug but not too tight. If it is too loose, it won't do its job of blocking out light and providing gentle pressure on your head. If the hat is too tight, it could actually make your headache worse. Choose a hat that has adjustable straps. This way, you can loosen or tighten the hat as needed to find the perfect fit for you.
If you're considering adding a migraine hat to your anti-migraine arsenal, please keep in mind a few points before you click the buy button.
Points To Consider While Shopping For A Migraine Hat
Choose a hat that targets your pain areas.
Check the material of the hat. For example, if the hat is made of spandex (which is a lightweight synthetic fiber), the pressure applied will be less.
Go for latex-free ice pack head wraps if your body's immune system overreacts to proteins found in natural rubber latex (as it can cause latex allergy).
Choose a hat that will contour the circumference of your head and will stay sturdy.
The cold hat should be able to provide you instant and long-lasting cooling.
The hat should be drug-free.
Why Trust StyleCraze?
Aditi Naskar has a diploma in health and wellness. She has the expertise to review health and fitness-related devices and products. She conducted in-depth research to select the best migraine hats available on the market. She checked user feedback of the products and considered the material, size, quality, safety, and efficacy while shortlisting the hats.
Frequently Asked Questions
Can you sleep with a migraine hat on?
Yes, you can sleep in a migraine hat as it is comfortable and relaxing.
Do hats help with migraines at the office?
Yes, these hats can be relaxing and help with migraine headaches anywhere.
How long does a migraine hat stay cold?
Some migraine hats stay cold for two hours, and some stay cool for five hours and more.
Do beanies help with migraines?
Migraine beanies with a design for ice packs can help with migraines.
Is heat or cold better for migraine?
Cold is a better and more preferred option to deal with migraines. It has a numbing effect that can dull the pain.
Recommended Articles