11 Best Mild Shampoos For Hair Fall Available In India
Say no to hair loss and promote healthy, luscious locks with natural cleansers.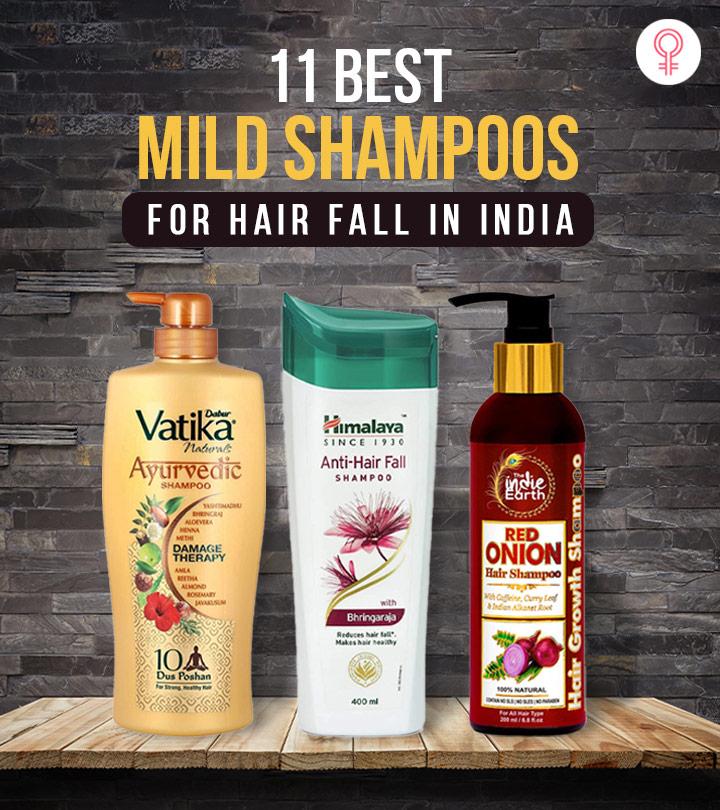 Hair fall is one of the biggest issues for Indian men and women. The rise in pollution, chemicals, our fast-paced lifestyle – all play their part in further aggravating this problem. There are plenty of shampoos in the market claiming to treat hair fall, but the chemicals in these strong formulas can actually harm your hair health in the long term. A mild shampoo is made of botanical and natural ingredients that treat various hair issues without causing any harm. Moreover, they also add health and luster to dull hair. Scroll down to pick from the list of the 11 best mild shampoos for hair fall in India.
11 Best Mild Shampoos For Hair Fall
This shampoo from Wow Skin Science is infused with the goodness of red onion seed oil, black seed oil, and Pro-Vitamin B5. The shampoo is rich in antioxidants, vitamin E, and nutrients that smoothen cuticles and improves the quality of hair. The anti-inflammatory properties of black seed oil reduce hair fall, dandruff, dryness and nourishes the scalp with its fatty acids. The onion seed oil unclogs roots and strengthens strands with its sulfur-rich compounds, flavonoids, and a range of vitamins. It boosts blood circulation to the roots, cleans scalp build-up, and makes your hair lustrous and healthy. Pro-vitamin B5 boosts hydration and makes hair softer, while the sweet almond oil keeps your mane conditioned.
Key Ingredients: Red onion seed oil extract, Black seed oil, Pro-vitamin B5, Sweet almond oil
Pros
Paraben-free
Silicone-free
PEG-free
Sulfate-free
Color-free
Cruelty-free
Gluten-free
Vegan
Cons
Himalaya's Anti-Hair Fall Shampoo is a 2-in-1 formula that nourishes hair shafts and reduces hair fall. The formula contains herbs like butea frondosa and bhringaraja which stimulate the hair follicles to promote hair growth. They strengthen the roots and improve hair health. The shampoo also nourishes the hair and minimizes damage and breakage. It leaves the hair shiny, soft, and lustrous.
Key Ingredients: Bhringraj, Butea Frondosa
Pros
Ayurvedic formula
Paraben-free
Value for money
Cons
Mamaearth Onion Hair Fall Shampoo is specially formulated for hair fall control and hair growth. Onion oil, rich in sulfur, potassium, and antioxidants, increases blood circulation, thereby stimulating the scalp and increasing hair growth. Plant Keratin in this formula is made of 18 amino acids which make hair stronger, while adding shine and smoothness. D-Panthenol or vitamin B5 coats the hair shaft with a moisturizing layer, thus making it shiny. Vitamin E promotes a healthy scalp and protects hair from any damage.
Key Ingredients: Onion seed oil, Plant keratin, D-panthenol, Vitamin E
Pros
Natural ingredients
Safe for chemically-treated hair
Silicone-free
Paraben-free
Non-toxic
Sulfate-free
Mineral oil-free
Dye-free
Cons
The Biotique Protein Shampoo is an intensive hair treatment infused with bio kelp, protein, and neem, and bhringraj. Kelp, a type of seaweed, is rich in vitamins, minerals, and nutrients that promote hair growth. Natural proteins strengthen the hair shafts. Bhringaraj prevents the hair from premature greying and minimizes hair fall, while neem cleanses the scalp, reduces dandruff, and promotes hair growth. Peppermint oil and mint leaf extract gently cleanse the hair and stimulate the scalp for fresh hair growth and a healthier shine.
Key Ingredients: Neem, Tesu, Daru haldi, Bhringraj, Reetha, Kelp, Himalayan water
Pros
Ayurvedic formula
100% botanical extracts
Preservative-free
Cruelty-free
Cons
Unpleasant smell
Makes hair dry
If you are looking for an ayurvedic shampoo for hair fall, Khadi Mauri Herbal Shampoo is an ideal pick. With its effective natural formula, it helps you to achieve longer, bouncier, and healthier hair. It is infused with the goodness of amla and bhringraj that strengthen the roots to promote hair growth. Amla also has anti-inflammatory properties that reduce dryness and scalp itching. Bhringraj reduces split ends, thickens the hair texture, and restores its natural color. It also has reetha, a gentle hair cleanser, neem oil, that keeps all scalp infections at bay, and aloe vera, a natural moisturizer. The shampoo also protects your hair from sun damage.
Key Ingredients: Amla, Bhringraj, Reetha, Neem oil
Pros
Chemical-free
Ayurvedic formula
Suitable for all hair types
Unisex product
Cons
Dabur Vatika brings you an ayurvedic formula that cleanses your hair and protects it from damage. It is infused with the properties of 10 natural ingredients, yashtimadhu, amla, bhringraj, henna, aloe vera, methi, reetha, rosemary, almond, and javakusum. These work in tandem to cure all your hair problems to make your hair strong and healthy. Bhringraj helps to control hair loss, while yashtimadhu strengthens the shafts. Amla nourishes, while aloe vera gives it a smooth texture. Almond provides your hair with nutrition to make them shine with health.
Key Ingredients: Henna, Reetha, Aloe vera, Amla, Bhringaraj, Yashtimadhu
Pros
Ayurvedic formula
No added parabens
Ideal for thinning hair
Suitable for daily use
Cons
Give your damaged hair a natural boost with the Himalayan Organics Bhringraj shampoo. The shampoo works as a tonic to treat your damaged hair and scalp and prevent hair loss. It provides the necessary nourishment to your mane with ingredients like bhringraj, amla, and shikakai. Together, they repair the damaged locks while providing nourishment from deep within to make your hair stronger, healthy, and glossy. It also prevents dandruff, promotes new growth, rejuvenates hair follicles, and increases the natural elasticity of hair to reduce breakage.
Key Ingredients: Bhringraj, Henna, Reetha, Shikakai, Amla
Pros
Sulfate-free
Paraben-free
Preservative-free
Artificial fragrance-free
Safe for color-treated hair
Organic
Cons
mCaffeine Naked & Raw Coffee Shampoo uses the beneficial properties of coffee to control hair fall. Coffee extracts deep cleanse the scalp, removing build-up and accumulated dead cells. Protein and argan oil provide deep nourishment to the hair shafts making them smooth and shiny. Caffeine is a superfood for the hair and controls hair loss. The energizing shampoo keeps the hair squeaky clean, moisturized, and healthy.
Key Ingredients: Coffee extract, Protein, Argan oil, and Caffeine
Pros
Easy to wash off
Silicone-free
Sulfate-free
Ammonia-free
Mineral oil-free
Alcohol-free
Paraben-free
Cons
Nor suitable for dry hair
The Blue Nectar Hair Fall Control Shampoo is infused with natural ingredients like amla, mulethi, and honey. Honey retains moisture in the hair, thereby reducing dry and split ends. Amla and mulethi protect and strengthen the follicles for new hair growth and keep the scalp free of infections. The formula also contains other ayurvedic herbs such as brahmi, bhringraj, henna, and gudhal, which boost the natural ability of the scalp to strengthen hair roots and promote hair growth.
Key Ingredients: Amla, Honey, Mulethi, Bhringraj
Pros
Sulfate-free
Paraben-free
Suitable for color-treated hair
Pleasant smell
Value for money
Cons
None
Bella Vita Organic Shampoo is a new age ayurveda product to prevent hair loss while also keeping a check on dandruff and promoting hair growth. Its formulation of coffee, onion deed oil, and apple cider vinegar unclogs hair roots, prevents scalp infections, and revitalizes the scalp for healthy, new hair. Moreover, it has a blend of potent hair-friendly herbs such as amla, bhringraj, brahmi, ashwagandha, and reetha. The shampoo maintains the pH balance of your scalp to keep your hair frizz-free and manageable.
Key Ingredients: Coffee, Apple cider vinegar, Onion extract
Pros
Sulphate-free
Paraben-free
Silicone-free
Frizz control
Travel-friendly packaging
Cons
The Indie Earth Red Onion Shampoo promotes hair growth and minimizes hair fall. Caffeine, curry leaf, and Indian alkanet root control hair breakage while reducing split ends. Onion is a natural source of quercetin which is a powerful antioxidant that protects hair health. It is also rich in, sulfur, which stimulates blood flow and encourages healthy hair growth. Curry leaf is a rich source of proteins and beta-carotene which prevents hair thinning and reduces hair loss. Indian alkanet root is a natural hair conditioner that keeps the hair hydrated and arrests hair fall.
Key Ingredients: Red onion, Caffeine, Curry leaf, and Indian alkanet root
Pros
Paraben-free
Sulphate-free
100% natural
Cruelty-free
Cons
Dry hair may become unmanageable
Mild shampoos have a host of benefits for your hair and scalp. Scroll down to know them.
Benefits Of Mild Shampoo For Hair Fall
1. No Surfactants: A mild shampoo doesn't contain surfactants and detergents like sulfates, parabens, etc. These are strong cleansing agents that are used in stronger shampoos to get rid of dirt, impurities, oil, residue and pollution from the hair. These agents, however, also strip your hair of its natural oils, making them weak and prone to breakage.
2. Conditioners: Mild shampoos have, in their formula, conditioning agents like guar gum, glucoside, polyquateim, etc. These are mild and do not irritate the scalp.
3. Natural Ingredients: Mild shampoos work on the power of elements like hydrolyzed silk, honey, amino acids, glycerin, keratin, natural essential oils, plant extracts, vitamins and provitamins. Moreover, they also have amla, bhringraj, brahmi, shikakai, coffee, and other such natural ingredients.
4. Properties Of The Ingredients: The natural ingredients of a mild shampoo do not irritate the scalp. They offer gentle cleansing without drying out the skin. They strengthen the roots, stimulate the follicles to promote new hair growth, and nourish the hair shafts for a healthier look.
Now that you are aware of the benefits of mild shampoo, consider the following points before buying one.
How To Choose The Best Mild Shampoo For Hair Fall
1. Know your hair type: There are various hair types like oily, dry, and sensitive. Understand your hair type and pick a shampoo accordingly. A shampoo meant for oily hair may cause excessive dryness if used on a dry scalp.
2. Consider all your hair issues: Although hair fall may be your main concern, look for other benefits of the shampoo like nourishment, moisturization, conditioning, etc. These could help with any other related issues you may have. For example, if you have curly, frizzy hair, look for a shampoo that will tame your locks along with preventing hair fall.
3. Not too much lather: Lathering shampoos contain sulfates which may harm the hair and scalp in the long run. A less lathering shampoo will cause harm.
4. Ingredients: A mild shampoo should usually contain natural ingredients and botanical extracts that repair your hair the natural way. This will keep your hair healthy, protected, and safe.
Mild shampoos are a natural way to make your hair healthy and lustrous. The above list covers the best mild shampoos for hair fall in the Indian market. Pick one that you like and experience voluminous hair over time.

Recommended Articles