15 Best Milk Makeup Products Of 2023, According To Reviews
For healthy skin and the gorgeous makeup looks of your dreams, you must try out the right makeup product brands.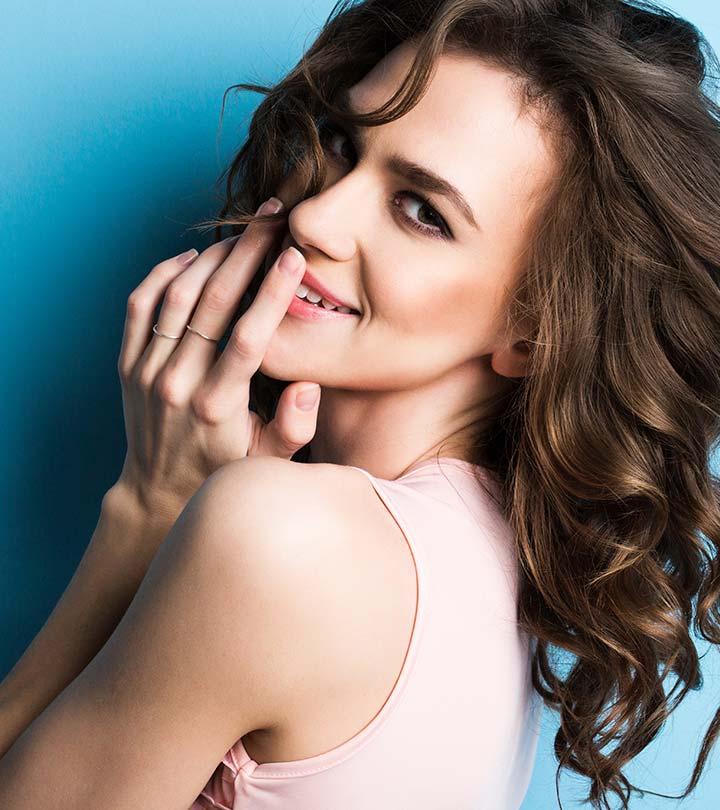 Makeup enthusiasts swear by the range of cosmetics launched by the popular Milk Studios – The Milk Makeup. This fun, versatile, and quirky makeup brand has a fan following of its own. That's why we shall introduce you to the best Milk Makeup products. The brand doesn't use synthetic ingredients and thus, commits to being clean and skin-friendly with all its products.
The brand is vegan and cruelty-free. Most of their products contain fruit butter, natural oils, and vegetable extracts. From eyes to lips to hair, The Milk Makeup has products for one and all. If a brand has everything to offer to take care of you from head to toe, then would you not love it? We have listed the 15 best mild makeup products for you to try. Have a look!
15 Best Milk Makeup Of 2023 For Sensitive Skin
Width, length, curl, and ever-lasting volume; that's what this Kush Mascara has to offer. The vegan formula of pitch black, clump-free liquid made of cannabis seed oil gives it a very creamy texture making for an easy application. The heart-shaped brush's criss-cross bristles lift the lashes adding intensity to the look. And the best part is the skin-friendly, healthy ingredients that continue to hydrate the lashes and roots, leaving it looking voluminous even after removal.
Pros
Heart-shaped fiber brush
Criss-cross bristles to add thickness to lashes
Vegan
Cruelty-free
Paraben-free
Gluten and Talc-free
Cons
Price at the time of publication: $10.96
Now say goodbye to wrinkles, fine lines, and blemishes with Milk Makeup Blur Stick's matte finish primer. It's proven to reduce pores and fine lines up to 68% through the blurring microsphere technology. The primer's natural ingredients like jasmine oil and more are best for skin hydration. Suited for every skin tone, the milk makeup stick is free of silicones and does not clog pores. Apply it as a base for some milk makeup setup or simply as a blender before leaving home. Add it to your skincare routine and low away throughout.
Pros
Oil-free primer
Free of gluten and dimethicone
Cruelty-free
Vegan
Free of all the synthetic material
Non-comedogenic
Cons
Price at the time of publication: $32.99
Formulated with hemp-derived cannabis seed extracts, the hydro grip primer is as hydrating on the skin as it can get. The smooth application of any makeup over the primer is due to the skin turning plump and seamless. Aloe vera, vitamin B and hyaluronic acid soothe and calm the skin, while blue agave forms a layer to lock makeup. And the packaging is a plus as gel-like texture that comes out of the pump bottle is the easiest to apply.
Pros
Made of cannabis seed, blue agave, prickly pear extracts, and aloe water
Includes hyaluronic acid and vitamin B
Free of all the synthetics and sulfates
Silicone-free
Oil-free
An Allure Best Beauty Award winner
Cons
Price at the time of publication: $36.0
A set of two products, Cooling Water and Sunshine Oil is the perfect recipe for hydrated glowing skin. The Cooling Water has three rituals— de-puffing, soothing, and moistening. And Sunshine Oil nourishes the skin leaving a subtle finish. Both the brightening serums are formulated with natural ingredients like energizing caffeine, fruit seed, and peel oils that seep into the skin making it look fresh and healthy. With the portable packaging, the hydrating sticks can be carried along wherever, whenever.
Pros
Formulated with natural fruit oils
Easy click pen
Gluten and talc-free
Cruelty-free
Vegan
Cons
Price at the time of publication: $34.95
For that creamy cheek and lips at a single stroke find yourself the Milk Makeup's Lip and Cheek Color. This 2-in-1 stick is specifically designed for those who don't want to spend a lot of time doing makeup. Ingredients like mango butter and peach nectar moisturize the skin leaving an even finish. And the dusky rose shade is a color that deserves to be in every girl's kitty. Just roll up the creamy candle of the Milk Makeup Lip + Cheek Color and glide it over your lips and cheeks, spread it evenly with the help of your fingertips to unleash a pop of color!
Pros
2-in-1 stick
Easy to apply
Easily blendable
Long-lasting
Soy and Talc-free
Gluten-free
Vegan and cruelty-free
Cons
Price at the time of publication: $27.95
Milk Makeup MVPs Set is a one-stop solution for all the makeup lovers. It comes with a cooling water stick, a mini-hydro grip primer, a highlighter, a lip and cheek color, and a kush mascara. This product applies like second skin— blends evenly, reducing all the puffiness and imperfections. The products are made of skin-sensitive, natural ingredients keeping all safety standards in mind. The bag that the products come in is shiny, sturdy, and perfect for it away. Get the entire collection of Milk brand makeup soon to enjoy some much-needed self-pampering.
Pros
An all-round collection
Free from all the synthetic ingredients
Cruelty-free
Vegan
Cons
Price at the time of publication: $49.99
All set to glow like a bright star? Milk Makeup brings to you the Mini Highlighter from its highlighter collection that is a blendable micro-shimmer infused with natural oils. The mango butter and avocado infused milk makeup's cream-textured product spreads evenly on the focal points of your face giving it a hint of drama. This is a good highlighter for under eye circles and has a special milk melt technology that gets absorbed by the skin as soon as it comes in contact with body heat.
Pros
A blendable micro-shimmer
Made with natural oils
Skin-sensitive ingredients like mango butter and avocado
Formulated without parabens
Sulfates and phthalates-free
Cons
Has a drying effect
May not be suitable for people sensitive to citrus or coconut oil.
Price at the time of publication: $21.0
This one is for a radiant and healthy touch on the skin making it glow like a fresh daisy. The milk makeup bronzer offers a matte finish that blends into the skin seamlessly. Mango butter and apricot oil moisten the face with its smooth texture, while the color blends and builds like a contour. The stick format packaging is user-friendly and allows for easy swiping and sculpting over the skin.
Pros
Easy to apply
Good for sensitive skin
Includes hydrating ingredients like mango butter and avocado oil
Paraben and gluten-free
Cruelty-free
Vegan
Cons
Doesn't suit dark skin tones
Price at the time of publication: $32.75
Do not fret over dry and patchy skin anymore as Milk Makeup Hydrating Oil Stick is the right amount of moisture and glow. The product is free from paraben, sulfate, and other silicones, which makes it suit all skin types. It is, in fact, designed to work on every skin type as all normal, dry, oily, or combination skin types need some amount of hydration after all. The stick oil reduces dullness and patchiness and the oil massage lets the skin breathe by opening up the pores. What's best, face and body oil in a stick format is easy to apply as you can target specific areas easily and mess-free.
Pros
Suits all skin types
Reduces dryness
Evens out dullness and uneven texture
Formulated with organic ingredients
Paraben, sulfate, and fragrance-free
Natural oil-infused
Travel-friendly
Cons
Price at the time of publication: $39.83
If you are looking for a multi-dimensional look, this Holographic Lip Gloss is the perfect choice for shiny, outer-galactic lips. The meteorite powder and twilight pearl used in this milk makeup lip pigment, leaves an iridescent sheen upon your lips on application. And what else is in it? The ingredient list is a mix of mango butter, coconut oil, and all the other good stuff to suit the skin. The application is as easy as a walk in the park as the packaging comes with a wand that helps with flawless application.
Pros
Made of avocado oil, coconut oil, and mango butter
Leaves a holographic tint
Gluten-free
Soy and talc-free
Cruelty-free
Vegan
Cons
Looks very light on fair skin tones
Price at the time of publication: $20.25
Lock your makeup for hours with the help of this out-of-the-world setting spray. This product is a revelation as it minimizes the appearance of pores and fine lines over the makeup owing to the blurring microsphere technology. This is the very first setting spray that has been developed with so much love and care keeping the customer's comforts in mind. The blur spray comes in a pump bottle so that the application is as easy as possible. Get hold of the product soon as the final touch up must only be with Milk Makeup's Blur Spray.
Pros
Made of organic ingredients like jasmine oil
Setting spray with a matte finish
Soy and gluten-free
Talc-free
Cruelty-free
Vegan
Cons
Price at the time of publication: $30.0
There are products for lips, eyelids, eyelashes, and skin, and then there are products for the under-eye. Cooling Water Stick is a one-of-a-kind water stick that is used all over the eye area to cool it down and invigorate. Natural sea-minerals and caffeine leave a cooling effect over the skin, makes it look less puffy, and reduces redness and dullness. Swirl the stick around the eye area at any time of the day to increase blood circulation around that area. You can use it not just under your eyes but all around the face and neck if you like.
Pros
Suits all skin types
Made of caffeine and seawater
De-puffs the under-eye
Paraben, gluten, and talc-free
Cruelty-free
Vegan
Cons
Price at the time of publication: $26.0
This one is a soothing balm made of hemp-derived cannabis seed oil for hydrated lips. The formula is made of shea, mango and cocoa butter form a creamy coat over the lips making it firm. Milk Makeup's Kush Lip Balm has a locking property that holds the moisture by forming an invisible barrier. Wear it as a moisturizer for the lips to keep it soft and hydrated throughout.
Pros
Made of organic plant-derived oil
An antioxidant-rich
Gluten-free
Cruelty-free
Vegan
Cons
Price at the time of publication: $37.99
Who doesn't want that fresh morning glow all throughout the day? With Milk Makeup' Luminous Blur Stick, achieving a no-makeup look is a doddle. The mattifying stick blurs the pores and blemishes leaving a smooth base for the foundation. For oily skin, apply it directly for a mattifying effect; for dry skin apply it over a moisturizer to avoid the patchy effect; and for combination skin tap it all over the face and blend it evenly for a smooth washed outlook. Wear it alone or as a base for makeup; to add that extra twist, pair it up with Milk Makeup's Lip + Cheek sunshine skin tint color and sparkle like a cult beauty.
Pros
An oil-free formula
Soy-free
Talc-free
Gluten-free
Vegan
Cons
Price at the time of publication: $52.6
Looking for a product that shines the apples of your cheek? This highlighting powder consists of meteorite powder and twilight pearls for the luminous effects. This powder is a 2-in-1 product that acts both as a highlighter and a high-powered eyeshadow. One of the best Milk Makeup cosmetics, this one is very light on the skin and combines smoothly. Apply it on the focal points of your face; the brow bone, nose, cheeks, and experience the glow-kissed look for hours.
Pros
Has a buildable coverage
Highly-pigmented
A multi-usage formula
Meteorite powder made of twilight pearls
Talc-free
Cruelty-free and vegan
Cons
Packaging easily breakable
Price at the time of publication: $21.4
Milk Makeup is your one stop shop for all things glamour. The brand also offers nourishing formulas that suit various skin types. Given below are a few factors that will help you choose the right Milk Makeup products for your skin.
Things To Consider Before Buying The Best Milk Makeup Products
Knowing your skin type is the most important step of choosing the right makeup products. If you have dry skin, choose rich and creamy formulas that provide much-needed hydration. Similarly, for oily or combination skin, choose foundations, concealers, or blushes with a more liquid consistency and non-comedogenic formulas.
Most makeup products like concealers, blushes, lipsticks, and foundations, require you to understand your skin tone and undertone. Choose the amount of pigment in the foundation or concealer, based on the color scale of your skin tone. However, when it comes to undertones, choose peach and coral shades for neutral, yellow and golden shades for warm, and pink or beige shades for a cool undertone.
The finish of a makeup product is purely a personal preference, however, it can also differ based on your skin type. For example, there are three basic foundation finishes: sheer, dewy, and matte. If your skin feels dull and lacks luster, go with a dewy and luminous finish that brings back the glow. Similarly, if you have severely oily skin, you may choose a matte formula that curbs the unwanted shine.
Essentially, there are three different coverage types of foundations and concealers namely sheer, medium, and full. Unlike popular belief, not everyone requires a full coverage base makeup. It is the best choice if you deal with hyperpigmentation, dark circles or acne, as it will help cover the blemishes. If you have clear and blemish-free skin, try the light or sheer coverage to get a minimal makeup look. Similarly, if all you need is to blend out the uneven skin tone, a medium coverage foundation is the best.
Knowing the ingredients in the formula is especially important if you have sensitive skin. Choose products without alcohol, fragrance, parabens, and dyes to avoid any potential irritation, redness, or inflammation.
Milk Makeup is used differently as compared to other cosmetics. Let us now take a look at a few secret tips and widen our horizon on makeup.
How To Use Milk Makeup Products?
Milk Makeup comes in unique packaging. Their lip and cheek colors to hydrating oils, most come in a stick form that helps in easy application. Some of their products designed in other forms of packaging such as tubes or wands are also made in a way that is very user-friendly. So, let's look at how to use them.
Stick Form
This is the most common packaging used on Milk Makeup products. They have their highlighters, bronzers, lip colors, and hydrating oils; all packaged in the stick from. All you have to do is roll the candle out and smoothly apply it over the area it is meant for.
Tubes
This form of packaging also makes for an easy application. The very popular Milk Makeup's Holographic lip gloss comes in a tube which glides upon your lips with just one press. Use however you want it at your comfort.
Bottles with wand
Some mascaras, brow pencils, concealers, etc., come with wands having thick bristles. Thicker ones add volume to the lashes and brows while helping in an even spread.
The application of makeup depends on the way the product packaging is designed. But, the durability of the products is based on the quality of the brand. Let's delve more into that.
The Durability Of Milk Makeup Products
The durability of the product depends on how often it has been used. A Milk Makeup stays safe for the skin up to 6 months from the date of purchase. The product has a long-lasting feature because of which it stays intact on the face for long hours. Therefore, it is a given that Milk Makeup products are long-lasting and durable.
Frequently Asked Questions
Is Milk Makeup good for your skin?
Milk Makeup puts immense effort into creating skincare products that are healthy and sensitive to any kind of skin. Its products are formulated with natural extracts like jojoba, coconut, fruit peels, and fruit butter. The makeup boasts of being completely vegan and cruelty-free and claims no use of dimethicone or other silicones.
Does Milk Makeup have milk in it?
Milk Makeup is a brand that uses animal-friendly products. It uses vegan ingredients in the formulation of all its skincare products and avoids animal-cruelty by refraining from honey, beeswax, gelatin, cholesterol, and milk.
Is Milk Makeup natural?
A brand that has used fruit butter, seed oil, fruit extracts, and a few other natural ingredients in the formulation is as natural a brand as it can get.
From where can you buy Milk Makeup products?
You can find Milk Makeup online on the Sephora website. It is also available on Amazon.com. Refer to our list of Milk makeup products that will direct you to the Amazon website for easy purchase.
How clean is Milk Makeup?
Milk Makeup does not believe in using parabens, sulfates, mineral oils, and fragrances as ingredients in their products. Hence, they are considered a supporter of clean beauty.
Recommended Articles