10 Best Mini Electric Kettles Of 2023 – Reviews & Buyer's Guide
This winter, serve beverages in stylish kitchen essentials and garner compliments from one and all!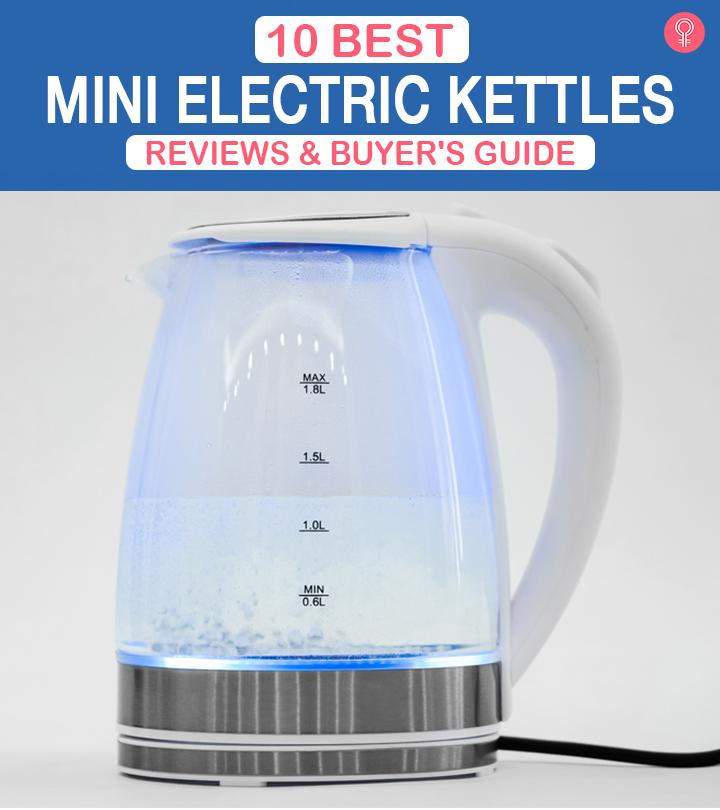 Are you looking for something affordable, convenient, portable, and easy to use for a quick cup of tea, coffee, or hot water? If yes, mini electric kettles are here to your rescue. Having a mini electric kettle means you can get a cup of coffee, oatmeal, boiled eggs, or even ramen on the go without turning on the stove. In addition, these kettles have features like a detachable cord, collapsible design, removable spout filter, and boil-dry protection that enhance the usefulness of these devices. This article reviews some of the best mini electric kettles that can be your go-to travel companion. Check them all out!
10 Best Mini Electric Kettles
Gourmia GK360 Travel Electric Kettle has a collapsible design that makes it perfect for traveling. It can expand to a capacity of 800 ml. It is made with food-grade silicone, which is lightweight and durable. The material is heat-resistant, so it can be used to boil water for tea, coffee, cereal, or instant noodles. It is a handy device as it cooks faster than a stovetop or microwave. It is compact, easy to store, easy to use, and sturdy. It has a lid lock and boil-dry protection. The heating elements are concealed, which also protects it from rusting.
Pros
Speed boil feature
Travel-friendly
Collapsible design
Rust-resistant
Boil dry protection
Lightweight
Durable
TUV-certified for quality and efficiency
Cons
Price at the time of publication: $26.95
Cuisinart DK-17 Cordless Stainless Steel Electric Kettle boils quickly and is easy to operate. This sleek kettle has a stay-cool handle to prevent you from burning your hand. It has an extra-large window with water-level marks so you can see if the kettle needs refilling. It comes with a concealed heating element that prevents mineral deposits. This BPA-free kettle has a removable spout filter, easy one-touch operation, and a cordless connector.
Pros
BPA-free
Heats up quickly
Extra-large water window
Soft-touch handle and lid grip
Removable spout filter
Concealed heating element
No mineral deposits
360° swivel cordless connector
Cons
Average quality
Not rust-resistant
Price at the time of publication: $88.02
KitchenAid KEK1222PT Electric Kettle is compact and stylish. It boils water quickly in minutes and has a removable limescale filter in the pouring spout. This single-wall stainless steel kettle has a removable lid that facilitates easy filling. It has a smooth aluminum handle and a rotating base that make it convenient to use. The LED on/off switch makes it easy to operate.
Pros
Durable
Stylish
LED on/off switch
Removable base
Single-wall construction
Smooth aluminum handle
Stainless steel body
Limescale filter
Cons
Price at the time of publication: $99.87
COSORI Electric Goose neck Kettle comes with a heat-resistant glass decanter and a stainless steel filter. It is leak-proof and can hold up to 34 oz. of liquid. It has many useful features such as a non-slip base, a safe-touch handle, and touch control for easy operation. This mini kettle is dishwasher-safe. Its most striking feature is the gooseneck spout that sets it apart from other kettles. It has 7 preset temperature settings for various functions.
Pros
Precise preset temperature settings
Touch control
Leak-proof
Easy to clean
Safe-touch handle
Non-slip base
Serves up to 8 cups
Heat-resistant glass decanter
Double-layer 304 stainless steel filter
Dishwasher-safe
Cons
Price at the time of publication: $69.99
Hamilton Beach Glass Kettle can be used to brew tea, coffee, hot chocolate, soup, and instant noodles within minutes. It is safer than a stovetop and faster than a microwave. It has a stay-cool handle that protects you from high temperatures. It comes with an easy-pour spout and push-button lid that makes it easy to serve without any spillage. This space-saving kettle has an automatic shut-off feature with boil-dry protection. This attractively designed kettle can be used to serve without any cords or attachments. It is easy to clean as it has a wide opening. It has a built-in mesh filter and a cord wrap.
Pros
Soft blue illumination
Cord-free serving
Automatic shut-off feature
Boil-dry protection
Easy to clean
Built-in mesh filter
Glass sides with stainless steel accents
Cord wrap
Cons
The glass may crack easily
Price at the time of publication: $32.99
Hamilton Beach Electric Tea Kettle can be used to brew the perfect cup of tea or prepare any hot beverage. The 1500 wattage gives it the advantage of boiling liquids quicker than a microwave. It can serve up to 4-6 cups of any beverage. It is also safer than a stovetop as it comes with an auto shut-off feature. This also prevents the kettle from boiling dry. It has a great design and makes for a lovely decor piece on your kitchen countertop. This compact kettle can be removed from its 360° rotating base without the cord, making it easy to serve. There are several other additional features – like a stay-cool handle, two water-level windows, a push-button lid, and an easy-pour spout – that make it one of the best mini electric kettles currently available. 
Pros
Auto shut-off feature
Boil-dry protection.
Concealed heating element.
Easy-pour spout
Removable mesh filter
On/off switch
Push-button lid
Power indicator light
Cons
Unsatisfactory kettle lid design
Price at the time of publication: $39.99
T-fal Balanced Living Electric Kettle is perfect for pampering yourself with a warm cup of coffee or tea. It comes with a preset temperature setting, so you can enjoy your beverage of choice instantly. It has a concealed heating element and a fast-heating system, making this electric kettle quick and efficient. It comes with useful features like automatic shut-off, variable temperature settings, a removable anti-scale filter, and a 360° rotating base. It also comes with a limited 1-year warranty. 
Pros
With variable temperature control
Concealed heating element
360° rotating base
Cordless pouring
Locking lid
Easy-to-read water level viewing window
Matte black plastic exterior
1-year limited warranty
Cons
Price at the time of publication: $32.64
Bodum Bistro Electric Water Kettle is the answer to all your boiling needs. It is an energy-efficient way to boil water. It is also time-saving. It boasts of a compact body and does not have a cord, making it portable and easy to use. The see-through, easy-to-read water level indicator lets you keep tabs on the water level. It also features an automatic shut-off feature and is made from BPA-free plastic. 
Pros
Available in 3 colors
Cordless container
360° rotating base
Easy to pour
Mesh-screened spout captures chalk while pouring
Easily readable water level scale
Cons
Price at the time of publication: $25.94
IronRen Portable Electric Kettle is made with high-quality food-grade stainless steel to make sure that no plastic comes in contact with the water to ensure your safety and health. There is no hassle of a tangled cord to deal with when pouring hot water as you can simply remove the kettle from the base for cordless serving. It also has amazing features such as an on/off light, an easy-pour spout, a comfortable handle, and a pop-up lid that make it a nifty device to have handy. 
Pros
Food-grade stainless steel
Safe
Super-fast boiling
Auto shut-off feature
Boil-dry protection
Easy to clean
Cons
Price at the time of publication: $29.99
Amazon Basics Stainless Steel Portable Electric Kettle can quickly boil up to 1 litre of water as it has a 1500-watt unit. It is perfect for making coffee, tea, hot cocoa, instant soup, and instant noodles. This cordless kettle is ideal for any kitchen. It has a great design, an easy-to-view window, a concealed heating element, and boil-dry protection. 
Pros
l Cordless pouring
l Auto shut-off feature
l Boil-dry protection
l Rotating base with a 30" power cord
l Easy-to-view water window
l Concealed heating element
l 1-year limited warranty
Cons
Price at the time of publication: $39.3
Those were our picks of the best mini electric kettles available right now. Check out the next section to find out what you need to keep in mind when buying one. 
How To Choose The Right Mini Electric Kettle
Temperature: A good electric kettle boils water quickly and is energy-efficient. Look for kettles that run on 1000-1500 watts of power and that boil water within 5 minutes. Features like temperature presets are a bonus!
Capacity: Look for kettles that can hold at least one litre of water. Keep in mind the volume of water you will need to boil every single time. Choose the capacity accordingly.
Safety: It is important to look for safety features like safety handles, auto shut-off, and boil-dry protection. It is recommended to look for useful features like measurement markings or a keep-warm function as well.
Design And Materials: It is easier to use electric kettles that are cordless or have all-around swivel rotation for portability. Compact and lightweight kettles are a good choice. A kettle made of stainless steel is sturdy, does not rust, and is easy to clean. If plastic is used for making the handle, look for high-quality BPA-free plastic. Glass is another good option.
Price: Most electric kettles fall in the same price range. Just make sure that you do not exceed your budget.
Why Trust StyleCraze?
Pratyasha Ray is an avid lover of all things home care, kitchenware, and decor. She enjoys trying and testing out the products she reviews. This list of the best mini electric kettles have been put together after hours of research and sifting through multiple online reviews, and user feedback on the brand websites. These products have detachable cords and collapsible designs, and can prove to be extremely useful and efficient.
Frequently Asked Questions
What is the smallest kettle size?
The smallest kettle size is as low as 5.8 x 7.1 x 5.3 inches, which holds 17 ounces or 0.5 liters of liquid.
What is the best collapsible travel kettle?
The best collapsible travel kettle is the Gourmia GK360 Travel Foldable Electric Kettle. It is lightweight, durable, and cooks faster than a stovetop.
What sizes do kettles come in?
Kettles come in sizes ranging from 0.5 to 1.8 liters of capacity. For example, a regular-sized kettle will hold 1.5 liters to 1.8 liters of liquid.
Is plastic kettle harmful?
Yes. Plastic kettles are made of chemicals that are harmful to your health. While it is safe to boil water in a plastic kettle, it might not be able to manage high temperatures after a certain point.
Is an electric kettle worth it?
Yes, electric kettles are energy-efficient and boil water faster than a stovetop or microwave. You can also control water temperature on the latest models of electric kettles available on the market.
How long do electric kettles last?
Electric kettles generally last for four to five years. If you see disruptions before that time period, contact the manufacturer or replace your kettle.
Recommended Articles: