10 Best Mini Exercise Bikes Of 2023 – Reviews & Buying Guide
Perform extensive workout routines while being at home with these handy exercise devices.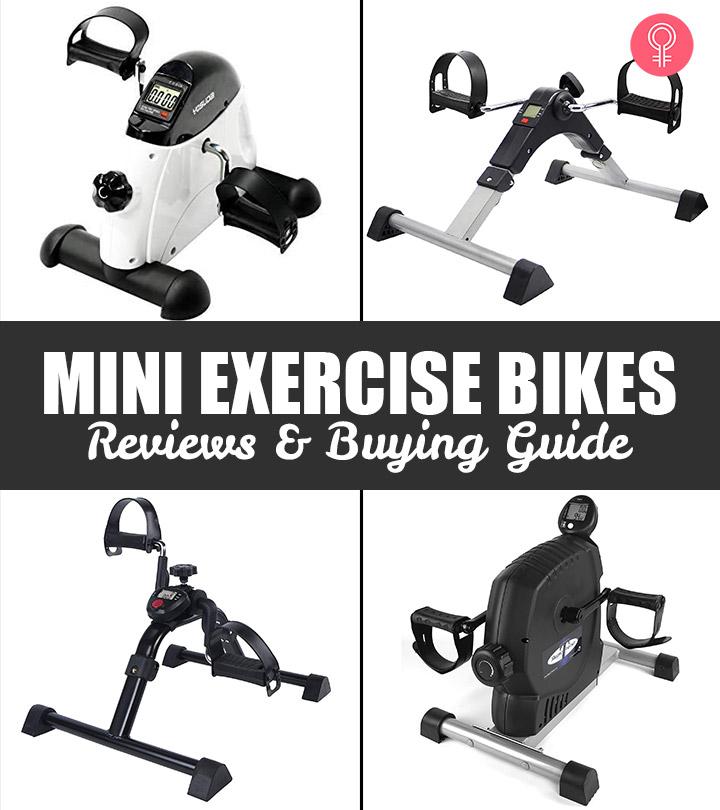 These days, you don't necessarily require a gym membership or heavy-duty equipment like a bicycle to get your heartbeat racing every day. Even the best mini-exercise bike can provide an easy solution to burn those calories — all from the comfort of your room or perhaps while you're working at your desk.
You can tuck this nifty device under the table and pedal your way to better health without missing a beat or interrupting your work, social media scroll, or Netflix binge. Check out the top 10 options that we recommend and pick the best one for your needs.
10 Best Mini Exercise Bikes – 2023
Pros
Maximum stability
8 levels of resistance
Comes with an online app
Detachable LCD monitor
Easy to assemble
Silent magnetic resistance
Stores 10,000 minutes of pedaling data
Cons
Tracking computer crashes occasionally
Expensive
Price at the time of publication: $179.0
This mini exercise bike designed by MagneTrainer is best suited for professional spaces such as hospitals, nursing homes, and therapy centers. It has eight resistance level settings and a built-in LCD screen. It is sturdy and compact with adjustable velcro straps, which make it a good choice to use at home for workouts. You can tone both your arms and legs with this mini bike exerciser. The pedals also work backward, and the resistance settings can support light physical activity, which can be helpful in physiotherapy. This high-quality mini exercise bike can also cater to fitness enthusiasts who prefer high cardio workouts. Though these mini bikes cannot replace well-structured exercise routines, they definitely help in adding variety and ease. Check out the review of the MagneTrainer Mini Exercise Bike for more information.
Specifications:
Product Dimensions: 16" x 9" x 16"
Resistance System: Magnetic resistance system
Height: 16"
Weight: 23 lbs
Pros
Commercial-grade machine
Widest resistance range
Optional accessories
Low noise
Cons
Unsuitable for use under small work desks
Unstable on some surfaces
Price at the time of publication: $203.69
Pros
Portable handle
Adjustable straps
Smooth pedal motion
Low noise
220 lbs weight capacity
Cons
Low-quality straps
The display monitor is fixed
Price at the time of publication: $102.99
This is a fully assembled mini pedal exerciser that can be used for toning both arms and legs. This is particularly useful for the low-impact physical activity needed in physiotherapy. It is sturdy and has a smooth pedal system. This mini bike is perfect for rehabilitation, such as recovery from surgery where you require low resistance. The build quality is perfect for physical therapy. It can be used to increase blood circulation and improve heart and lung health. It has a compact design and folds easily.
Specifications:
Tension Adjustment: Yes
Weight: 2.3 lbs
Height: 11.75"
Pros
Low resistance
Suitable for physiotherapy
Sturdy frame
Budget-friendly
Cons
Not suitable for rigorous exercise
Jerky movement
Price at the time of publication: $38.99
ATIVAFIT Mini Exercise Bike comes fully assembled, which is super convenient for some people. It has all the standard features, such as eight levels of resistance and an LCD display that tracks total time and calories burned. The pedals have a non-slip surface that ensures safety. Moreover, it is very convenient to use and works seamlessly with no noise. It is great for people who want to catch up on some light cardio. This fully assembled mini exercise bike has a maximum weight capacity of 250 lbs and is available in two colors – pink and blue. If you are unsure, go ahead and click on this video for further information.
Specifications:
Product Dimensions: 23.6" x 15.9" x 12.6"
Resistance System: Magnetic resistance system
Height: 12.6"
Pros
220 lbs weight capacity
Low noise
Portable
Available in 2 colors
Cons
Skids on the floor
Not lightweight
Price at the time of publication: $108.43
Pros
Easy to assemble
Low pedal height
Sleek design
Suitable for beginners
Affordable
Cons
Lightweight so tends to slide easily
Price at the time of publication: $64.99
Hausse Portable Exercise Pedal Bike is sleekly designed in classic black and white and can be used both at home and in the office. It is made for low-impact exercise only. The handle and tension settings are user-friendly. It is best suited for people with limited mobility. This mini portable exercise bike helps in maintaining aerobic fitness and healthy joints. The pedal movement works as a thorough cardiovascular workout.
Specifications:
Product Dimensions: 20.7" x 14.2" x 13"
Product Weight: 5 lbs
Height: 13"
Pros
Adjustable tension settings
6 display settings
Portable handle
Easy to assemble
Suitable for people with mobility issues
Cons
Metal parts may get hot
Tends to wobble a bit when used at higher resistance settings
Price at the time of publication: $46.99
Hausse Folding Exercise Peddler is a durable mini bike available at a very reasonable price. It is very easy to assemble and comes with a manual. There are four oversized anti-slip rubber pads to prevent the bike from sliding. A safety strap is also provided as an extra measure. Since it weighs only 5 lbs, it is easy to carry. It is also foldable, which makes it very convenient to transport and store. Its electronic display tracks the progress of your workout, such as speed and calories burned. This bike is best suited for people who require low to medium-range workouts.
Specifications:
Product Dimensions: 13.7" x 15.7" x 11.6"
Weight: 8.9 lbs
Height: 11.6 inches
Pros
Easy to assemble
Easy to transport and store
Portable
Lightweight
Anti-slip rubber pads
Cons
Metal parts may get hot
Not very sturdy
Price at the time of publication: $36.99
Pros
Adjustable resistance
Anchor strap
Foldable
Portable
Does not heat up
Cons
Inaccurate calorie counter
Price at the time of publication: $49.11
YOSUDA Under Desk Bike Pedal Exerciser is small and lightweight. It comes with a portable handle and a multifunctional LCD display. It helps you exercise anytime, anywhere with ease. It has adjustable low-impact resistance settings and smooth, quiet pedals. It is suitable for the elderly and people in rehabilitation programs. The compact design aids absent-minded pedaling, which boosts weight loss. This piece of workout equipment is perfect for people who do not have much space in their house.
Specifications:
Weight: 8.8 lbs
Color: White
Pros
Easy to assemble
Portable
Tracks time, distance, speed, and calories
Suitable for the elderly
Suitable for rehabilitation training
Low noise
Cons
Not suitable for vigorous cardio workouts
Not smooth pedaling
Price at the time of publication: $34.47
Mini exercise bikes are a boon for people who sit at their desk all day long. Check out some of the factors you need to consider before you buy one in the buying guide below.
Buying Guide For Mini Exercise Bikes
These are some important features to keep in mind while you invest in a mini exercise bike:
This determines whether you can use it under the desk. Lower the height, easier to pedal while sitting. People who are taller than 5'10 may need a taller exercise bike.
Magnetic resistance provides smooth, quiet pedal motion, which creates less noise. This will help you work with concentration and also not distract your co-workers or family members. This feature comes at a cost, though. It is currently available only in higher priced bikes.
A stationary bike should be sturdy and well-balanced. It is important that it does not topple over or slide around. This can harm your body, especially your knees. Features like width and rubber caps are important while choosing a mini exercise bike. Consider the type and quality of materials used in building the bike, and if they are robust enough to support the physical activity.
When you pedal, you need to work against something to burn those calories. Resistance helps you expend that energy physically. The more resistance a bike offers, the harder the workout will be. A minimum of 3 resistance levels is required for a decent low-impact physical activity.
An LCD monitor display screen is important if you want to track your progress. It gives you information about various parameters such as calories burned, time, and speed.
Make sure you check the quality of the straps used. This ensures your safety.
Always read the terms and conditions of the warranty before any purchase.
Now that you know what features to look out for, let's check out how to pedal a mini exercise bike correctly.
How To Pedal A Mini Exercise Bike Correctly
Pedal downwards and not forwards.
Keep your toes pointed forward, not upward. Otherwise, the bike will tilt. Don't use it in the same way as a recumbent bike.
Start to pedal downward at a low resistance and slowly increase the tension. Stay at each level for at least 15 minutes.
Mini exercise bikes are so popular because pedaling offers many health benefits. Check them out below!
Benefits Of Pedaling
Pedaling helps you burn calories while you are working or involved in another activity. The constant movement keeps you active. This can help you achieve your weight goals, such as managing your current weight or reaching your weight loss target.
People need to do low-impact exercises when they are recovering from a surgery or an accident. Pedaling also helps people with limited mobility and senior citizens.
Viktoria Hamma, a chronic pain and weight loss coach, states, "The movement of pedaling encourages good muscle and tissue health because the opening of closing of the joints allows for better circulation and less stress on the heart. As the ankle, knee and hip flex it helps pump blood and nutrition to the lower extremeties."
Pedaling helps build endurance. Constant activity and increasing levels of resistance will improve your stamina.
Pedaling helps you increase your heart rate and gives you a good workout. You can use high levels of resistance to achieve this. Alternate slow and fast pedaling keeps you healthy and fit.
Pedaling improves your circulation, which helps in increasing the oxygen levels in your brain. This improves your concentration and focus while you work.
There are times when you can't go to the gym for various reasons. In that case, you can pedal at home or in the office to save time and stay healthy.
Pedaling helps in toning your body and building lean muscle. It is a good exercise for the lower legs and calves. Regular pedaling can help you get rid of all the excess fat and reach your desired body shape.
You can use a mini exercise bike to exercise your arms. That stubborn arm fat can be targeted by upper body pedaling. You can also add variety to your exercise routine by pedaling your arms.
Viktoria Hamma, a chronic pain and weight loss coach, warns, "Just be careful if you have pre-existing shoulder pain as too much pedaling with the arms could cause injuries to flare up. Going back and forth from upper to lower body is the best way to keep the heart rate up while challenging the whole body."
Why Trust StyleCraze?
Aditi Naskar is our in-house fitness expert with a diploma in health and wellness. She understands that not a lot of people have the space to get a treadmill or other large exercise equipment. Hence, she has curated a list of the best mini exercise bikes for all you fitness enthusiasts after hours of careful research. These bikes can be used to shed calories at the comfort of your home.
Frequently Asked Questions
Will you get big muscles with a mini exercise bike?
Mini exercise bikes can tone your muscles and help in fat loss, but they cannot replace the workouts that bulk you up.
Can mini exercise bikes burn calories?
Yes, mini exercise bikes burn calories as you expend energy to pedal hard against the tension or resistance of the bike.
Is a mini exercise bike effective?
Yes, a mini exercise bike is an effective way to burn calories and body fat. It also increases your lung capacity and muscle strength.
Is a mini exercise bike as good as an exercise bike?
Yes, mini exercise bikes are as good as exercise bikes. They have high-resistance levels and are designed to offer a customized experience. You can use them while doing your daily chores.
Are mini exercise bikes good for the knees?
Yes, mini exercise bikes improve your joint health and help reduce arthritic symptoms and knee pain. They also strengthen your arms and legs.
What is the difference between a spin bike and a mini exercise bike?
The major difference between a spin bike and a mini exercise bike is that the former is used for customized workouts while the latter offers great help in endurance training.