The 10 Best Mini Fridges – Reviews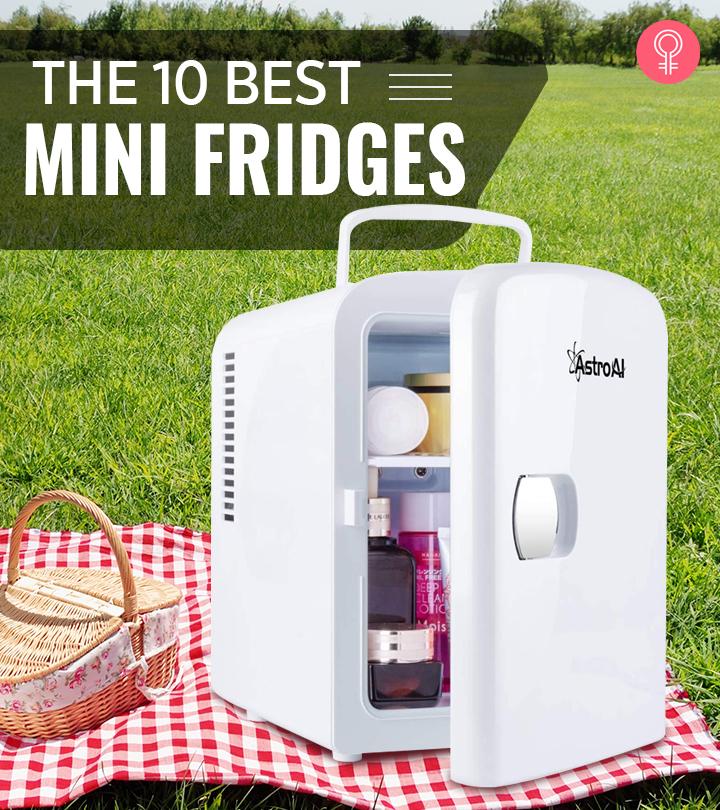 The mini fridge is ideal for small apartments or traveling. It is space-savvy compared to the conventional refrigerators and provides extra storage space for frozen foods and beverages. Be it the price, energy efficiency, versatility, compactness, or convenience of use, mini fridges check all the boxes and are just as functional as the standard refrigerators. They are cost-effective and great for the workplace, dormitories, compact flats, and restaurants. Here are the 10 best mini refrigerators for your consideration. Scroll down t check them out!
The 10 Best Mini Fridges
The homeLabs Beverage Refrigerator And Cooler is a great pick if you want to set up a home bar. This small drink dispenser machine is equipped with three moveable and adjustable shelves that can hold up to 120 regular sized soda or beer can sand wine bottles. It also features an elegant and contemporary see-through design and sturdy stainless steel construction. The white LED interior illuminates for quick night-time drink selection.
It has an easy-touch temperature control that cools down to 34°F and a large digital display for quick monitoring and temperature setting. The memory function restores the pre-set temperature of the cooler automatically in case of a sudden power cut or gets unplugged. Its quiet compressor works with a small convection fan to maintain air circulation for a uniform temperature supply inside. The auto defrost mode is an additional temperature sensor of this single-zone beverage mini refrigerator.
Specifications
Dimensions:17.3 x 18.9 x 33.3 inches
Weight: 68.3 pounds
Capacity: 3.2 cubic feet
Power: 240W
Pros
Large internal storage
Easy-touch temperature control
Large digital display
Auto-defrost mode
Energy-efficient
Adjustable shelves
See-through design
Sturdy
LED interior
Cons
The top shelf might not cool efficiently.
The Black+Decker Mini Fridge can hold drinks and food for 2-3 people. This attractive appliance provides cooling with minimal energy and without taking too much space. It features a removable glass shelf that expands the storage area and makes cleaning easy.  The additional door storage can fit two small containers (like soda and beer) on the top shelf and tall bottles or containers (like water, wine, and milk) on the bottom shelf.
It is ideal for dorm rooms, offices, home bars, and small apartments. It slow sound operation is also perfect for waiting, TV, game, and baby rooms, where you do not want a noisy appliance. This is just the right device if you need a practical fridge with a reversible door, leveling legs, and adjustable temperature control.The small freezer includes an ice tray and fits ice packs and frozen dinners.  
Specifications
Dimensions:7.5 x 18.5  x 19.7 inches
Weight: 33 pounds
Capacity: 1.7 cubic feet
Power: 70W
Pros
Versatile
Reversible door
Sturdy
Ultra-quiet operation
Sleek design
Affordable
Durable
1-year warranty
Cons
The removable metal guards keep falling off.
The AstroAl Mini Fridge is an excellent option if you are looking for a cooler and warmer to store food, medications, and drinks. This mini fridge cools up to 32°F and warms up to 150°F. It can store up to six 12 oz cans easily. The removable shelf is easy to clean and keeps small items like breast milk, skincare, cosmetics, food, or medications separated. This RoHS certified appliance comes with a 3-year warranty and operates quietly producing only 25 dB sound. The AC/DC adapter makes it suitable for both indoor and outdoor use. It has a freon-free and environmentally friendly semiconductor refrigeration chip.
Specifications 
Dimensions:9.45 x 6.89 x 10 inches
Weight: 4.65 pounds
Capacity:1 cubic feet
Power:24 W
Pros
Freon-free
Environment-friendly
Removable shelf
Improved heat dissipation
Portable
3-year warranty
Suitable for indoor and outdoor use
Easy to clean
RoHS certified
Quiet operation
Cons
The Cooluli Infinity Mini Fridge is a spacious mini fridge with a unique shelving system. This thermoelectric cooler/warmer mini fridge switches quickly from cooling to warming and vice versa. The dual-voltage infinity works efficiently at different locations, making it a travel-friendly appliance. It has a sleek glass front and comes with an extra storage rack for skincare items, medications, food, drinks, and breast milk. The advanced Eco Max Technology consumes minimum energy and prevents frost.
Specifications 
Dimensions:9.4 x 11.4 x 13.4 inches
Weight: 7.9 pounds
Capacity:1.5 cubic feet
Power: 60W
Pros
Lightweight
Portable
Sleek design
Frost-free
Spring-lock door
Tempered glass front
Cons
Not ideal for storing perishable items
The NBMSCL Mini Fridge Cooler And Warmer come with a removable shelf for easy cleaning. The self-locking latch and carry handle makes it portable and handy. With a single switch, you can set the fridge to cool or warm temperatures – warms up to 150°F and cools up to 32°F. The appliance also comes with two detachable power chords for AC and DC outlets. It operates in virtual silence at 25dB sleep mode. This refrigerator can accommodate eight 12 oz cans easily. It is great for road trips, camping, and personal spaces.
Specifications 
Dimensions:4 x 12 x 9.5 inches
Weight: 6.09 pounds
Capacity:2.11 cubic feet
Power: 100 W
Pros
Travel-friendly
Easy to clean
Minimalistic design
Noiseless operation
1-year warranty
Cons
None
The New Air Beverage Cooler And Refrigerator hold up to 60 cans and keeps your beverages chilled while traveling or partying. You can use it for storing lunch at the office, beverages in your minibar, or leftovers in the dorm room. It maintains the temperature between 37°F-64°F degrees with five custom rmo-stat settings for optimal refreshment. The double-paned glass door seals the fridge tightly for maximum cooling and imparts a stainless steel look.
Specifications 
Dimensions:16.75 x 18.9x 19.75 inches
Weight: 45 pounds
Capacity: 1.6 cubic feet
Power: 85W
Pros
5 custom thermostat settings
Noiseless operation
Adjustable shelf
Fast-cooling
Sleek design
Cons
Takes time to cool
Builds up frost easily
The RCA Single Door Mini Fridge combines contemporary style with cutting-edge refrigeration technology and is ideal for home, office, and dorm rooms. It comes with a reversible door and fits easily in any corner of your home. The flush back design and invisible door handle give this device a sleek, modern look. It delivers ultimate performance and works efficiently in hot weather due to the compressor cooling. The adjustable lever feet and adjustable thermostat make this appliance versatile. An adjustable thermostat keeps your cooled items at an optimum temperature in an environmentally sustainable way.
Specifications 
Dimensions:21.5 x 18.75 x 32.75 inches
Weight: 47 pounds
Capacity: 3.2 cubic feet
Power: 92W
Pros
Flush-back design
Invisible door handle
Environment-friendly
Versatile
Low energy consumption
Available in 6 colors
Versatile
Cons
The Vremi Beverage Refrigerator And Cooler come with a durable double-hinged see-through glass door and holds up to 120 beverage cans. With the auto-defrost mode, you no more have to unplug the refrigerator for cleaning the ice build-up. The soft white back lit LED, sophisticated stainless steel frame, and adjustable custom shelves make it practical. It features a user-friendly cooling control system that allows you to adjust the temperature between 34°F to 50°F and a large digital display for quick monitoring and temperature setting. The single-zone vertical chiller is constructed with energy-efficient advanced cooling technology. Its whisper-quiet compressor and a small convection fan ensures that the cold air is distributed evenly throughout the beverage center, preventing hot spots or uneven cooling.
Specifications 
Dimensions:18.9 x 17.3 x 33.3 inches
Weight: 68.3 pounds
Capacity: 3.2 cubic feet
Power: 75W
Pros
User-friendly cooling control
Large digital display
Energy-efficient
No hotspots
Quiet operation
Auto defrosting
Cons
Might not maintain a constant temperature
The KUPPET Beverage Refrigerator And Cooler have a fast cooling system to ensure the taste of snacks and drinks. Its stylish black stainless steel finish makes it ideal for offices, restaurants, and dormitories. It features a left hinged glass door with a stainless steel frame that enables an at-a-glance view of your drinks. The manual thermostat maintains the temperature range of 37.4°F -50°F to keep your drinks optimally chilled. The shelf is impressively designed with removable and adjustable chrome frames for installing differently sized cans and bottles easily. It uses double-layer toughened glass that isolates the hot air from the outside, and the low-noise compressors ensure consistent air circulation for a uniform temperature supply.
Specifications 
Dimensions:18.7 x 17.3 x 33.1 inches
Weight: 30 pounds
Capacity: 3.1 cubic feet
Power: 115W
Pros
Energy-efficient
Quiet operation
Space-savvy
User-friendly design
Preserves the taste of food and drinks
Cons
The Antarctic Star Mini Fridge is a space-savvy appliance that fits easily in small kitchens, dorm rooms, office corners, and tiny apartments.It features a 3-grade adjustable temperature control knob for easy operation. The temperature range of 40°F-61°Fensures that your drinks are frosty. The double-pane tempered glass door and airtight seal ensures maximum insulation. You can view your drinks easily through the clear, double-paned glass door. The soft LED light makes it easy to find a drink. It comes with a removable shelf to control the interior space and ensure hassle-free cleaning. The quiet compressor and internal air-cooled system create an evenly-cooled space, ensuring consistent temperatures throughout the refrigerator. 
Specifications 
Dimensions:17.5 x 19.6 x 18.6 inches
Weight: 36.6 pounds
Capacity: 1.6 cubic feet
Power: 80W
Pros
Soft LED light
Airtight seal
Quiet operation
Sleek design
Dual-pane glass door
Removable shelves
Free replacement within 90 days
Cons
A good refrigerator does a lot more than keeping the beverages and foods cold. There are factors that you have to consider while choosing a mini refrigerator. They are discussed in the following section.
How To Choose The Best Mini Fridge: A Buying Guide
If you are looking for a mini fridge, size is one of the most important factors to consider. Measure your space and choose a fridge that can fit in easily. Some mini fridges are designed only for storing beverages while some for food and drinks. Thus, pick a fridge that can be accommodated in your space and is also spacious from inside. Let's look at a few types of mini fridges.
(a) Under-The-Counter Mini Fridges: These mini fridges are highly space-savvy and fit easily under the kitchen counter. They are generally 33 inches high and are designed for tiny apartments. 
(b) Mid-Sized Mini Fridges: The mid-sized refrigerators are 24-28 inches high and can fit under a kitchen counter or office desk. The compact size makes them ideal for storing beverages. These are cube-shaped appliances and not capable of storing perishable items. 
(c)Cube-Shaped Mini Fridges And Smaller: For small dormitories and mini bars, you can choose a cube-shaped mini fridge. It can sit under your desk and is as small as a bedside table. It comes with 1-2 shelves and has low storage capacity. This type of refrigeratoris multi functional and works as both warmers and coolers.
Freezer Compartments And Iceboxes
If you want to store frozen foods, under-the-counter refrigerators are the best options. The small cube refrigerators are not powerful enough to make ice but have a little icebox where you can save frozen food packages.
The doors of most mini refrigerators have roller bins for placing the cans horizontally. But it is not ideal if you have different types of drinks in various sized cans. Flip-out can holders are better as two cans are placed side by side comfortably, offering easy access. Although both designs store 6-8 cans, the difference is in the versatility and ease of access.
Most mini refrigerators come with adjustable shelves to store different sized cans and containers easily. Some have easy-to-clean glass shelves while some feature wire shelves for optimal storage space. If you want to store multiple items, pick a fridge with two or more shelves.
The fridges with reversible doors are versatile and more accessible as you can open the door right or left. When you have tight space, a fridge with a reversible door is feasible and easy to use.
A typical mini fridge is usually very energy-efficient, and the Star-certified models use only 100-200 watts. Hence, if you are willing to save on your energy bills, pick a certified and energy-efficient model.
Mini refrigerators are available in plenty of sizes and capacity levels, ranging from 1.6-4 cubic feet. Small cube fridges are ideal for storing a few cans, while others are used for storing a variety of items, such as food, drinks, medications, and beauty care items. Thus, consider the storage capacity based on the number and kind of items you want to store.
The weight of the mini fridge matters if you want chilled beverages while traveling. Mini fridges that can hold 6-8 cans of beverages are generally lightweight travel-friendly.
Most mini refrigerators do not come with a freezer. However, some may have an extra freezer compartment that can be used to store fruits, vegetables, drinks, and an icebox.
That was our round-up of the best mini fridges available online. All these products are energy-efficient,functional, and versatile. Pick your favorite one from the list now!
Expert's Answers for Readers Questions
Do mini fridges keep food cold enough?
Yes. Mini fridges are designed to keep beverages and foods cool, just like standard fridges. However, the time that a fridge takes for cooling depends on its size and brand. Some refrigerators provide efficient cooling within 2 hours of powering up, while some may take up to 24 hours to reach their cooling capacity. If the mini fridge doesnot cool up, make sure that it is in the upright position, appropriately plugged in, and gets required airflow.
How long do mini fridges last?
The average lifespan of a mini fridge is 9 years. Some refrigerators may last for a shorter or longer,depending on the brand and quality.
Will a mini fridge increase the electric bill?
No. The operating cost of a mini fridge is as low as $27. Even the mini fridges of 20.6 cubic foot cost not more than $47 a year. Thus, mini fridges donot increase electricity bills but are, instead, energy-efficient.
Can you plug a mini fridge into a regular outlet?
Yes. The mini fridges come with regular-sized electric cords and can be plugged into the standard or regular wall outlets.
Does a mini fridge need ventilation?
Yes, a mini fridge requires proper ventilation, just like the standard fridges. Do not place it in a normal cupboard or low-ventilated areas because heat builds up around the unit without adequate ventilation. This may lead to degraded performance or failure of the unit.
Is it safe to put a mini fridge on the carpet?
A carpet may reduce the airflow of the condenser located at the bottom of the fridge. Thus, it is not recommended to put the mini fridge on a carpet.
Is it OK to run a refrigerator on an extension cord?
Using the wrong cord can lead to overheating and increases the risk of electric shock or fire. To prevent damage, donot run a refrigerator on an extension cord.Plug it directly into the outlet.
Can a mini fridge explode?
Fridge explosions are quite rare and might happen when the area around the fridge is not properly ventilated, or if the compressor is faulty. Thus, pick a fridge with built-in safety features and maintain properly to prevent explosions.
How many amps does a fridge use?
An average fridge uses 15-20 amps of electricity. A 16 cubic foot fridge may use up to 750 watts and consume 6 amps electricity.
Recommended Articles
The following two tabs change content below.

Latest posts by Harini Natarajan (see all)

Harini Natarajan
As Chief Editor, Harini sets the tone and editorial direction for StyleCraze to deliver engaging, interesting, and authentic content revolving around women's health, wellness, and beauty. She has over 14 years of experience in content writing and editing for online media. She specializes in the areas of Beauty, Lifestyle, and Health & Wellness and is proficient in Medical Sciences (Biology, Human Anatomy and Physiology, and Biochemistry). Her background in Biomedical Engineering helps her decode and interpret the finer nuances of scientific research for her team. Harini is a certified bibliophile and a closet poet. She also loves dancing and traveling to offbeat destinations.