8 Best Non-Sticky Mini Lip Glosses And Sets That Add Shine To Your Lips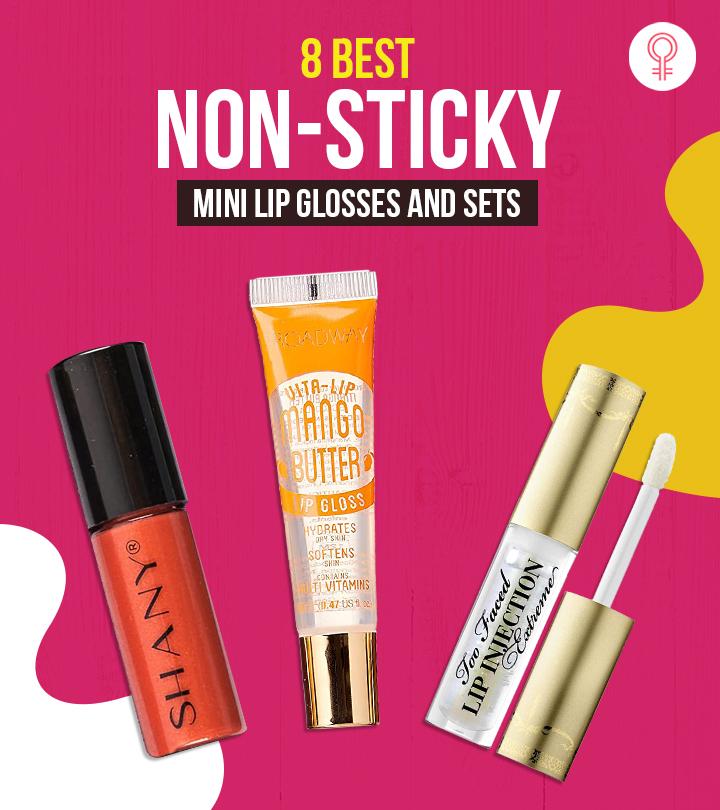 Lip gloss is a mixture of oils and pigments that make your lips shine. These lip glosses are available in different shades. The best mini lip gloss sets are carefully crafted to provide great shine, hydration, and a long stay. These lip glosses can also provide full coverage in a single swipe. The lip gloss is a 90's staple, and now it is available with the mini set in a unique way to wear different shades that match your outfit. In this article, we have sifted a list of the 8 best mini lip gloss sets that will suit your lips and your moods and outfits. Keep scrolling through!
8 Best Mini Lip Glosses and Sets
This incredible set of 12 mini lip glosses from Shany is perfect for all occasions. In this pack, you get a combination of shiny, shimmery, and cream glosses in red, nude, and pink colors. These shades flatter all skin tones and render comfortable wear.
The set comes in an organized tray that is the perfect travel companion for beauties on the go.
The plastic casing is perfectly spillage-proof and hence, is storage safe.
Pros
 Sheer coverage
 Organized storage
 Affordable
 Travel-friendly
 Cruelty-free
 Fragrance-free
Cons
Want to test out your lip glosses without breaking your budget? Try out these fruity lip gloss set from Blossom. These mini rollerball lip glosses are infused with real flower extract that leaves behind a fruitilicious fragrance on application. These lip glosses enable you to get glossy and wet lips without feeling sticky. Moreover, these vegan lip glosses glide on smoothly and render soft and supple appealing lips instantly.
Pros
 Long-lasting
 Non-sticky
 Cruelty-free
 Paraben-free
 Gluten-free
 Vegan
 Mild temping fruity fragrance
Cons
Put on your favorite lip color without worrying about your dry, cracked lips with these stunning Vita-Lip Gloss from Broadway. This pack of 5 incredible clear lip glosses moisturizes your lips, leaving them soft and nourished. The formula is enriched with rosehip oil, mint oil, coconut oil, and mango butter that hydrate and soften lips. Moreover, it helps you cover fine lines, heals lips, and leaves behind a refreshing cooling effect.
Pros
 Moisturizing
 Antiaging benefits
 Heals cracked lips
 Glossy finish
 Long-lasting
 Smells great
Cons
 Sticky
 Can trigger allergies
Drench your lips in juicy, clear lip gloss Lip Injection Power Plumping Lip Gloss from Too Faced. The scientifically advanced lip volumizing technology plumps up your lips instantly to give them a fuller look. Plus, its super hydrating formula renders smoother coverage in just the first swipe. Try out this to get an iconic and alluring sexy pout. Check out this review for a detailed understanding about the product.
Pros
 Hydrating
 Smooth coverage
 Glossy finish
 Plumps lips
Cons
Get a shimmery gloss while you are on the go with this lip gloss from Estee Lauder. This travel-size tube is a great makeup companion while outdoors. Its hydrating formula leaves behind a smooth, lasting shine on the lips for a gorgeous, magnified look. Besides adding a subtle hint of color, it provides comfortable wear without feeling sticky. Its unique precision applicator reaches the corners of your lips, accentuating its shape. The shade Fiery Almond suits is a shimmery nude shade with a cooler undertone, perfect for darker skin tones.
Pros
 Hydrating
 Non-sticky formula
 Long-lasting
 User-friendly doe applicator
 Travel-friendly
 Great color impact
Cons
This lip gloss set from Beauty Junkees adds a pop of color or just the right amount of shine to your lips. It comes with three incredible shades – Mint jewel, Mint pink satin, and Mint pink buff that look stunning on all skin tones. Besides soft plum lips, it provides a cool minty sensation due to the presence of spearmint extract. It is also infused with a powerful blend of aloe extract and vitamins C and E to keep your lip moisturized for long-lasting comfortable wear.
Pros
 Long-lasting finish
 Non-sticky
 Brightens lips
 Protects from environmental aggressors
 Leaves a cooling sensation
 Cruelty-free
 Paraben-free
 Gluten-free
Cons
None
This mini-size lip gloss set from Lamuseland consists of 12 gorgeous lip glosses in stunning colors. No matter whether it's a summer party, dating night, or shopping, these lip glosses are comfortable to wear and do not weigh your lips down. Their hydrating formula is enriched with vitamin E, beeswax, and vegetable oil that hydrates your lips while adding high shine.
Pros
 Long-lasting
 Lightweight
 Pigmented colors
 Velvety finish
 Easy-to-wear
 Waterproof
 Mild fragrance
Cons
None
Are you the one who prefers clear glosses? Then, this lip gloss from Cherimoya is perfect for you. It is infused with coconut oil that softens your lips while adding a dose of hydration. Plus, this clear gloss lip is non-sticky, long-lasting, and feels comfortable on the skin.
Pros
 Moisturizing
 Smells good
 Glossy shine
 Long lasting finish
Cons
None
Lip glosses have made a comeback thanks to their ultra-lightweight formula that adds shine to your lips while offering additional benefits like sun protection or hydration. Look at the following section to get a detailed buying guide for mini lip glosses.
How To Choose The Best Mini Lip Glosses?
 First, figure how you want to wear it – with lipstick or standalone? Then, depending on your requirement, look for either a clear gloss or a tinted one. Clear gloss looks great on lipstick, whereas colored one goes well alone.
 Then, look for the shade. Decide your skin tone – if it's

 cool/fair – nude shade
 medium skin tone – pink or cranberry
 tan or deep tone- ruby or wine shade
 Medium tan or deep tone – copper or bronze shade
 Warm undertone- pale peachy shade
 For neutral skin, one can lookout for a wide array of color option
 Moreover, opt for lip glosses with long-lasting formula and UV protection for your outdoor activities. Or, else, go for liquid luster or colored gloss if you are getting ready for a party or date night.
Why Trust StyleCraze?
Baishali Bhattacharya, the author of this article, is certified in image artistry and has a passion for finding the best cosmetics out there. She hunted down the best mini lip gloss and reviewed them in-depth, following extensive product research and investigation of customer reviews on online forums. These listed items are crafted to provide great shine, hydration, extended stay, and full coverage in a single swipe.
Recommended Articles