13 Best Mini Trampolines To Buy Online – Reviews And Buying Guide
Make a mini amusement park at home where the little ones (and you) can have a great time!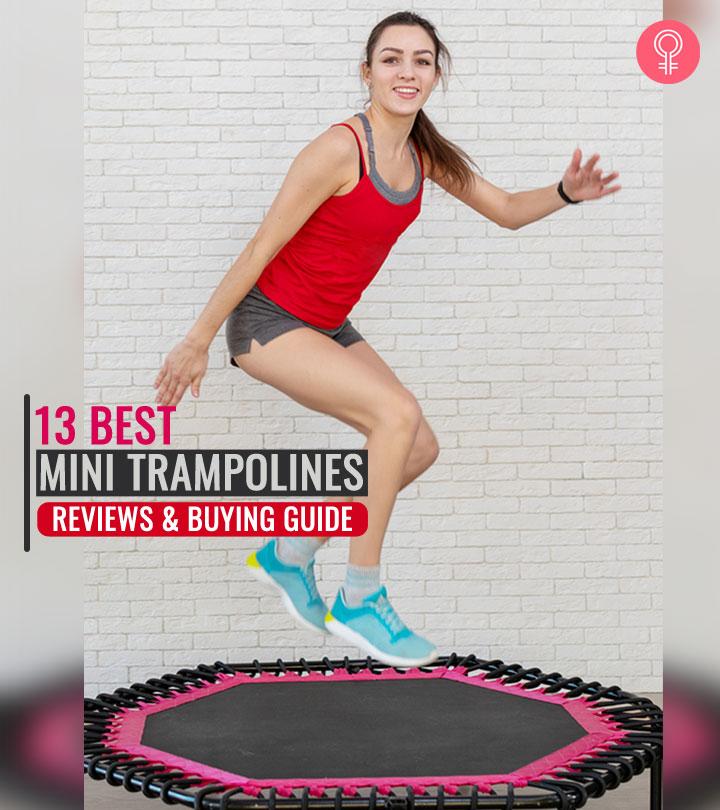 Using a mini trampoline helps to lose your body weight while keeping the body in shape without going to the gym. You can do this workout from your comfortable home. The best mini trampoline helps to strengthen your muscles, enhances cardiovascular fitness, improves balance and flexibility. This form of exercise is ideal for all age groups. It is an ideal way to do low-impact aerobic exercise.
In this article, we bring you the 13 best mini-trampolines that will be just perfect for your home gym. Scroll down to know all about them.
Top Picks
13 Best Mini Trampoline Available Right Now
Pros
High quality
Easy to assemble
Adjustable handrail
Non-slip
Suitable for all ages and fitness levels
Cons
BCAN 40″ Foldable Mini Trampoline is a lightweight and adjustable mini trampoline. It offers a total of 4 different levels of handle height, ranging from 32″to 42″.Thus, it can be used by adults and kids. The foam handlebar is very comfortable for the user to grip, and the unique design of this trampoline allows you to fold it twice. It is covered with an anti-skid rubber material, and the PP mat is made of a waterproof material that is easy to clean. The closed design of the steel springs ensures safety. Watch this youtube video to know in detail about the BCAN 40″ Foldable Mini Trampoline.
Weight Limit: 330 lbs.
Key Features
Foam handlebar
Closed-design steel springs
Adjustable knob
Heavy-duty steel tubes
Sturdy Oxford pad with holes
Pros
Foldable design
Highly portable
Lightweight
Durable
Waterproof
Easy to clean
1-year warranty
Cons
Price at the time of publication: $129.99
MaXimus PRO Folding Rebounder is a low-impact, high-performance rebounder trampoline. This mini trampoline is built to last using high-quality component parts. The 32 highly calibrated giant springs offer the lowest impact/resilient bounce. The double cross-stitched non-slip mat and non-marking rubber feet make this rebounder very strong and safe. Bouncing on this trampoline for 20 minutes daily helps you burn thousands of calories and lose weight quickly. Also, it comes with a storage bag, two workout DVDs, and online videos.
Weight Limit: 310 lbs.
Key Features
Stability bar
Resistance bands
Sand weights
Storage bag
Pros
High performance
Highquality
Offers incredible lymphatic drainage
Strengthens the cardiovascular system
Improves balance
Easy to store and transport
Easy to assemble
Cons
Price at the time of publication: $199
Pros
Superior construction
Sturdy
Durable
Compact
Portable
Great for cardiovascular workout
Suitable for indoor and outdoor use
90-day warranty
Cons
Price at the time of publication: $57.13
Pros
Heavy-duty rebounding surface
Foldable
Easy to install
Easy to store
Non-slip design
Cons
Not very sturdy
Unsatisfactory packaging
Price at the time of publication: $85.99
Best For Balance Building:
SONGMICS 40
Pros
Slip-resistant
Low noise
Adjustable handrail
Foldable
Easy to assemble
Value for money
Cons
Price at the time of publication: $85.99
Pros
Lightweight
Portable
Foldable design
Increases strength and stamina
Waterproof
Easy to assemble
Durable
Easy to store
Cons
Pros
Comfortable
Sturdy
Easy to assemble
Large jumping surface
Easy to store
Cons
Price at the time of publication: $269
Pros
Easy to assemble
High quality
Sturdy
Value for money
Portable
Cons
None
Price at the time of publication: $99.99
Pros
All steel construction
Durable
Compact
Lightweight
Foldable
Detachable rubber-tipped legs
Cons
The fabric might not be very durable.
Price at the time of publication: $107.39
Pros
Waterproof
Noiseless
Sturdy
Easy to clean
Durable rebounding surface
Cons
Price at the time of publication: $89.98
Wamkos 40″ Rebounder Mini Exercise Trampoline is a foldable fitness trampoline that is easy to assemble. This indoor mini trampoline is made with high-quality components such as a sturdy frame with rust-proof steel springs and a premium pad. The durable construction of this rebounder can support up to 220 lbs. of weight. Its jump mat is made of heavy-duty polypropylene to ensure sustained bouncing. This mini trampoline is suitable for sports, indoor, yoga, and other jumping cardio exercises. You can use it in your living room, bedroom, or office.
Weight Limit: 220 lbs.
Key Features
32 safe, tight, and rust-resistant springs
Durable jump mat
Eco-friendly fabric
360° extended safety PVC pad
Heavy-duty steel tubes with anti-slip rubber bottom
Pros
Foldable design
Easy and quick to assemble
Durable
Sturdy frame
Improves balance and cardiovascular health
2-year warranty
Cons
None
Price at the time of publication: $89.99
Pros
Durable
Easy to store
Suitable for daily use
Easy to setup
Noiseless operation
Cons
None
Price at the time of publication: $425
A minitrampoline is a great way to get fit while having fun. But before you buy one, check out the next section to learn more about all the things that you need to keep in mind to make an informed purchase.
Factors To Consider When Researching Mini Trampolines
It is important to look for a mini rebounder with a strong frame and high-quality cords or springs. Make sure you choose one made of high-quality materials as it will guarantee safety and reliability. The legs of good mini trampolines are usually made of heavy-duty steel, and the bouncing mat is made of highly durable polypropylene material. It must be waterproof and easily washable.
The weight limit is one of the important factors to consider while choosing a mini-trampoline. The standard weight capacity of a mini trampoline is 300 lbs. which is perfect for adults. However, there are trampolines available with a weight capacity of up to 450 lbs. for heavy individuals and 200-250 lbs. for kids.
Most mini trampolines are used indoors, though they can also be used outdoors. They are round and about 40″ in circumference, although you can find models as small as 36″ or as large as 55″.The size of the trampoline depends majorly on two parameters – size and foldability. If it is of a smaller size, it is easier to handle and store.
Monitors And Resistance Bands
Many brands offer trampolines with monitors that display time, calories burned, and number of jumps. Mini trampolines with stability bars, resistance bands, and other options provide safety and other workout benefits.
Mini trampolines are available at all price points. Some may require you to spend extra money to procure the handle for your trampoline. If you can manage without a handle, it is an unnecessary expense. So, choose the one that best suits your preference and is within your budget.
Check out the benefits of using a mini trampoline in the next section.
What Are The Benefits Of Using A Mini Trampoline?
The trampoline mat absorbs over 80% of the impact on landing. It helps build bone density, increase lymph flow, lower blood pressure, enhance cardiovascular health, and improve balance and coordination.
Many mini trampolines are foldable and easy to move around. Some can be folded in half, and others require an additional folding tool to reduce the size to a quarter. It makes it easy for storage under your bed or to carry along when you travel.
Having a mini-trampoline is more beneficial than a full-size trampoline. It allows you to do your workout indoors. A full-size trampoline will require a large space, like a garden, to set up. A mini trampoline is also suitable for all age groups.
A mini trampoline can help you protect your joints and still maintain your exercise routine. The elastic rebounding capacity of the mini trampoline mat makes it gentle on your joints. A mini trampoline is an asset for any home gym as it helps you reduce weight and strengthen your muscles.
Chandel Stallworth, an expert in Pilates, Strength Training, and Corrective Exercise says, "Jumping on a trampoline is also a unique way to get your cardio in and strengthen your heart."
Having a mini-trampoline at home helps you manage your time. You can save time by avoiding going outdoors or to the gym for your routine workout. A mini trampoline at home can be a huge blessing for people who skip their exercise routine because of their busy schedules.
A mini trampoline costs far less than a large, full-size trampoline. Most mini trampolines are affordable. On the other hand, a full-size trampoline can be quite expensive.
That was our list of the best mini trampolines you can buy online. They are available with different features and specifications. Pick the one that is best suited to your requirements. We hope this article helps you choose the best rebounder trampoline for your fitness routine. Select one from this list and try it out to maintain a healthy and fit body!
Why Trust StyleCraze?
The author of this article, Aditi Naskar, is a fitness enthusiast with a diploma in health and wellness. She brings you this list of the best trampolines. Sometimes even though you want to lose weight or stay fit and healthy, going to the gym may not be a convenient option. The author recommends using mini trampolines to stay fit and burn a few calories. She selected these products after investigating many reviews on various platforms. The trampolines listed here have been selected based on size, design, durability, and more.
Frequently Asked Questions
Are mini trampolines safe for outdoor use?
Yes, mini trampolines are safe for outdoor use.
Can mini trampoline workouts help you lose weight?
Yes, mini trampoline workouts can help you lose weight. The higher your heart rate, the better the weight loss results. So, exercise for 30 minutes on a mini trampoline for weight loss.
What is better – a mini trampoline with springs or without springs?
The bounce is much smaller on springs than bungee cords because the shorter suspension of steel springs offers lesser elasticity. So, a mini trampoline without springs is a better option.
What is the best trampoline mat material?
Polypropylene is the best trampoline mat material in the market. The fabric used in the mat is thermally interlocked to provide a smoother surface.
Do mini trampolines pose the same injury risks as full-size trampolines?
Yes, you are equally at risk of falling off or onto both types of trampolines.
Can individuals with bad knees or arthritis use a mini trampoline?
Yes, people with bad knees or arthritis can use a mini trampoline. They are a relatively safe type of exercise with their ability to limit rebounding height combined with the elasticity of the jumping surface.
Can you jog on a mini trampoline?
Yes, you can jog on a mini trampoline. Even low-impact jogging offers health benefits.
How long should you jump on a mini trampoline?
You can experience many benefits with as little as 15 to 20 minutes of exercise on a mini-trampoline. However, it depends on your fitness level.