5 Best Minimalist Hiking Shoes Of 2023, According To A Fitness Trainer
Reach new heights and achieve the fitness goals you dream about with comfort and ease.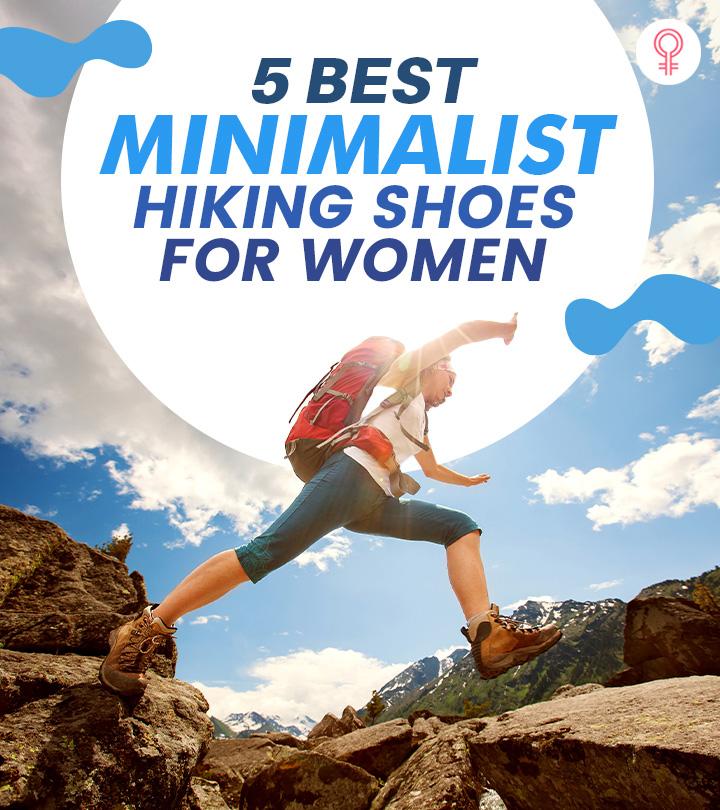 If you are someone who loves to explore the wilderness and go out on adventures, there is no way you can settle for a cheap, cumbersome pair of shoes. To enjoy hiking to the fullest, you need the best minimalist hiking shoes that are lightweight and designed like the shape of your feet. They should have flexible and thin soles with minimum cushioning to prevent injury and offer you a barefoot feeling. In addition, breathability, elasticity, and flexibility can be some great features.
The best part about a good pair of hiking shoes is that they help strengthen the foot muscles. Here, we have discussed a few of the best-selling, minimalist shoes available online. Keep scrolling!
What Are Minimalist Hiking Shoes?
These are thin, lightweight shoes shaped like your feet that come with a durable yet thin upper and lower soles. The thickness of the undersoles may vary between two to eight millimeters. These shoes give you a barefoot feeling so that you can feel the texture of the ground.
Apart from protecting your feet from injuries, these shoes come with a host of other benefits as well. Let us check them out.
Benefits Of Wearing Minimalist Hiking Shoes
A Zero-drop Sole: The soles have the same thickness from heel to toe to promote good posture.
Flexibility: Their soft, flexible soles bend as you walk, leaving minimal interference with the natural movement of your feet. They help maintain ankle flexibility and prevent injuries.
No Arch Support: In minimalist shoes, the foot does not rest on the arch support. It instead relies on the heel and ball cushioning for support. It evenly distributes the body weight and provides better stability on uneven terrains.
Ground Sensor: These shoes offer maximum ground perception as the under-soles are thinner than usual sports shoes. This allows the feet to feel the texture of the ground.
Muscle Strengthening: Using these shoes over time strengthens the feet muscles, ankles, and underfoot nerve sensitivity.
Let us now check the list of the best minimalist hiking shoes available online.
5 Best Minimalist Hiking Shoes Of 2023 – Reviews & Buying Guide
The lightweight Aleader Hiitave hiking shoes with their wide toe box allow your toes to flex. These shoes come with durable rubber soles with arch-supported thin emulsion insoles to protect your feet from injuries while allowing your feet to the ground. The top is made of TPU and synthetic mesh, allowing ventilation to keep your feet dry. The zero-drop heel-to-toe design offers low impact cushioning on uneven terrains. These shoes are great for both indoors and outdoors. The hook-and-loop closure gives your feet a secure grip. According to reviews, these barefoot shoe helps strengthen foot muscles and allows freedom of foot movement. These shoes are machine-washable.
Features
Rubber sole
Hook-and-loop closure
Mesh and TPU upper
Wide toe boxes
Pros
Quick-lacing system
Flexible
Breathable
Lightweight
Machine-washable
Cons

Did You Know?

Vitale Bramani, an Italian mountaineer, invented the hiking shoes in 1937 after he lost two of his fellow hiking companions, which he thought could have been avoided if they had better equipment.

 Say goodbye to uncomfortable shoes and hello to the SAGUARO Unisex Barefoot Shoes! These amazing shoes are designed with your comfort in mind. The zero-drop sole allows for a more natural feel while running or hiking. The wide toe box makes sure that each of your toes is free as a sneaker so you won't be squishing them up together. You can even take out the insoles for an even more barefoot feeling. Its non-slip tread pattern offers exceptional grip as well. Reviewers feel that this pair of shoes is a cost-effective option.
Features
Rubber soles
Wide toe box
Zero drop sole
Pros
Flexible
Breathable
Lightweight
Cons
None
The classic five-finger barefoot shoes from Sajomce are ideal for trail running or hiking. These super-flexible shoes mold according to the feet and keep them connected to the ground. They also strengthen your feet muscles over time. They are crafted with a breathable fly-knit upper that allows excellent ventilation. The toe boxes are wide and optimize toe flexing, stretching, and better balance and do not hinder your agility. The adjustable shoelaces provide a personalized fit. Plus, the soft insoles and zero-drop soles keep the feet comfortably flat and stress-free. Many reviewers agree that the slip-resistant rubber outsoles offer grip, stability, and protection.
Features
Rubber sole
Wide toe boxes
Fly-knit upper
Pros
Breathable uppers
Flexible soles
Easy on and off
Removable insoles
True to size
Cons

Pro Tip

Try to buy or wear your low-profile hiking shoes at the end of the day since your feet will be swollen enough to get you the best idea of the fitting.

The Vibram's V-Alpha are minimal outdoor training shoes made of 100% textile fabric. Their classic five-finger design with Vibram Megagrip soles provide optimal grip and slip-resistance on both wet and dry trails. The two-millimeter foam lining on the inside provides ventilation and breathability, reducing the chances of smelly feet. The shoes' low-top arch is extremely comfortable and offers optimal ground sensory perception. The highly durable shoes are great for hiking and outdoor activities and weigh only 3.65 oz. According to multiple reviews, these shoes offer a perfect and snug fit.
Product Dimensions: 10 x 5 x 4 inches | Weight: 5 Ounces.
Features
Five-finger design
Synthetic soles
Megagrip technology
Sensory perception
Pros
Lightweight
Superior grip
Breathable
Foam insoles for comfort
Machine-washable
Durable soles
Cons
The lightweight, minimalist cross-trainers from Garatia offer unmatched comfort and grip to your feet. Their elastic rubber soles are flexible, durable, and offer stability and balance on the trail. The synthetic mesh upper and moisture-absorbing soft insoles of this minimalist footwear maximize breathability to control odor. Plus, the insoles provide supportive cushioning to the feet. The streamlined texture of the shoes add a touch of style. Many reviewers affirm that the shoes are lightweight and flexible.
Features
Rubber soles
Thick insoles
Elasticized lace closures
Pros
Multifunctional
Anti-slip
Shock-resistant
Quick-drying insoles
Cons

Quick Tip

Wear these shoes with your socks and check if you have enough space near the toes or have space to wiggle them to get the right fit.

Confused which minimalist shoes to pick? The following buying guide can help you make the right choices.
How To Choose The Best Minimalist Hiking Shoes?
You can consider the following factors before making a purchase.
Comfort: Shoe bites, a tight or loose fit, or an unstable grip can make the shoes uncomfortable to use. Ensure the shoes are grippy and fitting right and are making you comfortable. Get a fit assessment done to know your shoe size, then buy a pair of hiking shoes for optimum comfort.
Breathability: You will be walking over long trails for hours at a stretch. Your feet are bound to sweat. Hence, you need shoes made of breathable material that allows ventilation to minimize sweaty feet and odor.
Traction And Shock-Absorption: Minimalist rubber shoes with synthetic or rubber soles provide excellent grip on wet and dry trails. These are responsive and give a good ground feel.
Stable Construction: Shoes with a stable construction will provide a good fit and prevent foot rotation and sprains. The toe boxes in the front should offer maximum flexibility.
Support: Since minimalist shoes do not come with additional arch support, they require good insole cushioning to support the heels and balls of the feet. Opting for shoes that offer toe protection and ankle support can help minimize the risk of injuries.
The Bottom Line
Hiking is a fun activity that gives you a chance to get close to nature. But this experience can be ruined if your shoes are ill-fitting and do not offer proper support for trekking along uneven surfaces. The best minimalist hiking shoes are, therefore, important for every adventure-seeker. The products mentioned in our list have wide toe boxes to keep your feet comfortable. They have ergonomic designs that are made with rubber soles to ensure flexibility during the hikes. Moreover, these shoes promise sole durability, so one pair will last you a long time. The Aleader Hiitave Hiking Shoes offer cushioning, durability and support for adventurous trails, while the SAGUARO Unisex Barefoot Shoes provide lightweight flexibility and a non-slip grip. These shoes are easy to put on and take off and provide you with a superior grip. Jeremy Kring, fitness, weight loss, and performance coach, says, "When used properly these shoes can be very beneficial to the knees, hips, and ankles, not to mention the increased connection to nature we can experience when we can feel the ground beneath our feet." However, avoid shoes that are heavy or not properly insulated.
Why Trust StyleCraze?
The author, Aditi Naskar has a diploma in health and wellness, and in this article, she recommends the best jump rope for double unders. The jump ropes for this activity are specially designed to provide smooth and frictionless spin every time. In addition, they are lightweight, tangle-free, durable, and budget-friendly. She has carefully reviewed all the products mentioned in the list to help her readers make the best pick.
Frequently Asked Questions
Are toe shoes good for hiking?
Yes. Toe shoes make hiking comfortable. It provides good traction, balances your feet, and stabilizes your steps on uneven surfaces.
What are good shoes for hiking?
Lightweight, low-cut models with flexible midsoles are ideal for hiking. They provide good coverage to your feet and stabilize your movements.
Are barefoot shoes good for hiking?
Yes. Barefoot shoes are ideal for experienced hikers as they provide balance and flexibility. However, if you are a beginner, hiking with barefoot shoes is risky as they lack good cushioning to reduce the impact.
Why are zero-drop shoes good for hiking?
Zero-drop shoes mimic your natural footsteps and provide a strong foot strike. They offer good cushioning to your feet and protect them from high surface impact.
What should you not wear during hiking?
Refrain from wearing shoes that are not water-resistant while hiking. Trekking long distances in flooded shoes is risky and troublesome. Do not wear flimsy shoes to avoid falling on uneven terrain.
Recommended Articles
The following two tabs change content below.