8 Best Minimalist Running Shoes, According To Trainers – 2023
Give your feet the strength they need to make every run an exciting experience.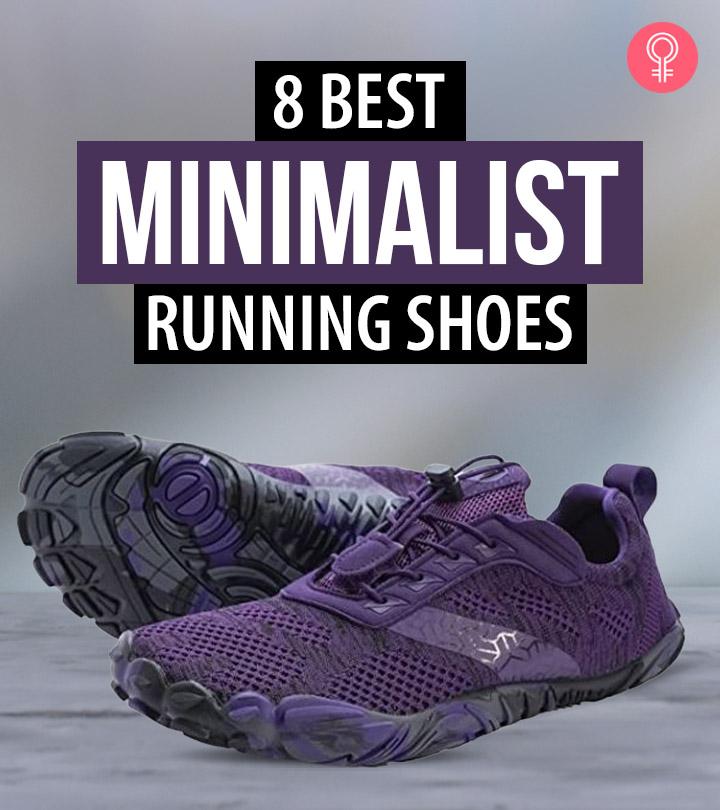 Not everyone is a professional athlete, and sometimes all you need is the best minimalist running shoes to keep you up with your workout regime. Brands have always made their products flawless and efficient, and you will find shoes that are too good to even walk on the red carpet. Minimalist shoes are designed to mimic barefoot walking, and they are ideal for strengthening your leg muscles and feet without dealing with the mishaps of actually walking barefoot . Fitness Expert Jeremy Kring says "If you've never used minimalist footwear before it is recommended you begin slowly incorporating it into your training regimen. This will ensure your feet, ankles and legs condition properly allowing you to stay safe."
Top Picks
What Are Minimalist Running Shoes?
Minimalist running shoes are specifically designed to give you a similar experience as you would get while walking barefoot. When compared to traditional shoes, minimalist shoes provide lesser cushioning and are lighter. They have lower heel-to-toe drop and stack height, enhance your running stride, and improve your feet's sensitivity to the ground below.
Let's check out the best minimalist running shoes now.
8 Best Minimalist Running Shoes
If you like to run regularly, try the Joomra Minimalist Running Shoes. These are specifically designed to keep your feet protected, thanks to their rubber soles that provide optimal friction, balance, and durability while you are running on tough terrain. The soles also ensure you get a superior grip for all lateral movements and climbs.
These shoes are no-tie, slip-on, and feature drainage ports at the bottom of the soles to enhance overall comfort. Their thicker topline wraps around the contours of your feet, ensuring a snug fit, while the knitted design makes the shoes lightweight and breathable. The removable insoles are made to support the arches of your feet, offering optimal balance and reducing the overall pressure.
Specifications
Available Sizes: 5.5-11
Color/Design Options: 27
Pros
Removable insoles
Easy to clean
Snug fit
Durable
Value for money
Cons
None
Price at the time of publication: $41.99
The Aleader Minimalist Running Shoes are lightweight and designed for extreme comfort while running. Their cooling fabric mesh and TPU upper is highly flexible and breathable, while the hook and loop closure ensures a secure fit. These minimalist shoes are designed with specialized soles that provide excellent grip on all kinds of wet and dry terrains, making them highly suitable for trekking.
Specifications
Available Sizes: 6-10.5
Color/Design Options: 3
Pros
Ultra-flexible
Breathable
Wide toe design
Sturdy
Machine washable
Cons
Price at the time of publication: $35.99
Pros
Snug fit
Excellent grip
Breathable
True to size
Value for money
Cons
None
Price at the time of publication: $39.99
The Saguaro Barefoot Shoes are your best pick if you are looking for great quality at an affordable price. They feature a spandex fabric upper that provides optimal breathability and durability along with a fashionable and stylish pattern. The unique rubber pattern sole ensures a wear-resistant and anti-slip performance, while the rubber toe cap is included to protect your feet from harmful objects. These shoes have an elastic drawstring tie system and adjustable buckles on the top that make them easy to put on and take off.
Specifications
Available Sizes: 6.5-15
Color/Design Options: 41
Pros
Affordable
Removable insole
Sturdy
Durable
Snug fit
Breathable upper
Anti-slip
Flexible
Cons
None
Price at the time of publication: $19.99
The Oranginer Barefoot Shoes offer a truly barefoot feel while strengthening your muscles to improve overall running or walking efficiency. The pair features a wide toe box design that allows ample room for your toes to relax and wiggle along and provides stability during climbs and descents while hiking. The flexible upper mesh is breathable, while the insoles keep the shoes feeling dry for long. The style-reflective strip on the heel counter adds a layer of safety when you are running at night. These shoes can be used for different activities like running, walking, and training.
Specifications
Available Sizes: 5.5-10.5
Color/Design Options: 12
Pros
Durable toe-box design
Breathable
Flexible
Anti-slip
Snug fit
Water-resistant
Sturdy
Cons
None
Price at the time of publication: $39.99
These barefoot shoes by TSLA offer true anti-slip performance at a minimal price point. They are the quintessential zero-drop shoes that improve barefoot performance during hiking, trekking, or trail running. They build the lower foot muscles to enhance the overall performance. These minimalist running shoes feature a dura nylon band that provides instep support and a snug fit and an anti-slip outsole that provides resistance while walking through rough or wet terrains.
Specifications
Available Sizes: 8-11
Color/Design Options: 6
Pros
True to size
Non-slip
Flexible
Dirt-proof upper
Cons
No individual toe slots
Expensive
Price at the time of publication: $33.98
Pros
True to size
Wide toe box
Flexible
Strong grip
Durable
Vegan
Cons
Price at the time of publication: $114.99
The Sylphid Minimalist Shoes are a great pick for anyone who wants to work out on dry and wet terrains. They feature lug rubber outsoles that provide stability, traction, and slip resistance, thereby making them highly durable. The wide toe box design is ideal for wider feet and offers room to relax and stretch during movements while providing excellent ground support.
These shoes are designed with a breathable upper material that keeps your feet dry. The reflective strips on the heels provide visibility when you are out running or walking at night. The shoes have a decent amount of cushioning to protect your feet and reduce friction between the shoes and your feet. The removable insoles also enable easy cleaning.
Specifications
Available Sizes: 6.5-14.5
Color/Design Options: 4
Pros
Anti-slip
Snug fit
Durable
Flexible
Breathable
Wide toe design
Budget-friendly
Cons
None
Price at the time of publication: $25
Minimalist shoes offer a plethora of benefits that will help you improve your stance and overall performance. Take a look at some of them below.
The Benefits Of Using Minimalist Running Shoes
No-drop soles mimic the natural feel of humans being barefoot on the ground. Unlike regular trainers, minimalist running shoes do not place the heels way above the feet that leads to poor alignments and lower back issues.
With a good posture and an effective barefoot feel, the minimalist running shoes strengthen the muscles in the feet, calves, and the Achilles tendon. They make them more flexible, reducing the risk of injury.
Minimalist running shoes are lightweight and boost the natural foot stride. This improves efficiency by reducing the total energy expenditure and boosting the overall performance while running.
Here are a few expert tips that will help you choose the best minimalist running shoes for yourself.
How To Choose The Best Minimalist Running Shoes
Weight: Minimalist shoes are incredibly lightweight. If your shoes are heavier, they may hinder your performance, but conversely if they are too light, they won't give enough traction to your feet. As a rule of thumb, go for a shoe weighing somewhere around two pounds.
Design: Depending on your personal style and preferences, choose an ideal design for your trainers. They are available in different shapes, patterns, and colors, and you have a plethora of options to choose from.
Sole Material: The outsoles are designed to provide slip resistance, traction, and high-quality construction. When it comes to tough and wet trails, you need to look for well-designed soles that protect your feet when you are on your run.
Construction: Ideally, the shoes should provide excellent breathability and moisture control. Choose a material that lets your feet breathe, move effortlessly, and provide flexibility while ensuring that the heat and moisture escape freely.
No-drop Soles: Zero-drop shoes are ideal for minimalist running shoes. They should have the same thickness level from the toes to the heels, the most common being 2mm. This ensures you get the perfect 'barefoot' feel.
Why Trust StyleCraze?
The author, Aditi Naskar, holds a diploma in health and wellness and has a keen interest in fitness. She has carefully weighed the pros and cons of the most popular options on the market and read the user feedback before creating this list of the best minimalist running shoes. These shoes offer snug fit, are sturdy and durable, and ensure proper traction.
Frequently Asked Questions
Are minimalist shoes good for running on concrete?
Yes, minimalist shoes are good for running on concrete. They offer strong cushioning and help you run effortlessly.
Who should not wear minimalist shoes?
People who are heavier should exercise caution and those untrained should slowly work in minimalist shoe training. Those with certain medical conditions or orthopedic issues should not use minimalist shoes without first consulting with their primary care provider.
Do marathon runners use minimalist shoes?
Yes, some marathon runners run faster wearing minimalist shoes. This is because our feet strike the ground more with the forefoot and direct less pressure on the front of the knee and promote flexibility in the achilles tendon and rear foot/leg and which may reduce the risk of knee and ankle injuries.
Do minimalist shoes have arch support?
No, minimalist shoes do not come with built-in arch support.
Are minimalist running shoes good for flat feet?
Yes, minimalist running shoes are good for flat feet. These shoes strengthen foot muscles and help correct flat feet.
Do elite runners wear minimalist shoes?
Elite runners wear a variety of shoes to include minimalist shoes. If you have not trained running in minimalist shoes it is recommended you do so slowly. A common approach for marathoners for example is to begin by doing a light jog for 10 minutes 2-3 times per week, adding 2-5 minutes per week as tolerated.