10 Best Minimalist Sandals To Keep Your Feet Comfortable All Day Long!
Include these timeless pieces of sandals in your collection for comfort and style.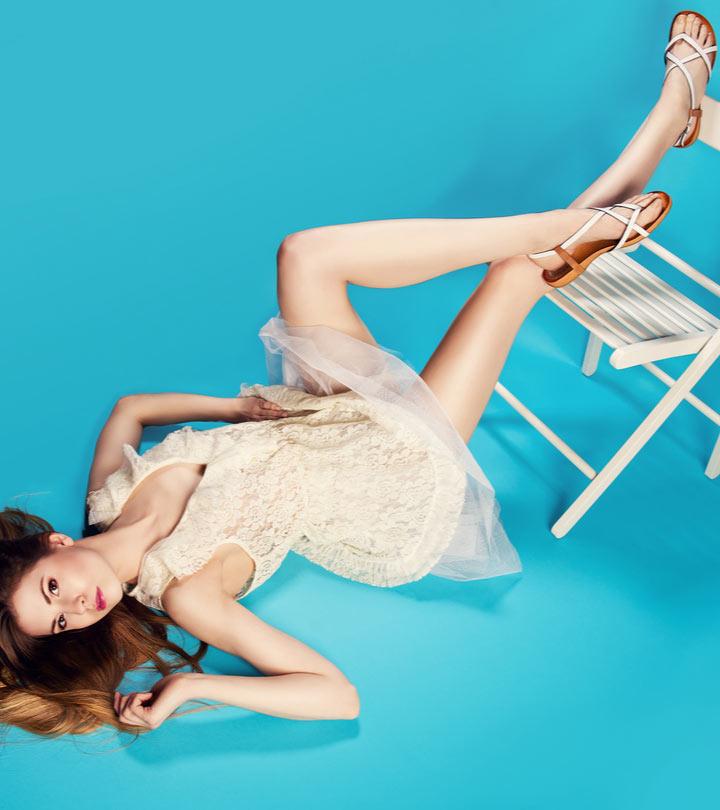 While we all love our heels and sneakers, they do not offer much freedom of movement and are not good for our feet in the long run. The best minimalist sandals, on the other hand, are simple, timeless fashion items that look after the overall health of your feet. Even though we would like to hop onto each trend, it gets impossible to keep pace with every trend being set regularly. Thankfully, classics are timeless and not affected by passing trends. The minimalist sandals are such timeless pieces of our wardrobes that go along with most of our ensembles. Go ahead and check them out for sustainable, minimalist fashion that is evergreen!
What Are Minimalist Sandals?
Minimalist sandals offer an experience that is closest to being barefoot. They are usually sleek with zero-drop soles, that is, the soles that are the same thickness from toes to the heels. They offer a wide toe box that allows your toes to splay out, keeping your feet in their natural position and not confined in a closed shoe. Ideal for everyday walking and running activities, minimalist sandals usually come in neutral colors that can be styled with a wide range of outfits. They are also the go-to choice for travellers for comfortable strolls around new places.
And since minimalist sandals are supposed to help your feet naturally adjust to the grooves of the ground, they do not come with heavy cushioning. However, if you're wearing minimalist sandals for the first time, you can start with those that come with relatively thicker soles. Once you get used to these shoes, you can then switch to those with thin soles, and we guarantee that you'll never want to go back to thick soles.
Top 10 Minimalist Sandals For Flexible And Comfortable Feet!
You cannot go wrong with the comfort of Crocs. With a sole made with ethylene vinyl acetate (EVA) material, these sandals are highly durable, providing excellent comfort to your feet. Sleek and streamlined T-strap style strap softly secures your feet while letting them splay out naturally for added comfort. Lightweight and flexible, these sandals will support your feet for day-long strolls around the town. Soft and easy to wear, these sandals are designed keeping in mind feminine proportions and shape. Cushioned with the iconic Crocs comfort, these sandals will be your favorite pair of footwear.
Pros
 Synthetic outer material
 Slip-on closure
 Translucent straps
 360° comfort
 Available in 5 colors
Cons
 The synthetic straps may be abrasive.
Price at the time of publication: $34.99
Timeless design paired with innovation, these slim cushioned flip flops are made to give you comfort with their high-energy rebound foot bed. The rubber sponge outsole gives you maximum comfort with excellent arch support and heel cupping. With vegan leather straps, the gold embroidery detail stitching on the straps gives these flip flops an iconic look and experience. Feel relaxed and free in these comfy and chic footwear that are highly durable and handcrafted to perfection.
Pros
 Rubber sole
 Available in neutral colors
 Provides arch support
 Slim vegan leather straps
Cons
 The stitching on the straps may be abrasive.
Price at the time of publication: $28.2
Made with 100% PU material, these ankle strap sandals have synthetic soles making them durable and sturdy. Featuring an adjustable buckle closure, these sandals can be adjusted to 5 different fit settings that are great for every foot type. Additionally, a concealed elastic band on the back straps ensures flexible fit for added comfort. Wander without any woes with super comfortable insoles that come with 5mm latex foam padding keeping your feet well-supported and relaxed.
Pros
 Faux leather dip-dye upper
 Natural burnishing
 Minimalist heel
 Adjustable straps
Cons
 Strap may be tight for some
 Sizes may run small
Price at the time of publication: $14.3
When you're looking for sleek sandals that you can walk in all day long, this one is the perfect pick. A must-have in warm weather conditions, these T-strap sandals offer enough room to your toes to splay out naturally and move without any restrictions. Made with EVA material, the sole of these sandals is sturdy, flexible, and highly durable. Crafted with soft metallic leather with leather linings, the sandals feature a buckled back strap closure. Cushioned with DuocomFF midsoles, the ultra-sleek sandals offer all-day comfort to your underfoot. In addition to that, the elasticated soft leather top strap ensures a foot-hugging fit to safely secure your feet in comfort.
Pros
 Sleek design
 Lightweight
 Buckle strap closure
 Cushioned midsoles
 Arch support
Cons
 The elastic strap may stretch out with regular wear.
Price at the time of publication: $69.9
Lightweight and travel-friendly sandals that can roll up and fit in your pocket. Yes, you read that right! Perfect for travel, walking, camping, and day-to-day use, these super lightweight vegan minimalist sandals are simple, cute, and fun. Made with a patented 5.5mm FeelTrue sole, it offers just the right amount of protection to your feet and is super flexible so your feet can bend and move naturally. The dual-direction chevron tread provides great traction, making these sandals an ideal minimalist footwear. A soft webbing toe loop and the simple velcro ankle strap holds your feet comfortably and securely. Additionally, the elastic heel strap ensures a flexible fit, allowing you to flex your feet naturally.
Pros
 Lightweight
 True to size
 Vegan friendly
 Velcro closure
Cons
 The toe strap may not fit some.
Price at the time of publication: $54.99
Made with a highly durable Vibram and butyl rubber sole, these super flexible sandals are for those who look for the ultimate minimalist trail sandal. Feel secure and protected on your trails with these lightweight sandals that also feature an aggressive tread for amazing grip. The patent-pending wing design allows maximum freedom while keeping your sandals securely in place without the use of a tech strap. The innovative continuous strap is made with climbing grade webbing and also has easy slide adjustment buckles that gives every foot a perfect fit, making them ideal sandals for hiking trails. Take these sandals on every excursion and you will not be disappointed. Better so, these minimalist hiking sandals come with Moonrock guarantee with lifetime assurance of adventuring.
Pros
 Durable Vibram megagrip
 Flexible
 7mm thick sole
 Easy slide adjustment buckles
 Quick dry
Cons
 Slightly expensive
 Available only in black color
Price at the time of publication: $110
Versatile and a sporty sandal, this minimalist footwear from Calvin Klein is perfect for outdoor enthusiasts who want to add sustainable fashion to their summer wardrobe. Designed with an asymmetric logo upper, these sandals have a classic sole made with EVA material that makes them durable, lightweight, and extremely comfortable to wear. With 1.18-inch heels, these sandals can be easily used for walking, running errands, or just a stroll around the park. The globally iconic logo makes these sandals fashionable that goes with any casual outfit.
Pros
 Comfortable
 Durable
 Flexible
 Available in different designs with colorful straps
Cons
 May not be suitable in wet conditions
Price at the time of publication: $43.86
With a classic thong style strap, these sandals are made with ultra lightweight EVA material that makes them easiest to wear and carry comfortably. Featuring anatomically shaped footbed, the upper, lining, and sole of these dressy minimalist sandals is a 1-piece moulded material which makes them resistant to abrasion and skin friendly. Shock absorbent, waterproof, and washable, these are a perfect addition to your list of summer essentials.
Pros
 Highly flexible
 Shock absorbent
 Ultra lightweight design
 Classic design
 Washable
Cons
 May not provide enough support to the feet
Price at the time of publication: $70.51
Designed with a modern mind set, the classic T-strap minimalist sandal features a structured footbed for enhanced comfort and support. Made with 100% leather, these sandals have an open-toe design with an ankle strap with Velcro closure. Soft and durable, these sandals are your perfect companion for summer outings and excursions. The beautiful sleek design of these leather barefoot sandals is eye-catching while the range of neutral colors can be paired with any outfit, keeping you stylish and comfortable at the same time.
Pros
 Soft on the feet
 Leather sole
 Durable
 Minimalist and versatile design
Cons
 May not be ideal in wet conditions
Price at the time of publication: $61.95
Giving you a touch of modern look while keeping a minimalist style, these T-strap sandals have today's fashion trends in mind. Highlighted by a sequence of 3D spheres on the center strap, the glossy finish on the pearls give a polished look. With a super-soft and flexible rubber sole, the sandals feature adjustable straps and a textured rubber foot bed for added comfort and secured grip. Available in 3 colors, these sandals are a must-have minimalist footwear for all your casual day looks.
Pros
 T-strap design
 Super soft
 Flexible
 Sustainable material
 Adjustable strap
 Ideal for wet areas
Cons
 Available in only 3 colors
Price at the time of publication: $34.95
Now that we have looked at the 10 best minimalist sandals that are sure to keep you relaxed and comfortable, let us look at the ideal occasions and conditions to sport minimalist footwear. Also let us walk you through various features to consider before buying your first pair of minimalist sandals.
When To Wear Minimalist Sandals?
Regularly wearing minimalist shoes enhances body posture and improves lower body strength and balance of our body as opposed to cushioned shoes. Minimalist sandals can be worn every day as a casual summer time shoe to keep your feet cool and healthy. Runners and hikers also enjoy wearing minimalist sandals as they are less restrictive and allow the feet to breathe. But avoid these sandals if you are hiking on rough terrains or running in hot wet and humid climates, desert, or a dense forest as these conditions require an extra layer of protection to keep your feet safe and secure. Ideal for summers, you can easily style minimalist sandals with all your casual daytime looks.
While choosing a minimalist sandal, you must consider the following important features.
How To Choose A Minimalist Sandal?
From the strap to sole, these sandals are either made of leather, cotton canvas, or Vibram material. While leather sandals are durable, soft, and malleable, they are heavier and do not dry fast making them uncomfortable. Foot beds that are made with canvas are lightweight, quick-drying, and moisture-wicking, making them durable. They are also more flexible than leather and have a soft texture. Vibram material is made from a blend of rubber and EVA. The soles made with this material are thin, lightweight, and comfortable. With excellent traction and abrasion-resistance properties, these are highly-durable and suitable for various terrains.
Minimalist sandals are designed to give your feet maximum freedom. The straps of these sandals should safely secure your feet while being non-restrictive. Horizontal strap styles feature a thick strap that secures and tightens the feet and keeps it from sliding. A thong-style strap doesn't restrict your feet with a strap and offers your toes to naturally spread out. Though comfortable, the thong-style sandals are more prone to slipping in wet conditions. Choose a style that is comfortable as per the conditions that you are planning to wear them in.
As minimalist barefoot sandals are great to be worn every day, you would need the sandals, from its strap to its sole and its footbed, to be durable and well-made. Thicker nylon or leather straps are more flexible and wear and tear-resistant. Nylon is also resilient to sunlight and rain, making them highly durable. While rubber soles fare better in wet conditions, thicker soles such as leather or Vibram soles offer good traction and are resistant to abrasion.
The goal of a minimalist sandal is to make the experience as close to being barefoot. Therefore, the fit of the sandal should be as close and comfortable as possible. There should not be any extra room at either end of the sandal so that the sandals do not slip or slack.
One of the reasons why people prefer to wear minimalist sandals is that they do not weigh down your treads. And when that is what it should be like, you need to ensure that your minimalist sandals are made from materials that make them a lightweight, comfortable wear. For this reason, it would be a good idea to avoid those made from leather or heavy rubber.
Why Trust StyleCraze?
The author of this article, Priyam Gupta, is a fashion enthusiast. She believes that the best minimalist sandals are simple and timeless and look after the overall health of your feet. According to her, you can pair a minimalist sandal with any outfit of your choice. The ones mentioned in the list have been carefully reviewed by her so that her readers can make the best pick.
Frequently Asked Questions
Are minimalist sandals good for your feet?
Yes, minimalist sandals, when regularly used, improve lower body strength, improve agility and flexibility of the foot, and work up the core strength and bone density of your body. These sandals are known to enhance posture as they are as close as walking barefoot which is how nature intended us to walk.
Are flip flops considered minimalist footwear?
Flip flops with zero-drop soles are great for your feet and can be considered as minimalist. However, there is no attachment around the heel that makes you clench your feet every time to hold on to the straps. This makes them uncomfortable and unhealthy in the long run.
Who should not wear minimalist sandals?
Avoid wearing minimalist sandals if you are overweight or have underlying pathological conditions. Minimalist shoes encourage the forefoot or midfoot gait, straining the Achilles tendon, and increasing the chances of injury.
Can people with flat feet wear minimalist sandals?
Yes. If you do not suffer from pain, dysfunction, or discomfort, adults with flat feet can wear minimalist sandals.