13 Best Minimizer Bras That Take All Worries Off Your Chest!
Get comfortable and confident in your favorite dresses and tees with the help of the right lingerie.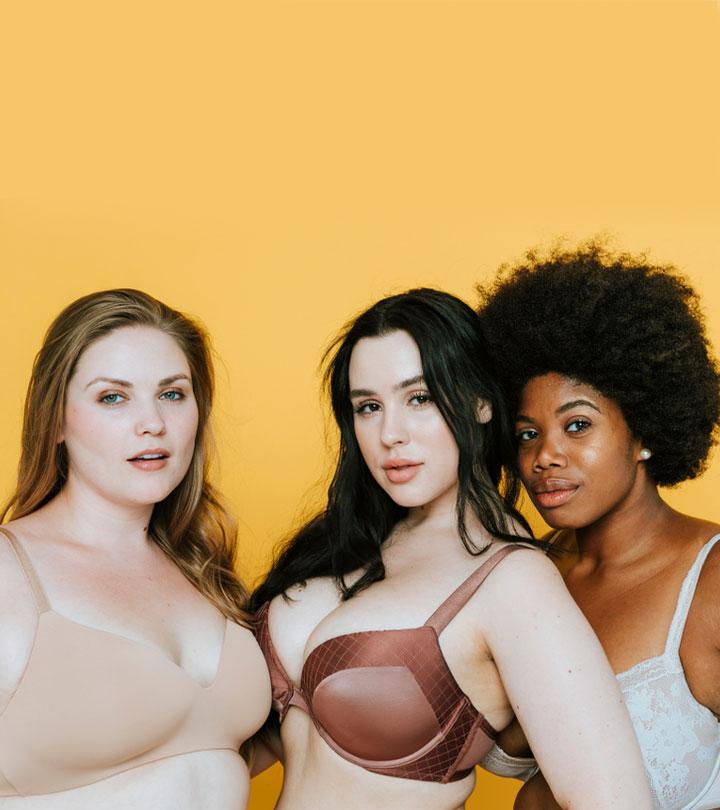 Shopping for bras can be an exhausting and frustrating experience. That is why we have put together a list of the best minimizer bras to narrow down your search. The market offers endless lingerie options, but people with big busts have always had difficulty spotting the right size. Regular bras either lack proper support or make you look like an 18th-century maid. The minimizer bras are comfortable and ensure maximum support for your breasts. Our list of top13 minimizer bras has received the best ratings from satisfied customers. So, swipe up to go through the details and grab your favorite product right now!
What Does A Minimizer Bra Do?
As the name already suggests, minimizer bras help reduce the volume of larger bust sizes. They are designed to contain bounce and keep your breasts well-supported yet comfortable. Without constricting or pushing down, these bras can help lift the breasts and give them a visually minimized appearance. This makes a huge difference when you wear clothing as your skin appears smoothed down on your sides and back. A good minimizer bra also has thick straps and bottom band that takes pressure off your back and shoulders while also supporting the breast tissue.
13 Best Minimizer Bras For A Visually Reduced Bustline
Glamorise's minimizer sports bra is constructed with 70% polyester, 25% polyamide, and 5% elastane. For full upper bust containment and bounce control, the bra is designed with a breathable camisole mesh. This full-figure minimizer support bra helps your skin breathe and the wide straps sit gently without digging in. Providing full coverage, the cups are non-stretch to give you a good hold. With a hook and eye closure, the breast minimizer bra is also easy to take on and off.
Pros
Available in 9 colors
Breathable mesh
Hook and eye closure
Full coverage non-stretch cups
Soft and supportive fabric
Reduced bounce
Cons
Some might find the trimmed edges to be slightly abrasive
Price at the time of publication: $32.06
Bali's offers the best minimizer bra that slims your body down and helps your clothes fit better. Constructed with 76% nylon and 24% spandex, the fabric remains breathable while also offering a good amount of stretch. An inner silky lining feels soft against your skin and the adjustable hook and eye closure offers convenience. We think this is the best minimizer bra for large breasts as it has a hidden underwire for a better fit. You will find the cups to be smooth with a lace detailing near the adjustable non-slip shoulder straps as well.
Pros
Slimming effect
Soft inner lining
Adjustable closure
Hidden underwire
Available in 19 colors
Smooth cups
Cons
The underwire might jut out
Price at the time of publication: $22.99
Vanity Fair's full-coverage minimizer bra significantly reduces your bust line for maximum comfort. The soft and 4-way stretch fabric smooths down your back, so that your clothing can fit better. With 2-ply cups, you can stay supported through your daily activities with this everyday minimizer bra. Adjustable straps at the back are placed close together to prevent slippage and are lined with plush to sit softly against the skin. Vanity Fair's bust minimizer bra is available in 9 colors with varying styles, so you can pick them according to occasion.
Pros
Soft fabric
4-way stretch
Smooths down back
2-ply cups
Adjustable plush-lined straps
Available in 9 colors
Cons
Some might not like the lack of padding in the cups
Price at the time of publication: $22.42
The Lilyette minimizer bra has a composition of 81% nylon and 19% elastane. Even though it is a strapless minimizer bra, you can attach the straps and adjust them in any style you prefer owing to their convertible nature. The wide bands with invisible boning can be used for some extra support for big-breasted women. To prevent slippage, silicone grippers on the interior come into play. Constructed with the Lily Fit System, the Lilyette strapless minimizer bra is seamless and contains an underwire for better shaping.
Pros
4-way convertible adjustable and detachable straps
Anti-slip silicone grippers
Seamless look
Underwire for support
Available in 2 colors
Full coverage
Cons
Straps might not stay put securely
Price at the time of publication: $22.99
Olga's best support minimizer bra is made with 83% nylon and 17% spandex and uses a hook and eye closure. It provides you full coverage with some lace trims and a keyhole in the front. For enhanced comfort, the underwire is encased and the camisole adjustable straps cushion your shoulders. Toning down your profile, this best-rated minimizer bra shapes your figure for a flattering look.
Pros
Available in 6 colors
Lace trim details
Front keyhole
Encased underwire
Soft adjustable straps
Hook and eye closure
Cons
Some may find the underwire to be sharp
Price at the time of publication: $38
HSIA's sexy minimizer bra visibly lessens your bust volume instead of physically and painfully pushing it down. It features scalloped lace cups with a stretchable mesh that is soft and flexible. Your back is subtly smoothened with the side wings and the adjustable brushed straps take pressure off the shoulders. With a U-shaped back, you will face no slippage or riding up as the bra stays stable. Available in 16 colors, HSIA's unpadded bra minimizer is a must-have for when you want to showcase your flirty side.
Pros
Soft and stretchable lace
Smooths back
Adjustable brushed straps
Anti-slip
Available in 16 colors
Scalloped lace cups
Cons
Some may find the material to be scratchy
Price at the time of publication: $20.99
Just My Size brings to you the best wirefree minimizer bra made of 92% nylon and 8% spandex. The cups have a soft texture and are non-irritating with a tiny bow in the center for added flair. With a lace-adorned front and shimmery and stretchable satin at the back, the bra gives an elegant look. Hugging your shoulders, the Comfort Cushion Strap is wide and provides you with all-day support. For added comfort and shaping, the minimizer support bra contains side seams while the wide band provides stability.
Pros
Soft-textured cups
Elegant look with bow, lace, and satin
Cushioned adjustable straps
Side seams for shaping and added support
Wide band
Seamless under clothing
Cons
Some may find the shoulder straps slightly short
Price at the time of publication: $14.52
One of the best Wacoal minimizer bras, this one reduces your bust size by 1 inch and is made with 62% nylon and 38% spandex. Along with full-coverage cups, supportive lace with a sheer lining of mesh is also present. For a scratch-free and comfortable fit, the neckline and underarm are sealed with elastic. The band at the bottom has soft and sheer stretchable mesh while the leotard back has fully adjustable straps to keep the figure minimizer bra in place.
Pros
Available in 7 colors
Full-coverage cups
Supportive lace
Scratch-free
Adjustable shoulder straps
Soft underwire
Cons
Some may find the straps to cause discomfort
Price at the time of publication: $68
DotVol's wire-free minimizer bra is made with a blend of polyamide and spandex, containing an inner lining of the former fabric. This combination keeps your bra thin and lightweight while allowing your skin to breathe, keeping it cool and dry, non-padded with full coverage, interior support panels reduce your bustline for a minimized effect. Cushioned and extra-wide padded shoulder straps, U-shaped back, and a cotton blend bottom band all add to maximum comfort. The sheer material going through the center adds a feminine touch and is great for occasional wear.
Pros
Available in 8 colors
Soft inner lining
Lightweight
Breathable
Adjustable cushioned straps
Comfortable bottom band
Cons
May not reduce bounce when running
Price at the time of publication: $24.99
Chantelle's padded minimizer bra has a U-shaped back to help take the weight off your shoulders with the help of adjustable and narrower shoulder straps. A blend of polyamide and spandex keeps this piece of clothing breathable and stretchable for the ultimate comfort. The floral pattern on the cups coupled with the center bow add up for a feminine look. To prevent sudden stabs, the underwire is double padded, so it stays soft against your skin. Available in 6 colors, you can wear this bra under your shirts or blouses as it looks seamless.
Pros
Doubly padded underwire
Available in 6 colors
Breathable
Removes pressure from shoulders
Adjustable straps
Cons
Some may find it to be too stretchable
Price at the time of publication: $78
Frugue's plus size minimizer bra offers off a super sexy look owing to the intricate lace detailing. Lightweight and of the utmost comfort, you can find this bra to give you the lift you're looking for. The wide lace straps sit gently on the shoulders without digging in and the underwire feels soft against the skin as well. Available in 6 colors, you can don Frugue's push up minimizer bra when you're tired of boring choices!
Pros
Available in 6 colors
Intricate lace details
Lightweight
Breathable
Wide shoulder straps
Comfortable underwire
Cons
Some might find the fabric to be scratchy
Price at the time of publication: $32.99
Playtex's no-wire minimizer bra smooths the skin on your back and sides, so your clothes can fit flawlessly. Made with a nylon-spandex blend, the TruSupport design reduces spillage with full cups and comfortable straps. With no underwire or itchy tags, the fabric is soft with a second-skin feeling. The cups have mesh panels on the top for flexibility and breathability, while also providing coverage in this side support minimizer bra.
Pros
Smooths skin on the sides and back
Full coverage cups
Mesh panels
Soft fabric
No underwire
Available in 3 neutral colors
Cons
Some might find the straps to be on the thinner side
Price at the time of publication: $19.98
74% polyester, 18% nylon, and 8% elastane went into the making of this low-profile minimizer bra. Hugging your curves without flattening your bust, the French-style Andora full coverage minimizer bra has delicate embroidery accents for added elegance. Firm and supportive anti-slip straps made of microfiber keep the bra in place and the U-shaped ballet back is smoothing for a seamless look.
Pros
Slimming effect
Anti-slip straps
Embroidery accents
Smoothes back
Available in 7 colors
Cons
Some may find the underwire to be uncomfortable
Price at the time of publication: $78
Now that we've gone over some of the best minimizer bras on the market, let's dive into how you can select the right one for yourself.
How To Choose The Right Minimizer Bra
This is a key aspect to look out for in a bra. You might opt for some very pretty options but oftentimes they might be made with itchy materials or a poky underwire. A bra that offers great fitting without squishing you or causing spillage due to being too tight is the ideal one. Although minimizer bras are slightly constricting in order to tone down the bust, they must in no way make you uncomfortable. Thick adjustable straps that are cushioned, a wide and soft bottom band, and a fully functioning back closure can add to the comfort of a bra.
Fortunately, you won't have to deal with unflattering or 'medical' minimizer bras anymore as there are a lot of new trendy styles. Embroidery accents, lace detailing, bow placements are all great additions to a bra and can make it seem more elegant. With bolder colors, you can amp up the sexiness and neutral colors are good for casual wear. Strapless minimizer bras are good for strapless outfits and offer a seamless look.
This one feature can be the deciding factor between choosing or not choosing a certain bra. While an underwire is a beneficial tool to help lift and define your breasts, it can come jutting out of the fabric and stab the skin. To prevent this, look for bras that offer padding on the underwire to help it lay gently against your skin.
You might be quite tempted to size down from your usual measurements when shopping for a minimizer bra. However, this is a grave mistake as this might be constricting and cause lumps, leaving marks on the skin. You might also be faced with soreness and poor blood flow. Stick to your usual size as it is the job of the bra to visually minimize the bust.
Large-busted ladies, take one worry off your chest! Minimizer bras are a great way to keep your girls supported and stay comfortable no matter what outfit you're flaunting. A bigger bust is definitely something that can up your sexiness factor but sometimes it is sometimes difficult to style. With our list of the best minimizer bras, you have a multitude of options in terms of design, color, and style. As many advancements have been made to offer the utmost support for big-busted ladies, you don't need to compromise on comfort anymore. And with some sultry, fun, and colorful picks you won't have to dread bra shopping ever again!
Why Trust StyleCraze?
The author, Priyam Gupta, is a fashion enthusiast who keeps a tab on the best trends. Her well-researched article on minimizer bras ensures high-quality products while keeping your style and comfort in mind. She has focused on the fabric used and considered necessary quality parameters to bring you a perfect list of minimizer bras. These bras are not only comfortable and ensure support for your breasts, but are also easy to wear and take off.
Frequently Asked Questions
Is a minimizer bra good for daily use?
Yes, minimizer bras can be used daily as they provide full coverage and support. However, you may want to steer clear of underwire options during the night to prevent discomfort.
Is there a bra that lifts and minimizes?
A good padded underwire minimizer bra can help lift your breasts and push them up.
Are minimizer bras bad?
As long as you use the right-sized minimizer bra, it will provide support and coverage to your bust. They are a great way for large-breasted women to stay comfortable.
Is a minimizer bra good for sagging breasts?
Underwires can help offer support to sagging breasts and this can be supplemented with full coverage cups for comfort.
Is a minimizer bra good for heavy breasts?
Yes, a minimizer bra holds in a heavy bust and provides it with optimum support.
Does sleeping with a bra reduce breast size?
No. Sleeping with a bra does not reduce the size of your breast. However, sleeping with a bra limits breast movements and prevents sagging.
Does a minimizer bra make you look thinner?
No. A minimizer bra is designed to adjust your breasts all across your chest. They prevent your breast from protruding forward. Therefore, they make your breasts appear smaller but do not make you look thinner.
Recommended Article