8 Best Mirror Effect Nail Polishes For Glassy Nails In 2022
Achieve bedazzled nails with these long-lasting and chip-free nail paints.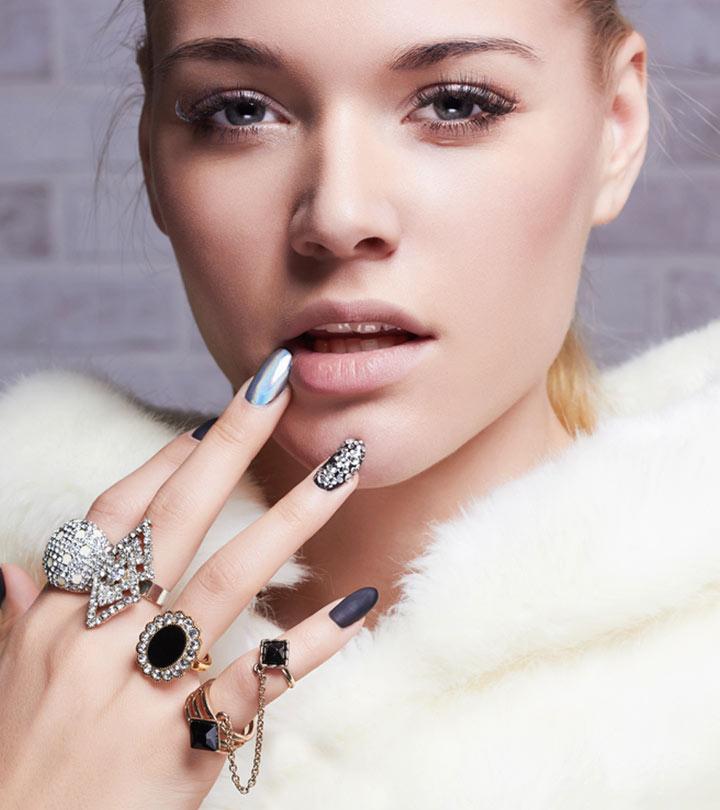 You must have heard about the glossy shine, but glassy nails are the newest craze for that luxurious mirror effect. Matte nail polishes are a treat, but sometimes, it is nice to bling it up with the best mirror nail polish. Having bedazzled nails can be quite demanding and time-taking, with all the beady jewellery. So, when you have less time to look your absolute best, nails with a glitzy finish are your answer. The metallic texture and look are quite attractive and are far from anything basic.
A silvery or golden sheen goes with all kinds of outfits. Whether you wear them with some basic shirt plus jeans combo or wear it with a sexy bodycon dress, these nail polishes never fail to impress. The formulas are luxurious, and the application process is very smooth and effortless. Get your own chrome look by choosing out of these 8 best shimmery nail polishes for that glassy effect.
Top 8 Mirror Effect Nail Polishes Of 2022
For an ideal chrome effect, the SANTEE Mirror Effect Nail Polish Color Shine is available in 3 shades with a metallic finish. The formula dries quickly without requiring UV/LED light and can also be removed easily with a regular nail polish remover. This mirror effect nail polish applies seamlessly and gives your nails a futuristic look. The nail polish not only dries quickly and offers complete coverage in one coat but also settles as a waterproof and chip-resistant finish that adds to the lasting color that this formula provides. This mirror effect nail color is an absolute must-have and is available in shades like silver, gold, and champagne.
Pros
Glossy shine
Dries quickly
Seamless application
Waterproof
Chip-resistant
Cons
It can leave behind streaks if not applied carefully
If you're looking for a mirror effect nail polish that is vegan and environmentally friendly, the Craney Metallic Nail Polish in Silver is ideal for you. With a non-toxic formula and healthy ingredients, this mirror effect nail polish is easy to use. The silvery-paste shade is lasting and gives your nails the ease of wearing regular nail polish with a gel lacquer finish. The color-resistant and flexible nail polish will provide you with a smooth appearance that is safe from scratches or dents. For a shine that lasts up to 14 days, this mirror finish nail polish gives your nails a professional salon-like look.
Pros
Environmental-friendly
Cruelty-free
Vegan
Waterproof
Fade-resistant
Cons
Some may find the polish to be too thick.
The Eternal Nail Enamels are available in 4 shades, including Turn The Page, Chocolate, Dark Nude, and Stay Nude. The fast-drying nail polish is free from up to 12 harmful ingredients, including toluene, formaldehyde, dibutyl phthalate, formaldehyde resin, camphor, xylene, parabens, gluten, and more. The neutral shades come with a mirror shine and enhance the appearance of your nails. The pigmented nail polish gives you high coverage with a glossy finish that adds to the chic and flattering look you're going for.
Pros
Fast-drying
Long-lasting formula
Vegan
Cruelty-free
Available in 4 shades
Cons
The No Place Like Chrome mirror effect nail polish by Essie is a silver ultra-metallic nail polish that lets you make a sophisticated style statement. For a high-gloss shine, this lacquer delivers flawless coverage along with a lasting and durable finish. It also comes with an application brush that suits all nail sizes and makes for a streak-free look. The chip-resistant formula also ensures that this mirror effect nail polish lasts longer on your tips. The best part of this polish is that it is also free from toluene, DBP, and formaldehyde. Check out this YouTuber's review of the product if you require more details.
Pros
Chip-resistant formula
Glossy shine
Flawless coverage
Durable color
Easy-to-apply
Cons
The polish may have a thick consistency that can cause clumps or streaks.
Available in shades like gold, silver, champagne, and rose gold, the Queen Finger Mirror Nail Polish has a high-quality shimmery finish. You can also combine this mirror metal nail polish with chrome powder to get an effective mirror effect. Suitable for natural nails, fake nails, or acrylic tips, this long-lasting nail polish is durable and quick-drying. You may even add nail varnish to ensure that your manicured nails last long.
Pros
Suitable for personal and professional use
Quick-drying
Durable and long-lasting
High-quality shimmer finish
Available in many shades
Ideal for all nail types
Cons
This product is not FDA-approved.
You may have to apply more than one coat to get a lustrous look.
The Miss Cheering Healthy Nail Color is best used in combination with a base coat or a topcoat. This professional quality nail polish contains ingredients that give you a glossy and long-lasting nail color for the perfect reflective nails. Create unique nail designs using this quick-drying formula that offers you holographic nails. The bright and long-lasting silver mirror nail polish also comes in various shades like white, beige, ivory, and black, allowing you to choose one that best suits your outfit or mood.
Pros
Bright and long-lasting color
Peelable formula
Glossy finish
Multiple shades to choose from
Cons
Some may find the consistency to be watery
This chrome mirror effect nail polish will spruce up your nails with a radiant glow. The metallic nail polish comes in 4 shades, including gold, silver, champagne, and rose gold, so you have options to choose from for different occasions and outfits. The long-lasting color is ideal if you're looking for a chrome mirror powder effect with this easy-to-use nail polish. The water-based mirror chrome nail polish is not only harmless to your nail tips but also environment-friendly, making it ideal for those who are looking for a safe yet stylish option.
Pros
Comes in 4 shades
Long-lasting
Easy-to-use
Water-based
Environment-friendly
Cons
It may take a while to dry completely.
This 7-free wonder is genuinely a grab! Get the most reflective and healthy nails with the ella+mila nail polish in the shade Mirror Mirror. The vegan nail color will give you shiny and glossy nails whenever you need them! Give yourself a glamorous manicure right from the comfort of your home with this easy-to-use nail polish. What's more, the PETA-certified cruelty-free also gives you the satisfaction of knowing that you contribute to the environment as you paint your nails with this trendy polish.
Pros
Fast-drying
Chip-resistant
7-free formula
Vegan and cruelty-free
Cons
We've got you covered with our curated list of metallic mirror shine nail polish, whether you want mirror nails or a more textured and shiny look. With fast-drying formulations that last a long time, these nail polishes will add to your glam quotient. If you're wondering how to apply and remove mirror effect nail polishes easily, we've got your back!
How To Apply Mirror Effect Nail Polish
Step 1: Clean and prep your nails with a good base coat
Wash your hands and wipe away any old nail polish you were wearing with some nail polish remover before filing and shaping your tips. Prepare your nails for the mirror effect nail look with a solid gel base coat. Don't forget to allow the base to dry for up to 2 minutes.
Step 2: Buff on the chrome powder
With a brush, gently buff the chrome powder onto your gel nails, or simply apply the reflective nail polish for the same results. You can also specifically use a mirror gel nail polish to avoid the hassle of messy chrome powders.
Step 3: Clean away residue
When you've applied the loose chrome powder on all your nails, brush away the remaining powder around the nails. When using liquid nail polish, make sure to be careful not to let any extras getaway.
If you're looking for smooth and long-lasting results, apply a double topcoat or a transparent topcoat for the best shine.
How To Remove Mirror Nail Polish
Step 1: Get your remover ready
Soak a soft cotton pad with acetone or nail polish remover.
Step 2: Remove nail polish
Rub the cotton pad gently over your nails in regular circular motions to remove the nail polish. Do this for about 2 minutes, or until the color has worn off completely.
Step 3: Massage and nourish nails
You can also finish the removal process by massaging your cuticles with a nourishing oil like castor oil to ensure that your nail remains healthy and shiny until you want to indulge in a new nail color.
Why Trust StyleCraze?
Chaitra Krishnan, the author, is a beauty and makeup enthusiast, who loves experimenting with new looks and trends. Mirror nail polishes are a rage among the millennials and therefore, the author presents you with the list of the best options available in the market. She has gone through numerous customer feedback on trusted e-commerce sites to curate this list. The products are water-proof, chip-resistant, and quick-drying formulas that offer great coverage and last long.
Frequently Asked Questions
What is mirror nail polish?
Mirror nail polish, when applied with regular nail polish and a top coat, dries to a gorgeous, glass-like mirror finish.
How long does mirror nail polish last?
Most brands of mirror nail polish lasts up to 14 days
Why are my chrome nails chipping?
Applying the chrome powder too thick may prevent a complete cure, which will cause chipping or peeling. Instead, use a primer or base coat and just enough product to avoid chipping off polish.
Can you put chrome powder on regular polish?
Yes, some brands of chrome powder can be used on regular nail polish.
How do you use mirror effect powder?
Mirror powder is applied on UV gel nail polish and cured under UV light.
Are mirror nails in style?
Yes, mirror nails are very much in style for their chrome-style finish and mirror-like look.
Recommended Articles