11 Best Hair Moisturizers For African American Hair
These hair moisturizers add that extra moisture to African hair and fix common hair issues.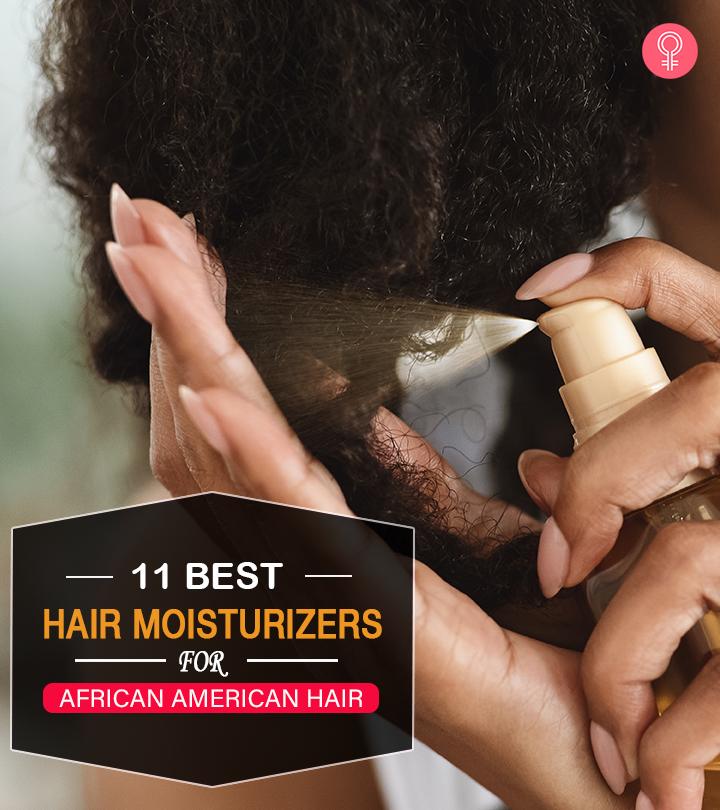 Since moisturization is mandatory when it comes to natural African hair, we have listed the 11 best hair moisturizers for African hair in this article. These moisturizers work wonders for the coily and coarse hair that tends to become dry very quickly. They retain the moisture and hydrate the hair, making them look effortlessly healthy and gorgeous. With them in place, styling this hair type becomes easier too. So, go ahead and give this piece a read.
11 Best Hair Moisturizers For Natural Hair
The As I Am Double Butter Cream contains a rich blend of the finest natural butters and organic oils. It helps reduce dryness and makes the hair soft and manageable. It can be used as a daily moisturizer to restore hair health. It helps seal in moisture and makes the curls soft and shiny. This cream is enriched with pro-vitamin B5, and it repairs split ends and strengthens hair.
How To Use: Apply this butter to your hair, depending on how much your hair needs. Take some butter in your palms and scrunch it onto your hair. This enhances the curl structure. You can also use this butter to set twists and twist-outs. This video gives you more information about the product.
Pros
Works well on transitioning hair
Makes curls manageable
Retains moisture
Sweet and light smell
Adds shine
Contains natural ingredients
Cons
May cause breakouts on sensitive skin.
Might leave the hair feeling waxy.
The Carol's Daughter Hair Milk converts dry and frizzy hair to soft and well-defined curls. It protects the hair from breakage, dryness, and unmanageability. It contains shea butter that deeply hydrates the hair and soybean oil that softens and strengthens hair. It also contains agave nectar that locks in natural hair moisture and makes the hair extra healthy. This rich, creamy milk is absorbed easily into curly and kinky hair. Have a look at this video to learn more about the product.
How To Use: Apply this moisturizing milk to your damp curls after co-washing. Apply it evenly with your finger.
Pros
Detangles hair
Reduces frizz
Strengthens hair
Absorbed quickly
Paraben-free
Mineral oil-free
No artificial colors
Petroleum-free
Cons
May make hair greasy.
Some people may not like the smell.
The TGIN Butter Cream Daily Moisturizer locks in moisture from the roots to the ends of every hair strand. It contains vitamin E, which promotes hair growth and prevents hair loss. It also has shea butter that retains moisture and keeps the hair hydrated. The cocoa butter conditions the hair and makes it strong and lustrous. This cream reduces frizz and smoothes the hair cuticles without making your hair feel heavy or oily. Its gentle formula can be used daily for everyday care. It works as a styling gel too for twists and twist-outs. Here is an informative video that tells you more about the product.
How To Use: Apply the butter to washed and damp hair. Coat the hair evenly. 
Pros
Reduces frizz and fly aways
Promotes hair growth
Imparts shine and softness
Great for styling
Cons
Might make hair flaky.
Might leave a sticky residue.
Might cause tangles.
The Roots Naturelle Ultra Rich Hydrating Crème hydrates your curls and makes them soft. It enhances the curl structure and adds bounce. It contains olive and grape seed oils that infuse moisture. The proteins strengthen and protect the hair from frizz. It also contains other ingredients like aloe leaf extract, shea butter, and coconut oil, which strengthen the hair and improve its quality. It can be used every day as a moisturizer and for styling.
How To Use: You can apply this creme to towel-dried hair and massage it in from the roots to the ends. 
Pros
Defines curls
Reduces frizz
Perfect for daily styling
Cons
Might not suit all kinky hair types.
Might leave a sticky residue.
The Natural Formula Hair Moisturizer conditions and moisturizes hair while preventing frizz. It accentuates the curls and makes them soft and velvety. This moisturizer reduces and prevents hair damage caused by pollution, sun rays, and environmental conditions. It rejuvenates dry, dull, and fatigued hair. It also improves hair elasticity and gives your hair a fresh and vibrant appearance. It contains oatmeal, macadamia nut extracts, shea butter, jojoba extract, and avocado oil. The oatmeal and macadamia nut extract provide nourishment to the hair and preserve its structure. The shea butter, jojoba extract, and avocado oil protect the hair, reducing frizziness and dryness and making it soft and supple.
How To Use: Apply the moisturizer to damp and washed hair. Spread it over the entire length of your hair, curling the hair with your fingers as you go. It can also be used as a styling cream.
Pros
Defines curls
Makes hair manageable
Reduces frizz
Detangles curls
Adds shine
Cons
The African Pride Moisture Miracle contains a blend of chocolate, honey, and coconut oil. Honey helps retain moisture in the hair and make it shine. Honey also helps reduce frizz and decrease severe dandruff. The chocolate restores hair health and prevents damage. It also contains coconut oil that hydrates and repairs the hair. This blend of ingredients helps moisturize dry curls and enhance their structure.
How To Use: Apply the moisturizer to wet and washed hair, massaging it from the roots to the ends. Leave it on for 10-15 minutes and then rinse it off thoroughly.
Pros
Softens hair
Detangles hair
Reduces frizz
Paraben-free
Mineral oil-free
Sulfate-free
Petrolatum-free
Cons
Has a strong smell.
Might not coat hair fully.
The Soft Sheen Carson Super Softening Hair Butter is specifically for dry, transitioning, and damaged kinky hair. It reduces breakage and deeply moisturizes and reconstructs damaged hair. It promotes a healthy scalp while making the hair supple and shiny. It reduces frizz and helps detangle and hydrate hair.
How To Use: Apply the butter to washed and damp hair. 
Pros
Softens hair
Defines curls
Detangles hair
Reduces frizz
No build-up
Alcohol-free
Mineral oil-free
Paraben-free
Petrolatum-free
Cons
Aunt Jackie's Quench Moisture Intensive Leave-in conditioner provides ultra-hydration and deep moisture to your hair and scalp. It reduces dryness and offers long-lasting softness. It is specifically made for wavy, curly, and kinky hair and doesn't make curls feel heavy. It contains ingredients like marshmallow root, shea butter, and extra virgin olive oil that intensely moisturize hair.
How To Use: Apply this moisturizer to towel-dried or damp hair. Comb your hair to evenly spread the moisturizer and for detangling.
Pros
Softens hair
Adds shine
Reduces frizz
Safe for colored hair
Detangles hair
Sulfate-free
Paraben-free
Mineral oil-free
Petrolatum-free
Cons
Contains alcohol that dries hair.
May cause an allergic reaction like itching.
The Miss Jessie's Leave In Con dish is a lightweight conditioner that deeply moisturizes hair. It helps detangle hair and reduce frizz. It makes curls soft and shiny and does not leave an oily residue. It coats the curls and seals the moisture, making the hair tamable and manageable. It contains ingredients like soybean and aloe vera, which are known for their moisturizing properties.
How To Use: Apply this conditioner to damp hair and leave it on. You can also style your hair and add shine to your curls.
Pros
Reduces hair breakage
Softens hair
Makes hair manageable
Defines curls
Cons
Chemical smell
Does not detangle hair.
Might leave hair crunchy.
The Alikay Naturals Moisture Rich Hair Parfait improves hair strength and makes curly hair shiny and manageable. It nourishes dry and damaged curly hair and renews hair luster and shine. It improves hair elasticity while preventing frizz and dullness. It increases moisture by binding with hair protein. You can use it to style twisted and braided hairstyles. It is safe for color-treated hair and can be used on wet or dry hair.
How To Use: After using a leave-in conditioner, take a small amount of the hair parfait in your palms and rub them together so that it melts. Apply the parfait to hair and style as usual. 
Pros
Softens hair
Good fragrance
Adds shine
Helps in styling hair
Provides long-lasting hydration
Safe for color-treated hair
Cons
The Cantu Shea Butter Moisturizing Curl Activator Cream is made for natural and textured hair. It adds extra moisture to the hair, making it healthy and shiny. It also helps in taming and styling hair. It smoothes the hair while enhancing the natural curl pattern. It makes the hair voluminous without any frizz. It contains coconut oil that protects the hair from damage within the cuticle while keeping it moisturized.
How To Use: Apply this cream to damp hair in sections. You can also apply it to dry hair to add shine and extra moisture.
Pros
Defines curls
Makes hair soft
Reduces frizz
Adds shine
Helps style hair
Cons
May weigh the hair down.
May make the hair crunchy.
Maintaining African tresses can be tough if you are not aware of the right formulas to go for. To help you choose the finest moisturizers for nourishing your beautiful African hair, we have compiled a few simple guidelines.
How To Choose The Best Hair Moisturizers For African-American Hair
It is important to start with emollient components when evaluating a product. You cannot go wrong with fatty acids and oils including shea butter, cocoa butter, coconut oil, argan oil, castor oil, and lanolin. These ingredients do more than simply hydrate the hair; they also protect the cuticles from drying out. You should also keep an eye out for vitamins and omega-3 fatty acids, notably vitamin B5 and vitamin E. These aid in mending split ends and taming frizz.
Although silicones and alcohol aren't harmful by themselves, they are two chemicals you need to avoid when shopping for an African hair moisturizer. Rapidly smoothing hair using silicones is great, but they can cause build-up on the scalp and strands if used too often. Most creams also include alcohol as a component, however only certain types of alcohol (Cetearyl alcohol) are beneficial to your hair. Alcohols such as ethanol, isopropyl alcohol, and others can dry out your scalp and hair, and in some circumstances, cause irritation.
Sulfates have the tendency to strip the scalp and hair of their natural oils which might have negative consequences on African hair. They cause the hair to dry out too quickly, which can give rise to frizzy strands. Avoid moisturizers with sulfates if you have kinky, coily, dry or damaged hair. Also, those with dandruff or a severely dry scalp should avoid sulfate-containing products.
Choose formulas according to your preferences. Go for creams, parfaits (the combination of gel and cream), or oils as per your hair type and needs. However, kinky and curly African hair types should opt for oily concoctions which often work best.
Whether or not you decide to purchase a certain moisturizer should depend mostly on its claimed benefits. You may be looking for a moisturizer to help with a specific ailment, such as persistent dandruff. Opt for the one that meets your needs.
Be wary of products that are overly heavy, since they may result in an oily build-up in your hair. However, if you have extremely dry, frizzy hair, a heavy moisturizer will work wonders. The secret is to layer it proportionately with other hair care products.
Why Trust Stylecraze
Shiboli Chakraborti, the author of this article, is a certified skin care coach with a keen interest in hair care. She thoroughly researches various hair care products and their ingredients to bring out the best compilation for the readers. The list of best hair moisturizers for African hair is curated after thoroughly exploring various products and reading many customer reviews on various trusted platforms. These moisturizers are the best way to keep frizz at bay and get healthy hair.
Frequently Asked Questions
How does a hair moisturizer work?
Apply the hair moisturizer to wet and damp hair. This helps to detangle hair and retain moisture.
How do I keep my natural hair moisturized?
Use a hair moisturizer daily. Also, keep a water spray handy to sprinkle water on your kinky locks to keep them hydrated and not weighed down.
Should I moisturize my hair daily?
Moisturize your hair daily until it is hydrated and nourished. You can then moisturize your hair every other day to keep it intensely moisturized.
How can I keep my hair naturally moisturized?
Use a moisturizer with water as the primary ingredient. Keep a water spray handy to hydrate your curls. Use shea butter, avocado, aloe vera, coconut oil, or castor oil on your curls. Trim your hair regularly and reduce using heating tools to style your hair. Allow your hair to relax once in a while instead of styling it in tight hairstyles.
Recommended Articles