7 Best Moisturizers For Dehydrated Skin, Recommended by Experts
Make your skin supple with non-greasy and non-comedogenic lightweight formulas.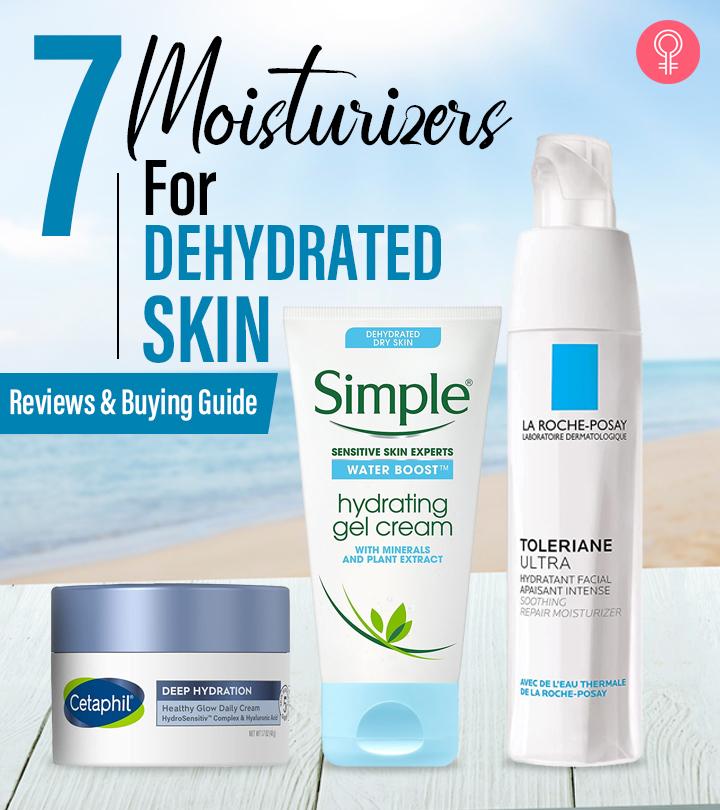 Did you know that your skin can get dry even if you have oily or combination skin? It happens when you are exposed to pollution or use the wrong skin care products. But the best moisturizer for dehydrated skin makes your skin hydrated and prevents dryness. These moisturizers show visible results and also impart a natural glow and improve skin texture. Dryness makes your skin feel irritated, so regular usage of moisturizer can remedy that.
Try out a moisturizer from our list of the best moisturizers for dehydrated skin that will make your skin smooth, supple, and soft. Grab them below!
Why Should You Moisturize Your Skin Every Day?
Moisturizing gives you softer, smoother, and more youthful skin. It keeps your skin hydrated and enhances its elasticity. Moisturizing becomes more crucial when you have dehydrated skin as it keeps flaking, scaling, and fine lines at bay. Therefore, include a suitable moisturizer for your skin type in your daily beauty regimen. You should moisturize your face daily after every wash.
Finding a good moisturizer can be confusing. Keep scrolling to learn more about all the factors you need to consider when buying a moisturizer.
How To Choose The Best Moisturizer
It's important to know your skin type before buying a good moisturizer. For sensitive skin, buy moisturizers labeled 'hypoallergenic' to prevent any adverse reactions. For oily skin, choose a lightweight and oil-free moisturizer. For dry skin and dry patches on the skin, choose a water-based and hydrating moisturizer.
Daily sunscreen protection is as important as keeping your skin hydrated. So, it is important to buy a moisturizer with a high SPF value that is above 30-35.
Choosing a moisturizer with natural ingredients prevents skin irritation, damage, and dullness. For example, natural ingredients like glycerin are less harmful than lanolin.
Retinol-based moisturizers improve skin cell turnover and radiance. However, a patch test should be done before using a retinol-based cream to avoid adverse reactions.
Keep these pointers in mind while you browse through our list of the most popular moisturizers for dehydrated and thirsty skin available right now.
7 Best Moisturizers For Dehydrated Skin
The soothing LA Roche-Posay Laboratoire Dermatologue Toleriane Ultra is formulated to hydrate your skin. It is enriched with Thermal Spring Water and Neurosensine to restore your skin's hydration levels and maintain its protective barrier. It is formulated without any harsh chemicals to prevent any allergic reactions. The comfortable and refreshing formula gets absorbed easily and offers long-lasting comfort. It is dermatologically tested as well. You can check this YouTube video to view the reviewer's experience with the product.
Key Ingredients: Thermal spring water and Neurosensine
Pros
 Dermatologist-tested
 Allergy-tested
 Non-comedogenic
 Soothing formula
 Paraben-free
 Fragrance-free
 Preservative-free
 Alcohol-free
Cons
Price at the time of publication: $30.99
Simple Water Boost Hydrating Gel Cream gets easily absorbed into the skin, leaving it refreshed and supple. The anti-inflammatory, antibacterial, and pain-relieving properties from the eucalyptus oil in the cream soothe your skin. Glycerin retains moisture, relieves dryness, and refreshes the skin's surface. It also contains skin-loving plant extracts and minerals that comfort dehydrated skin without feeling greasy and promotes skin rejuvenation. If you are still unsure about purchasing, check out this review to have an idea of people's experience with this product. The product has not undergone testing on animals.
Key Ingredients: Eucalyptus oil and Glycerin
Pros
 Lightweight
 Water-based formula
 Cruelty-free
 Non-greasy
Dermatologically tested
Cons
None
Price at the time of publication: $8.26
Cetaphil Deep Hydration Healthy Glow Daily Cream nourishes and replenishes your skin's hydration levels for long hours. The hyaluronic acid in the cream reduces the appearance of fine lines and wrinkles, while vitamins B5 and E soothe and rehydrate your skin to add a healthy glow to it. It is specially formulated to prevent the clogging of pores and irritation. It is proven to deliver visible results against 5 signs of skin sensitivity.
Key Ingredients: Hyaluronic acid, Vitamins E, and B5
Pros
 Lightweight
 Non-greasy
 Non-comedogenic
 Pleasant fragrance
Clinically-proven
Dermatologist-tested
Cons
None

Price at the time of publication: $12.75
Dermalogica Super Rich Repair is a super-hydrating moisturizer that replenishes the skin's natural moisture levels with its hydrating ingredients. It has powerful peptides and an acid-free smoothing complex that support the skin's lipid barrier and promotes collagen production. Shea butter, jojoba oil, and evening primrose oil replenish and hydrate your skin while defending it against free radical damage. It is fortified with allantoin to soothe your skin and provides it with required nourishment.
Key Ingredients: Shea butter, Allantoin, Jojoba oil, and Evening primrose oil
Pros
 Soothing formula
 Color-free
 Paraben-free
 Fragrance-free
Cons
None
Price at the time of publication: $139.0
Image Skincare Vital C Hydrating Intense Moisturizer comforts and replenishes dry skin. Its advanced moisturizing complex and hydrating formula shield the skin from moisture loss and environmental aggressors while helping restore its moisture barrier. Vitamin C tightens and brightens the skin while preserving its elasticity and promoting intense hydration. Shea butter locks in moisture, while hyaluronic acid plumps up your skin. The product has not undergone testing on animals.
Key Ingredients: Shea butter, Vitamin C, and Hyaluronic acid
Pros
 Non-irritating
 Pleasant fragrance
 Clinically tested
Cons
Price at the time of publication: $59.2
Azure Hemp & Hyaluronic Ultra Nourishing Day Cream is infused with hemp seed oil that balances the skin moisture and unclogs the pores for a fresh feel. It is also enriched with hydrating properties. Its hyaluronic acid-rich formula has anti-aging properties that reduce fine lines and wrinkles. Shea butter and Vitamin C protect and brighten the skin. It also removes dark spots and evens out the skin tone. The antibacterial and antioxidant properties of jojoba oil prevent irritation and eliminate environmental damage. The product has not been tested on animals.
Key Ingredients: Hemp seed oil and Hyaluronic acid
Pros
 Fights the signs of aging
 Vegan
 Cruelty-free
 Hypoallergenic
 Paraben-free
 Dye-free
 GMO-free
 Phthalate-free
Cons
None
Price at the time of publication: $14.99
Eau Thermale Avene Hydrance Light Hydrating Emulsion is a lightweight moisturizer that provides long-lasting hydration, leaving your skin luminous and smooth. Use it twice daily after cleansing your face and neck for best results. It protects your skin from daily environmental aggressors, prevents premature aging, and soothes dehydrated skin. It also offers a skin-plumping effect and gives visible results for up to 24 hours.
Key Ingredients: Avene thermal spring water
Pros
 Shine-free
 Lightweight
 Matte finish
 Mild fragrance
Clinically-tested
Cons
None
Price at the time of publication: $35
Why Trust StyleCraze?
The author of this article, Shiboli Chakraborti, is a certified skin care coach. Her extensive knowledge of skin care and its needs helps her recommend the best moisturizers for dehydrated skin. Her recommendations are based on scientific research and various online reviews. These moisturizers help hydrate your skin and prevent dryness. They are lightweight with soothing formulas that help maintain your skin health.
Frequently Asked Questions
When should you apply a moisturizer for dehydrated skin?
Use a water-based moisturizer for dehydrated skin right after showering, on damp skin.
How do I moisturize my dehydrated skin?
Apart from using moisturizer on damp skin, you can do the following.
• Use hydrating face masks.
• Use gentle face cleansers.
• Reduce the shower time and avoid using hot water.
• Use sunscreen daily.
• Apply hydrating serums and toners.
How often should you use a moisturizer for dehydrated skin?
The general rule of thumb to apply a moisturizer for dehydrated skin is twice daily in the AM and PM routine.
How long does it take for moisturizer to help dehydrated skin?
Moisturizers can instantly hydrate and soothe dehydrated skin.
What is the difference between dehydrated and dry skin?
Skin that lacks moisture is usually dehydrated, but the skin type lacking oils or sebum is usually termed dry. You may have dry skin all your life, but dehydrated skin is a condition caused by insufficient moisture.
What is the fastest way to rehydrate dehydrated skin?
Use a water-based serum and moisturizer to rehydrate dehydrated skin instantly.
Recommended Articles