12 Best Moisturizers For Dry Skin Available In India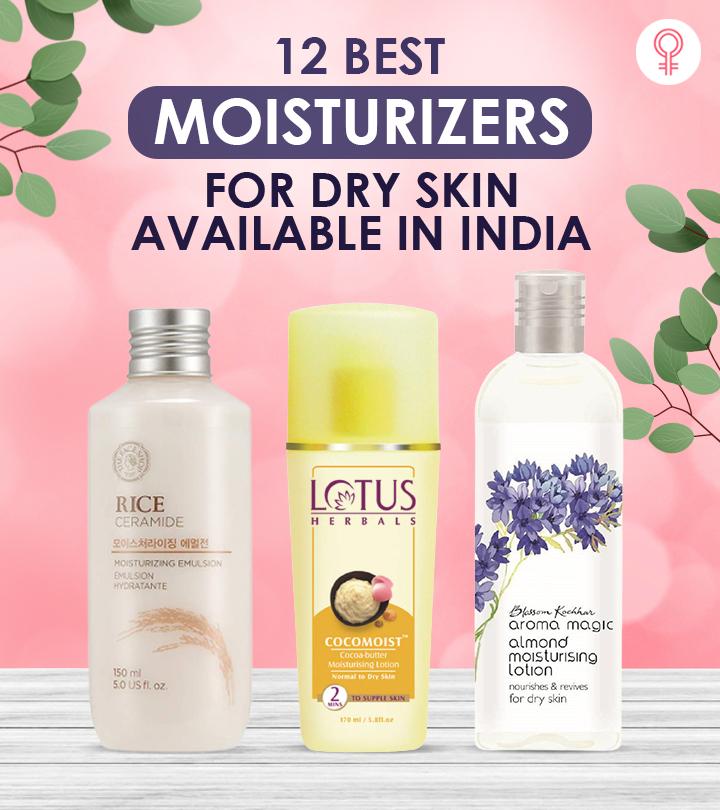 Anyone struggling with dry and damaged skin will know how important it is to keep it hydrated throughout the day. Summers or winters — dry skin tends to face severe loss of moisture and dehydration. This is where hydrating moisturizers especially formulated for dry skin concerns, come to your rescue!
Picking out the ideal product out of unending options can be a little bit tricky. But, fret not! We have done the work for you. Here is a list of the best moisturizers for dry skin in India that will address all your dry skin woes.
Turn your fantasy of having soft and supple skin to a reality with these super hydrating products. Scroll down and get cracking!
12 Best Moisturizers For Dry Skin
Topping the list of the best body moisturizer for extremely dry skin, is the NIVEA Soft Light Moisturizer that acts as a gentle multipurpose cream for your skin throughout all seasons. It is enriched with the goodness of jojoba oil and vitamin E that contain healing and moisturizing properties for improving skin health. Its quick absorbing action is designed to make your skin soft and supple while leaving it refreshed. This intensive moisturizing cream is ideal for everyday use and is dermatologically approved to suit all skin types.
Key Ingredients: Jojoba oil, Vitamin E
Pros
Paraben-free
Dermatogically-tested
Absorbs quickly
Lightweight
Cons
Can be sticky
Might cause breakouts
Not suitable for oily or combination skin
The BIOTIQUE MORNING NECTAR Visibly Flawless Skin Moisturizer is a lightening and nourishing lotion that replenishes your skin with natural oils and moisture. It helps to get a more refreshed and brighter complexion, making it a top favorite in the list of the best face moisturizers for dry skin. It is infused with nectar produced by plants that maintain skin health and reduce signs of aging. Fenugreek seeds or methi help nourish the skin, and prevent dryness and the ultra-moisturizing aloe vera barbdens is prevents premature aging, reduces breakouts, and controls oil production.
Key Ingredients: Honey, Wheat germ, Ankurit gehun, Seaweed, Aloe barbdensis, Methi
Pros
100% botanical extracts
Unisex
Lightweight
Non-sticky
Absorbs quickly
Non-greasy
Cons
Not suitable for sensitive/oily skin
Can cause breakouts
If you are looking for the best moisturizer for dry skin in India that provides hydration without weighing down your skin, then look no further than POND'S LIGHT MOISTURISER. It is enriched with vitamin E that nourishes your skin along with vitamin B3 and C that strengthen the skin's natural moisture barrier, and boosts cell renewal. The blend of glutamic and amino acids restore moisture into your skin, thereby imparting softness and smoothness. It is ideal for all skin types and provides hydration throughout the year in all seasons.
Key Ingredients: Glutamic acids, Amino acids, Vitamin E, B3 and C
Pros
Lightweight
Non-sticky
Absorbs quickly
Non-greasy
Mild fragrance
Doubles as makeup base
Cons
Contains parabens
Contains mineral oil
Comedogenic
Price at the time of publication: $104.67
The Cetaphil DAM Daily Advance Ultra Hydrating Lotion is specifically designed to provide all-day moisture to dry and sensitive skin. It contains the moisturizing goodness of macadamia nut oil, shea butter, vitamin E, and vitamin B5 to boost skin health. It is enriched with ERC-5, a unique Epidermal Replenishing Complex comprising of 5 essential ingredients. These ingredients include emollients for soothing and softening the skin, humectants for sealing in moisture, and lipids for strengthening the skin's natural protective barrier. The ingredients help absorb water into the skin, and are a part of the natural moisturizing factors responsible for maintaining your skin's overall health.
Key Ingredients: Macadamia nut oil, Shea butter, Vitamin E, Vitamin B5
Pros
Fragrance-free
Non-comedogenic
Non-greasy
Absorbs quickly
Value for money
Hypoallergenic
Dermatologically-tested
Unisex
Cons
None
The Lakmé Peach Milk Soft Crème is your answer to get soft, glowing, and nourished skin throughout the year. This lightweight whipped crème formula is designed for all skin types. It is enabled with a 24-hour moisture lock technology and a soothing fragrance to keep your refreshed. It is one of the best face moisturizers for dry skin. It is infused with peach milk extract that provides soothing and moisturizing properties, vitamin E for protecting skin cells, and sunflower oil enriched with essential nutrients and antioxidants for enhanced damage protection.
Key Ingredients: Peach milk extract, Vitamin E, Sunflower oil
Pros
Value for money
Lightweight
Non-oily
Non-sticky
Mild fragrance
Absorbs quickly
Cons
None
The VLCC HONEY MOISTURISER is a highly nourishing and conditioning non-greasy formula. It sinks deep into your skin without clogging pores, causing breakouts, or weighing it down. It is specifically designed for normal to dry skin, making it more supple and smooth. This formula contains honey for promoting tissue regeneration, healing wounds, and deeply moisturizing dry skin. Wheat germ oil, rich in vitamins A, B, and D, and essential fatty acids, promote an even skin tone by reducing skin damage. This blend is rich in antioxidants that fight damage caused by free radicals. Other vital ingredients include vitamin C-rich fenugreek extract for brightening the complexion and clearing its surface of excess oil and dirt and ultra-moisturizing shea butter to restore the skin's natural moisture, thereby making it plump and smooth.
Key Ingredients: Honey, Fenugreek extract, Wheat germ, Shea butter
Pros
Non-greasy
Absorbs quickly
Pleasant fragrance
Unisex
Cons
Contains parabens
Expensive
The Blossom Kochhar aroma magic almond moisturising lotion is a rejuvenating and nourishing formula enriched with SPF15, specifically designed to treat dry skin and its concerns. It is made using a revitalizing blend of almond fruit and lotus leaf extracts that lock in moisture for instant relief from dryness, mango seed butter, and oils of wheat germ and jojoba. These work together to restore and repair damaged skin. Its rich and potent blend of rose, geranium, and patchouli oils impart luster and improve the skin's overall health.
Key Ingredients: Almond fruit extract, Lotus leaf extracts, Mango seed butter, Wheat germ oil, Jojoba oil, Patchouli, Geranium oil, Rose essential oil
Pros
Paraben-free
Artificial fragrance-free
Color-free
Petrochemical-free
Phthalate-free
Toxin-free
Absorbs quickly
Non-greasy
Lightweight
Cons
The Lotus Herbals COCOMOIST Cocoa-butter Moisturising Lotion is a skin-nourishing and moisture-sealing formula that makes your skin visibly soft and supple. It contains the plant-based fat, cocoa butter, extracted from natural cocoa beans with phytochemicals that regulate the blood circulation in the skin. This highly moisturizing ingredient acts as a shield to provide UVA/UVB ray protection and deep cell hydration while also diminishing scars and blemishes. Honey naturally hydrates and deep-nourishes the skin's inner layers by opening up pores, thereby treating dry and damaged skin. It contains antiseptic, antibacterial, and antioxidant properties that deal with acne or dirt on the skin's surface and enhances radiance.
Key Ingredients: cocoa butter, honey
Pros
Value for money
Pleasant fragrance
Non-greasy
Cruelty-free
All-natural ingredients
Cons
None
The FACE SHOP RICE CERAMIDE MOISTURIZING EMULSION is a weightless and gentle formula that moisturizes the skin while locking in hydration throughout the day. It is best suited for people looking for intensely hydrated and radiant skin. It is infused with rice extracts that brighten your skin by reducing the appearance of hyperpigmentation, dark spots, and freckles. Vegetable ceramide is responsible for retaining natural moisture and clarifying the skin by reducing flakiness.
Key Ingredients: Rice extract, Vegetable ceramide
Pros
Paraben-free
Value for money
Pleasant fragrance
Lightweight
Non-greasy
Gentle
Cons
None
The LOTUS HERBALS SHEAMOIST Shea Butter & Real Strawberry 24-hr Moisturiser is a deeply hydrating and ultra-moisturizing cream that makes your skin soft and supple. It is infused with antioxidant-rich strawberries that cleanse and nourish the skin by getting rid of dead skin cells and surface debris. It provides UV ray protection, decreases blackheads, and controls oil production. It also contains shea butter-rich emollient with high moisturizing properties to revive dull and damaged skin. It is rich in tree nut oils that seep deep into the skin without clogging your pores while addressing skin concerns like dark spots, blemishes, and discoloration.
Key Ingredients: Shea butter, Strawberry
Pros
Pleasant fragrance
Non-greasy
Safe for sensitive skin
Cruelty-free
All-natural ingredients
Cons
The plum hello aloe caring day moisturizer helps people with dry and sensitive skin types to get nourished, hydrated, and radiant. This day cream is ideal for daily use and comes with a rich formula that provides your face with an instant lift. It is infused with antioxidant-rich vitamin E for skin hydration and protection and organic aloe juice to soothe and heal the skin.
Key Ingredients: organic Aloe vera juice, Vitamin E, Glycerine
Pros
SLS-free
Pthalate-free
Paraben-free
Color-free
Silcone-free
Petroleum-free
Vegan
Lightweight
Cons
One of the best hydrating moisturizers on the list, the derma essentia ADVANCED ULTRA HYDRATING MOISTURISER gives people with normal to dry skin long-lasting moisturization that stays throughout the day. It contains ceramide that strengthens your skin's natural moisture barrier, thereby restoring skin damage and dryness. Provitamin B5 helps your skin retain moisture while imparting healing and protection benefits. It is infused with aquaxyl and designed using moisturizing and restructuring technology for visibly improving skin surface. It is the key ingredient for optimizing both epidermal and dermal water content. It reinforces the cutaneous barrier, improves barrier function, increases water circulation, and decreases epidermal water loss.
Key Ingredients: Ceramide, Provitamin B5, Aquaxyl
Pros
Lightweight
Absorbs quickly
Mild fragrance
Dermatologically-tested
Non-greasy
Paraben-free
Cruelty-free
Cons
How To Choose The Best Moisturizers For Dry Skin?
While thinking about getting the best moisturizer for dry skin may seem like an easy task, but actually heading to purchase one can be daunting. Check out certain factors that you need to consider before picking the one for your skin.
The first thing before buying any skincare product is to know your skin type. Once you can determine your skin type, you will narrow down the kind of moisturizer that will best suit your skin, whether it is dry, oily, combination, or normal.
This is another important factor that could make or break your purchase. Figure out the ingredients you are allergic to, and select the moisturizer accordingly. The ingredient label will mention the composition of the formula and how it can benefit you.
There are certain hydrating ingredients to look for in a moisturizer concerning your specific skin type. Choose a product that contains a combination of all or at least some of the following ingredients:
Ceramides
Hyaluronic acid
Antioxidants
Urea
Glycerin
Salicylic acid
Plant-based butters and oils
Aquaporins
Talking to people with the same skin type as yours about their experience with different products will help you narrow down the options for the best moisturizers for dry skin.
This is the final and most significant step in your selection process. Once you have figured out a few options that will suit you best, you can go with the trial and error method. However, make sure that you don't end up damaging your skin while doing so. When you have found a comfortable product that works best for your skin, you can go ahead and keep using it.
People with dry skin can have a hard time during harsh winters. Figuring out the best hydrating moisturizer that will provide long-lasting moisture can be difficult. You can use our list of bestsellers to find yourself the ideal pick and get beautiful supple skin.

Recommended Articles