24 Best Moisturizers For Dry Skin To Keep It Healthy – 2023
Combat harshness and get a soft, supple feel with products seal in moisture.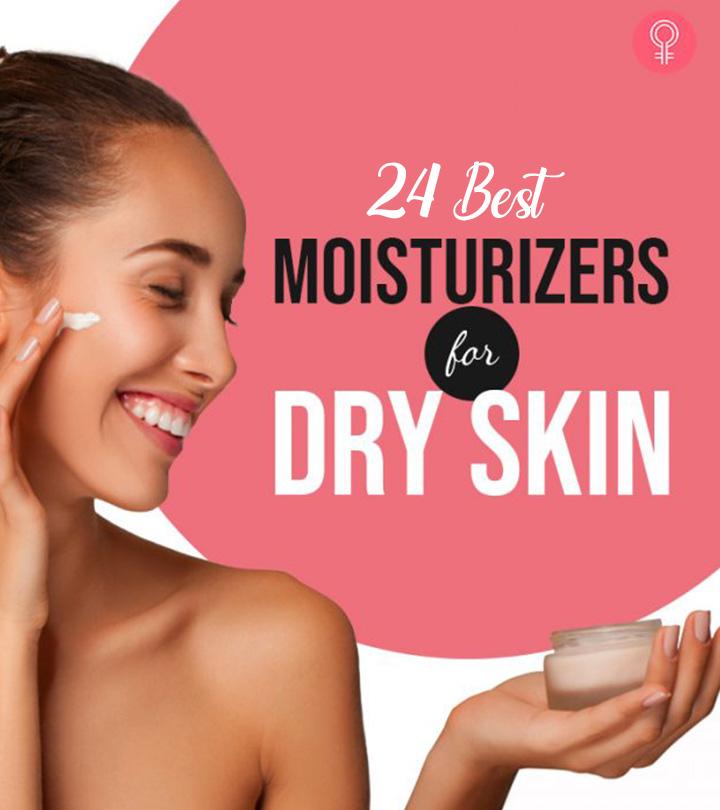 Your search for the best moisturizer for dry skin ends here, for we have exactly what you need. Moisturizers are an essential element to maintaining the health of your skin, and without a proper moisturizer, achieving soft and supple skin is nearly impossible. People have different skin textures, and while oily skin can hold a bit longer, it will eventually dry out and lose the healthy amount of hydration, and you will need to replenish it with the help of moisturizers. The common reasons for the unusual skin drying are harsh skincare products and skin disorders. Several ingredients add to boost the hydration levels of your skin; some of them are squalene, shea butter, soy, hyaluronic acid, glycerin urea, ceramides, plant oils, colloidal oatmeal, and aloe vera. They have an inherent mechanism by which it hydrates and moisturizes your skin. Here is a list of the 23 highest-rated moisturizers specially crafted to heal dry skin.
How To Choose The Best Moisturizer For Dry Skin
Look for hydrating ingredients in the moisturizer as they help in treating dry skin. Rich cream-based moisturizers can penetrate deep into the layers of the skin and replenish the lost moisture. Once the skin is hydrated, it is important that it does not lose water. A good moisturizer minimizes transepidermal water loss by sealing in the moisture. Let us look at the types of hydrating agents present in the moisturizers:
Humectants: A humectant is a common moisturizing agent that retains moisture in the skin. Some common humectants include glycerin, hyaluronic acid, and alpha hydroxy acids (AHAs). Hyaluronic acid is a good humectant as it absorbs and retains 1000 times its weight in water. It is a popular ingredient in many moisturizers, lotions, and creams for dry skin.
Ceramides: Ceramides are important for the skin's structural integrity. They help in the formation of the natural lipid layer of the skin. This lipid barrier helps in retaining moisture in the skin. The skin barrier is very important as it helps in protecting the skin from pollution, irritants, and harsh chemicals. Niacinamide is one such ceramide that can help you get smooth, plump, and moisturized skin.
Emollients: Emollients form a greasy film on the skin that traps in the moisture. They are used to treat dry, flaky, and itchy skin. Emollients can soothe and hydrate the skin. They provide immense relief from skin-related disorders such as eczema, ichthyosis, and psoriasis. The most common emollients found in moisturizers are shea butter, plant- and animal-based oils, cocoa butter, and fatty acids.
Occlusives: This hydrating agent acts as a barrier on the skin and helps in sealing in the moisture. Examples of occlusives include petroleum, beeswax, jelly, bath oils, and dimethicone. They form a thick waxy coating on the skin that protects it from environmental factors such as cold air, dry wind, and hot temperatures.
It is also important to avoid certain harmful substances in moisturizers as they can aggravate dryness and cause adverse effects. For instance, alcohol can dry out your skin. Fragrances and dyes are very harsh on the skin, while sulfates, parabens, and comedogenic substances can irritate it.
To help you design the perfect skin care routine for your needs, we have compiled a list of the 23 best moisturizers for dry skin available right now. Check them out!
24 Best Moisturizers For Dry Skin
CeraVe Moisturizing Cream uses MVE technology to provide 24-hour hydration. Its rich, creamy texture is ideal for dry and very dry skin types. It contains hyaluronic acid that locks in the skin's natural moisture. This non-greasy moisturizer also contains three essential ceramides (1,3,6-II) that protect the skin's barrier. Its gentle formula was developed by dermatologists. It gets absorbed quickly into the skin, making it soft and supple. This is a great option for the days when you need extra hydration!
Pros
Oil-free
24-hour hydration
Non-comedogenic
Hypoallergenic
Fragrance-free
Suitable for dry to very dry skin
Suitable for sensitive skin
Cons
Sticky texture
Heavy formula
Neurtrogena Hydro Boost Water Gel Moisturizer is one of the best moisturizers for dry skin. It is loaded with hyaluronic acid that provides intense hydration to the skin. This oil-free, dermatologist-recommended gel also contains glycerin and dimethicone that help in improving the skin's hydration levels, leaving it smooth and plump. This lightweight formula is proven to deliver visible results. It can also be applied under makeup for that healthy glow.
Pros
Intense moisturization
Dermatologist-recommended
Gets absorbed quickly
Does not clog pores
Oil-free
Dye-free
Can be worn under makeup
Cons
The Obagi Hydrate Luxe Moisture-Rich Cream brings you a blend of shea, mango, and avocado butter in an ultra-rich formula that provides intense and long-lasting hydration to your skin. This overnight cream is designed with key biomimetic peptides and innovative Hydromanil to address signs of aging and dryness so that you can wake up with soft skin. The cream has a balm texture that is hypoallergenic and non-comedogenic, making it the perfect overnight treatment for sensitive and mature skin as well. It visibly reduces fine lines and wrinkles and has a gentle smell that will not make you uncomfortable during your sleep. Several reviewers consistently praise the remarkable visible outcomes of this product after testing it, so give it a try.
Pros
Smooth texture
Long-lasting
Non-irritating
Easy to wear
Safe for sensitive skin
Hypoallergenic
Non-comedogenic
Luxurious, balm-like texture
Comforting scent
Cons
None
This award-winning daily lotion contains rich emollients like oatmeal that nourish and revive dull and dry skin. Its unique soothing formula balances the pH of the skin and calms dry and itchy skin. The active colloidal oatmeal and dimethicone in it protect the skin. This trusty brand has been around for over 65 years and uses natural ingredients recommended by dermatologists. Regular use of this moisturizing lotion will help you achieve soft and silky skin.
Pros
Soothes dry and irritated skin
Clinically-proven to offer 24-hour moisturization
Restores the skin's natural pH
Offers good nourishment
Dermatologist-recommended
Fragrance-free
Non-greasy
Non-comedogenic
Gentle formula
Cons
Does not get absorbed quickly
This extra nourishing and hydrating moisturizer is perfect for dry and cracked skin. It contains anti-aging and hydrating ingredients like aloe vera, cocoa butter, shea butter, coconut oil, olive oil, hemp seed oil, manuka honey, MSM, and blue-green algae. This nutrient-rich cream also contains essential minerals, vitamins B and C, retinol, and tocopherol. It boosts collagen production, which helps in improving the elasticity of the skin and repairing and restoring it. This is one of the best anti-aging moisturizers for dry skin.
Pros
86% organic
Anti-aging formula
No toxins
No fillers
Alcohol-free
Paraben-free
Cons
May cause mild irritation
TULA 24-7 Moisture Hydrating Day & Night Cream is truly innovative. It contains probiotics that not only protect the skin from harmful bacteria but also help in maintaining the skin's natural balance. This anti-aging face cream is formulated with antioxidants from the extracts of watermelon and blueberry. These extracts hydrate the skin to reduce dullness. This clinically proven cream also soothes and reduces the appearance of distressed skin. The rice nutripeptides in it nourish and improve the skin's vitality. Its regular use will reveal an even, glowing, and youthful-looking complexion.
Pros
Reduces dullness
Clinically-proven to provide all-day hydration
Paraben-free
No formaldehyde precursors
Cruelty-free
Sulfate-free
Cons
Clarins Hydra-Essentiel Rich Cream moisturizes very dry skin effectively. The hyaluronic acid in this cream provides long-lasting hydration. Its unique formula helps in protecting the skin from environmental stressors. This is the right moisturizer to help revive dull, dry, and weathered skin to a beautiful, soft, and smooth texture. This cult-classic is great for damaged, flaky skin.
Pros
Intense hydration
Non-greasy
Affordable
Suitable for mature skin
Cons
Kate Somerville Goat Milk Moisturizing Cream provides deep hydration as it contains natural milk proteins and lactose from goat's milk. Lactose soothes and moisturizes the skin. This gentle formula gets absorbed quickly and helps repair the natural lipid barriers in the skin. This clinically tested cream also contains avocado, jojoba, and grapeseed oils that hydrate and condition the skin. Vitamin E protects the skin from free radicals due to its natural antioxidant properties.
Pros
Soothes the skin
Clinically-tested
Protects the skin
Gentle formula
Highly moisturizing
Suitable for dry and sensitive skin
Cons
Garnier SkinActive Moisture Rescue Refreshing Gel-Cream is specially formulated for dry skin. This oil-free moisturizer locks in moisture and provides intense hydration. It contains vitamin C and fruit water antioxidants complexes that brighten and protect the skin. This anti-aging moisturizer also contains hyaluronic acid that locks moisture in the skin, making it look plump and supple. This refreshing gel-cream is lightweight and provides sun protection as it contains SPF.
Pros
SPF 15
Long-lasting
Oil-free
Brightens the skin
Does not clog pores
Cons
Strong fragrance
May cause irritation
Advanced Clinicals Coconut Oil Cream Moisturizing Cream is highly nourishing. Its clinically-tested concentrated formula contains pure coconut oil and organic lavender and chamomile extracts that restore moisture in dry, dull skin. The glycerin and aloe vera in it hydrate parched skin. This non-greasy, dermatologist-tested cream gets absorbed quickly and can be used as a face and body moisturizer as well as a hair conditioner. Its regular use will restore a healthy, glowing complexion as it helps in improving the elasticity and firmness of the skin.
Pros
Deep hydration
Dermatologist-tested
Clinically-tested
Multipurpose
Cruelty-free
Organic ingredients
Paraben-free
Cons
Strong fragrance
Contains phenoxyethanol
The rich texture of CeraVe SA Cream is ideal for treating extremely dry skin. Salicylic acid exfoliates the rough and bumpy skin to reveal new healthy skin cells. This moisturizer also contains hyaluronic acid that hydrates the skin. This formula also contains three essential ceramides (1, 3, 6-II) that protect and maintain the natural skin barrier. The ability of this cream to gently exfoliate and loosen dead skin cells while providing long-lasting hydration by the patented MVE technology makes it one of the most popular moisturizers for dry and rough skin.
Pros
Exfoliates the skin
Dermatologist-recommended
Long-lasting hydration
Fragrance-free
Dye-free
Hypoallergenic
Non-comedogenic
Cons
May cause redness and mild irritation
First Aid Beauty Ultra Repair Cream provides intense hydration. Its award-winning formula is especially beneficial for parched skin as it provides immediate relief and long-lasting hydration. It contains shea butter, colloidal oatmeal, ceramide 3, and the FAB Antioxidant Booster that helps treat mild itching and irritation from skin conditions like eczema. This cream is lightweight, non-greasy, and gets absorbed quickly to restore dry, flaky skin instantly.
Pros
Instant results
Soothes mild irritation
Provides intense hydration
Gentle formula
Allergy-tested
Vegan
Cruelty-free
Cons
Lubriderm Advanced Therapy Lotion is designed by dermatologists with vitamins E and B5 for extra-dry skin. These vitamins are naturally found in the skin and help in maintaining the structure of the skin barrier. This lotion helps in hydrating and replenishing parched skin. It is non-greasy and gets absorbed quickly to provide instant hydration. It also helps in relieving the itching caused by dry skin.
Pros
Non-greasy
Protects the skin barrier
Value for money
Soothes skin inflammation
Cons
Contains parabens
Strong fragrance
Era Organics Super Hydrating Oasis 16-in-1 Moisturizer is a super hydrating, lightweight, and non-greasy moisturizer that nourishes, strengthens, and balances your skin. It contains many powerful hydrating agents like cocoa butter, manuka honey, MSM, vitamin C, aloe vera, olive oil, jojoba oil, and avocado oil. It deeply moisturizes the skin and keeps it hydrated for 12 hours. It also contains potent antioxidants and healing ingredients that calm and soothe inflamed skin. Thus, it is suitable for sensitive skin as well. Vitamin C and MSM help in fading acne scars, blemishes, and hyperpigmentation to reveal bright and healthy skin. Finally, this cream is loaded with anti-aging ingredients like spirulina and blue-green algae that fight fine lines and wrinkles by boosting collagen production.
Pros
Long-lasting moisturization
Anti-aging formula
Brightens the skin
Reduces inflammation and puffiness
Cruelty-free
Paraben-free
Cons
Strong fragrance
Not suitable for all skin types
Garnier SkinActive Moisture Bomb floods your skin with long-lasting hydration to make it look softer and healthier. This lightweight gel contains hyaluronic acid that locks moisture in the skin. It helps in restoring the skin's natural barrier. This non-greasy antioxidant formula contains goji berry, pomegranate, and vitamins E and C. It also has anti-aging ingredients that protect the skin and reverse the damage caused by sun and aging.
Pros
Long-lasting hydration
Quick results
Anti-aging formula
Brightens the skin
Cons
Vichy Aqualia Thermal Rich Cream recharges dry and dehydrated skin with 48 hours of dynamic hydration with the Vichy Mineralizing Thermal Water and hyaluronic acid. This hydrating face cream is formulated with 15 organic and all-natural minerals from the French volcanoes that nourish, restore, and protect the skin. The plant sugars in it help in strengthening the skin's moisture barrier against environmental aggressors. This cream also helps in smoothening fine lines and wrinkles.
Pros
Long-lasting hydration
97% natural ingredients
Paraben-free
No mineral oil
Silicone-free
Cons
Contains artificial fragrance
Tatcha's The Dewy Skin Cream is targeted at dry and dull skin. It hydrates, plumps, and protects the skin with its anti-aging and antioxidant properties. The rich cream contains Japanese purple rice extracts, green tea, algae, and ceramides that help in moisture replenishment and provides hydration, giving you a dewy complexion. This dermatologically tested cream is also formulated with a blend of botanical extracts like ginseng, sweet marjoram, and wild thyme that nourish, repair, and restore the skin by protecting it from toxic aggressors.
Pros
Imparts a natural glow
Improves complexion
No mineral oil
No synthetic fragrances
No sulfate detergents or urea
Paraben-free
Non-comedogenic
Cruelty-free
Cons
This clean beauty skin care brand uses adaptogenic herbs and mushrooms to provide hydration and protection to the skin. This calming and hydrating moisturizer is made with a proprietary blend of adaptogenic herbs such as ashwagandha, reishi, holy basil, and rhodiola that fight environmental stressors like UV rays and pollutants and soothe the skin. It does not contain any added fragrance so it does not irritate the skin. The pentapeptide in it is especially good for sensitive and irritated skin.
Pros
Recyclable packaging
Cruelty-free
Paraben-free
Phthalate-free
Sulfate-free
Dimethicone-free
Cons
Clinique Moisture Surge Intense Skin Fortifying Hydrator is a rich, oil-free cream-gel that hydrates the skin instantly, leaving it moisturized and plump for 24 hours. It helps in fortifying and repairing the skin's barrier from the effects of environmental irritants. It fights against the signs of aging like extreme dryness, fine lines, wrinkles, dullness, and uneven texture. It locks in the moisture and hydrates the skin for a soft and supple look.
Pros
Anti-aging formula
Good barrier repair
Allergy-tested
Non-acnegenic
Paraben-free
Phthalate-free
Cons
Contains phenoxyethanol
Takes time to get absorbed
Cetaphil Moisturizing Cream provides intense and lasting moisture to dry and sensitive skin. It is an effective moisture therapy cream for eczema or extreme dryness, scaly skin, flaking, and inflammation. It has a unique formula that is mild and locks in moisture quickly by restoring the skin barrier. The cream is rich, non-greasy, and clinically proven to provide immediate, long-lasting hydration that soothes dry, itchy skin. Its regular use softens and smoothens the skin.
Pros
Relieves the symptoms of eczema and psoriasis
Fragrance-free
Mild and non-irritating formula
Long-lasting hydration
Suitable for sensitive skin
Cons
Thick and heavy consistency
Olay Regenerist Micro-Sculpting Cream is an anti-aging moisturizer that starts working from the first day of use. It visibly reduces the appearance of wrinkles and lines by deeply hydrating the skin. This micro-sculpting face moisturizer contains hyaluronic acid, niacinamide, and amino-peptides that help in restoring and repairing the lipid barrier of the skin. The rich cream also helps in plumping, lifting, and improving the elasticity of the skin.
Pros
Lifts the skin
Anti-aging formula
Moisturizes the skin
Restores the skin barrier
Renews skin cells
Cons
Thick formula
Takes time to get absorbed
Tata Harper Repairative Moisturizer contains 100 % natural and non-toxic ingredients that leave your skin feeling silky and ultra-hydrated. There are around 32 botanical ingredients in this lightweight formula that help improve hydration and repair, nourish, and protect the skin. It contains anti-aging and hydrating agents like hyaluronic acid, cocoa butter, aloe vera extracts, soy extracts, and glycerin that provide intense hydration, soothe the skin, and reduce the appearance of fine lines. The extracts of rose, rice, and witch hazel also help in toning and brightening the skin texture and complexion. Lastly, clinical-grade essential oil blends of citronellol, limonene, eugenol, geraniol, and farnesol also provide many skin benefits.
Pros
Natural ingredients
Hydrates the skin
Brightens the skin
Repairs and protects the skin
Anti-aging formula
Non-toxic ingredients
Non-greasy
Cons
Context Intensive Daily Moisturizer is a refreshing cream with powerful antioxidants and SPF, making it everything you can ask for in a moisturizer. It provides protection from sun damage by blocking the harmful UVA and UVB rays. It also repairs and improves the complexion of the skin. It contains herbal extracts of natural marigold and rosehip that soothe and nourish the skin. This formula is highly moisturizing and contains vitamins A, B5, C, and E. This lightweight moisturizer is non-greasy and leaves the skin looking fresh, bright, and youthful.
Pros
Soothes and hydrates the skin
SPF 15
Paraben-free
Sulfate-free
Phthalate-free
Cons
Boscia Cactus Water Moisturizer leaves your skin feeling soft, smooth, and supple. It contains the extracts of Queen of the Night cactus that imparts intense hydration and helps fight extreme environmental stress and dryness. This clean, preservative-free moisturizer contains a peptide complex, aloe vera extract, and an infusion of the South African Resurrection plant that rejuvenate, nourish, and hydrate dry skin and restore the skin barrier. This nourishing cream is a must-have in your skin care routine if you have dry skin.
Pros
Rejuvenates and nourishes the skin
Cruelty-free
Vegan
No artificial dyes or fragrances
Cons
Why Trust StyleCraze?
Shiboli Chakraborti is a certified skincare coach who loves experimenting with multiple skincare products. Her in-depth knowledge and expertise in this domain allow her to choose the best products for her readers. She thoroughly checked the ingredients, user reviews, adn feedback on different trusted online platforms to shortlist the products for her readers.
Frequently Asked Questions
How can I moisturize my dry face?
Cleanse your face with a hydrating cleanser and then use a cream-based moisturizer. Do this twice daily.
When should you apply a moisturizer for dry skin?
Apply your moisturizer right after you cleanse your face, while the skin is still damp. It helps lock in moisture and prevent dryness.
How often should you use a moisturizer for dry skin?
Moisturize your face twice daily in your A.M. and P.M. skin care routines. If your skin feels dry, feel free to dab on some more moisturizer on clean skin during the day.
Should a moisturizer for dry skin include SPF?
A moisturizer may or may not include SPF in the formula. If your moisturizer doesn't come with an SPF and you wish to spend time outdoors, apply sunscreen to keep your skin protected.
Will a water-based moisturizer help prevent acne breakouts?
Yes, a water-based moisturizer helps control sebum production and does not clog your pores. Hence, it prevents acne breakouts to a large extent.
What does dry skin look like?
Dry skin feels rough and itchy and looks flaky and scaly.
How long does dry skin take to heal?
With the right products and skin care routine, dry skin takes about a week or two to heal.
Recommended Articles